« The Morning Rant: Minimalist Edition
|
Main
|
CNN Cancels "Reliable Sources;" Announces the End of "The Tater Era" »
August 18, 2022
Former CIA Director, Russiagate Hoaxer, Hunter Biden Laptop Suppresser, and Mentally-Ill Psychopath Michael Haden Declares War on Half the Country, Declaring Republicans To Be More Dangerous and Contemptible Than Any Enemy America Has Fought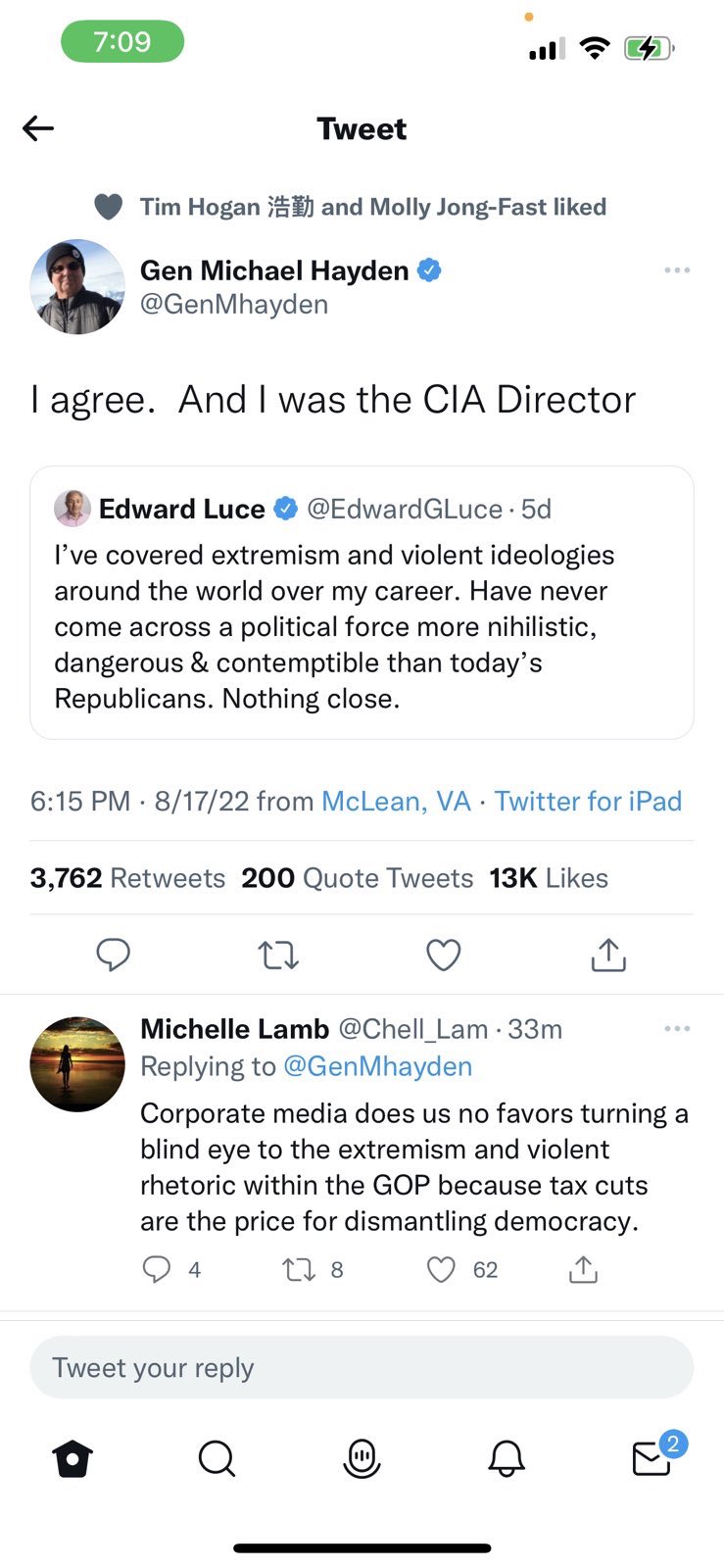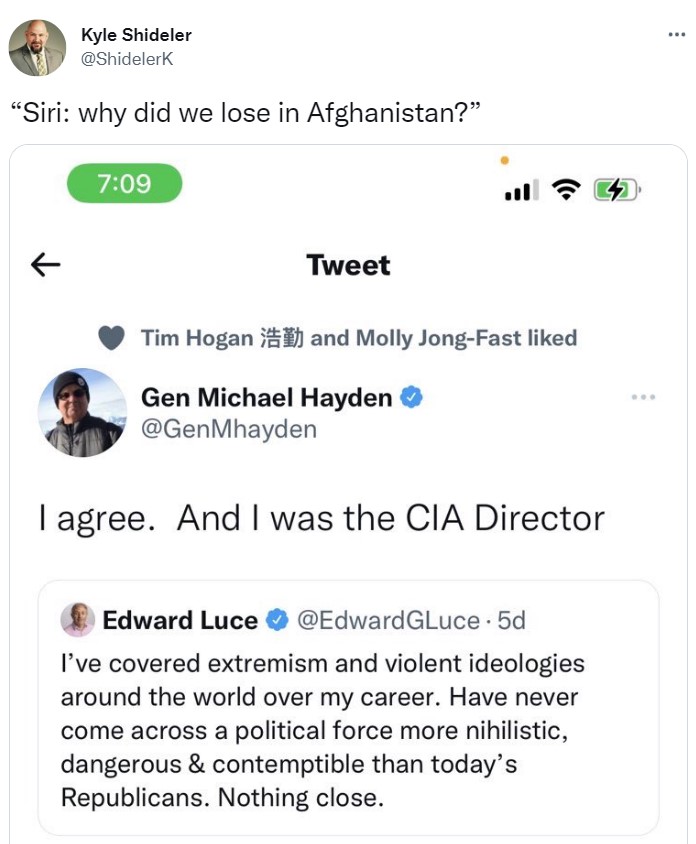 This asshole was also head of the NSA before 9/11 -- he missed all the signs -- and then part of the botched "intelligence" klatch that told us all that Iraq had WMDs.
And then they promoted him to head of the CIA.
And his former flunky at the CIA is defending this, so this isn't just one old, decrepit deranged psychopath. This is common CIA political culture: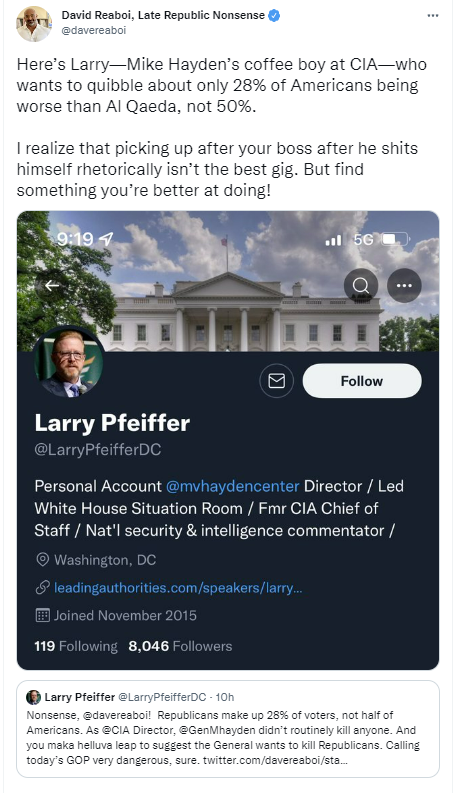 Hey NeverTrump and the rest of the brain-dead dead-ender Establishment Institutionalists --
Is your worship of the institutions without any limits whatsoever? Is your religious faith in the Works of Government Man unshakable and just a blank check that can never be overdrawn?
Are you just all secularist religious fanatics incapable of ever questioning the the Strange Atheistic Gods you serve?
Is there literally no outrage the Cult of the Holy Government Institutions can commit that will cause you to say, "Now wait a minute, that goes against what the Holy Books say..."

Even this wan dink -- a triple threat of cvckery who has the rare distinction of having worked for the Weekly Standard, The Bulwark, and The Dispatch -- gets it now:
Andrew Egger @EggerDC

Sure is a bummer how Republicans think the entire apparatus of the state hates them and sees them as a hostile entity! Very unfortunate how they arrived at that notion completely out of their own conspiratorial heads.
He links the deranged Hayden's tweet there. He means it sarcastically.
Even this sad little bentback cvck finally has a problem with Bureaucrats Gone Wild:
Seth Mandel
@SethAMandel

Absolutely terrifying tweet for none of the reasons he intends
But it won't shake AllahPundit's mighty faith.
He's a traditionalist, you see. He's traditionally had faith in these institutions. It doesn't matter to him that these institutions are no longer the same institutions, that they have been skin-suited by angry, deranged partisans and put to essentially religious-cultist ends by the skin-suiters.
It's enough that they still have the old branding on them. The buildings still say "FBI" and "CDC" and "The Science (TM)" on them.
And the branding is enough for worship.
He's a very poor atheist. He doesn't have a lack of faith; he has a promiscuous overabundance of it. He just decided he didn't believe in God and poured all that Believer Energy into Anthony Fauci, the CDC, Christopher Wray, Robert Meuller, the FBI, the DOJ, Jeb!, etc.
I think we need a Voigt-Kampff test on some of these lunatics. They might be Electric Monks in disguise as human beings:
The Electric Monk was a labour-saving device, like a dishwasher or a video recorder. Dishwashers washed tedious dishes for you, thus saving you the bother of washing them yourself, video recorders watched tedious television for you, thus saving you the bother of looking at it yourself; Electric Monks believed things for you, thus saving you what was becoming an increasingly onerous task, that of believing all the things the world expected you to believe.
Despite all the crying that Republicans have to watch our rhetoric, it's the psychopathic bureaucrats with the ability to order executions of their political opponents who keep popping off:
Dona Trumpa @Donatrumpa2022

Replying to @SethAMandel

They don't sound like they are afraid of us, it's almost as ... they want us afraid of them.
How many State Media outlets, do you imagine, will ask Michael Hayden or the rest of the deranged Deep Staters if they believe they should de-escalate their dangerous rhetoric before the incite one of their rabid Twitter followers to kill someone?
They refused to condemn Ruth Sent Us -- but demand all Republicans stop criticizing the FBI. It's now too dangerous to criticize the government!
This is a former FBI agent, by the way. In... counterintelligence. All throughout the Russiagate hoax, she was one of the Deep State Hoaxers going out all over the media swearing "Stay tuned, there's more coming!" and promised that "the Mueller investigation is blowing up fast."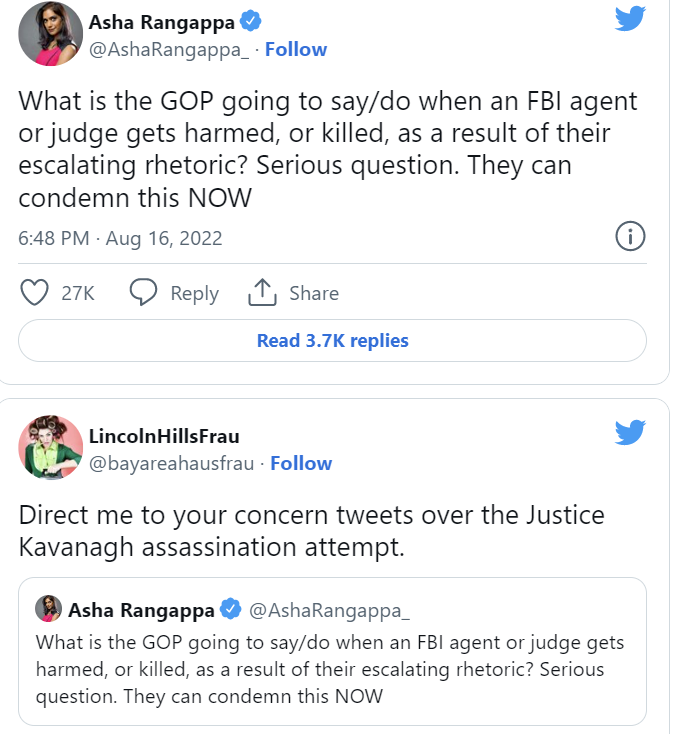 This FBI lawyer has previously opined that saying "Let's Go Brandon" is the equivalent of swearing an oath of loyalty to ISIS. This is what she tweeted after a Southwest Pilot signed off after landing a plane by saying, "Let's Go Brandon."
As an experiment, I'd love for an @SouthwestAir pilot to say "Long live ISIS" before taking off. My guess is that 1) the plane would be immediately grounded; 2) the pilot fired; and 3) a statement issued by the airline within a matter of hours

-- Asha Rangappa (@AshaRangappa_) October 31, 2021
She has deleted this tweet.
This woman was given a gun by the government and given power to investigate and arrest you.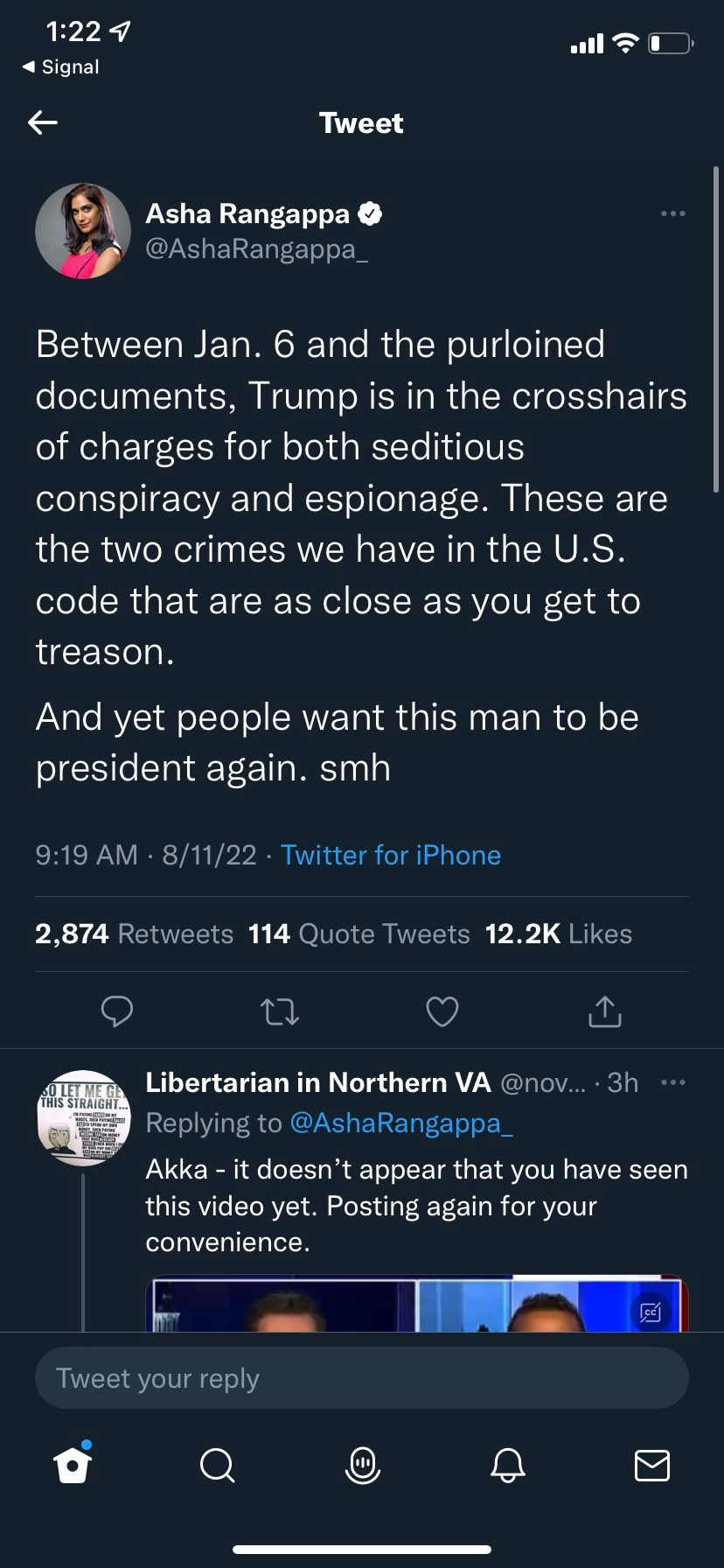 This is their culture. It cannot be reformed. It can only be razed and replanted with better seeds.
Have you ever wondered, Mandrake,
why you never see Republicans drinking tap water?

posted by Ace at
12:10 PM
|
Access Comments