« Mid-Morning Art Thread
|
Main
|
"She Done Us Dirty:" Wyoming Republicans Say "Hell, No" When Asked If They'll Be Voting for Toadlike Swamp Nepotess Liz Cheney »
August 01, 2022
The Morning Rant - West Virginia vs Mega Banks' Anti-Energy Policies: US Bancorp Backs Down; Others Are Spinning and Acting Scared
We have the power at the ballot box to roll back the eco-communism supported by the left and corporate America. We just need to elect more people in state and municipal elections like West Virginia's State Treasurer, Riley Moore.
This guy is making an impact. A few weeks back I wrote how Mr. Moore needs to be on the shortlist for VP in 2024, or possibly Energy Secretary for the next GOP President.
Since then, he has gotten US Bancorp to back away from their anti-coal policies, and he's got other money center banks running scared, as he just followed through on his promise to suspend business with them.
Now, The New York Times has taken notice, with this prominent story about the flyover-state Treasurer slaying the Wall Street goliaths.
West Virginia Punishes Banks That It Says Don't Support Coal [NY Times – 7/28/2022]
West Virginia on Thursday morning announced that five major financial institutions, including Goldman Sachs and JPMorgan, would be barred from doing business with the state because they have stopped supporting the coal industry.

This year, West Virginia enacted a law championed by Mr. Moore that gave him the authority to bar financial institutions from doing business with the state if they were found to be "boycotting" fossil fuels.
Based on anti-coal pronouncements from six major financiers that West Virginia does business with, Mr. Moore had sent them notices advising that they'd be cut off if they didn't respond that they were backing off from their anti-coal positions.
US Bancorp capitulated, so West Virginia will continue to do business with them.
Mr. Moore said U.S. Bancorp had avoided inclusion on the state's list of so-called restricted financial institutions because it had decided to eliminate policies against financing coal from its environmental and social risk policy.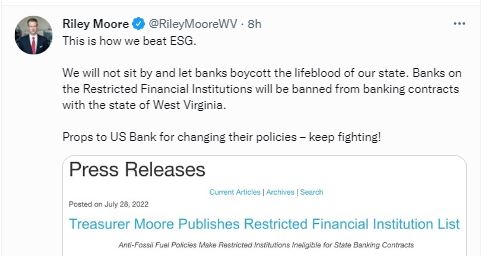 Not so the five other financial institutions. In addition to Goldman Sachs and JP Morgan, the other financiers being cut off are Morgan Stanley, Wells Fargo, and Black Rock. How much do they stand to lose? JP Morgan alone will lose about $46 million in deposits from West Virginia's public university system.
Mr. Moore said those contracts would be wound down by the end of the year and that the state would begin looking for new service providers that did not have policies targeting the coal industry.
Having gone full eco-communist with their ESG policies, it's almost puzzling that Black Rock, JP Morgan, and Wells Fargo are spinning and on defense about West Virginia cutting them off. You'd think they'd wear it like an eco-badge of honor. What are they afraid of?

Oh, this might have something to do with it. "Heavy D" has weighed in. The man who stared down Mickey Mouse wants to join Riley Moore in his battle against the anti-energy mega banks.
"On Wednesday, Ron DeSantis, the Governor of Florida, joined the campaign, proposing legislation that would prohibit financial firms that manage the state's pension funds from considering environmental factors when making investment decisions."
Whenever DeSantis takes the lead, followers like Greg Abbot often want to join in. If the big banks get cut off by Florida and Texas, that will have a major impact on them, both financially and reputationally.
So what are the big banks saying in response to little West Virginia punching them in the nose?
JPMorgan said, "This decision is shortsighted and disconnected from the facts," adding that its "business practices are not in conflict with this anti-free market law."
Nice spin. JP Morgan wants to use its bully power to impose its environmental agenda on others, but it screams "anti-free market" at a customer who simply chooses to stop doing business with JPM for that reason.
And then there is Black Rock. In 2020 it made this announcement regarding its divestment from coal:
"Thermal coal is significantly carbon intensive, becoming less and less economically viable, and highly exposed to regulation because of its environmental impacts," wrote the company's executive committee. "With the acceleration of the global energy transition, we do not believe that the long-term economic or investment rationale justifies continued investment in this sector."
That sounded pretty clear. Black Rock is singing a different tune now, however.
BlackRock said it "does not boycott energy companies" and does "not pursue divestment from sectors and industries as a policy."
Why the change in tone? Maybe it's because elected executives who fight back against corporate bullying are terrifying to pampered CEOs. Any politicians looking for a punching bag in this populist era might find Black Rock a tempting target. Plus, as I noted in my previous post and as noted in this line from the NY Times, Riley Moore had previously delivered one big strike against Black Rock already.
This year, Mr. Moore pulled about $20 million of the state's operating funds out of BlackRock because he said the firm was excessively focused on E.S.G. priorities.
In general, the CEOs of big money center banks are more afraid of a 25 year-old employee demanding paper straws and a composting bin in the break room than they are of the millions of normal Americans to whom they want to deny reliable energy.
Maybe that's changing now. They need to be more afraid of us. We can elect people like Riley Moore and Ron DeSantis, and we can encourage elected officials in red states throughout the country to follow their lead. The elected officials in Texas, Tennessee, and other red states need to start fearing the wrath of their voters if they too don't suspend business with anti-energy bullies like Black Rock and Goldman Sachs.
(buck.throckmorton at protonmail dot com)


posted by Buck Throckmorton at
11:00 AM
|
Access Comments