« The Morning Rant - West Virginia vs Mega Banks' Anti-Energy Policies: US Bancorp Backs Down; Others Are Spinning and Acting Scared
|
Main
|
Gun Owner Calls the Cops on ATF Agent and It's [Chef's Kiss] »
August 01, 2022
"She Done Us Dirty:" Wyoming Republicans Say "Hell, No" When Asked If They'll Be Voting for Toadlike Swamp Nepotess Liz Cheney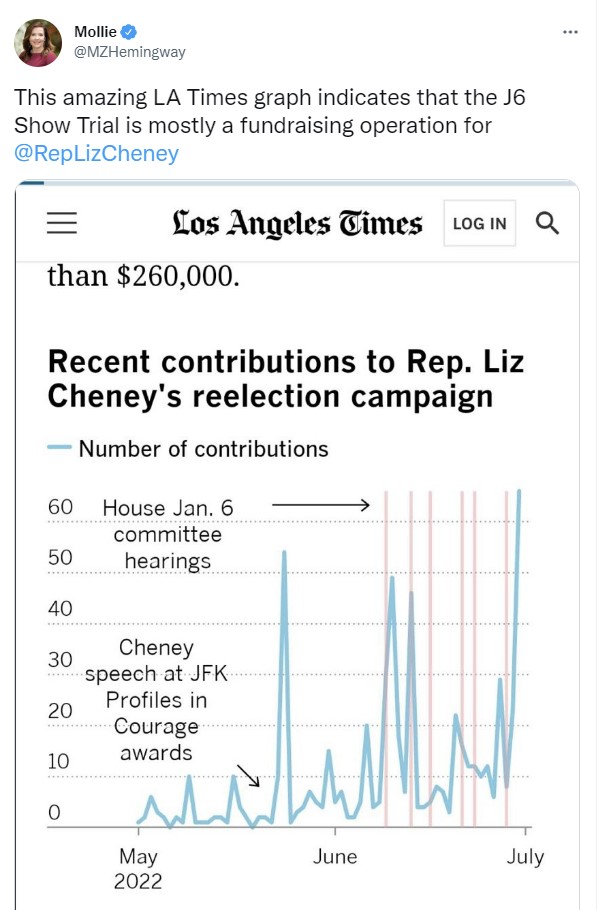 Via Twitchy. A clip of a CNN "journalist" desperately pleading with Republican to vote for Cheney, and being rebuffed at every turn, below the fold.
Tristan Justice writes about the Sad! nepotess' final days in Congress at The Federalist.
Liz Cheney did her usual trick of doing a quick touch-down in Wyoming -- it's the big square you pass over on the way to a San Francisco fundraiser -- and getting her picture taken there, just to prove she is still capable of locating her "home" state on the map, and then flying right back home to Washington, DC.
For Cheney, the breakfast [at a rodeo fair] offered the perfect opportunity to show face without spending time with constituents left angry by the rarity of their sole congresswoman's home state presence and her politically charged work as vice chair of the Jan. 6 Committee.


"We need to move on, and go do different things," said Maria Lemke, an accountant and 25-year resident of Cheyenne who said Cheney's role on the committee, combined with her frequent absence from the state, has led her to cast a vote for Trump-endorsed primary challenger Harriet Hageman.

"She's from Wyoming," were the first words Lemke said when asked what she liked about Hageman, who just 10 feet away was mingling with vendors in the fairground's expo center.
Justice notes that half of Wyoming's acreage is controlled by the federal government, and this is the first time in recent memory that the Congressman from Wyoming is not on the Natural Resources Committee. Kevin McCarthy has already promised to appoint Hagemann to the committee, should she win, and she should. She really should.
Liz Cheney will move to the CNN, MSNBC, and Brookings Institute Opportunities for Grift Committees.
Liz Cheney shows her allegiance to The Regime by, as the Establishment types do, showing her perfect contempt for the priorities of her actual voters.
An NPR-Marist-PBS NewsHour poll released last week showed only 2 percent of Republicans say the Jan. 6 committee hearings are top of mind ahead of the midterm elections.

And 83 percent of Republicans still have a favorable view of Trump, according to the poll.

Hageman, who has repeated Trump's false claims the 2020 election was stolen, is leading Cheney by 22 points, or 52 percent to 30 percent, according to a Casper Star-Tribune poll released earlier this month.


"The big story is Liz Cheney is going to get beat," said Brad Coker, the managing director of the polling firm Mason-Dixon Polling & Strategy, which conducted the poll for the Star-Tribune, in a statement.

Two-thirds of respondents in the poll said they disapproved of the job Cheney was doing, while 54 percent said they are less likely to support the lawmaker because of her role on the Jan. 6 committee.
The Hobbits and Wack-a-doos are always wrong, according to the Uniparty Establishment.
We tried persuading them.
They ignored us. We were beneath their aristocratic notice.
We tried pressuring them.
They mocked us, and they defied us, and called themselves heroes for having done so.
So now it's time to simply purge them.
Meanwhile, while the lumpy nepotess claims that Trump was wrong for not unilaterally deploying the National Guard on January 6, in fact, he's not permitted to do so -- a position her own father agrees with, as demonstrated by his and Bush's refusal to send the National Guard to quell the 1992 LA riots unilaterally.
Long estranged from the 45th president, Republican Rep. Liz Cheney...
She's long estranged from a salad.
...tried recently to make hay against Donald Trump by suggesting he never ordered National Guard troops to the Capitol during the Jan. 6 riots. But her attack misconstrues Pentagon procedures and is undercut by her own father's actions as defense secretary during the 1992 Rodney King riots.


In modern history, the Defense Department has interpreted its obligations under the Posse Comitatus Act passed in 1878 to mean that National Guard troops can't be ordered into action for civil unrest in American localities unless they are requested by local authorities, such as a mayor, police chief or governor, according to a historical analysis of the Pentagon's compliance with the law.

The practice is for a president to authorize his defense secretary to deploy troops in times of crisis upon receipt of a request and then let the Pentagon order deployment once that plea for help is made

That's what Trump did in the days before the Jan. 6 riot, and what President George H.W. Bush and then-Defense Secretary Dick Cheney did during the violence that exploded in Los Angeles in the spring of 1992 after a jury acquitted police officers in the attack on Rodney King, according to the 2018 historical review from the Combat Studies Institute at Fort Leavenworth. That study acknowledged there remains much ambiguity about how the law applies to federal troop deployments on U.S. soil.
Was Dick Cheney an insurrectionist too, or nah?
Liz Cheney is now calling for the president to seize the Caesar-like power of directing the legions to quell any local unrest, ignoring the objections of the local governors.
Remember, everyone -- we have to support NeverTrump candidates because they're the "anti-authoritarians" who will "preserve our democratic norms."

posted by Ace at
12:04 PM
|
Access Comments