« Breaking: Joe Biden Tests Positive For World's First Case of "Dumb Covid" (Updated, a Bit)
|
Main
|
Trump Wishes Biden a Speedy Recovery (Really)
Update: That Time Brian Stelter "Reported" On Trump's Covid Bout, and Failed to Challenge a Guest Who Likened It to the "Death Watch" of Stalin's Last Days »
July 21, 2022
NPR: Dinosaurs Belong to Genderqueers And It's "So Hurtful" to See "TERFs" Dropping Dinosaur Emojis Into Social Media Posts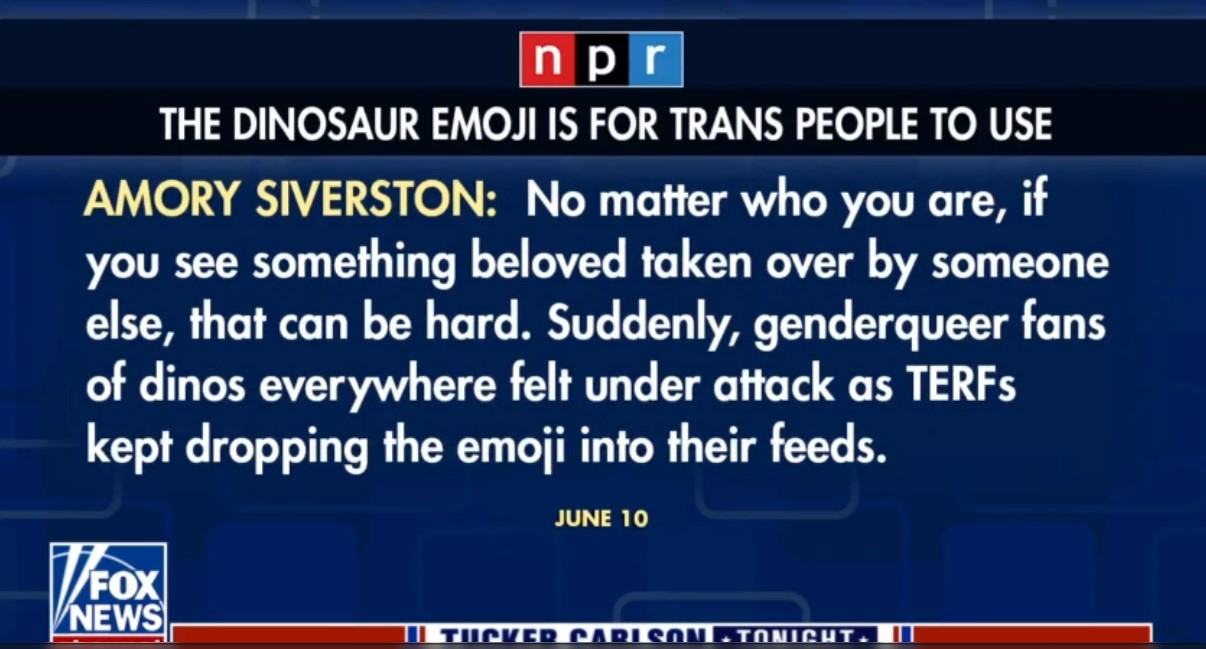 Apparently non-binaries, trannies, and "genderqueers" have reverted to a childlike state (hmmm) and like posting dinosaur emojis and have therefore decided that they own dinosaurs and the very idea of liking dinosaurs as childlike adults, and are scolding "TERFs" -- a slur they invented, "Trans Exclusionary Radical Feminists," meaning, women who do not accept the premise that men are actually women -- for daring to use dinosaur emojis on Twitter.
Which are owned by the "genderqueer" People of Crazy.
Seems to be an awful lot of social aggression, flag-planting, and imposition-imposing from people who claim they just want to be left in peace.
You are paying for this "journalism." NPR "journalists" now find all of their "news stories" on Twitter and reddit's trans and fat activism threads.
Remember that NPR is the he literal Deep State Media outlet which proudly declared they were suppressing the Hunter Biden story:*
But the biggest reason you haven't heard much on NPR about the Post story is that the assertions don't amount to much.

"We don't want to waste our time on stories that are not really stories, and we don't want to waste the listeners' and readers' time on stories that are just pure distractions," NPR Managing Editor for News Terence Samuel told me. "And quite frankly, that's where we ended up, this was ... a politically driven event and we decided to treat it that way."
A massive scandal during a political campaign isn't covered because it's a "politically driven event"? Yeah, right, I'm sure NPR applies that same logic to things like the Billy Bush "grab them by the p*ssy" tape.
At any rate, the Deep State Media organization NPR is creating a -- don't laugh --
"disinformation team," which will be staffed by the same purplehair noserings nonbinaries that staff every other "fact" check outfit.
Their latest? A "disinformation reporting team." This surely brings up memories of the ill-fated Biden Administration attempt to create an Orwellian "Disinformation Governance Board," an effort that failed spectacularly after pointed criticism.

NPR's website announced the move Friday, but gave little information about the team's purpose, other than listing the qualifications of its members, writing that its apparent head member Shannon Bond "has already given her extensive experience and sourcing in the disinformation world." Just like former Disinformation Board Director Nina Jankowicz.

Critics were quick to point out that far from being an unbiased defender of "disinformation," the outlet has, in fact, gone out of its way to hide stories it doesn't like. NPR deliberately buried the Hunter Biden laptop story, even though it should have been important news leading up to the 2020 presidential election. They even celebrated their censorship:


It's kind of unbelievable to see a news outlet openly admitting they're deciding which stories you should be interested in. It used to be that news organizations reported; you decided. Now they decide for you.

Fox News contributor Mollie Hemingway weighed in, saying NPR has basically been a disinformation team for years...

Former President Donald Trump famously wanted to defund NPR, citing its left-wing bias. After a 2020 confrontation between former Secretary of State Mike Pompeo and an NPR reporter, radio host Mark Levin tweeted, "Why does NPR still exist? We have thousands of radio stations in the U.S. Plus Satellite radio. Podcasts. Why are we paying for this big-government, Democrat Party propaganda operation?"

Trump retweeted the post and fired back, "A very good question!"

Even if the Republicans win Congress and the Presidency, they still won't defund NPR and PBS.
Video below.
I saw a genderqueer use the word "the" and I felt attacked. "The" is a special word the cis community has adopted! The trans have no right to just appropriate it for their own communicative whims! Posted by: Cat Ass Trophy
* By the way, earlier in that "ombudsmen" piece, Kelly McBride reports on a hostile interview with Michael Anton. Anton said that liberals were monopolizing all of America's cultural institution, and the liberal host at NPR reacted... by attacking him, and then NPR listeners responded by demanding to know, why are you even offering this conservative a platform?
By way of introduction to this week's newsletter, I want to share some varied reactions to a Morning Edition interview with a controversial author.

It's not uncommon for a Trump loyalist to agree to participate in an interview, and then attack the interviewer, in order to score points with the president and his base. Morning Edition host Steve Inskeep ran into one of these buzzsaws Tuesday morning when he tried to interview author and former White House staffer Michael Anton. The interview went off the rails after Anton suggested that before Trump was elected, liberals were monopolizing America's cultural institutions, and Inskeep asked him to back up the statement.

Instead of doing that, Anton went on a hyperbolic attack, condemning all of journalism and education as liberal elites. Inskeep was having none of it. He interrupted Anton with examples that countered the diatribe. But Anton was not interested in engaging in a true dialogue. Several letters in our inbox suggested some frustration among listeners.

Some of them wanted to hear more from Anton. John Thomas wrote, "Inskeep should interview instead of debate, interrupt & bully the guest."

Others were frustrated that NPR gave Anton a platform at all. Crystal Fleming said, "I write to express my alarm and dismay regarding NPR's decision to provide a platform to Michael Anton, a known white supremacist, antisemite and xenophobe, enabling this individual's harmful and dangerous ideas to reach an audience of millions."

But over on Twitter, many listeners were cheering Inskeep on for putting Anton in his place.
Well, Deep State Media, I'm glad you disproved Anton's thesis that liberals -- or, actually, Maoist leftists -- were monopolizing all of the cultural institutions and gatekeeping non-leftists out of them.

posted by Ace at
12:41 PM
|
Access Comments