« Sri Lanka Drives Its Incompetent, Corrupt Rulers From Their Homes, Occupying Them
|
Main
|
Who Is "P3do Peter"? »
July 11, 2022
"Mina's World" Woke Coffee Shop Closes
We talked about this earlier -- this was the woke coffee shop which had a trans co-owner.
The menu consisted almost exclusively of Home-Cooked Representation with Coffee on the Side.
Mina's World and the Line Between Representation and Tokenization The West Philly coffee shop is often highlighted for being a queer haven -- but isn't its menu the thing worth talking about?

by Dayna Evans Jun 8, 2021,
This story is part of a group of stories called
Queer Table
Get to know the businesses rethinking queer hospitality and community for a new generation.

For once, Sonam Parikh would like to be written about for being the best. "Not just the gay best," Parikh says, sitting on the curb in the backyard of Mina's World, the coffee shop that Parikh runs with their business partner Kate Egghart. "But the best." The menu at Mina's World -- from the house-made cardamom syrup to the pea-and-tofu samosas -- is what makes it notable, Parikh says. "We're an incredible cafe with incredible recipes. We really believe in the stuff that we're making."

In a moment of reflection while Egghart and Parikh's small, sweet dog Joon pads back and forth between their legs, Parikh brainstorms a headline for this story: "Check Out This Incredible Cafe -- Also, This Is the Background of the People. And Can You Believe They Do This While Being This?"

Even if it's a tad wordy, Parikh's point is a salient one. Queer-owned food businesses like Mina's World, where a safe, inclusive culture is prioritized and workers are paid fairly and treated with dignity, often find themselves in a double bind. Do they want to be represented as a coffee shop first and foremost, one that sells crispy spinach-and-onion pakoras, creative chai lattes, and ceramic incense holders made by local artists? Or is the cafe a queer- and trans-inclusive community space where the mission and identities of the owners are foregrounded? For that reason, "it's interesting," Parikh says, "that this article is running during Pride Month."

During Pride Month, Eater Online?
During Pride Month?!
Running a business in which workers were invited to help decide every thing, from whether or not the store would open during the pandemic to what hours it would operate, entails some moral hazards.
Like workers also deciding that maybe they should own your business.
Or are your claims of being a cooperative just another White Man's Lie?
Black Orchid explained last time:
ok so Minas was a co-op cafe - basically one of those very Woke, pay-as-u-wish, head in the clouds hippy operations. it was owned/run by a lady named EJ. her son is trans, that's Kate. they are about as lefty as they come, the whole idea for the place was socialist, etc etc

they employed a bunch of (probably) dropped out former penn and drexel BIPOC students. these employees decided they needed to get reparations in the form of collective ownership of the business - building and all. EJ said "um, no."

the workers grabbed her "daughter" who has some mental issues and made "her" the face of their demands on Instagram. with a series of very bizarre videos where "she" talks quite badly about "her" parents and supports the demands of the baristas. they look like hostage videos.

so the parents were stuck, they closed up shop, and are now putting the building up for sale. Kate is apparently a total mess and sunk into a deep depression, so I am not really laughing at all this. it's blue-vs-blue, yes. but i'm just hippie enough to feel for EJ with everything going on.

it's total insanity, basically.

The workers at the shop -- though I use the term "workers" advisedly -- demanded that the store be made into a co-op with both the store and the physical real estate property, the building itself, shared with the "workers."
They posted these grievances and demands, via Libs of TikTok's substack and her digest of the matter.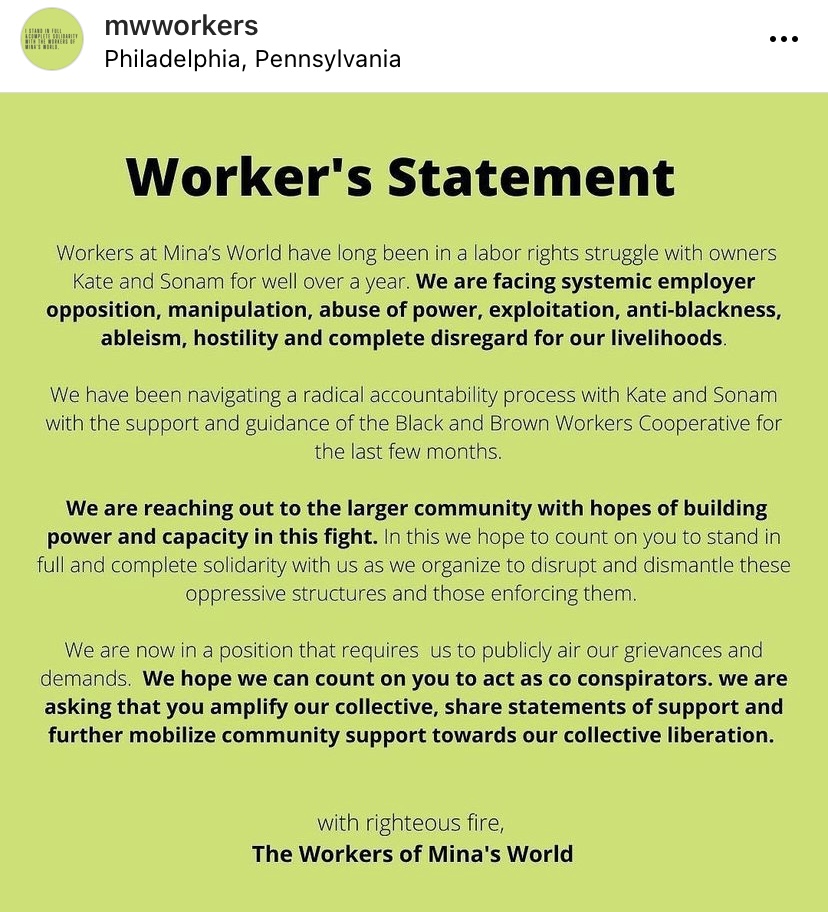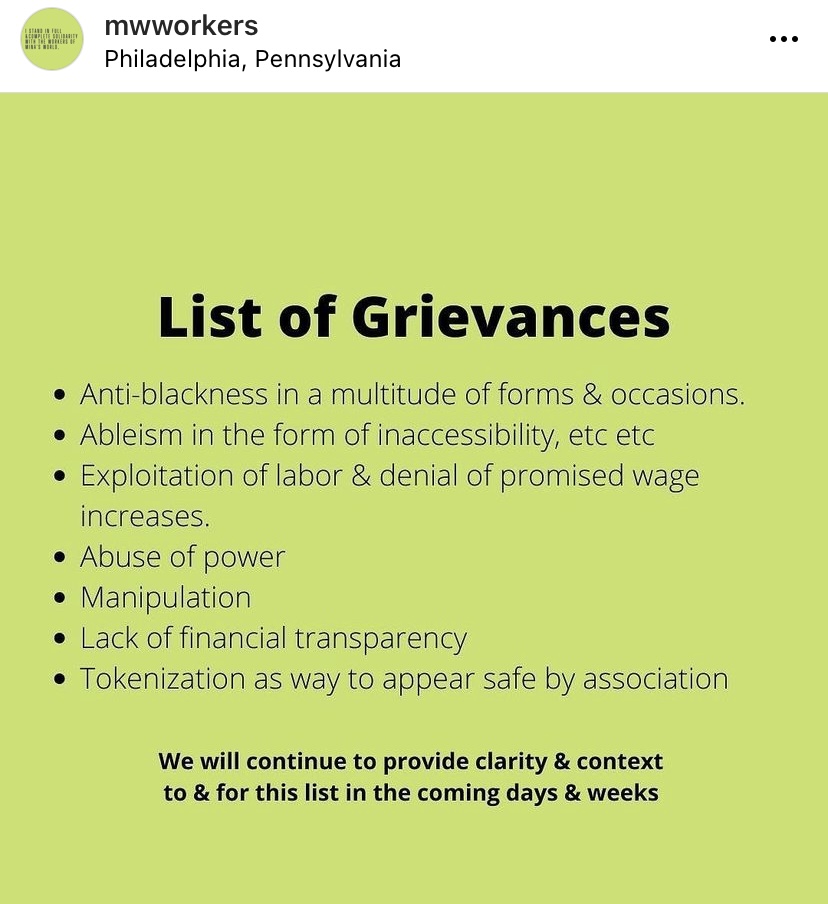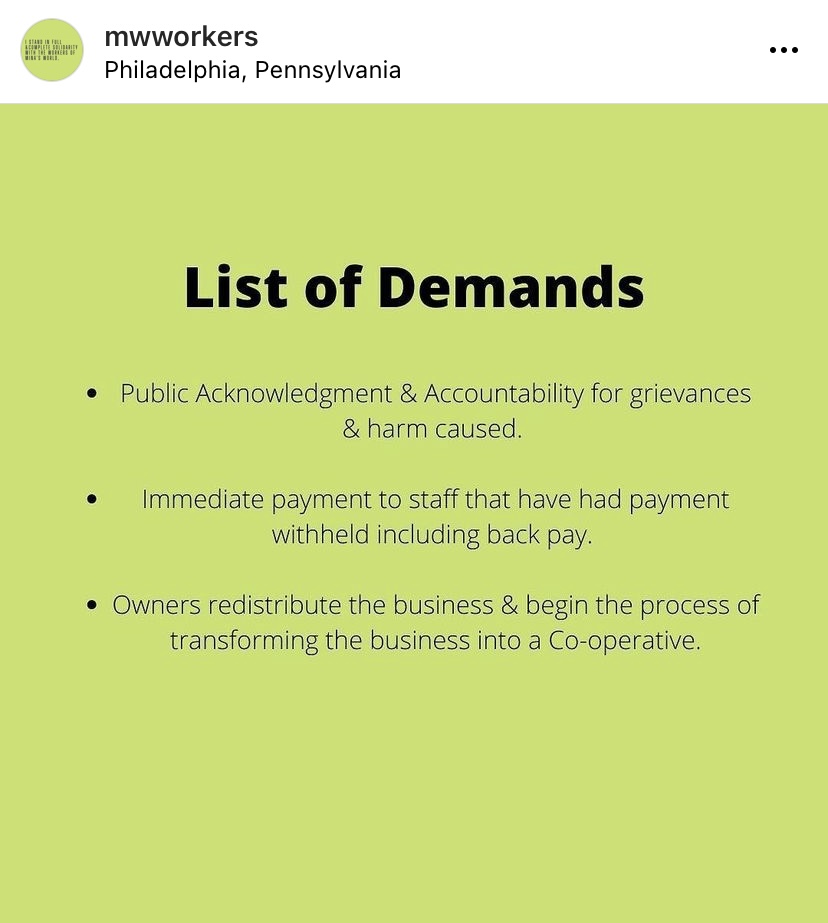 All they do is list grievances and demands for other people's stuff.

They thought they could run this scam because they people running it were "allies" and looked like this: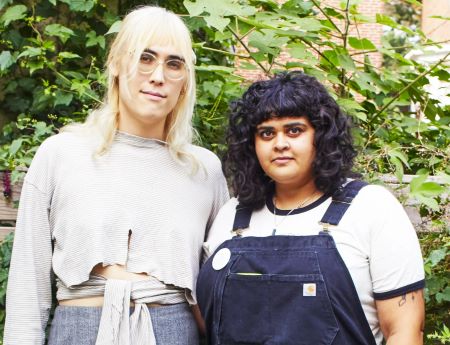 "Kate" and Sonam Parikh

The owners said "Nah" and sold the whole deal.
Get woke, go broke.
I mean, it worked out fine for the owners. They had the right response to wokeness: They shut that sh** down.
But then the "workers" called them names and said they were Bad Allies and pressured them.
So "Kate" and Sonam went to GoFundMe to try to raise the money to buy back the building they had just sold.
They failed. No one wanted to give rich kids money so they could give it away to entitled socialist layabouts, it turned out.
They put out videos claiming that they were really on the workers' side and boy oh boy isn't that EJ Eggbert ("Kate's" mother, a part owner) a mean one for not agreeing to "redistribute" her 18% share in the company.
"Kate" and Sonam deleted the so-called "hostage videos" in which they cursed their confounded fate at having sold their business and building for a tidy sum. Curses! Now they can't give that to the workers!
They later deleted those videos, but wouldn't you know it, LibsofTikTok copied them.
A coffee shop in Philadelphia known for its LGBTQ brand identity closed its doors after employees revolted against the owners and demanded that they "redistribute" the company.

Mina's World, located in the neighborhood of West Philadelphia, was characterized by Bon Appetit as a business that doubled as a "hangout spot for people of marginalized identities." Sonam Parikh, who ran the company alongside partner and co-owner Kate Egghart, told the outlet that Mina's World was the city's first coffee shop owned and operated by queer, trans people of color ("QTPOC"). The pair had named the company after their cat.
I don't know why they even bothered reporting that last part. It was implicit from the other facts.
Parikh blasted other coffee shops for neglecting to "protect their Black and trans employees" and allow customers to enjoy coffee in a space that was not "whitewashed." However, as chronicled by the Philadelphia Inquirer and Libs of TikTok, Parikh and Egghart are now facing similar allegations.

An Instagram page called the "Minas World Workers" began posting accusations against the ownership last month, claiming that they had subjected workers to "manipulation, abuse of power, exploitation, anti-blackness, ableism," and other charges summarized in a "List of Grievances." The employees demanded "immediate payment" and told the owners to "redistribute the business."
LOLGF.
If you're new to the site and don't know that meme, it stands for "Laughing out loud/get f***ed."
Egghart and Parikh apologized in an Instagram video, which has since been removed from the Mina's World account. "We're going live as part of a radical accountability process. We're complicit in the gentrification and anti-blackness on 52nd Street. We put our community at risk with our presence as well as our workers," the pair said, per Libs of TikTok. "With the guidance of the workers and Black and Brown Workers Collective, we're trying to raise funds to buy the business and turn it over to our staff."


Days later, the building that hosted Mina's World was listed for sale. According to the workers, Kate Egghart's mother, Eunjoo, was the owner of the building as well as an 18% owner of the company. The workers claimed that despite Parikh and Egghart's best efforts, she "refused" the request to redistribute the business.
I saw that Danny DeVito movie, Throw Mamma Under the Bus.
The workers attempted to raise $200,000 via GoFundMe to purchase the building, as well as the share of the business allegedly owned by Eunjoo Egghart. They managed to raise over $11,000 by July 6. In early July, however, Mina's World said it did not "have enough money to continue operating" and closed its doors.
Seriously, if they really wanted to appease their entitled socialist layabout "workers," they wouldn't have started a GoFundMe -- they could have just turned over the proceeds from the sale of the shop and the building to their workers. They could have just "redistributed" the money from the sale.
But they didn't want to do that.
Which, frankly, they shouldn't have wanted to do.
But they were claiming they wanted to "redistribute" the business to their workers. Pretty sure their "workers" would have accepted cash as a fungible substitute.

posted by Ace at
01:40 PM
|
Access Comments