« Quick Hits
|
Main
|
Itchy Goat Butt Cafe »
June 23, 2022
Gestapo: Weaponized DOJ Raids Home of Former DOJ Official For Crime of Investigating Possible Voter Fraud Under Trump
The Priest Class has determined that this was The Most Perfect Election In History, and sends out its Inquisitors who punish anyone who questions their infallible pronouncements.
And of course they're acting as the gun-toting harassment agents of the January 6 committee -- which is "defending democracy," you understand.
Federal Investigators Search Home of Jeffrey Clark Ahead of Jan. 6 Hearing

Trump saw former Justice Department official as ally in efforts to overturn election, floated installing him as acting attorney general

PHOTO: POOL/REUTERS
By Scott Patterson , Aruna Viswanatha and Sadie Gurman
Updated June 23, 2022 2:11 pm ET

WASHINGTON--Federal investigators searched the home of former Justice Department official Jeffrey Clark this week, according to a person familiar with the matter, in an escalation of an inquiry into efforts by former President Donald Trump and his allies to overturn the 2020 presidential election.

Investigators searched Mr. Clark's suburban Virginia home on Wednesday, said the person, who declined to say what specific items investigators were trying to obtain.

The search came in advance of a Thursday hearing by the House Jan. 6 select committee that will focus on Mr. Trump's efforts to enlist senior Justice Department officials, including the then-acting attorney general, into a wide-ranging effort to effort to stop Joe Biden from becoming president....

A day later, Dec. 28, Messrs. Rosen and Donoghue met with Mr. Clark, who was pressing a plan for the Justice Department to send letters to several state legislatures telling them the department was probing voting irregularities and urging them to consider appointing new slates of electors, according to the Senate report.
"Personally, I see no valid downsides to sending out the letter," Mr. Clark wrote in an email to Messrs. Rosen and Donoghue. Mr. Donoghue wrote in an email that "there is no chance that I would sign this letter."

On Dec. 29, 2020, the White House sent an email to Messrs. Rosen and Donoghue pressing them to take Mr. Trump's allegations of fraud to the Supreme Court. Mr. Engel responded with a note stating there "is no legal basis to bring this lawsuit," according to the Senate report.

Katherine Faulders
@KFaulders

BREAKING - Federal agents searched the Virginia home of former Trump-era Justice Department official Jeffrey Clark on Wednesday morning, according to multiple sources with direct knowledge of the activity. Story coming from me

Julie Kelly @julie_kelly2

This DOJ is out of control, clearly working hand in hand with this lawless January 6 committee

Republicans do nothing to stop it
@julie_kelly2

NYT: "The law enforcement action at Mr. Clark's home in suburban Virginia came just one day before the House committee... was poised to hold a hearing examining Mr. Trump's efforts to pressure the Justice Department after his election defeat."

Flagrant abuse of power.

Russ Vought @russvought The new era of criminalizing politics is worsening in the US. Yesterday more than a dozen DOJ law enforcement officials searched Jeff Clark's house in a pre dawn raid, put him in the streets in his pjs, and took his electronic devices.


All because Jeff saw fit to investigate voter fraud. This is not America, folks. The weaponization of govt must end. Let me be very clear. We stand by Jeff and so must all patriots in this country.
Mollie @MZHemingway

Absolutely disgusting. And it is even worse that they're clearly working in conjunction with the Stalinist J6 Committee for maximum public relations. Just awful. Horrifying that this Soviet-style approach is happening here.

Julie Kelly has previously written of the corrupt DOJ acting as the mob enforcers for Adam Schiff and Nancy Pelosi:
This week produced yet another example of the shameless collaboration between the U.S. Department of Justice, the Democratic Party, and the national news media to destroy Donald Trump and everyone around him. The ink was barely dry on the not guilty verdict for Michael Sussmann, just one of many figures who acted as a pass-through between Hillary Clinton's 2016 presidential campaign and the FBI to manufacture the Russia collusion hoax, before the same players were up to their old tricks.

Members of the January 6 select committee blanketed the Sunday news programs last weekend promising bombshell revelations would shake the nation during a primetime hearing Thursday night. Representative Liz Cheney (R-Wyo.) told CBS News' Robert Costa the committee would present findings to show an "extremely broad . . . extremely well-organized" conspiracy to overthrow the government that day. What the committee uncovered related to the alleged conspiracy, Cheney warned, is "really chilling.'

Roughly 24 hours after Cheney's interview aired, Matthew Graves, the U.S. Attorney for the District of Columbia handling the January 6 criminal prosecution, announced seditious conspiracy charges against five members of the Proud Boys, the so-called militia group involved in the Capitol protest. The new indictment, handed down by a D.C. grand jury 13 months after its initial indictments in the case, made instant headlines.

But the 32-page indictment contained no new information aside from a few irrelevant details; much of it rehashed previous filings in the case. Nonetheless, Graves claimed the men conspired to "oppose the lawful transfer of presidential power by force, by opposing the authority of the Government of the United States and by preventing, hindering, or delaying by force the execution of the laws governing the transfer of powerful," referring to the 12th Amendment to the Constitution.

No American has ever been convicted of "seditious conspiracy." The last time the government attempted to prosecute a seditious conspiracy case 10 years ago, the presiding judge tossed it out of court. Graves has so far charged 17 Americans with the rare offense comparable to treason and threatening life sentences for those who refuse to accept plea deals.

The purpose of the one-two punch by Cheney and Graves was revealed by the New York Times on Tuesday: committee members will present to the audience proof of an alleged "conspiracy" between Trump and the unarmed Proud Boys to execute a coup on January 6.

...

But of course facts don't matter in Collaboration Theater. The same powerful, unaccountable interests that concocted Russiagate, rigged the 2020 election, and conspired to produce the events of January 6 depend only on the bloodlust of the Democratic Party base and the insatiable vengeance of party leaders such as Rep. Adam Schiff (D-Calif.) and Liz Cheney to promote their lies. And now they get to do it in primetime.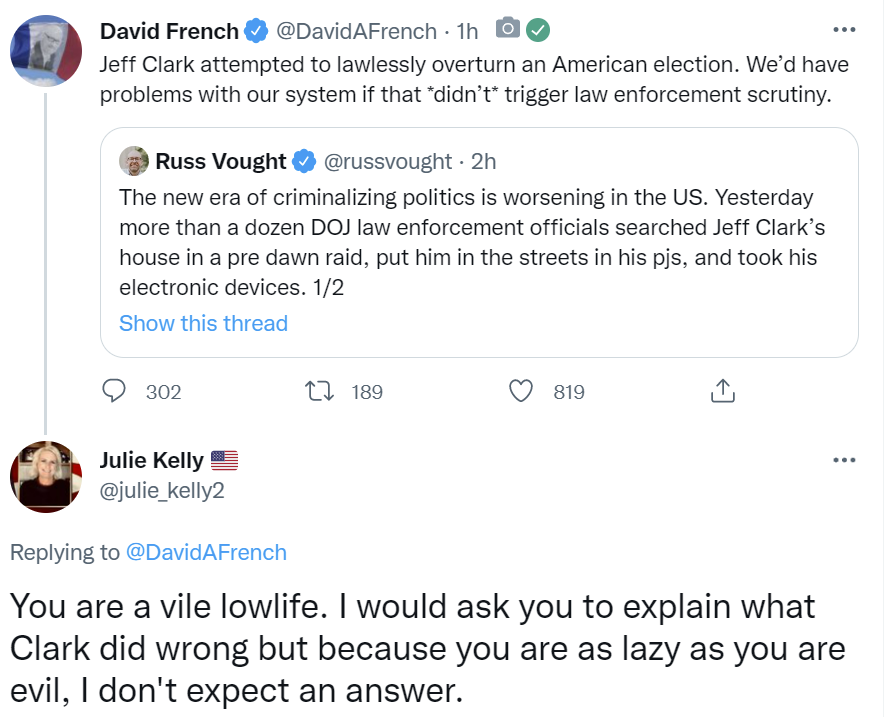 Related: the man who said he had Secret Evidence proving Trump colluded with Putin now says he has Secret Evidence that proves Trump colluded with QAnon Shaman.

posted by Ace at
06:25 PM
|
Access Comments