« New Civiqs Poll Puts Approval for Biden at... 32%
|
Main
|
Bubble Bursters Cafe »
June 22, 2022
Disney's Stock Price Has Lost 50% of Its Value After Year of Leftwing Political Electioneering and Badly-Received Woke Programming
The Mouse that squeaked.
According to Bounding Into Comics, the new Ms. Marvel show on Disney+ has been released with the lowest viewership numbers the streaming service has seen yet. A total of 775,000 households tuned in to watch the new Marvel outing in its first five days, but that's dangerously low compared to other shows such as Moon Knight (1.8 million), Hawkeye (1.5 million), Loki (2.5 million), and WandaVision (1.6 million).

This isn't to mention the flops that were the live-action "Mulan" and "Eternals" movies, the former of which was greeted with mass controversy since it literally thanks the organization tied to a concentration camp for Uyghur Muslims. Fan reactions to Kenobi have been mixed, but many (including yours truly) consider it to be a massive insult to the fans.

This isn't even mentioning that Disney/Star Wars led a campaign to call its own fans racist before the release of Kenobi.

Disney has done what it could to drive away its audience in order to embrace a political message that the majority of America isn't buying.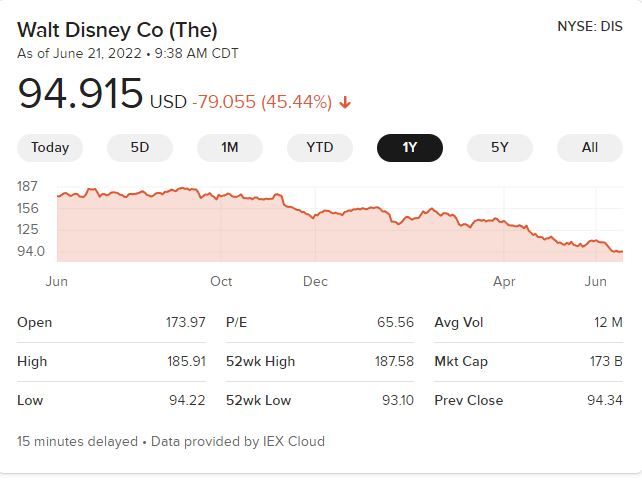 Disney just released Buzz Lightyear, a Pixar animated movie about the character from the Toy Story franchise (or... is it?), aimed at young children.
Obviously, if you're making that kind of movie, there's only one thing that's missing: a gay kiss.
The movie has been banned in fourteen countries, because Disney insisted on sticking a lesbian kiss into a movie aimed a very young children.
Disney has long been inserting gay shit into stuff aimed at children. And then they cut it out of foreign releases, for countries that don't like gay shit the way Disney's gay activist employees like gay shit.
The trouble this time is that Disney's gay activist employees insisted that there could be no cutting -- this time, the gratuitous gay kiss must go global.
It is pride month, after all.
The new Pixar animated film Lightyear has become the latest battleground for LGBTQ+ rights. The movie -- which is a prequel to the highly successful Toy Story saga -- has been banned from 14 countries for including a same-sex kiss. This means that countries in the Middle East such as Saudi Arabia, the United Arab Emirates and Kuwait, as well as a handful of Asian nations, will not be screening one of the most anticipated movies of the summer.

The movie features a character called Alisha Hawthorne, who is in a relationship with a woman. In the scene in question, Hawthorne briefly kisses her partner. In 2006, executives at Disney, the parent company of Pixar, asked for this same scene to be cut from the movie. When this decision was revealed in March, it sparked fierce backlash. Hundreds of Disney workers signed a letter calling on the entertainment giant to take a tougher stand in defending LGBTQ+ rights. The workers not only criticized the censorship of the scene, they also demanded that Disney publicly denounce the so-called "Don't Say Gay" law in Florida. This measure, which was proposed by Republicans in the state, prohibits class discussion about sexual orientation and gender identity until students are at least nine years old.

"We at Pixar have personally witnessed beautiful stories, full of diverse characters, come back from Disney corporate reviews shaved down to crumbs of what they once were," the letter sent to Disney CEO Bob Chapek stated. In response, Chapek promised to take a more active role in defending LGBTQ+ rights, and as a sign of this, he ordered the same-sex scene in Lightyear to be put back in the film.

And how did this latest #Woke bomb do at the box office?
Well, it bombed. Buzz Lightyear was projected to sell between $70 and $85 million in tickets.
Instead, it sold a paltry $50.6 million in ticket.
And it performed much more poorly than Sonic the Hedgehog 2.
The Hollywood Reporter blames this partly on "rightwing politicians."
In early January of this year, Sonic the Hedgehog 2 set off a loud boom at the domestic box office when opening to $72.1 million in theaters. Paramount insiders estimated that nearly 60 percent of the audience on opening weekend were kids and parents, proving that families were indeed willing to set aside concerns about the ongoing pandemic and return to theaters. Hollywood and theater owners breathed a huge sigh of relief.

But when Pixar and Disney's Toy Story spinoff Lightyear debuted in cinemas over Father's Day weekend, only about 38 percent of those turning out were families, helping to explain why the movie launched to $50.6 million, instead of an expected $70 million to $85 million....


By Sunday night of the June 17-19 weekend, everyone in Hollywood was asking the same question, since the opening couldn't be pinned only on the pandemic: What happened?
Yeah, why did so few families show up for a Lesbian Kiss Cartoon?
What a mystery!
Disney insiders privately point to mixed reviews from critics -- at least for a Pixar offering -- less-than-rave audience scores, as well as marketing and brand confusion.

Pixar movies have always been known for attracting both younger and older adults who don't have kids, but the family turnout for Lightyear was notably light.

...

Nor did it help that Lightyear became a political punching bag for conservative Republican lawmakers when a same-gender kiss scene was reinstated in the film after Pixar employees said Disney was censoring "overtly gay affection" following the uproar over Disney CEO Bob Chapek's handling of Florida's "Don't Say Gay" bill.

Following the movie's opening over Father's Day weekend, U.S. Representative Jim Jordan (Ohio), who is the minority ranking member of the House Judiciary Committee and has 2.8 million followers, tweeted on June 21, "Buzz Lightyear went woke. Disney went broke."
How did Jordan's tweet, coming after the weekend box office had been tallied, affect the weekend box office, Hollywood Reporter?
Does he have a time machine like I don't?
And a verified Twitter account for the GOP Judiciary Committee boasting more than 223,000 followers followed by tweeting, "make Toy Story great again."


There's no hard-and-fast evidence proving that the political conversation hurt Lightyear, although the film did underindex by a fairly large margin in the midwest, according to a source with access to Comscore regional data.
Maybe parents just don't want to take kids to see movies that expose them to alternative sexualities before they're even old enough to understand the basic one.
And maybe kids just don't want to go to a theater to see gay propaganda.
They get enough of that at school, don't they?

posted by Ace at
06:27 PM
|
Access Comments