« Christina Aguilera Puts on "All Ages" Pride Show, Stroking Anatomically Detailed Strap-On Dildo
|
Main
|
Karine Jean-Pierre Admits: I'm So Stupid I Can't Even Keep Up With the Demented, Senile Joe Biden »
June 14, 2022
Twitter Freaks Debate Deplatforming Libs of TikTok, Again, In Leaked Thread; Taylor Lorenz, Who Cries About Her Own Alleged "Death Threats," Mocks the Death Threats Libs of TikTok Receives
The Purplehair Nosering Genderfux of Twitter are at it again, reports Libs of TikTok on her blog:
We received our third Twitter suspension just last week for posting fliers of pride events. I had created a "mega drag thread" which documented the sharp rise in drag events for kids. It's a disturbing trend; the Left has become obsessed with ensuring your 4-year-old has access to men dressed as women while dancing provocatively for cash. The fact that I was noticing--and drawing attention to how widespread this trend really is--seemed to trigger the Left. Big accounts on Twitter started calling for my suspension while labeling me a "domestic terrorist."

The below Slack conversation between Twitter employees occurred today against this backdrop, and echoes some of the charges leveled at us by far left activists. It was shared with us by a Twitter employee, who wishes to remain anonymous. We verified the names and images of the employees before we obscured them.
Bonus: Re: the very mentally balanced person claiming that Libs of TikTok is "going to get somebody killed." This pyrsyn has a very strong grasp of the dueling concepts of "What is Real?" and "What is Not Real?"
She notes that the Purplehair Noserings take the position that she's a terrorist -- that is beyond debate. The only question is: What do we do with this terrorist?
More at her site.
Meanwhile, Taylor Lorenz -- who has literally cried on camera over all the turrible, turrible abuse she gets online -- is mocking the death threats that LibsofTikTok is getting, and demanding to know why anyone is treating them as a big deal.

Twitter, of course, is taking no action whatsoever against the people sending LibsofTikTok death threats.
"Of course," Taylor Lorenz snarks to this exchange, angry that Elon Musk would ask Twitter to enforce its own alleged rules against death threats.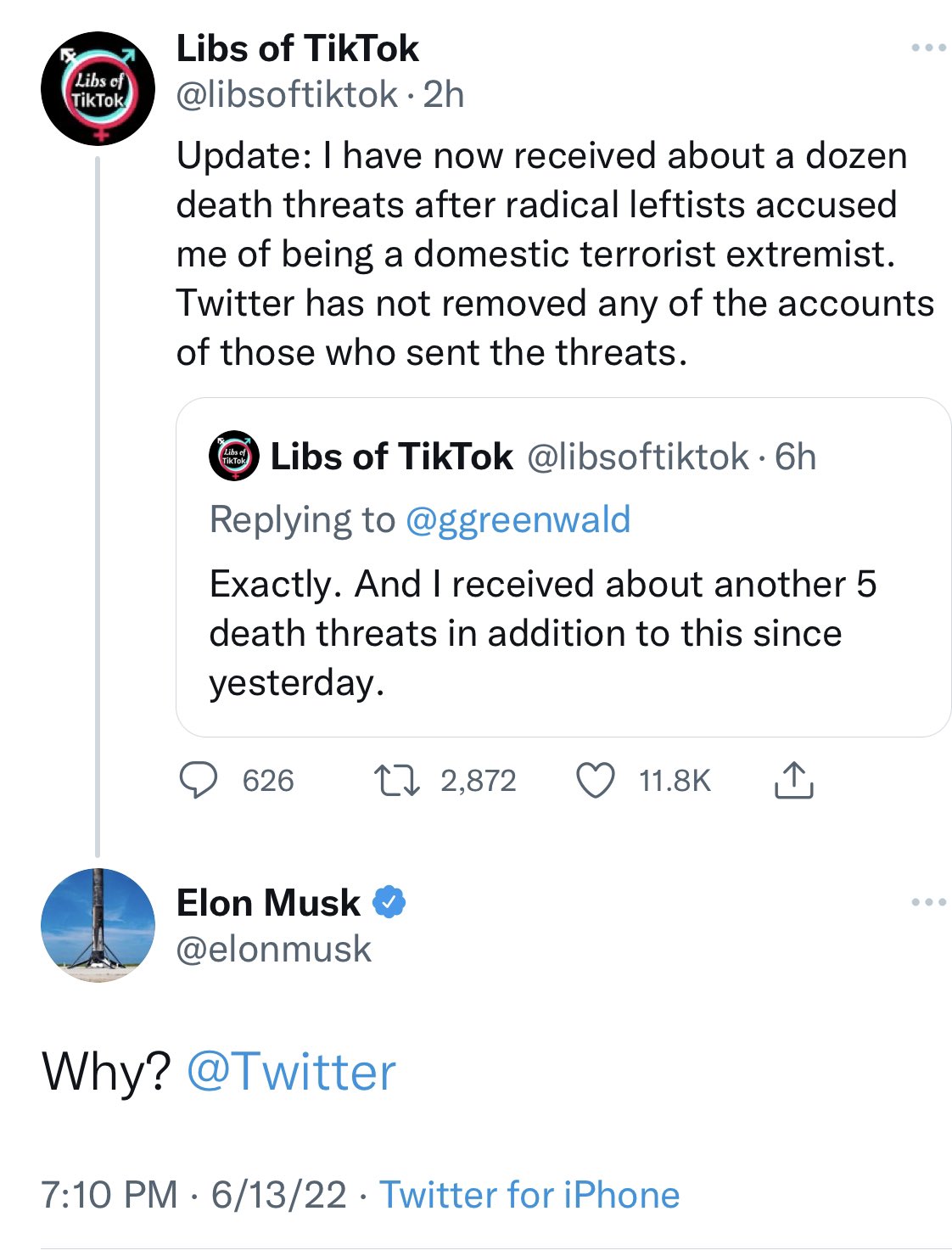 LibsofTikTok is a "terrorist" committing literal "genocide" against "marginalized communities" and must be banned, so that must mean that the Purplehair Noserings' allies sending death threats must be Resistance Fighters, yes?
One note about Taylor Lorenz: if she seems mentally ill to you, that's because she is. She compulsively rips her own hair out of her scalp until it bleeds, and picks and scratches at her skin.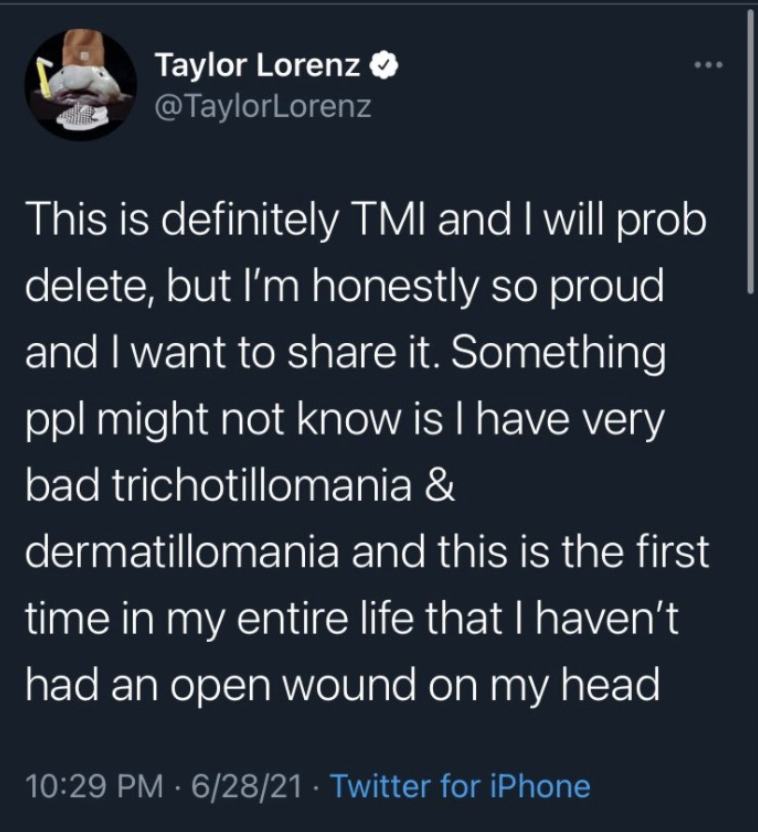 And then she blames her persistent state of anxiety and social media terror on others, rather than on her very poor choice of an occupation for a mentally-unwell woman.
Then again, a lot of mentally-unwell people seek out jobs on the internet, precisely because they are too weird to hold a Normie job.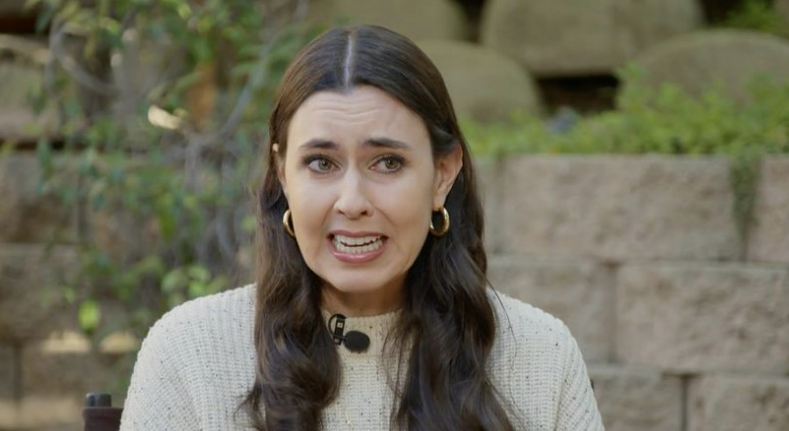 Libs of TikTok has, in the meantime, fled her home for a safer place:
Libs of TikTok @libsoftiktok

Update: After the events of the past 2 days I've decided to move to a safer location until things calm down. Thank you all for your kind words and support.

posted by Ace at
02:22 PM
|
Access Comments