« Daily Tech News 19 May 2021
|
Main
|
Mid-Morning Art Thread »
May 19, 2021
The Morning Report - 5/19/21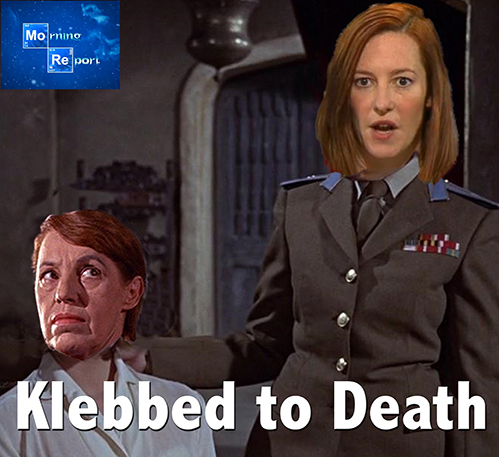 Good morning kids. Wednesday and first off, my response to CBD's rebuttal to my editorial yesterday is "CBD, you ignorant slut..."
That's all. Kidding! In fairness he did raise excellent points. In truth, I am not as well versed in internal Israeli politics and society as he is so I defer to his judgement on the situation. In my defense, this was the most massive attack on Israel not involving an actual dictionary definition army that I can remember, and with the Biden junta in power, most of the Democrats baying for Jewish blood and Iran emboldened to nuke up, can you blame me for being just a tad "concerned?" We probably won't know the full body count but Israel playing the media like a Stradivarius in luring the cockroaches out from their US taxpayer-funded hidey holes and dropping ordnance on them like Charlie Sheen on Saddam in Hot Shots was brilliant.
That said, Israel is facing an enemy with a warped, twisted worldview, 180 degrees out of phase with reality, that makes it quite dangerous to its security. And not coincidentally that government just happens to be the one that is occupying (now there's a word pregnant with meaning) the Oval Office, mostly through Kalorama.
America's foreign-policy establishment and peace-process industry are having a field day: The latest round of fighting between Israel and the terror group Hamas, they insist, has sounded the death knell for the Abraham Accords, the Trump-brokered peace treaties between the Jewish state and several Muslim nations.

Leading the Schadenfreude Brigade was White House Press Secretary Jen Psaki, who on Tuesday declared from her podium: "We don't think [the accords] did anything constructive, really, to bring an end to the longstanding conflict in the Middle East." The peace-processors failed for decades to make Mideast progress, and the Gaza flare-up gives them and their DC mouthpieces (like Psaki) a cheap chance to crow, "I told you so."

Reality disagrees, however...

...While Arab leaders sympathize with the Palestinian people, the accords showed that Mideast states have wearied of a corrupt and intransigent Palestinian leadership. For four years leading up to the accords, the unmistakable message to Palestinians and their leaders was that the proverbial train was leaving the station, and it was in their interest to get on board, rather than cling to the slogans of the past; the Palestinians didn't get the message.

These fundamental dynamics remain beyond the grasp of the dangerously deluded peace-process industry, which remains bent on pulling the region backward, all to fit their disproved theories. There is plenty of more work to be done to expand the peace and normalization framework. This work will continue, regardless of predictable regional forces that periodically lash out and in spite of those who gleefully mistake this beginning for the end.
Surely, one of the reasons for the unprovoked missile attack on Israel was to try and destroy the Accords. I don't think that that is going to work. I believe that President Trump pulled off possibly one of if not the greatest diplomatic triumphs in the former United States' history. Will there be Muslim/Jewish rapprochement overnight? No, of course not. And the continued exportation of Wahhabism from Saudi Arabia does not help matters (although I thought MBS was supposedly putting an end to that?). But a seed has been planted and though vulnerable has a chance - a chance - to perhaps change the course of nearly 2,000 years of terrible history in the long run.
Psircling back, all I have to say is Jen Piss-Hockey Psaki has got to be one psick, ps-psychotic fool. To say what she said about Trump and the Abraham Accords is just beyond my capacity for words. I don't think she's just saying it for the sake of saying it; I think she really believes this crap. Same as her kissing cousins in the Democrat Death "Squad" and all the other crackpot Islamists and Socialists that occupy (that word again) two sides of the same worthless coin. Speaking of Democrats, while their attempt to hold back military aid to Israel failed, they still managed to not vote in favor of a resolution to sanction Hamas. Time will tell if Dao-Min Yen has the ability to preserve their majorities even as this ugly internecine war within the party spills out for the public to see.
Moving on to something completely different, yet with the common denominator of an illegitimate and now feral Democrat Party, NY hack Letitia James has made it official that she will be seeking criminal charges against President-in-Exile Trump for the crime of attempting to halt the overthrow of the United States of America and embarrassing globalists. Elsewhere, Americans are still being held as political prisoners and being essentially tortured - - in their own country, or what used to be their own country.


"I've been in solitary confinement for a hundred days now and haven't been convicted of any crime with no end in sight," he continued.

Lang is accused of assaulting a Capitol police officer with a dangerous or deadly weapon. He has pleaded not guilty to all charges. As per a text message received by his mother, Lang was reportedly locked in an empty cell with no toilet paper, chair, or blanket for 14 hours after being accused of advising other Capitol protestors to not take a plea deal.

Shockingly (or not), members of the left's darling street militias, BLM and antifa, have seen a different side of the "system." People arrested for rioting, looting, burning federal buildings, and assaulting police officers are seeing little, if any, time behind bars. Roughly half of those arrested for federal crimes have had their charges dropped. Most are granted bail and many have had their bail paid by organizations such as the Minnesota Freedom Fund.

Compare that treatment to Capitol protester Ryan Samsel, reported to have been "viciously and savagely" beaten by police while in federal custody....

...[Mass terrorist-linked Dick] Durbin, who has long been opposed to solitary confinement, told Politico that such conditions should be a "rare exception," whether for accused insurrectionists or any other prisoners.

"There has to be a clear justification for that, in very limited circumstances," he said.

Some Jan. 6th defendants believe there is a racial component to their treatment: Most are white -- some with connections to what some people believe are white nationalist groups -- while most D.C. inmates and prison guards are black.

Judge Paul Friedman said last week that those concerns are "not necessarily illegitimate."

"It may be that some of the people arrested on Jan. 6th are white supremacists" or "that they're perceived to be," he added.

One thing cannot be denied: one's arrest, confinement, treatment, and prosecution in 2021 America seems to be determined by our political leanings. Where have we seen that before?
Land of the freebie, home of the enslaved. While you're at it, take a look at that video of the 10-year-old boy who stood up and spoke out about being forced to wear the face diaper of submission, and compare and contrast to the sick slag posing as a teacher verbally abusing a student for not doing so to her satisfaction.
I'm angry. And I want justice. One way or another, I'm going to get it. Stay angry my friends.


ABOVE THE FOLD, BREAKING, NOTEWORTHY
CIVIL WAR 2.0: LEFTIST PERSECUTIONS, CAPITOL HILL BLACK WEDNESDAY PROTEST AFTERMATH, DEMOCRAT PUTSCH, AMERICAN DISSOLUTION
NOTE: The opinions expressed in some links may or may not reflect my own. I include them because of their relevance to the discussion of a particular issue.
ALSO: The Morning Report is cross-posted at CutJibNewsletter.com if you want to continue the conversation all day.
Follow us on Twitter: @CutJibNews
Follow us on Instagram:@Cutjibnewsletter

posted by J.J. Sefton at
07:25 AM
|
Access Comments