« Tuesday Overnight Open Thread (6/26/18 ) Quotes of The Day Palooza
|
Main
|
Mid-Morning Open Thread »
June 27, 2018
The Morning Report 6/27/18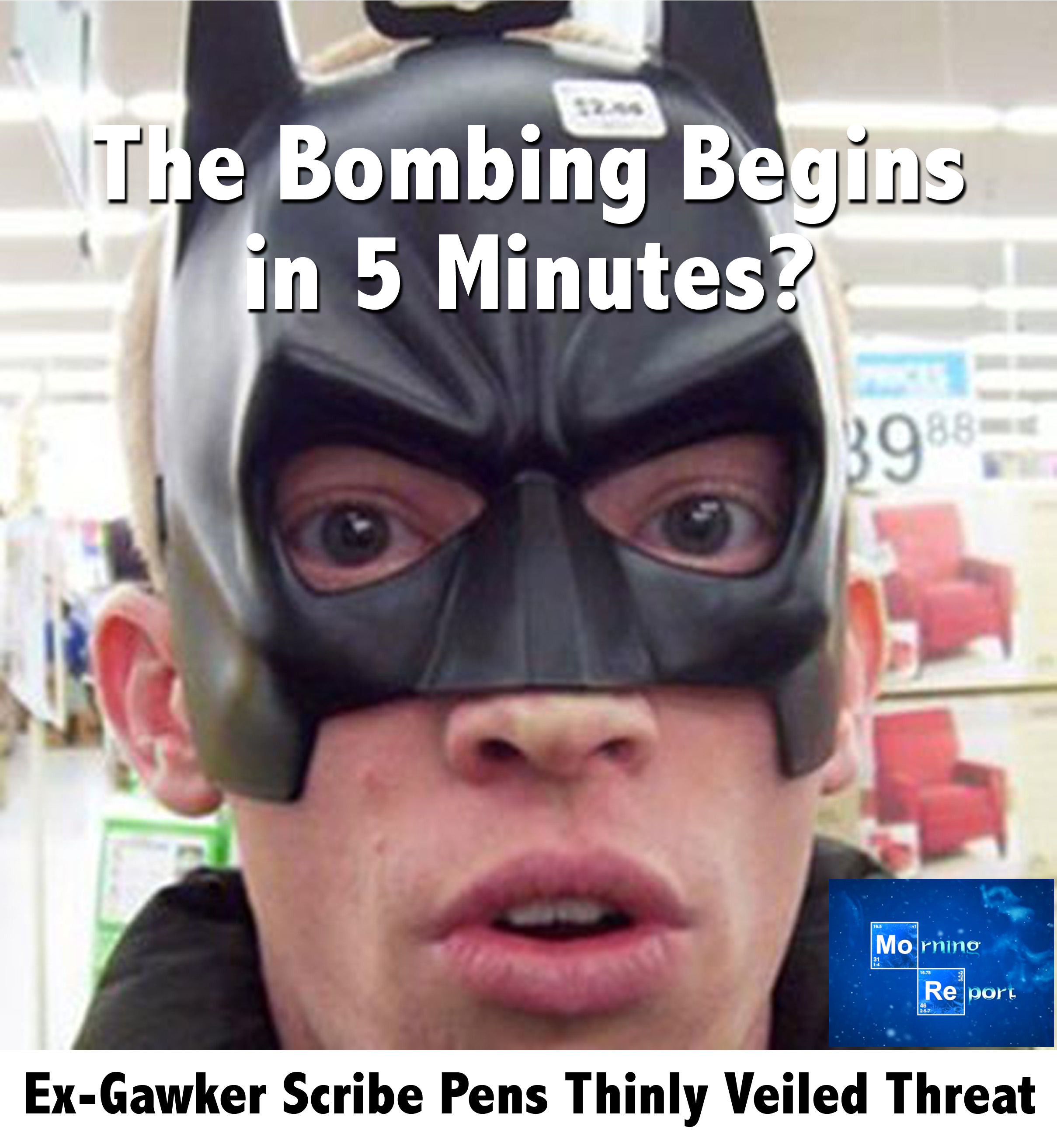 Good morning kids. Midweek and in the wake of a couple of huge SCOTUS decisions that saw the restoration of Executive authority and upholding of First Amendment religious freedom principles, as well as the continued success of the president, both in messaging and tangible policy goals, the Democrat-Left-Media complex is now in free-fall. That is both welcome and alarming. Welcome in that PDT is as serious as a heart attack to secure our border and stop what is in fact a 50-year-long premeditated invasion by foreign nationals for the sole purpose of destroying the fabric and nature of our society, and the dismantling of the Leftist Bureaucratic Leviathan that has had an ever-tightening stranglehold on our liberty, especially in the eight-year Obama Reign of Error.
And, as stated, it's alarming in the reaction to the aforementioned from those who are "resisting." It's one thing for fringe loonies to fantasize about offing their political opponents from the safety and security of a mildewed, basement-banished Barcalounger bedewed with sweat, crotch-rot and stale, 80-grit Cheeto dust. But when the leaders of one of the two main American political parties and their cheerleaders in the press openly and unapologetically call for the physical confrontation and harassment of the President, officials in his Cabinet, politicians in the other main political party and by extension the public at large who voted them all in, then we are going to have and indeed do have a situation.
And that leads me to a cute little cupcake who goes by the name of Hamilton Nolan. With his former organ, Gawker, now justly consigned to the biological waste dump of history, Nolan is now plying his trade at someplace called Sphincter, er, Splinter. The other day he penned a charming little mash note to "Amerikkka" warning us that scads of likeminded folks are ready to pick up where the Weathermen, Black Panthers, FALN, SLA, BLA, SDS and all the rest left off:
...Do you think that being asked to leave a restaurant, or having your meal interrupted, or being called by the public is bad? My fascism-enabling friends, this is only the beginning...

...Read a f***ing history book. Read a recent history book. The U.S. had thousands of domestic bombings per year in the early 1970s. This is what happens when citizens decide en masse that their political system is corrupt, racist, and unresponsive. The people out of power have only just begun to flex their dissatisfaction. The day will come, sooner that (sic) you all think, when Trump administration officials will look back fondly on the time when all they had to worry about was getting hollered at at a Mexican restaurant. When you aggressively f**k with people's lives, you should not be surprised when they decide to f**k with yours.

Stop working for this man. Stop enabling him. Stop assisting him. Start fighting him. The people who are responsible for what is happening are not going to get out of this with their happy wealthy respectable lives unscathed. This is a country that locks poor people in cages for decades for trying to make $20. This is a country that is "tough on crime." Remember? And the ones who make the laws are not going to like what happens when America starts to regard them as the criminals.
Cute. Actually, if you strip everything away but that last sentence, it perfectly encapsulates what we've been saying about the Democrat-GOP Cuck-CoC Whores and the Deep State in general, but I digress. Aside from the propaganda about wage slaves and an unjust criminal justice system, he very cleverly uses rhetorical trickery to walk right up to the line of openly calling for violence without crossing it, wistfully recalling the halcyon days of the 60s and 70s and then obliquely hinting at what's theoretically to come. That said, I'm not interested in parsing his words from a legal perspective. To me the message is clear. He's predicting bombs will be hurled and is, in fact, drooling all over himself at the prospect.
Surprising? Not really, given the Obama years of "bring a gun to a knife fight" and "get in their faces and yell" at your political opponents as well as the concomitant ramping up of the demonization of white people, males, Judeo-Christianity, Western civilization, free market capitalism, the Constitution (I'm looking at you, Ruth Bader-Meinhoff) and America as founded. And now we have lunatic Maxine Waters exhorting the masses to confront the President and officials in his administration. Violence is a given considering what happened to Steve Scalise and Rand Paul. But this just takes it to another level entirely. How many people are following Hamilton Nolan and his diatribes on Sphincter? Who knows. But in this climate - fueled completely by the Democrat-Left-Media complex - it just takes one to pull a Bill Ayers. NB: I normally don't link to Gateway Pundit but I did not want to link directly to the source for obvious reasons. GP does so that's your call if you want to. There are a number of links about this subject in the first amendment section as well as a palate-cleanser video of real journalist Laura Loomer getting up in Maxine Waters' hateful mug and giving her a taste of her own medicine, sending her scurrying off like the cockroach she is.
Moving along, as noted, SCOTUS by a slim 5-4 vote gave the President, the Constitution and the rule of law a huge win by upholding his authority to impose a travel ban. The reaction from the Left was predictable but the unhinged rant by dissenting Justice Sotomayor was beneath the dignity of the court, much like herself as Mark Levin points out. PDT is now poised to push for border wall funding, Ann Coulter says he can do it via the military, Paul Ryno's disastrous Amnesty sellout bill is likely to go down in flames despite his prognostications to the contrary, Elaine Chao went off on Amnesty protestors going after Hubby McCoCbrother and Steve Schmidt is an inflamed anal fistula.
In politics, the big stories out of yesterday's Super Tuesday was Mitt Romney winning the Utah GOP primary in his bid for a Senate seat, Trump-endorsed Henry McMaster and Dan Donovan winning while on the Democrat side the big shocker was 28 year old Democrat-Socialist Sandersnista acolyte Alexandria Ocasio-Cortez sending 10-term Trump-Hater and heir apparent to Nancy Palsi's leadership role Joe Crowley packing. This is a huge defeat for the Trotskyites in that party and now Cynthia "Dickless" Nixon is crowing about it as a harbinger for her chances against Cuomo. Interesting link about what this all means vis a vis the future of the Democrat party. Lastly we note with sadness that Manning the traitor went down in defeat in a bid for a Maryland Senate seat Now, a mere bitter Klinger.
Domestically, the CBO is ringing a $100 trillion (with a "T") alarm bell about the deficit while the Trump tax plan is seeing hundreds of billions of overseas corporate profits flowing back, Rick Santelli on tariffs and two sides to the SCOTUS decision on internet taxation.
From hither and yon, the Kermit Gosnell movie has a distributor and a release date; 750 theaters is enough to get some good exposure for a story that too few really know about (thanks Media!), a good piece about Conservatism Inc., police find a corpse in the home of a NY Giants player and yesterday was the 50th anniversary of one of the most incredible streaks in baseball history by one of its greatest players.
Finally, below the fold, the RNC cut an absolutely brutal ad for the midterms. I give it an A-minus for not showing footage of Steve Scalise, but it's damn good in any case.
Anyway, links from around the world, across the nation and up your street. Have a better one and remain blessed.

BONUS: Latest GOP Ad (Below the Fold)

posted by at
07:40 AM
|
Access Comments