« EMT 3/13/16 Snooze button not optional edition. [krakatoa]
|
Main
|
Gun Thread: The Guns We Love To Hate (And Hate To Clean) [CBD] »
March 13, 2016
Sunday Morning Book Thread 03-13-2016: Fashionable Nonsense [OregonMuse]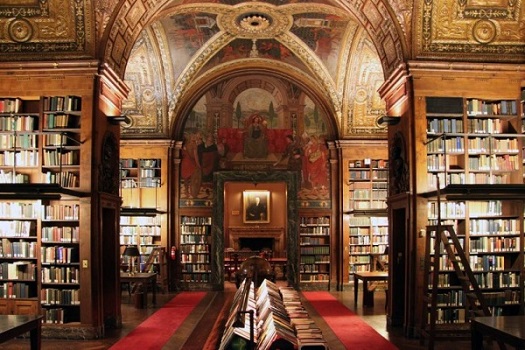 The Morgan Library & Museum, New York

Good morning to all of you morons and moronettes and bartenders everywhere and all the ships at sea. And to all you young lovers wherever you are, we hope your problems are few. Welcome to AoSHQ's stately, prestigious, internationally acclaimed and high-class Sunday Morning Book Thread. The Sunday Morning Book Thread is the only AoSHQ thread that is so hoity-toity, pants are required.
"Reading great books gave me unlimited access to people I never would have met, cities I couldn't visit, mountain ranges I would never lay eyes on, or rivers I would never swim. Through books I fought bravely in wars of both attrition and conquest."
--Pat Conroy

"I've Got My Degree In Advanced Gobbledygook"
Remember a while back when a janitor at an art museum accidentally threw out an exhibit from the post-modern show the museum was putting on because he thought it just was a pile of trash? You would think an incident like that that would give the curators pause. But it doesn't. The janitor, as well as those of us who are are able to laugh at the irony of not being able to tell the difference between post-modern art and garbage are written off as philistines.
The conservative blog-o-sphere has been having lots of fun this week with this steaming pile of poo. And naturally, the boss could not not resist getting in on the action. And why not? It's such a target-rich environment, the jokes practically write themselves.
You can't make this stuff up. Well, maybe you can. A physicist named Alan Sokal got tired of the gobbledygook, so he wrote and submitted his now-famous essay entitled Transgressing the Boundaries: Toward a Transformative Hermeneutics of Quantum Gravity to the peer-reviewed postmodernist journal Social Text. And it was accepted.
Turns out Social Text got royally punk'd:
The article makes frequent mention of highly technical aspects of quantum field theory, differential topology and nonlinear dynamics. Of course, the unstated assumption is that Sokal being a bonafide physicist knows what he is talking even though the editors clearly don't. Transgressing the Boundaries... also faithfully quotes a gallery of postmodern thinkers including Derrida, Lacan and Foucalt (to the predictable charge that these quotations were taken out of context, the author replied that the relevant passages were even more ridiculous when taken in context - the reader may judge for himself by wading through the footnotes or by reading Fashionable Nonsense, by Sokal & Bricmont.)
I don't think I've said anything that you morons haven't already heard, but I never knew Sokal followed this legendary hoax up with a book, Fashionable Nonsense: Postmodern Intellectuals' Abuse of Science that he cowrote with another physicist, Jean Bricmont, and they
...expand from where the hoax left off. In a delightfully witty and clear voice, the two thoughtfully and thoroughly dismantle the pseudo-scientific writings of some of the most fashionable French and American intellectuals. More generally, they challenge the widespread notion that scientific theories are mere "narrations" or social constructions.
The one-star reviews are funny: "He knows *nothing* of Lacan!"
But Sokal is no conservative. He's just an old-school lib who's tired of the postmodern academic sludge. This is obvious from another book he wrote, Beyond the Hoax: Science, Philosophy and Culture, wherein
...he turns his attention to a new set of targets - pseudo-science, religion, and misinformation in public life. 'Whether my targets are the postmodernists of the left, the fundamentalists of the right, or the muddle-headed of all political and apolitical stripes, the bottom line is that clear thinking, combined with a respect for evidence, are of the utmost importance to the survival of the human race in the twenty-first century.'
Such as, for example:
...how conservative politicians and industry executives are happily manipulating the vaporous tenets of postmodernism to obscure the scientific consensus on global warming, biological evolution, second-hand smoke, and a host of other issues.
I can see the point. Sokal sees sloppy thinking all over the place and he's calling it out. OK, fine. But if he believes that public policy should be based on "evidence, the whole evidence, and nothing but the evidence", I think he's being a trifle naive. And as far as public policy debates go, this doesn't begin to address the fact that when a progressive argues for 'X', where 'X' is any item on the progressive agenda, he really isn't arguing for 'X' in and of itself, but only insofar as 'X' can be used as a tool to further the interests of the progressive left, i.e. allows progressives to grab more power and influence. They don't really care about 'X' otherwise. That's a whole layer of dishonesty that the "let's just have evidence" approach doesn't even begin to address.
But aside from this, even if the debates were honest, a whole bunch of a priori stuff has to be agreed on first before you can start arguing about the evidence. The history of science has never been a matter of one theory supplanting another because of better evidence. Surely a scientist like Sokal must have at some point read The Structure of Scientific Revolutions, Thomas Kuhn's classic book on the philosophy of science, first published in 1962, wherein he
...challenged long-standing linear notions of scientific progress, arguing that transformative ideas don't arise from the day-to-day, gradual process of experimentation and data accumulation but that the revolutions in science, those breakthrough moments that disrupt accepted thinking and offer unanticipated ideas, occur outside of "normal science," as he called it. Though Kuhn was writing when physics ruled the sciences, his ideas on how scientific revolutions bring order to the anomalies that amass over time in research experiments are still instructive in our biotech age.
Bottom line is, you don't have to be a postmodernist to understand that there's more to empirical science than empirical science.
But as for paper on the gender identity of glaciers and the evolving feminist glaciology framework, I think instead of being peer-reviewed, they should be evaluated as avant garde performance art. With extra style points if it manages to bring in 3 different victim groups, or 4 French philosophers.

R.I.P. Pat Conroy
Much commented on in the book thead last week. Naturally, I wasn't paying attention and didn't hear about it until it was too late:
Pat Conroy, who used his tortured family life and the scenic marshlands of coastal South Carolina as unending sources of inspiration for his fiction, notably the novels "The Great Santini," "The Lords of Discipline" and "The Prince of Tides," died on Friday. He was 70.
I would not want to have been him:
Mr. Conroy had a brutal childhood. He was dominated by his sadistic father, Donald, a Marine Corps fighter pilot who beat his wife, drilled his seven children military-style to instill discipline and mercilessly abused his sons, first and foremost Pat, his eldest.
Ugh. Well, they always say write what you know, and Conroy evidently did.
I hope he has finally found peace.

"Our Goal Is To Be Eaten Last", Said The Pointy-Haired Corporate Suit
This looks like the latest attempt at appeasement:
Simon & Schuster Children's Publishing announced today that it will launch Salaam Reads, believed to be the first imprint at a major publisher focused on Muslim characters and stories. Salaam Reads will introduce readers of all faiths and backgrounds to a wide variety of Muslim children and families, and offer Muslim kids an opportunity to see themselves reflected positively in published works. The imprint, which takes its name from the Arabic word for "peace," plans to publish books for young readers of all ages, including picture and chapter books, and middle–grade and young adult titles.
I'm curious as to why the suits at S&S decided to go ahead with this new imprint. Is there really a big market for Muslim-themed children books in America? Or, perhaps the question I should be asking is, how big is the market for Muslim-themed children books in America?
"There are 3.3 million Muslims in the United States, 1.6 billion in the world, and they are an underserved literary market," said Jon Anderson, President of Simon & Schuster Children's Publishing. "Children's books are a fantastic way to get to know our local and global Muslim neighbors. Simon & Schuster is thrilled to offer a home to books that share the stories of Muslim children, in all their diversity. "
As Anderson says, the Muslim population of the United States is at approximately 3.3 million. OK, that sounds big enough to sell stuff to. In comparison, there are an estimated 5.3 million orthodox Jews in America. But looking at the Simon & Shusters imprints page, I don't see that they have an Orthodox Jewish division. Hmmm, I wonder why not? And, for that matter, what about evangelical Christians? There's a royal boatload of those in America, and they're quite diverse, but they don't get their own Simon & Shuster imprint, either.
To borrow steal a line from Orwell's Animal Farm, I guess some diversity is more equal than others.
Exit question: what is S&S going to do if their Salaam Reads imprint tanks?

Moron Recommendations
Continuing the recommendations sent to me by a lurking moron last week, there's a couple of Jeff Edward novels he classifies as "future dystopian", but I think I would call them "cyberpunk noir" detective stories (or is cyberpunk already noir by definition?). All the seediness of 1930s Los Angeles, only it's 2065 and the future ain't any better. The novels are Dome City Blues, which I've read, and it's pretty good, and the prequel, Angel City Blues. Both novels feature, as the main character, the hard-boiled detective (and improbably named) David Stalin.
And speaking of detective novels, most of you morons are famillar with Dan Simmons, who usually writes science fiction (notably Flashback, which has been mentioned on the book thread a lot), but he has also written the "Hard Case" series, which my lurking correspondent calls "a great trio":
And finally, he recommends an author named Steve McHugh, who has written very enjoyable "magic" type books. You can the the list here. Priced respectably at $3.99 - $4.99.
___________
Don't forget the AoSHQ reading group on Goodreads. It's meant to support horde writers and to talk about the great books that come up on the book thread. It's called AoSHQ Moron Horde and the link to it is here: https://www.goodreads.com/group/show/175335-aoshq-moron-horde.
___________
So that's all for this week. As always, book thread tips, suggestions, bribes, rumors, threats, and insults may be sent to OregonMuse, Proprietor, AoSHQ Book Thread, at the book thread e-mail address: aoshqbookthread, followed by the 'at' sign, and then 'G' mail, and then dot cee oh emm.
What have you all been reading this week? Hopefully something good, because, as you all know, life is too short to be reading lousy books.


posted by Open Blogger at
09:03 AM
|
Access Comments