« Mr. Cool Pretty Jazzed About His Gutsy Call
|
Main
|
Republicans Draft Contempt Finding Against Holder; Will File It Unless He Begins Complying In Next Several Weeks »
April 27, 2012
Well-Played, NPR. Well-Played.
Via @gabriel_malor and @drewmtips...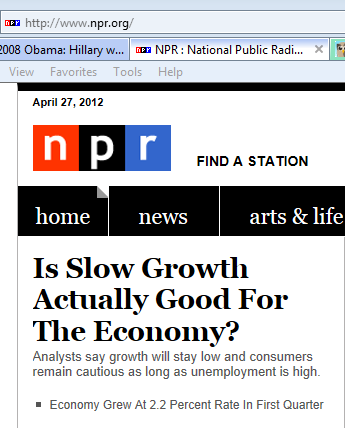 Drew points out that if you click through, the headline on the actual article (that is, not the headline on the main NPR page) asks if moderate growth is good for the economy.
Top Ten: Toss me some Top Ten NPR headline gags. I'll use them or adapt them for a list.

Top Ten Rejected NPR Headlines
10. Did Hitler Get a Bad Rap?
9. Should I tell my husband I'm cheating on him? And planning to murder him?
8. What's so Morbid about Morbid Obesity?
7. Should I bait this rat-hole with my penis? If not, why not?
6. Is thirteen really too young?
5. Should I eat a knife?
4. Who's afraid of late-stage Hanta virus?
3. Candy From Strangers: Are we teaching our children to be ungrateful?
2. Hey, anyone want to see the new Woody Allen movie?
...and the number one rejected NPR headline...
1. Your Mouth: Why it pays to be trusting about what will or won't happen there
Thanks to alexthechick.
Thanks to everyone for their headlines. I tried to do most of this one myself.
It turns out it's a harder category than I imagined.

posted by Ace at
12:37 PM
|
Access Comments