« NYT: The Pandemic Learning Loss Is the Biggest Setback in the History of American Education
|
Main
|
Monday Is the New Humpday Cafe »
November 20, 2023
Quick Hits
Joe Biden is eight-one-years-ancient today.
Biden, who is so vigorous and active that 30-year-olds have trouble keeping up with him -- just like Ruth Bader Ginsberg's 24-year-old fitness trainer couldn't keep up with her -- has TWO events scheduled for him today, falling asleep while the Deep State reads the daily presidential briefing to his aides, and pardoning a turkey for Thanksgiving.
I mentioned this to someone who covers Biden and she said, "This is his schedule every day. He receives the daily briefing, and they schedule one other event for him."
So, wow, take that H8rz! Biden is Built Stronk.
He's so Stronk they have to protect the world from his brawn and energy by confining him up in "bubble wrap."
President Biden will mark his 81st birthday Monday by forgiving turkeys -- as his insiders reportedly ramp up their own operation dubbed "Bubble Wrap" to protect the oldest-ever president from his regular stumbles.
Biden plans a "low-key" celebration with just family and "friends" (which I take to mean "people who give him money"). He doesn't want the media covering the fact that he's 81 years ancient.
...

[T]he focus remains firmly on Biden's age -- with insiders telling The New York Times that the focus on trying to protect the oldest-ever president from tripping or falling during his reelection campaign is jokingly being called operation "Bubble Wrap."

"He doesn't look and speak the part," John B. Judis, a longtime political strategist and author, told the Times. "He's not a commanding or charming presence on a presidential or presidential election stage," Judis noted.

"I think a lot of voters and young people in particular who are not at all put off by his political positions or accomplishments are put off by his utter failure as a regal persona," Judis said.

"And I don't know how that can be fixed. Not by bicycling."

The president faces an uphill battle trying to win re-election next year, after a series of gaffes and stumbles called into question his mental acuity to hold the job.

But other current and former administration officials have called for the president to "show his vigor" on the campaign trail and "boast about his age rather than ignore it."

...

The president's doctors have claimed that certain traits -- like Biden's shuffled gait or the re-emergence of his stutter -- are unrelated to questions of acuity, and some of Biden's verbal stumbles appear to stem from his decision not to wear glasses in public.

Still, White House aides have reportedly created a safety net of small accommodations for the president, including regularly using a lower set of stairs to board Air Force One, and Secret Service and staff members using flashlights and verbal warnings to guide the president in backstage settings.
"Salute the Marine."
Incredibly, Biden once again asserted, WITHOUT EVIDENCE, that he was set to play football for Navy but decided to let Hall of Fame quarterback Roger Staubach have the job instead. It's just... I can't even...
You know who else can't even? Jill Biden, who cringed with exasperation as he told this tall tale yet again, after having been repeatedly warned about spinning out these Fantasy Accomplishments in his life.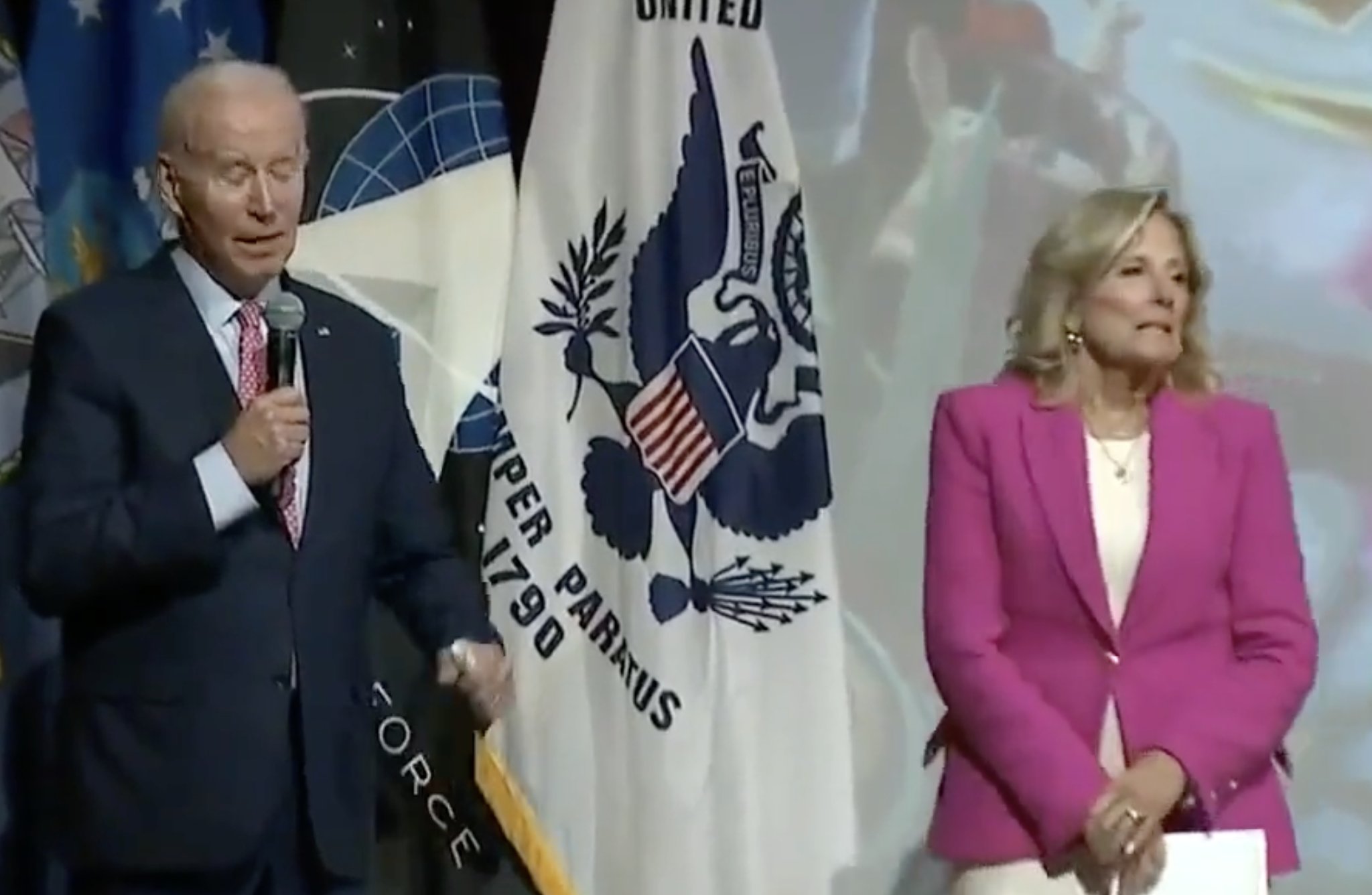 Democrats continue warning Biden that he's too old to run and too old to be president. Former Obama campaign manager and Astroturf Engineer David Axelrod spoke to the NYT's chief ditz Maureen Dowd:
"I think he has a 50-50 shot here, but no better than that, maybe a little worse," Axelrod proclaimed.

"He thinks he can cheat nature here and it's really risky. They've got a real problem if they're counting on Trump to win it for them. I remember Hillary doing that, too." How did that work out for the Democrats?

Martin said that Biden wanted to deny the polls, and Axelrod said he does that at his own risk.

"I don't care about them thinking I'm a pr**k -- that's fine," Axelrod told Dowd.

"I hope they don't think the polls are wrong because they're not."
Democrats are so totally committed to fighting antisemitism that when it shows its face among their own hateful toxic voters they make excuses for it and start spamming out Whataboutism claims.

Argentina's new president is a Far-Right Extremist because he says socialism is a phenomenon that is always violent, murderous, and impoverishing, and obviously that can't possibly be true.
Crowds cheer for Milei in what I assume is Buenos Aires.
A Wake Forest university professor has resigned "for personal reasons" after stating that she would be tempted to join in with Hamas and machine-gun Israeli civilians at a music festival.
Surprise: Saturday Night Live suggests that women might be a little mismatched if they compete against men in sports.
No surprise at all: the sketch just isn't funny.
Bonchie at RedState thinks what I think: SNL wanted to point out that it's absurd that men are playing against women in sports but did not have the guts to offend the transgender extremists, so they made up a convoluted fantasy men-vs.-women tennis match that took place before Billie Jean King. They also softened the message by making it clear that the woman in this match is barely at the professional level, and she's playing "the largest man to ever play tennis." So it's not representative of what happens when a man plays a woman, H8rz!
Cowardice makes for bad comedy just as it makes for bad men.
The board of OpenAI, an AI research company, fired its CEO. But then top officers resigned in protest, and 505 of its 700 employees announced they would resign and defect to Microsoft's AI branch unless the board was fired. John Sexton writes about all this.

I can't believe it's not kosher: A pro-Palestinian lefty faked a hate crime for sympathy and political advantage.
Well, folks, it looks like we have another Jussie Smollett on our hands. You probably recall when the Empire actor claimed he'd been beaten up in the middle of the night on the frigid streets of Chicago by two assailants wearing MAGA caps.

To many, the story sounded ludicrous, and that's because it was--and it turned out he made the whole thing up. The story quickly fell apart, and while Jussie was looking for more fame so he'd get a better contract from the studio, he instead nuked his career.

Now an Ohio man has been arrested for making up his own hate crime:

Hesham A. Ayyad, 20, allegedly told the Council on American-Islamic Relations (CAIR) in Cleveland that a driver ran him over with his car after shouting anti-Palestinian slurs.

The organization subsequently released [a tweet] on October 23 in which it demanded an investigation into the incident along with a photo of him lying in hospital with a neck brace.

A terrible story, and according to the police, one that is complete nonsense. The injuries actually come from a fight he had with his brother, and now he's facing charges.
Where would a Palestinian sympathizer ever get the idea to make up fake claim to advance the Palestinian terror effort?

The "Republicans Against Trump" have a HUGE hit on James Comer -- he once loaned a brother $100,000 and got the loan repaid plus interest in return!
It's a scandal! For... reasons!
What these imbeciles are trying to do is suggest that Comer is attacking Biden for loaning his own brother James Biden money, and then being repaid. They're trying to make a stupid "hypocrisy!" attack.
But of course, Comer isn't pointing out the "loan repayment" because he's against loaning money to family members. He's pointing out the "loan repayment" because it's not a loan repayment -- it's money laundering. There was never a loan. This is just James Biden's way of delivering "10% to the big guy" in a way that will escape detection.

posted by Disinformation Expert Ace at
06:38 PM
|
Access Comments