« UK Set to Ban Sex Criminals From Changing Their Names and Genders
|
Main
|
Kevin McCarthy Will Not Run for Re-Election as Speaker »
October 03, 2023
Quick Hits 1
The 8th Circuit reversed the lower court's ruling that a school may impose a requirement on students that they must use other students' fake pronouns.
It's unconstitutional to compel speech, they reaffirmed.
Leor Sapir @LeorSapir

BREAKING: 8th Circuit reverses lower court decision, rules 3-0 in PDE v Linn Mar Community School District (Iowa) that a school may not compel its students to use gender identity-based language as doing so likely violates the 1st and 14th Amendments.

This decision to grant a preliminary injunction is correct. Use of gender identity language should be strictly voluntary. It may not be compelled by government entities.

By the same token, students should not take advantage of the court's ruling and use it as an excuse to harass and be cruel to their peers. The demands of civility go both ways.

Plaintiffs also challenged the school's secret gender transition policy, but a recently passed Iowa law, which requires disclosure to parents, makes this challenge moot, rules the court.

Judge Jane Kelly, an Obama appointee, concurred in the outcome but clarified that the 1st Amendment violation could have been avoided with more careful language (e.g., "respect") by the school board. She points out that the school is under obligation to adopt gender identity "inclusive" policies under state and federal civil rights law.

The Supreme Court rejected a lawsuit by an unknown "Republican" supposedly running for president demanding that Trump be barred from running for president on the left's pet theory that "insurrectionists" can't run for that office.
Trump claimed that the judge had thrown out "80%" of the New York state charges against him due to the statute of limitations barring them. But he misunderstood.
Engoron apologized for his comments and stated that any future real estate deals "restart" the statute of limitations -- meaning that the attorney general's office needs to "connect the dots" to include the evidence about a 2011 deal discussed on Monday.

"I understand that the defendants strongly disagree on this and will appeal on this ground," Engoron said.
Megyn Kelly digests the law that Trump is being persecuted under -- it requires no showing of any harm suffered by anyone, no proof that anyone relied upon an alleged misrepresentaiton, no proof the person making the alleged misrepresentation knew it was a misrepresentation. Only evidence that two or more people were "effected" by the misrepresentation. It's a "fraud" prosecution without the bother of having to establish fraud.

Trump posted a "truth" demanding to know why the court's clerk was "palling around with Charles Schumer," because Trump always focuses like a laser on the truly important stuff.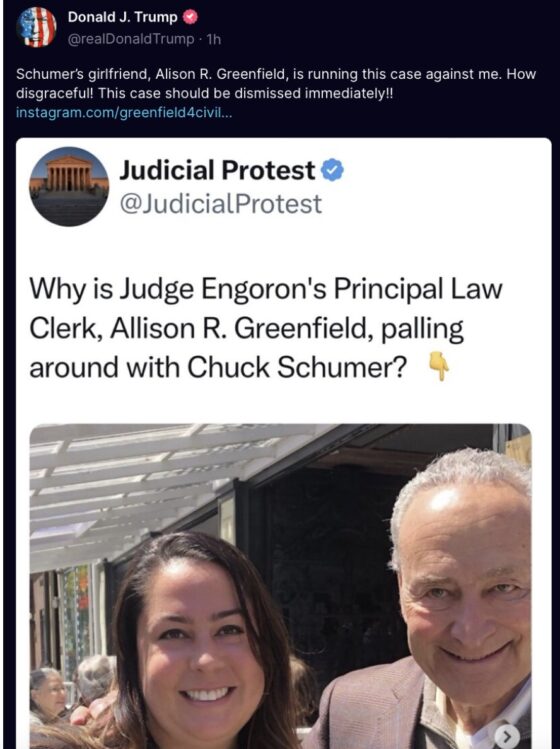 The judge imposed a gag order prohibiting him from "personal attacks" "on my staff."
Retailers reported a record $112 billion in losses due to theft and violence last year. Don't worry, they're all insured! And if you're paying more at the market to make up for the huge amount of organized looting -- don't worry, you're insured too! Or something!
Many email have been discovered, written by Biden family members and "business" associates, which refer to Joe Biden as "the Big Guy" -- thus confirming that he was in fact "the Big Guy" that Hunter was holding 10% of the CEFC deal for.
Peter Baker of the NYT says the big story here is that no one has yet produced proof that Biden directly received any money.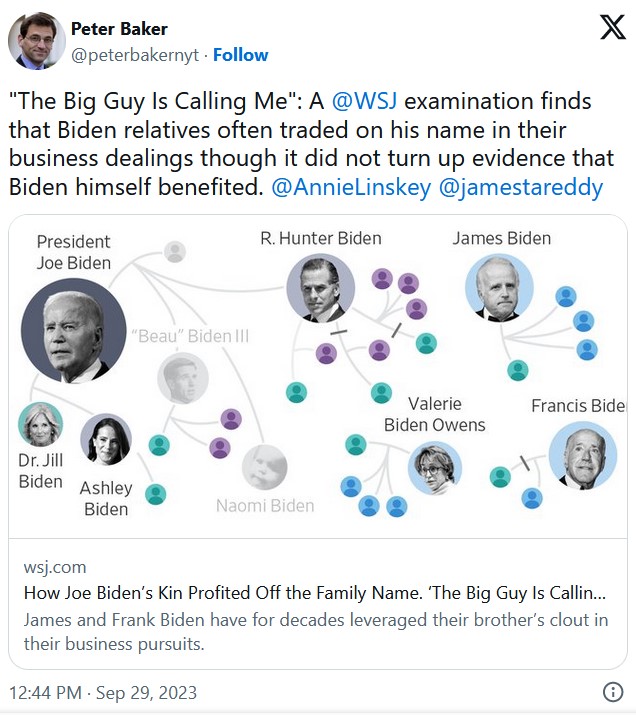 Carol Roth
@caroljsroth

An examination of the mafia finds that members often traded on the boss's name but did not turn up evidence that the boss himself benefited.
No less an authority than Biden's own corrupt brother refers to him as "the Big Guy."
According to a new report, Frank Biden, the president's brother, referred to him as the "Big Guy" multiple times while working for an industrial manufacturing company called Federal Signal Corporation.

Frank Biden, President Joe Biden's youngest brother, was "hired by the Illinois-based industrial manufacturing firm Federal Signal Corp. to help connect the company with Florida lawmakers," the Journal reported. "During a weekly call, Frank Biden, 69 years old, would frequently interrupt the meeting and say he had to take a call from 'the Big Guy,' as he put it."

Frank Biden would say, "I've got to put you on hold, the Big Guy is calling me," Matthew Brady, a Federal Signal employee, recalled of prior conversations, the Journal reported. "I thought, 'OK, great, your brother is the vice president.'"
David Harsanyi @davidharsanyi

This is such a silly argument. If Biden helped enrich his entire family by allowing letting them -- and, as evidence strongly suggests, participating -- in leveraging his position, it is corrupt. 'Yeah, judge, I help plan the robbery, but I gave all the money to my kids!' is not any kind of excuse.
Marc Thiessen @marcthiessen

If I was going to bribe Joe Biden, I would not write a check and make it out to "Joseph Robinette Biden" and deposit it in his personal bank account. That's not how corruption works. I would funnel money to his son and his grandchildren and his brother. I'd buy them cars. And invest in their businesses that provide zero return on investment. And create plausible deniability. There won't be a "smoking gun" unless the people funneling money to the Biden family business are utterly incompetent.
No DiReCt EvIdEnCe ThAt JoE wAs InVoLvED!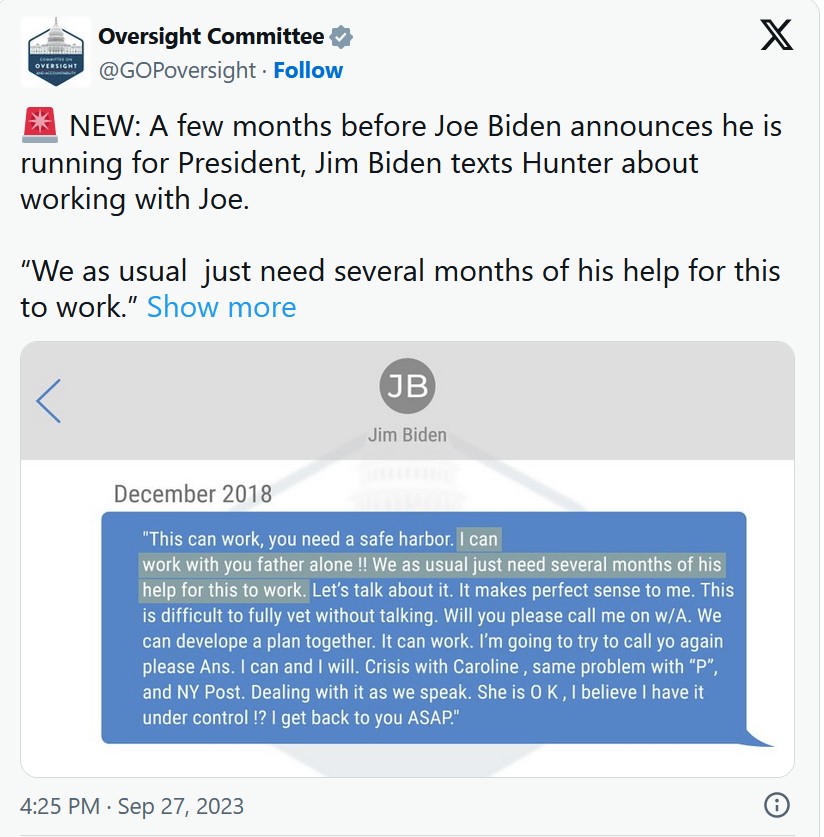 I missed this earlier -- in J.B. Pritzker's letter regarding Biden's open borders disaster, he suggested that Biden appoint a border czar.
Infamously, of course, he already did -- Kamala Harris is supposedly the border czar.
And the AI czar.
Why are you smirking?
Fake news organization NBC says that Biden did a great job on the economy -- so he should stop focusing his campaign on it.
That doesn't make sense, of course. What the "journalist" here is doing is telling Biden he shouldn't run on a Bad Economy, but the "journalist" is a propagandist who can't admit the bad economy is in fact bad, so we need to pretend it's a Great Economy that people just have The Blahs about.
Biden should stop focusing on the economy If the president isn't getting credit for how he's has improved the economy by now, then he won't get such credit anytime soon.

It's understandable, even laudable, that President Joe Biden began his re-election campaign by touting the economic gains the country has made since he's been president. But he wouldn't necessarily have to tout them if the impact of those gains were deeply felt by most people. The numbers show that Americans generally are better off than we were when Biden took office. Even so, and despite the "It's the economy, stupid" message that helped Bill Clinton's campaign win in 1992, if Biden isn't getting credit for how he's improved the economy by now, then he won't get such credit anytime soon.

I say this as a Democrat who supports President Biden and was the press secretary for his wife, Jill Biden, the president needs to reevaluate the approach to how and what he is communicating to the American people. More than that, he needs to make the election about how Republicans have disqualified themselves from leading the country. As part of that strategy, he can do what Republicans have done effectively and use wedge issues to motivate and outrage their own voters.
Ah yes. Running, perpetually, on January 6th. That never gets old.

Even tired old liberal bitch Bill Maher is down to begging for someone to give Biden the tap on the shoulder and say "It's time to retire, pops."

How much repulsive mental illness and depravity are we supposed to "affirm"?
Still with the hiking:

posted by Disinformation Expert Ace at
05:25 PM
|
Access Comments