« UK Study: Puberty Blockers Given to Teens -- Get This -- Worsened Their Mental Illnesses Rather Than Abating Them
|
Main
|
Supermarkets Are Closing in Chicago Due to Mass Looting, So the Woke Mayor Proposes... the State Opening Its Own Supermarkets So That Thieves Still Have Stores to Loot From »
September 27, 2023
Report: Hollywood Is Rebooting The Office Into The Office Cinematic Universe (TOCU) Because Everything Is Stupid Now
Okay, they're not creating The Office Cinematic Universe. I don't think. But then, come on, you know if they're making one Office reboot, they're also going to be rebooting Parks & Rec and tying it into The Office this time.
I know we keep saying "Hollywood is officially out of ideas" but if they can endlessly repeat themselves, why can't we?
According to Puck journalist Matt Belloni, a reboot of The Office is in the works with U.S. showrunner Greg Daniels set to return.

However, nothing has been confirmed by NBC, the show's original network. Could a reboot end up on NBC? What about Peacock? When the writers' strike is officially over, we'll likely hear official news about The Office reboot. Back in February 2023, Susan Rovner, the chairman of entertainment content at NBCUniversal TV and streaming, told The Hollywood Reporter that she was "standing by with opening arms for "whatever Greg Daniels" decided to do with The Office.

Greg has been open about his uncertainty regarding a reboot of the beloved comedy. "It was such a perfect thing that I would hesitate to open it up," Greg told EW in 2019. "We got the chance to end it the way we wanted to end it. It wasn't like we were interrupted in the middle of a run or something. So in a sense, it's completely an artistic whole. But, that said, I don't know, the cast every now and then talks about getting back together in some form, but I don't see it being a reboot like the way Will & Grace was rebooted."

After The Office left Netflix for Peacock, NBC's streaming service, Greg told E! News that a reunion was "more likely now," but there were "no plans" at that time. He continued, "People are more open to it now it seems like. I think the issue is what is left to say about the characters. I don't know, it's still pretty vague."


When asked about a potential reboot in 2022, he revealed why he couldn't just bring the same show back. "When people hear 'reboot,' they think it's the exact same show. I don't think that would work," he told The Hollywood Reporter in 2022. "I also think that the content was very much pitched for that period of time, when people weren't as sensitive to what is giving offense to people so that you could have a boss who kept putting his foot in it. You could feel that the content was sort of helping people see things as being offensive that they might not have seen as offensive before, because they were just used to it. Now, everybody's much more aware of how offensive certain things are. We're in a different place in the cycle of consciousness-raising."

The showrunner also admitted what he would take from the original series. "The part I would take is the documentary format and the idea that it is an examination from a documentarian's perspective. I wouldn't try to redo it," he added.
In more Hollywood news, Bounding Into Comics reports that Forbes has again used the trick of getting hold of the UK tax filings to find a movie's budget. They report that the budget so far is $209 million, and that was only partly through the production. Costs will rise to $300 million or more, and then they will spend at least $100 million on marketing.
Forbes says that the movie will need to make at least $336 million to break even. As WDW-Pro and Culture Casino point out, that is "disinformation." With the movie likely to cost $400 million or more with marketing costs, and with the studio receiving about half of all ticket sales, the movie will have to make $800-$900 million to break even.
Prognosis: Negative.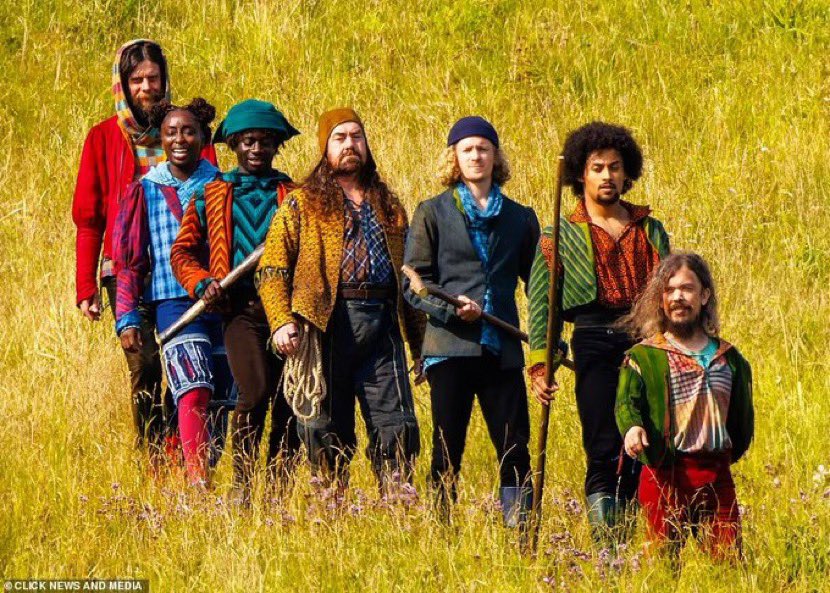 Chances that Rachel Zegler can be successfully silenced by Disney so that they don't have a gaffe a week to deal with? Unlikely! Though they have, in good Patriarchy style, shut that very loud woman up for the past few months.
Even Gen Z girls are making fun of Zegler and Disney:
I really doubt this is true, but just for the sake of completeness, the Inside the Magic blog is reporting the rumor, just the rumor, that Zegler has been fired from Snow Beige and will be recast.
If Disney really wanted to cut its losses here, it wouldn't just recast Zegler, it would cancel the entire film.
Which has has also been rumored/claimed by the Inside the Magic blog, on September 4. But there's no confirmation of that.
Give the strikes, studios can use the legal doctrine of force majeure to cancel contracts. That doctrine states that if a contract is unfulfillable due to circumstances beyond your control -- Act of God, war, etc. -- you can unilaterally cancel the contract without consequences. The strikes should count as force majeure, and studios have reportedly been letting people go. Supposedly the two male Rick and Morty writers who delivered two big Marvel disappointments were fired from the Avengers sequels. Supposedly. There hasn't been confirmation about this, just rumors.
So Disney could end this already-failed production. But they probably will not.
Via the Bee: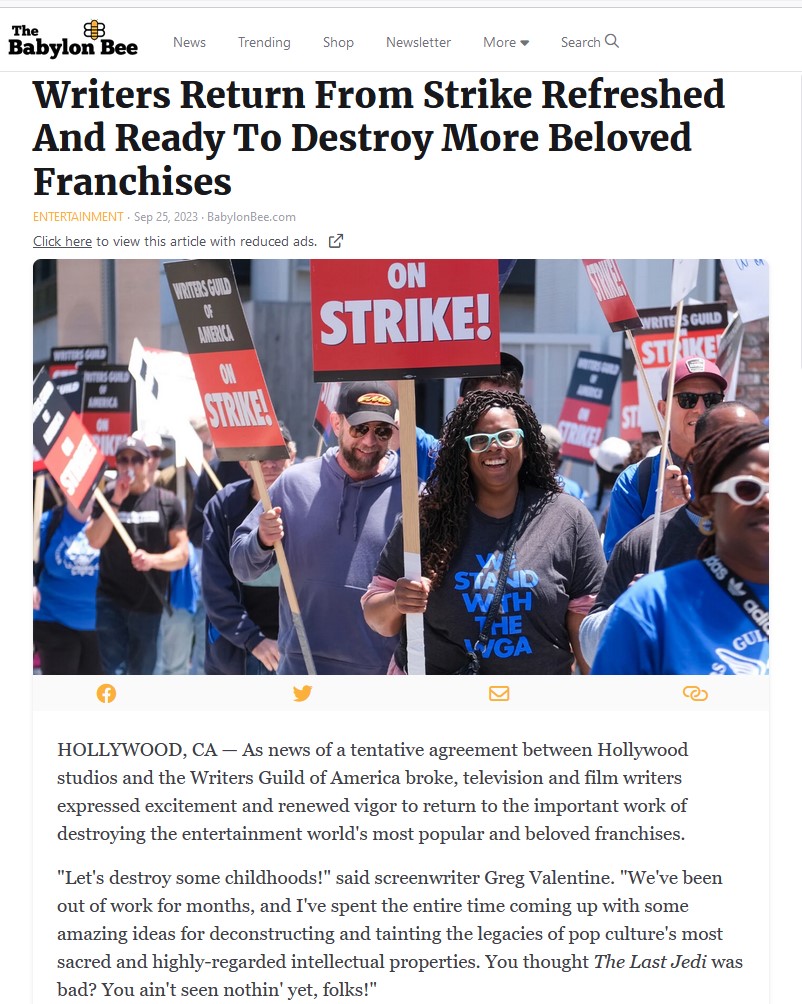 posted by Disinformation Expert Ace at
04:44 PM
|
Access Comments