« A Fourth IRS Whistleblower Confirms That David Weiss Slow-Rolled the Hunter Biden Prosecutions
|
Main
|
Hunter Biden Sues Rudy Giuliani For "Hacking" the Computer That Hunter Biden Continues Claiming Does Not Belong to Him »
September 26, 2023
Democrat Senator and Graft-Farmer Bob Menendez: The Bricks of Gold Found Hidden In My House Aren't Bribes. I Just Keep Stacks of Cash In Envelopes Hidden Because of My Painful Memories of Cuba, Where I Never Lived.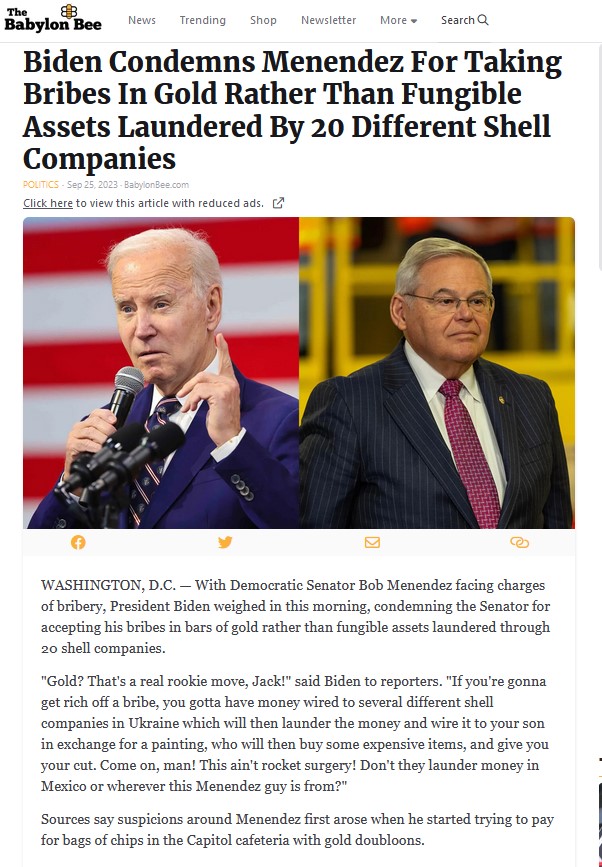 Menendez's story, which, in fairness, he only had a few days to invent, is that the ravages of 50s Cuban strongman Batista are so seared, seared into his memory that he always keeps envelopes full of cash and bricks of gold around just in case Shit Gets Real and he has to flee Cuba, like he did as a child.
Except he never fled Cuba as a child. He was born in New York City.
And it doesn't even seem like his parents "fled" Cuba, either. More that they simply emigrated.
I'll say one thing for his story: It is more plausible than Joe and Hunter Biden's claim that dishonorably-discharged coke addict and infamous crackhead Hunter was paid over $1 million per year by Burisma for his acumen in corporate governance.
Democratic Sen. Robert Menendez of New Jersey claimed that he kept hundreds of thousands of dollars in cash and gold bullion in his home because of Cuban property confiscations, according to a press conference he held on Monday after his indictment on federal corruption charges.

Menendez, the three-term senior senator from New Jersey, was indicted on charges of bribery, fraud and extortion for allegedly receiving money from three businessmen in exchange for steering U.S. foreign policy to favor Egypt. In a press conference on Monday, Menendez defended himself against the charges and explained that the money and gold found in his home were drawn from his savings and kept "due to a history of property confiscations in Cuba."
If he really had these fears of a communist authoritarian government seizing people's property "for the good of the state," he would not be a Democrat.
"For 30 years, I have withdrawn thousands of dollars in cash from my savings account, which I have kept for contingencies and because of the history of my family facing confiscation in Cuba," he said. "These were monies drawn from my personal savings."

Though the communist-led government of Cuba has been known to confiscate the property of citizens, Menendez was born in the United States and has lived in the country for his entire life. One of the envelopes in which the money was discovered had DNA matching a co-defendant of Menendez, Fred Diabes, who allegedly acted as a conduit for bribes with Egyptian money.


"To those who have rushed to judgment, you have done so based on a limited set of facts framed by the prosecutors in the most salacious way possible," Menendez said. "The court of public opinion is no substitute for our justice system ... I will not only be totally exonerated but also New Jersey's senior senator."

Menendez said that he was entitled to the presumption of innocence until proven guilty in a court of law. "I ask for nothing more and deserve nothing less," he said, while calling on detractors to "pause and allow for all the facts to be presented."
Then present the "facts." You say you withdrew all this money from savings? Then you can easily produce bank records showing these voluminous cash withdrawals -- and you have, I trust, receipts for the purchase of the gold bars as well?
If he has these things, there is no reason to withhold them. Publicizing them would be exonerating and would probably result in prosecutors dropping charges.
But he's not producing these records, because these records do not exist. He just needs this lie to be believed by potential leftwing jurors.
Regarding the allegations in the indictment over his actions favoring Egypt, Menendez claimed that he had attempted to hold Egypt accountable for alleged human rights violations during his tenure. The indictment claims that Menendez leaked sensitive information about the U.S. Embassy in Cairo to Egypt's government and ghost-wrote letters for the Egyptian government to send to his Senate colleagues to persuade them to withdraw objections to U.S. military aid to the country.
Why that almost sounds like what Joe Biden did with Ukraine and Burisma!!!
...

Menendez did not say whether he would seek reelection to a fourth term in 2024, though he reiterated his refusal to resign his seat. "Some of the people calling for my resignation say I've lost trust. They couldn't be more wrong," he said, before saying that he would return to Washington, D.C., this week to resume his duties in the chamber.

Cheap classless pudgy pimp.

posted by Disinformation Expert Ace at
01:13 PM
|
Access Comments