« Saturday Coffee Break & Prayer Revival
|
Main
|
Gardening, Puttering and Adventure Thread, Sept. 30 »
September 30, 2023
Thread before the Gardening Thread, Sept. 30: Compare and Contrast
Biden Administration Reports Dangerous African Immigrant At Border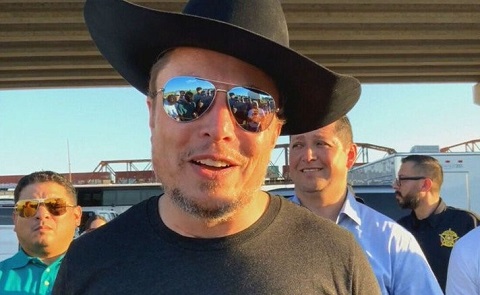 EAGLE PASS, TX -- As the migrant crisis along the southern U.S. border continued to intensify, a new threat emerged, leading the Biden administration to warn the populace of the presence of a dangerous African immigrant sighted at the border.

"This is serious, folks," President Joe Biden said in brief remarks to reporters. "We've received reports of a very menacing African man roaming the region. Everyone knows I'm a long-time advocate for keeping an eye on these African fellas. This one is especially dangerous. He's here to . . . here to . . . he's got all of the...he runs the . . . he . . . the thing. Rocketship."
*
Menacing African Man actually did visit the border. That's one way to get some attention on the issue.
Lots of criticism of Musk in the replies for not doing things like, say, building factories in Venezuela. Heh.
*
Border Patrol cut open border fences. Now they're fist-bumping the illegals.
*
Meanwhile,
Everything is fine.
* * * * *
Compare and Contrast: Ibram X. Kendi vs. Coleman Hughes
In the past, Ibram X. Kendi, from his position of academic, cultural and political influence, has refused to hold discussions with other black academics like Coleman Hughes. And the academic world has had his back.
Well, Ibram X. Kendi has fallen into some difficulties now. He has laid off much of his staff at his Center for Antiracist Research at Boston University, amid charges that he has mistreated black and brown academics and staff while producing little or no meaningful academic research. Kendi won a MacArthur "genius grant" in 2021. But The College Fix has been asking questions about his research for years with little response.
John Sexton with A left-wing take on the fall of Ibram Kendi: He gave white liberals what they wanted
Dr. Tyler Austin Harper is an assistant professor at Bates College. Earlier this summer he wrote a pretty interesting piece for the NY Times about his experiences with affirmative action. . .

Today, Harper has a piece for the Washington Post which offers a different perspective on Ibram Kendi and what went wrong there.

The prospect of Kendi's unraveling is not - - or at least, is not only - - the story of a huckster who was happy to cash in on America's racial trauma, slapping his name on strange children's books, including "Antiracist Baby" and "Goodnight Racism," while raking in hundreds of dollars a minute to give short talks at American universities. Instead, the Kendi affair is yet another example of an age-old truism: White American elites on both sides of the political spectrum - - academics, publishers, members of the media, corporate leaders - - are always waiting in the wings to turn a shiny new Black intellectual into a mouthpiece for their political agenda. . .

Though conservatives tended to focus on the book's famous catchphrase - - "The only remedy to racist discrimination is antiracist discrimination" - - in my view the real damage that Kendi's philosophy has wrought on American culture is in the way he turned words like "racism" and "white supremacy" into banal, everyday terms like any others.

Once reserved for the gravest of racial trespasses, thanks to the influence of Kendi and other charlatans like Robin DiAngelo, "racism" is now routinely employed to describe anything from workplace microaggressions to terrorist attacks. The march on Charlottesville was white supremacy, but so too is asking Black people to show up to Zoom meetings on time . . .
To summarize a lot of the piece which I haven't excerpted above, Harper is essentially arguing that between his first book "Stamped from the Beginning: The Definitive History of Racist Ideas in America" and his second "How to be an Antiracist," Kendi was to some degree selling out. At least that's one way to interpret the change from writer of purportedly serious history to self-help guru.

But even if you agree Kendi was selling out, ultimately his story is about the people who were buying what he was selling. . .
Yes.
More on Harper's piece, with an archived link. Kendi's rise was as much a cautionary tale as his fall.
Boston University is investigating the grift but isn't backing off on his ideology.
*
Meanwhile,
The TED talk was initially well-received. But the idea of treating black and brown people like white people made the black and brown TED staff feel "unsafe".
Of course! Interesting pushback by Hughes.
*
TED is a farce: the organization pumps Ibram Kendi's astrology-level ideology as self-evident truth, while it submits Coleman Hughes' much more rigorous, subtle, and morally persuasive presentation to a full inquisition by social scientists and diversity activists. Disqualifying.
Don't hold back, Chris. Tell us how you really feel.
* * * * *
Quotes and Ironic Developments
Freedom of speech means practically in our modern civilization that we must only talk about unimportant things.
*
Gavin Newsom, whose government threatened doctors with the loss of their licenses if they strayed from the official (but undefined) narrative about COVID, believes in free speech and opposes "book bans". Heh:
*
Who reminds you more of Gavin Newsom than Justin Trudeau?
Justin Trudeau's Self-Immolation
OTTAWA -- In the span of five days, Canadian prime minister Justin Trudeau has managed to alienate the government of the largest democracy on Earth; anger key allies from Washington, D.C. to Canberra; and outrage Jews around the world.

Now, the promise of Trudeau - - the young, strapping progressive born into political royalty, with his ostensibly forward-looking ideas about medically assisted suicide, puberty blockers, and the suspension of truckers' civil liberties - - is on the brink of imploding.

Late Tuesday night, limousines clustered outside Parliament, as senior officials from Trudeau's Liberal Party feverishly debated how to right this ship and save the prime minister.
*
I will not be wearing orange this weekend because to do so would convey that I am OK with being misled about the history of Canada, and that I am OK with various First Nations claiming they have found 'unmarked graves of missing children' without presenting reliable evidence.
*
Diane Feinstein did something kind of sensible, for a progressive, when faced with insurrectionists:
* * * * *
Music
Another weekend, another Grandpa story about Hank Williams: At his centenary, Hank Williams still helps us see God coming down the road.
You can tell when the fiddlers haven't been classically trained, because they are sometimes just a little off key. Doesn't matter.
* * * * *
Hope you have something nice planned for this weekend.
This is the Thread before the Gardening Thread.
Serving your mid-day open thread needs
* * * * *
Last week's thread, Thread before the Gardening Thread, Sept. 23 included a story about WaPo's underhanded reporting techniques, Newsom vetoing a transgender bill to protect "vulnerable communities", ideas about the degradation in our military training and Obama's involvement in Climate Maoism.
Comments are closed so you won't ban yourself by trying to comment on a week-old thread. But don't try it anyway.


posted by K.T. at
11:14 AM
|
Access Comments