« Rescue Rangers Cafe
|
Main
|
Daily Tech News 22 September 2023 »
September 21, 2023
Do You Remember The 21st ONT Of September?
Howdy y'all. Welcome to Thursday's ONT.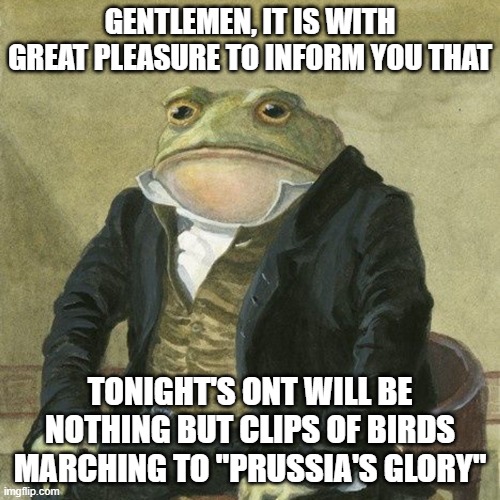 See?
J/K, although if I had more than 2 clips I'd be tempted. I gotta admit, he's no Sousa, but Piefke's not bad.

This Is My Shocked Face
new research from the University of Chicago that suggests that "Americans who are married with children are now leading happier and more prosperous lives, on average, than men and women who are single and childless." And not just a little bit happier, either. According to Wilcox and Bass there is a "startling 30-percentage-point happiness divide between married and unmarried Americans."

In other words, the happiness divide and the marriage divide are largely the same. Sam Peltzman, lead researcher behind the University of Chicago paper, isolated all other factors among thousands of respondents, including income, education, race, location, age, and gender. He concluded that "the most important differentiator" when it comes to who is happy and who is not is marriage. "Low happiness characterizes all types of non-married," Peltzman writes, whether divorced, widowed, or never married. "No subsequent population categorization will yield so large a difference in happiness across so many people."

In other words, the decline of marriage over the last several decades is causing the decline in happiness, or at least most of it. As Peltzman told The Atlantic in statistical hyperbole: "The only happy people for 50 years have been married people."  

Wait, you mean something that has been a cornerstone of all human societies for as long as there have been humans works? Imagine that.
Where Not To Go
15 Most Boring Big Cities in America

Oh look. Boring, Md. And Boring, Or. both made the list. Haha, they so funny.
Inspiring Words
However, none of it is working, or not very well. Partly because one wonders at their targeting, but mostly because they are leftists and think like leftists. Their model of the world is broken. They can't imagine that any of us are doing what we're doing because we love America and the ideals of individual liberty, and not because — as on their side — it's a scheme for being paid or for increased power. So the attacks they try only land in a very few instances.

It's like their starting #metoo to "get Trump" (which it obviously was) and instead snagging a lot of leftist males. (Though it does make me wonder what they thought they knew about Babbit and Boyland. Doesn't it you? Not to mention that retired carpenter in Utah. I think they're jumping at shadows and there is no pattern. They only think there is.)

Yeah, the fact that they're trying this, and view me as an obstacle to their crazy-cakes grabs for power is disquieting. But not new. Head-tiltingly-confusing because I'm not that big, but then again, they have no truck with reality.

Sarah Hoyt with a very Irongrandpa type of column. I also really like the painting at the head of the article.

Big Mommy Milkers
This is the threadreader page for a thread on Twitter by someone called "Science Girl" about the benefits. I knew breast milk was better for babies than formula, but I didn't realize how much there was to it.
it has been demonstrated that breast milk leukocytes respond dynamically to maternal as well as infant infections, and that reverse flow of milk
from the infant mouth back into mum delivers signals that morph the milk to the child's needs

the mother of a premature baby produces milk with more fats and secretory immunoglobulin the latter protect the baby until the development of the immune system

Animal studies show the composition of milk even changes when daughters or sons are fed.

Milk even changes throughout the day,

Breast milk contains melatonin, the sleep hormone, and tryptophan, an amino acid that contributes to its production. These components fluctuate in a cyclical pattern that may aid in regulating infants' sleep and wakefulness.
I thought it was just milk, y'know? Good for baby because that's who it was designed for, but I didn't realize how it changes day to day and even hour to hour to best nurture the baby. Fascinating stuff.

It's The End Of The World As We Know It
Simply put dear reader, the government isn't going to collapse, under any circumstance whatsoever… not unless someone makes it.
This is The Problem of The Political. A political order can only be forced out and dissolved by another political order.

To quote Mao: "Political Power Grows out of the Barrel of a Gun". If you or yours aren't wielding a gun to establish and maintain a political order, even a small one a local mafia or militia, then you have no political power, and someone else will necessarily be wielding a gun to establish a political order over you. A political order that in any of the collapse scenarios preppers are concerned about, you almost certainly won't like.
.
This is the problem with so many preppers: they imagine they can flee civilization, hide in the woods, then reemerge after their despised urban enemies have finished killing each other and wiping out their contradictory corrupt system… What happens when the killing continues for 30 years! What happens when your enemy's political order lasts 70! If you fled into the woods at 18 when the communists came to power 1917, you'd be 90 by the time the Berlin Wall fell, and 92 by the time the Soviet Union collapsed.

It's an interesting look at something I hadn't considered.

Starting Your Own Business

Ranked: The 20 Best Franchises to Open in the U.S.
Taco Bell is number one. Click through to see the rest. Any of you ever thought of starting a franchise?

Tonight's Challenge
I saw this and though "Huh, that might be a fun thing for an ONT"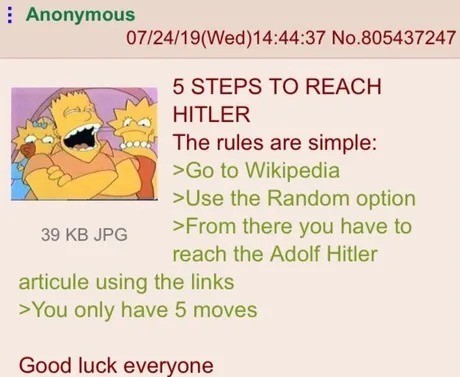 You can go to a random Wiki page using the link found here. Click the "Special:Random" link in the middle of the page.
But then I tried it and found out that it's almost impossible NOT to be able to reach Hitler in 5 links. In fact, I haven't been able to not do it yet. So the challenge is this: See if you can find a Wiki page that can NOT link to Hitler in 5 steps.
Good News From Texas
The Bush wing of the GOP here in Texas tried to take down our actually conservative AG through impeachment. They failed.
Impeachment Case Against Paxton Implodes As Witnesses Admit No Misdeeds
Now Paxton is saying he "is not ruling out" a run for Senate against John Cornyn in 2026. Getting that squish out would be a very good thing.
Tonight's ONT has been brought to you by bad decisions:

That escalated quickly. Ultimately she plead down to the misdemeanors and received a suspended sentence

posted by WeirdDave at
09:52 PM
|
Access Comments