« Sam Bankman-Fried Denied Bail; Lawsuit Alleges That Democrat Superdonor Parents Allowed Him Access to Democrat Dark Money Juggernot Arabella Advisors
|
Main
|
Rescue Rangers Cafe »
September 21, 2023
Quick Hits
Breaking, from Hollaria Briden, Esq.: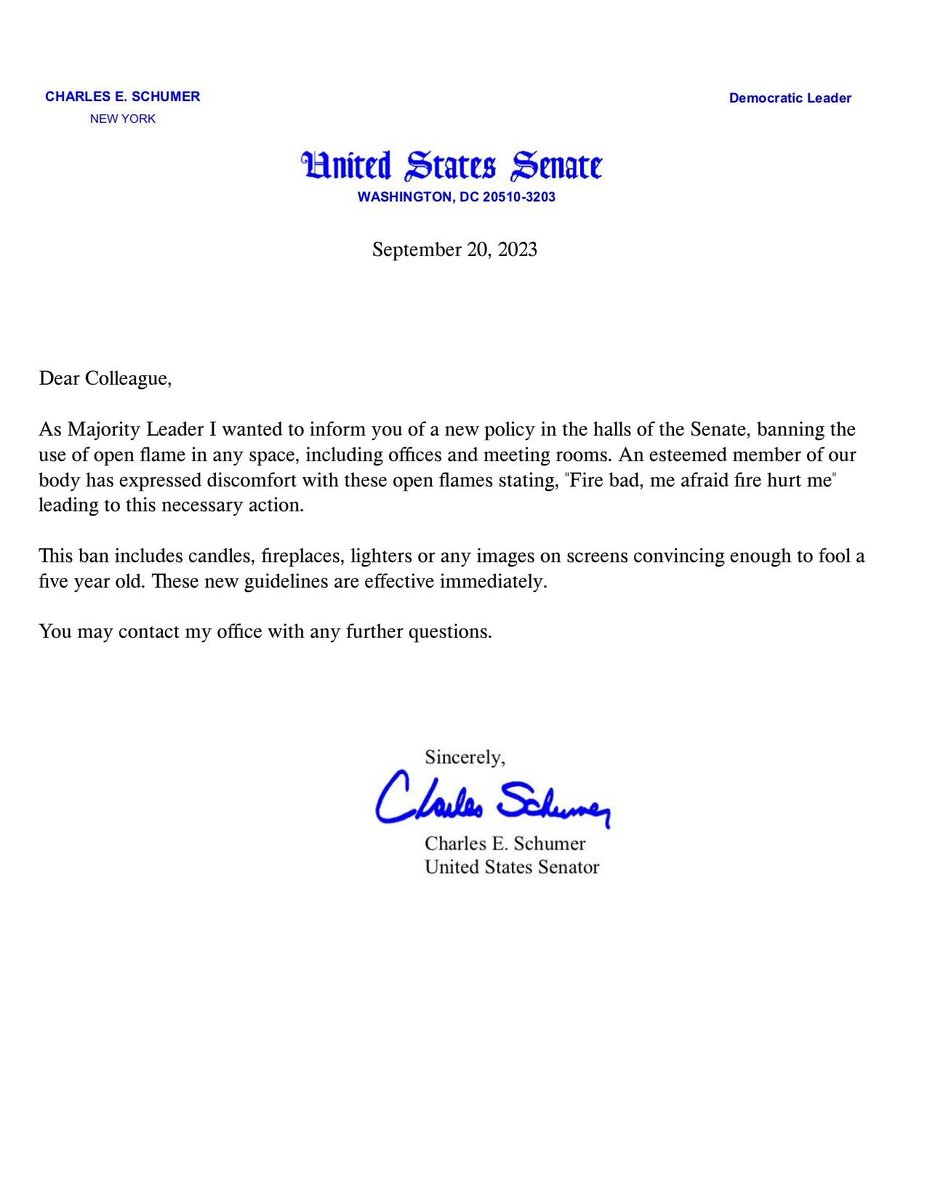 Via Hot Air, the Teflon Senator Robert Menendez might finally have some criminal charges that'll stick.
Even NBC "News" is now reporting on this.
Allegedly, Robert Menendez rendered political favors to a felon -- in exchange for gold bars delivered to a family member (his wife).
This is just like the Hunter Biden/Joe Biden bribery case. Except with gold bars.
Federal prosecutors are looking into whether an admitted felon helped arrange to give gold bars worth hundreds of thousands of dollars to New Jersey Sen. Robert Menendez or his wife in exchange for help, sources familiar with the matter tell News 4.

Investigators want to know if Menendez offered to contact the Justice Department to try to help that man who was accused of banking crimes. Those questions are now before a federal grand jury in Manhattan that is considering whether to hand up corruption charges against the senior senator from New Jersey.

Sources say witnesses are now testifying before that federal grand jury. Part of the investigation centers on the senator's ties to Fred Daibes, a New Jersey developer and one-time bank chairman. Officials with the FBI and IRS Criminal Investigation want to know if Daibes or his associates gave gold bars to the senator's wife, Nadine Arslanian -- gold bars worth as much as $400,000.

At the time of the gift handoff, Daibes was facing federal bank fraud charges that could have landed him up to a decade in federal prison.

Sources familiar with the matter say federal prosecutors have been asking if Menendez, a Democrat who has represented New Jersey since 2006, offered to help support Daibes with his criminal case by contacting Justice Department officials about the case. If the senator did offer to act in exchange for expensive gifts, legal experts say that could be a crime.

"For purposes of the Federal Extortion Act, it makes no difference if the senator took an official act so long as he accepted the money and there was knowledge the money was in exchange for that official influence, even if he never carried out what he had promised he would do," NBC Legal Analyst Danny Cevallos said.
Right, and it doesn't matter if the bribe was delivered to a family member instead of the principal. The federal law on bribery and extortion says so explicitly.
Now apply this to Joe Biden.
The Demented Tyrant Biden declared another lawless decree:
Bill Melugin @BillMelugin_

NEW: DHS announces it is extending and redesignating Temporary Protected Status for 18 months to Venezuelans residing in the U.S. on or before July 31, 2023. DHS estimates this will immediately make 472,000 Venezuelans in the US eligible to apply for work authorization. This also shields them from removal & deportation.

...

I'm also hearing from Border Patrol agents who are groaning about this news, saying it will just make the problem worse and attract more Venezuelans to the border who will hope for a new TPS redesignation next year.
And of course they'll get that.
NeverTrump not only voted for Biden, they did so enthusiastically, and continue making excuses for him.
Because they're liberal open-borders internationalist maniacs, scarcely better than their close kin the transnationalist progressives, who quit the party when they could no longer control the great majority of the party which wants to close the borders. You know, like a Real Country might do.
As Democrats become frantic about Biden's weakness of body and political standing, he tells them "Just relax, Fat. I've got this. My word as a Biden."
The Biden White House has a blunt message for doomscrolling Democrats fretting about the president's old age and bad poll numbers: Clam up and chill out.

Driving the news: Mike Donilon, a senior White House adviser, is telling anxious Democrats that two issues -- abortion and Donald Trump -- will propel Biden to re-election, according to people familiar with the matter.

In those private conversations, Democrats have been struck by top White House aides' confidence. Some worry it's hubris.

Why it matters: Biden officials dismiss most of the growing concern over impeachment headlines, Hunter Biden's indictment, an immigration crisis, the president's age, an economy that voters don't love, and an auto strike that's testing Biden's union support.

Instead, the White House plans to continue its Rose Garden strategy, with a three-pronged message that focuses on protecting democracy, abortion rights and a resilient economy, including a historically low unemployment rate.

The recent calls for Biden to step aside are seen internally as just the latest example of elite Democrats underestimating Biden.
Can you underestimate Biden? Is that a thing which is physically possible?

America Is Becoming a Joke
Apart from the usual quibbles about verb tense, this is a great column from Kurt Schlichter.
The United States just lost an F-35 as part of its campaign to reduce itself from the greatest superpower in human history to a pitiful punchline. Ah, the magic of leftism -- only it can make a great country like America ridiculous. From an inability to find its fighters to an unwillingness to defend its borders or prosecute criminals -- with the exception of conservatives framed for the crime of conservativing -- our country has become the Three Stooges without the dignity. Advertisement

The first question that arises from the mystery jet is not what happened -- we can safely assume it was some manner of gross incompetence -- but what the plane's pronouns were. We had the spectacle of the Marine Corps high command dragging itself away from one of its drag shows to ask regular folks if they could pretty please give the jarheads a hand finding their wayward fighter. They couldn't even spin this fiasco effectively and brag about how their not being able to detect the $100 million aircraft just goes to show how darn good our stealth tech is. No, instead it was just exactly what it sounded like. We can't keep track of our jets. The only ones happy about it had to be the Navy, since this was a welcome respite from the mockery it earned smashing its destroyers into other boats. Our Army -- with its colonels running sex kennels -- used to recruit with slogans like "Be All You Can Be," and now it would probably be better off with "We Suck Less Than That Other Service That Lost The Jet."

Over on Capitol Hill, where the People's House that you get sent to jail for peopling inside is located, we have the Republican Charlie Browns once again teeing up to kick the football held by the Democrat Lucys. Yeah, this time will be different! The GOP has only had the better part of a year to get ready for this debt ceiling thing and to plot out a course of action to get some concessions. But have they? Ha! Why win when you can lose?

And on the Senate side, our minority leader keeps freezing up like a Windows blue screen as everyone explains how it is perfectly normal for McConnell to stand there rebooting every time someone puts a mic in his mug. And, of course, there's Chumley the Congressman insisting that the august institution conform to his desire to dress like a guy playing $2 blackjack hands at Circus Circus on a Monday morning.
Amazing.
Actress Emma Roberts (a one) is accused of having "misgendered" a transgender (government name: correctly gendering a transgender) while on the set.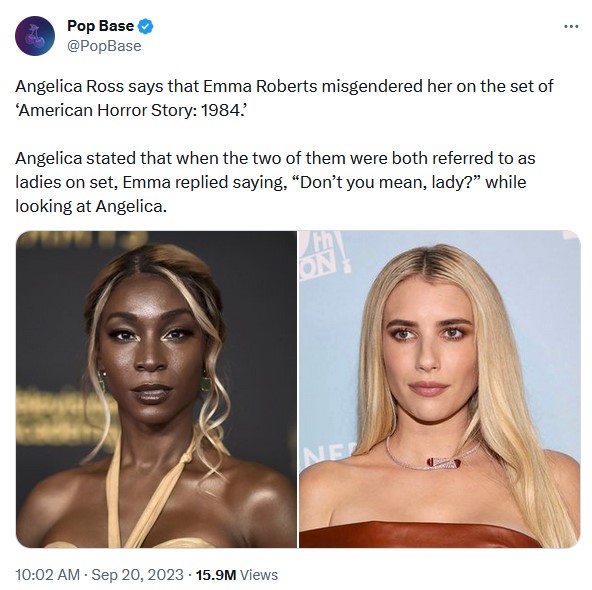 Oh no. Anything but that.
If you want to see an Emma Roberts movie, let me recommend Nerve. It's a fun and stylish thriller. The one problem is that the ending is contrived and dumb, but here's the thing: Every movie like this, with a Twilight Zone future-fantasy type premise, has an ending that is contrived and dumb. Every single one of them.
Because there really aren't any great ways to end these things.
"We're all in a zoo!" "It was all a dream!" "The pretty people are really the ugly people!"
It's not that kind of ending. But think of The Running Man, where suddenly with a half hour to go they figure out a way to bring down The Network while still playing the game. Because you have to beat the bad guys, even if it makes no sense.
So, you know you're getting a contrived and dumb ending going in. I go into all thrillers and mysteries with the expectation that I will not like the ending. Ce n'est pas la destination, mais la voyage.
But it's good until then! Worth the rental.
And now, for the rest of the story.

posted by Disinformation Expert Ace at
06:20 PM
|
Access Comments