« Is This Something?
|
Main
|
Ray Epps Charged with a Single Misdemeanor for Ringleading January 6th Breach, For Which He Has Worked Out a Plea Deal;
Media Pretends This Disproves "Conspiracy Theories" That He's a Fed, Rather Than Confirming Them »
September 19, 2023
John Fetterman Delivers a Piece of Oratory That Will Echo Throughout the Corridors of Eternity
Video below.
And what a surprise, this gross cow is totally in favor of dressing like a slob:

Lumpy is saying a lot of truly incoherent things these days.
His big sick burn is telling people "you ____ how I dress" to mean "you do things shitty."
So he's acknowledging that he dresses in a shitty, disrespectful way? The kind of way that a mentally challenged person dresses?
But it gets weirder than that. Because when leftwing shill Nate Silver attempted to defend the Fettermonster by saying he would like to join a politcal party that doesn't care what Lauren Boebert does at concerts or how John Fetterman dresses, the Fettermonster attacked him, his mentally-retarded brain apparently not comprehending that this was a defense (at least of the "partial defense" kind), not an attack.
Because he is, as previously noted, A Retard.
Sen. John Fetterman, D-Pa., attacked a journalist who defended how he dresses, baffling social media users.

The senator took a shot at Nate Silver, the founder of the data news site FiveThirtyEight, after Silver posted a message on X, formerly known as Twitter, defending Fetterman against people who criticize him over his outfits, which regularly consists of hoodies and gym shorts.

"Starting a new political party for people who don't give a s--- either about how John Fetterman dresses or what Lauren Boebert does in a theater," Silver wrote.

Fetterman, however, responded to the message by insulting him. "I dress like you predict," Fetterman said to Silver, who is an election and political statistician.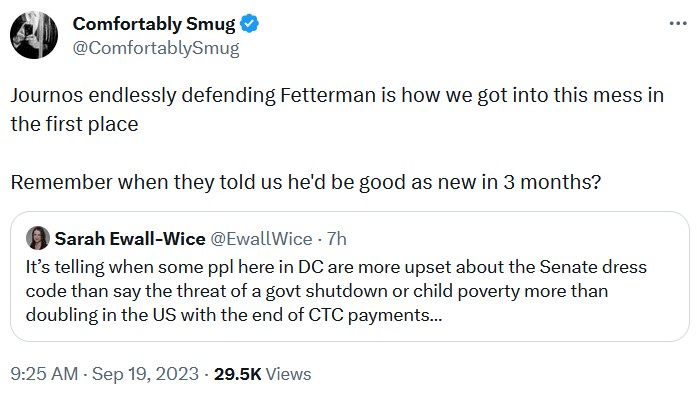 posted by Disinformation Expert Ace at
05:11 PM
|
Access Comments