« 9/17/23 EMT
|
Main
|
This Is How To Fight »
September 17, 2023
Sunday Morning Book Thread - 09-17-2023 ["Perfessor" Squirrel]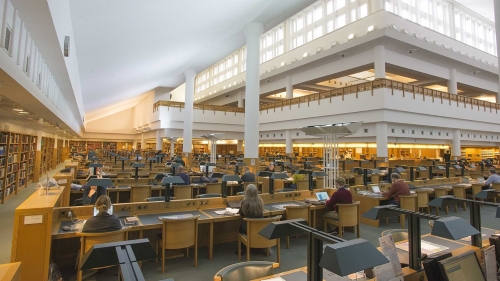 (HT: Scuba Dude)
Welcome to the prestigious, internationally acclaimed, stately, and illustrious Sunday Morning Book Thread! The place where all readers are welcome, regardless of whatever guilty pleasure we feel like reading. Here is where we can discuss, argue, bicker, quibble, consider, debate, confabulate, converse, and jaw about our latest fancy in reading material. As always, pants are required, unless you are wearing these pants...(supposedly, these are the World's Oldest Pants, from the days of yore long ago, when weedwhacking was a purely manual job.)
So relax, find yourself a warm kitty (or warm puppy--I won't judge) to curl up in your lap, and dive into a new book. What are YOU reading this fine morning?

PIC NOTE
Today's pic was inspired by Scuba Dude, who sent me a link to the video below. By a strange "coincidence" this same video popped up in my YouTube feed on the same day. I'm no conspiracy theorist, but I do wonder if Google is mining my emails for content...(SPOILER: I know Google is doing exactly that, which is why I *don't* use Gmail for anything of real substance). This particular room is for the rare books and music at the British Library. The British Library is analogous to the United States Library of Congress in that all works published in the UK are required to submit a copy to the British Library for archival purposes. I suppose it also helps preserve the cultural heritage of the British people, but the culture has changed significantly just in the past few decades thanks to their immigration policies.
CONVERSATION V. DIALOGUE
Last week, Wolfus Aurelius made an excellent point about the difference between "conversation" and "dialogue:"
The "know-it-all because I've published a book" guy in my real-life writing group would probably think Tolkien has too much talk in his trilogy. He does not quite understand the difference between dialogue and conversation in fiction. Conversation is banter or nominal chit-chat; dialogue moves the story forward and shows character (though the banter can do that too). He admits my dialogue is something he wishes he could do, though.

Posted by: Wolfus Aurelius, Dreaming of Elsewhere at September 10, 2023 09:21 AM (omVj0)

Ever since I saw that comment, I've been reflecting on the discussions and conversations I've seen not only in printed form, but also in the real world. I attended a "Faculty Reception" event earlier this week, where the faculty are invited to mingle, enjoy some light refreshments, and engage in idle chit-chat with various groups and organizations on campus. My group was responsible for manning our own table. As I watched the attendees mingle, it occurred to me just how much of their talk was "conversation" and not "dialogue." I'm one of those people that just isn't very good at small talk. The Chancellor stopped by our table and I literally didn't know what to say to him to engage him in conversation. I much prefer conversations of substance, where I'm engaging with other people to explore their ideas and topics of interest to us both. It's why I tend to thrive in conversations with faculty that have some point to them.
When it comes to reading, I do prefer interactions between characters that move the plot forward to some resolution. This is why I've really been enjoying Tad Williams' Memory, Sorrow, and Thorn. There is very little idle banter between characters. You get enough so that the characters' personalities are made visible to the reader, but it doesn't detract from the overall narrative. There are a lot of characters, so Williams has to use some way to distinguish each character through their speech. Almost all of them have at least one important point in their dialogue that advances the plot. Some, of course, have critical information that needs to be revealed to other characters. And some never get the chance to do so, as they are cut down before their important revelation is shared with the reader, adding to the tension of the conflict. Williams is *really* good with his use of dialogue and conversation, which is one reason why he's one of my all-time favorite authors.
++++++++++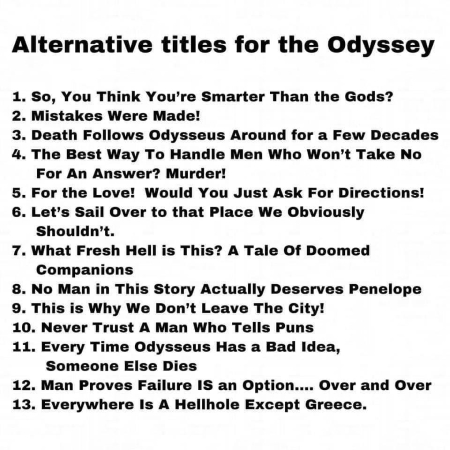 (HT: CharlieBrown'sDildo)
++++++++++
BOOKS BY MORONS
Moron Author "Max Cossack" has released another book:
The "Wilder Bunch" saga continues with Novel 8, Domesticated Terrorists. When his Jan 6 client is railroaded in a DC court, Sam Lapidos dumps the practice of law in favor of his long dormant interest in exploring nature. His maiden trek into the woods miscarries when an assassin tries to kill him. His friends rally to his defense. His communist attackers develop internal conflicts, as incompetence, confusion and dissension rile their ranks. What happens next is known only to the author and his readers.

Available in eBook or paperback at Amazon.com, or in paperback on the VWAMBooks store.

PLUS: There is a 20% discount at VWAM Books for ACE people, good for all Max Cossack novels and all Ammo Grrrll collections as well. Just enter ACEDISCOUNT (one word, all CAPS) at checkout.

++++++++++
MORON RECOMMENDATIONS
People from or who hate the University of Michigan should check out Three and Out by John U. Bacon. Bacon is a total Wolverine homer, but his book reveals a great deal about the inner workings of college football's richest program. It is not a flattering picture. It is ostensibly about Rich Rodriguez's troubled tenure, but given ongoing drama both there and elsewhere, it is worth reading.

One of the key differences between Henning and Bacon is that Henning wrote from a position of independence - he was a veteran writer and free to speak his mind. Bacon is still active and dependent upon the University for access, so he regularly pulls his punches. Indeed, it is well known that there is a Blue Wall surrounding Michigan's oldest university and local sportswriters simply sit on stories that are unfavorable until others break them.

These books are instructive in that while they demonstrate bias, it is known bias, which is very different from the current practice of lying about being even-handed.

Posted by: Ace-Endorsed Author A.H. Lloyd at September 10, 2023 09:22 AM (llXky)

Comment: I'm not a football fan at all (either pro or college), but since it is college football season, why not feature a recommendation for a book on the sordid inner workings of collegiate football programs? The flagship campus of the university where I work had a bit of a scandal a few years ago about the ridiculous salary and competition package the new head coach was receiving compared to other employees on campus (millions of dollars). But the argument is that a football team keeps the alumni happy and donating. I've also seen a few cheating scandals surrounding athletic teams to ensure that star players don't lose their scholarships.
+++++
I have always loved the book: Weird America by Jim Brandon for nuggets like this (sticking with the New Mexico theme):

COLUMBUS (2)

(32 mi. S of Deming on S.R. 11.) The Tres Hermanas Hills are three neatly conical peaks sitting side by side just north of here along the west side of S.R. 11. There is an extensive cave network in the hills, parts of which are naturally self-luminescent from radium salts among the rocks. These caverns are said to have been important in pre-Columbian mysticism, Certain observers of the contemporary occult scene speculate this role may continue today, with the Tres Hermanas area being used as a shrine of sorts by cultists operating between Mexico and the United States.

Posted by: Mister Ghost at September 10, 2023 09:20 AM (TGPs7)

Comment: The North American continent is home to a lot more weirdness than we might suspect. Authors such as Douglas Preston & Lincoln Child tap into that weirdness in many of their stories. H.P. Lovecraft is also famous for creating an eldritch and strange aura round ancient locations in New England, particularly in Massachusetts though the fictional towns of Dunwich, Innsmouth, and Arkham.
+++++
Stone Unturned by Lawrence Watt-Evans is that book. It is the last novel published in the Legend of Ethshar fantasy world series.

It had appealing characters, puzzles around different magic types, and a good plot. Which describes all of the best books in that series.

I have a higher percentage of Lawrence Watt-Evans books in my library than even Terry Pratchett's Discworld. He does fantasy well, with a subtle light touch. Another series of his I like is Lords of Dus.

He does well with science fiction, winning the Hugo, when that meant something, for Why I Left Harry's All-Night Hamburgers. He has other appealing SF stories.

Posted by: NaCly Dog at September 10, 2023 10:08 AM (u82oZ)

Comment: I only have a couple of books by Lawrence Watt-Evans: The Misenchanted Sword and With a Single Spell. I don't remember much about either one, other than The Misenchanted Sword involves a warrior who is given a sword with a faulty enchantment. It can kill up to a certain number of people (99 or 100) before it runs out of juice. I may have to go back and reread them if NaCly Dog is giving them such high praise...
More Moron-recommended reading material can be found HERE! (977 Moron-recommended books so far!)
+-----+-----+-----+-----+
WHAT I'VE ACQUIRED THIS PAST WEEK
Memory, Sorrow, and Thorn Book 1 - The Dragonbone Chair by Tad Williams -- Had to purchase a replacement copy as my cat Penny tore out one of the pages of my other copy.
The Monsters Next Door edited by R.J. Carter -- Contains a short story by Moron Author Troy Riser. It also pokes fun at comic books through its artwork and faux advertising. For a mere $0.10 you can purchase a Hobo-in-a-Box! "When your street is getting over-runned by homeless people and you need someone to speak their language and run them off to the next street down the block."
WHAT I'VE BEEN READING THIS PAST WEEK:
Memory, Sorrow, and Thorn Book 2 - Stone of Farewell by Tad Williams -- The heroes are scattered to the four winds as they seek a means of stopping the seemingly omnipotent Storm King.
Memory, Sorrow, and Thorn Book 3 - To Green Angel Tower by Tad Williams -- The conclusion to one of the best epic fantasy series of all time. Seriously.
The Monsters Next Door edited by R.J. Carter -- Short horror stories, featuring one by Moron Author Troy Riser. The artwork and tongue-in-cheek comic book-style advertising are great!
That's about all I have for this week. Thank you for all of your kind words regarding the Sunday Morning Book Thread. This is a very special place. You are very special people (in all the best ways!). The kindness, generosity, and wisdom of the Moron Horde knows no bounds. Let's keep reading!
If you have any suggestions for improvement, reading recommendations, or discussion topics that you'd like to see on the Sunday Morning Book Thread, you can send them to perfessor dot squirrel at-sign gmail dot com. Your feedback is always appreciated! You can also take a virtual tour of OUR library at libib.com/u/perfessorsquirrel. Since I added sections for AoSHQ, I now consider it OUR library, rather than my own personal fiefdom...
PREVIOUS SUNDAY MORNING BOOK THREAD - 09-10-23 (NOTE: Do NOT comment on old threads!)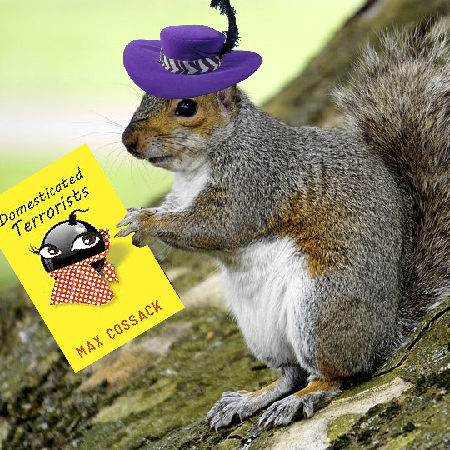 posted by Open Blogger at
09:00 AM
|
Access Comments