« Comedian and Podcaster Russell Brand Accused of Sexually Assaulting Five Women
|
Main
|
Cartels Are Putting Border Towns Under 24/7 Surveillance to Spy on Their Enemies and Direct Hitmen to Their Positions; In Texas, They're Building a City of Illegal Aliens »
September 18, 2023
A Whole New Grift: The Clinton Global Initiative Will Start Fundraising Again, Supposedly for Ukraine This Time
The grifting organization's new motto is "Keep Going." Which sounds like they wanted to just admit they want to Keep The Grift Going.
So they'll be "seeking monetary commitments" to "provide humanitarian relief to Chelsea," I mean to the Ukranians.
CGI announced numerous new programs Monday that it hopes will gather new monetary commitments and engagement, including gender equality and continued support for the people of Ukraine.

Hillary Clinton announced that gender equality will now be the fourth pillar of CGI's activities, along with fighting climate change, economic inclusion and public health issues.

"It is time to close the wage gap once and for all," Hillary Clinton said. "It is time to protect and expand access to reproductive health care, abortion and quality maternity care once and for all. It is time to ensure that every girl everywhere can get the education she deserves.

CGI plans to announce the launch of the CGI Ukraine Action Network, as well as numerous financial pledges, to support nonprofits working in the country.
Meanwhile, Kari Lake wonders what Zelenskyy meant when he said that so far, Ukrainians had been patient with the rest, but this patience might end if the west stops sending weapons.
Kari Lake @KariLake

Is Zelensky suggesting that Ukrainian refugees in other countries could be activated LIKE terrorist splinter cells if we stop funding @JoeBiden's proxy war with Russia?

This reads like a threat.

How else are we supposed to interpret this?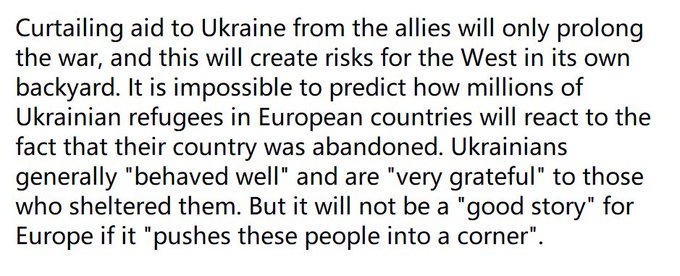 Meanwhile, Ukraine says it may sue the EU on the WTO court if the EU does not allow it sell its grain there free of restrictions.
There's a glut in the wheat market, and the EU suspended its usual limits on outside countries selling wheat inside the market to help Ukraine. Now Ukraine is demanding that that policy be continued.
Ukraine is threatening to take Brussels and EU member countries to the World Trade Organization if they fail to lift restrictions on its agricultural exports to the bloc this month.

The country's grain exports -- its main trade commodity -- are currently banned from the markets of Poland, Hungary and three other EU countries under a deal struck with the European Commission earlier this year to protect farmers from an influx of cheaper produce from their war-torn neighbor.

The glut, triggered by Russia's invasion of Ukraine and its blockade of the country's traditional Black Sea export routes, has driven a wedge between Ukraine and the EU's eastern frontline states which have been among the strongest backers of Kyiv's military fightback.

The restrictions, already extended once, are due to expire on September 15. Amid speculation that Commission President Ursula von der Leyen will let them lapse, Poland and Hungary have threatened to impose their own unilateral import bans, in violation of the bloc's common trade rules.

"With full respect and gratitude to Poland, in case of introduction of any bans after [September 15], Ukraine will bring the case against Poland and the EU to the World Trade Organization," Taras Kachka, Ukraine's deputy economy minister, told POLITICO.
Ukraine wasn't getting enough bad press so a militant extremist trans activist (is there any other kind?) stepped up to do shis duty to make Ukraine toxic.
That mentally ill man in a Party City wig is not the spokesman for Ukraine.
But people will see that and realize why he feels he has license to threaten to murder people who disagree with him: Just the latest case of The Regime imposing one permissible view to have on an issue, and authorizing cancellation, ostracization, and even violence against those who do not snap into line and obey The Regime's latest decree.
He feels entitled to threaten murder because The Regime empowers psychopaths like himself to enforce The Regime's diktats.

posted by Disinformation Expert Ace at
02:14 PM
|
Access Comments