« Trump: I Did Nothing Wrong on Covid, and the National Lockdowns Are Somehow Due to Florida Governor Ron DeSanctimonious and Not Me, the Former President of the United States
|
Main
|
Head Over Heels Cafe »
September 14, 2023
Quick Hits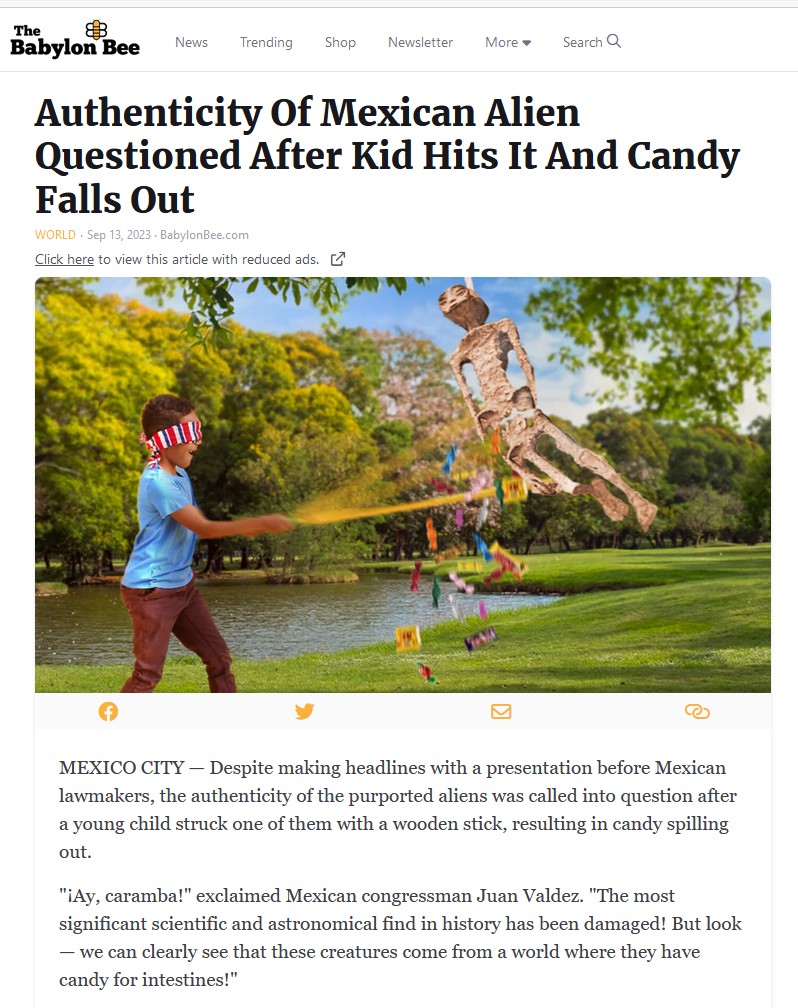 From the Bee. Thanks to Archer.
Nancy Pelosi: "I'm more reptilian and cold-blooded." FACT CHECK: True.
Clap for your Essential Government Workers.
Footage shows two TSA agents stealing $600 from a passenger's wallet

Agents Labrrius Williams and Josue Gonzalez have been charged


Surveillance video caught TSA agents at Miami International Airport stealing from passengers as they went through security.

The shocking footage shows Labarrius Williams, 33, and Josue Gonzalez, 20, working together to steal money from passengers' bags at security checkpoint E on June 29.

Video provided by the Miami-Dade County State Attorney's office shows Williams shifting around items in a bin and then walking away while Gonzalez puts his hand on the item.

Gonzalez is then seen gripping something in his hand while removing it from the bin, then immediately dropping something in his pocket before returning to the conveyor belt.

Another clip shows Gonzalez starting to unzip a purse as the bin works its way down the belt.

He starts by opening the larger main pocket, then the smaller front pocket when he pulls out a wallet and drags it to the corner of the bin behind a larger bag.

As the bin moves along, he opens the wallet and fingers through the cash that hangs out of it. While the bin goes down the line, he continually comes back to it.

His hands are in the bin touching the bag up until it must go into the x-ray machine. Then he puts his hands into his pockets and walks back to the end of the line.

French regulators say the iPhone 12 emits more radiation than their regulations allow, and are moving to block the sale of the phone in France.
If you have an iPhone 12, I wouldn't worry too much -- it's only about 30% above the allowed level, and the allowed level is set below the threshold for causing harm.
But I do like the part where they're f*cking with Apple.
French regulators ordered Apple to stop selling the iPhone 12, saying it emits electromagnetic radiation levels that are above European Union standards for exposure. The company disputed the findings and said the device complies with regulations.

The French government agency that manages wireless communications frequencies issued the order after the iPhone 12 recently failed one of two types of tests for electromagnetic waves capable of being absorbed by the body.

It's unclear why the phone, which was released in late 2020, didn't pass the agency's latest round of tests and why it was only that particular model.

France's digital minister said the iPhone 12's radiation levels are still much lower than levels that scientific studies consider could harm users, and the agency itself acknowledges that its tests don't reflect typical phone use.

...

The agency recently tested 141 cellphones and found that when the iPhone 12 is held in a hand or carried in a pocket, its level of electromagnetic energy absorption is 5.74 watts per kilogram, higher than the EU standard of 4 watts per kilogram.

The phone passed a separate test of radiation levels for devices kept in a jacket or in a bag, the agency said.

Radiation limits are set "well below the level at which harm will occur," and therefore a small increase above the threshold "is unlikely to be of any health consequence," said Malcolm Sperrin, director of medical physics at the U.K.'s Royal Berkshire hospital group.

I can remember a time when I was angry when the EU kept attempting to tax and regulate American social media and tech monopolies. Now I say "You get the ankles, I'll get the wrists."
Juicy Smolliet is back in court, arguing that his convictions should be thrown out. He's out of jail while he awaits appeal. If this appeal fails -- which it should -- we'll finally lock this m*****f***** up.
He claims that his convictions should be tossed out because of double jeopardy.
But he was never previously prosecuted for the crimes he's now been convicted of. He agreed to a sham plea deal for those crimes, which a judge threw out as invalid.
But he says the stricken plea deal counts.
We're going to see Hunter Biden attempt this same bullsh*t claim.
His attorneys have argued he is being punished for the same crime twice because he forfeited his $10,000 bond payment and agreed to perform 16 hours of community service when Cook County prosecutors dropped the original charges. A judge later ruled that the deal was invalid and appointed a special prosecutor who filed the new charges leading to Smollett's conviction.

Smollett's team has argued that the trial violated his Fifth Amendment protections against double jeopardy.

CBS 2 Legal Analyst Irv Miller said he thinks Smollett's attorneys have a case.

"There's a legitimate argument here," Miller said. "A legitimate legal argument here, based upon the fact that acts were taken against him that put him in jeopardy. He paid a fine. He continued with his community service, and he didn't violate the terms of the agreement, which is typically required when you try to get rid of the agreement and say 'Hey we're going to start from scratch because you didn't behave yourself.' He did behave himself. He did his community service. He paid the fine, and the system decided, 'Well that wasn't good enough. We want to try him again.'"

So what happens if the court decides Smollett's attorneys have a case and that his Fifth Amendment rights were violated?

"If the appellate court says his Fifth Amendment rights were violated, he's going to walk out period," Miller said. "He's going to walk out the front door with no conviction and they can't try him again."

Smollett has never made a statement accepting guilt in the case, something the state prosecutor pointed out in court on Tuesday.

The ruling is expected to take several weeks.
The same Chicago Teachers Union president who decries school choice as "racist" sends her own son to a private school, of course.
The president of the Chicago Teachers Union (CTU) is facing backlash after it was recently revealed that she had enrolled her eldest child in a private school.

Stacy Davis Gates -- who was elected president of CTU in 2022 and also serves as executive vice president of the Illinois Federation of Teachers -- placed her teenage son in a Catholic high school located in Chicago's South Side, according to a report by NBC Chicago.

The report, which cited multiple sources and Davis Gates' own social media posts as confirmation of the enrollment, did not specify the name of Davis Gates' child or the school he had been enrolled in.

Davis Gates said last year that having her children in public schools helps to "legitimize" her position within the union and that she could not advocate on behalf of public schools if that were not the case, according to NBC Chicago.
Top Biden spokesconspirator John Kirby explained that it won't encourage terrorism to pay Iran off for its hostage taking, because Iran already does lots of terrorism and hostage-taking, and hardly needs the additional encouragement.
Which is why, of course, we must help Iran build a nuclear bomb. These terrorist hostage-takers are our Partners In Peace (TM).
When the FBI stops by to have a Nice Friendly Chat about some people you know with Unapproved, Unlicensed Opinions they'd like you to inform on:

posted by Disinformation Expert Ace at
06:30 PM
|
Access Comments