« Book: Biden Scrapped The Plan to Get Kids Back to School In Early 2021 to Appease the Vile Cow Randi Weingarten
|
Main
|
Biden Lets the Mask Slip, "Joking" That His Doctors Say He Has to Wear a Mask for 10 Days to Keep From Spreading Covid To Other People, But That He Doesn't Feel Like It »
September 07, 2023
NYC Mayor Eric Adams Rails Against Illegal Immigrants, Claiming They Will "Destroy New York City"
Oh, you noticed, huh?
Last week even CNN wrote about the stormclouds gathering in the Democrat Party, with the woke open borders ideologues pitted against local mayors who have to actually grapple with the woke ideologues' deranged policies.
The relationship between President Joe Biden's White House and Eric Adams began breaking down in private months earlier than previously known -- and long before the New York mayor started publicly blasting the president over the migrant crisis in his city.

"There's no leadership here," Adams told a group of Biden aides last October in the chief of staff's office, demanding the president do more to help his city handle a massive influx of migrants.

The issue is one of the most sensitive issues for the White House, and for Biden's reelection campaign. Intergovernmental affairs director Julie Chávez Rodríguez, chief of staff Ron Klain and Homeland Security Adviser Liz Sherwood-Randall bristled. They were doing everything they could at the White House to lead without Congress pitching in, they said. Biden had done more than any previous president and much of what Adams was asking for would either require congressional action or would likely immediately be challenged in court.

It was a moment, which is being reported now for the first time, that prefaced a total breakdown of the relationship between the White House and the mayor's office. CNN's conversations with multiple sources revealed the political partnership has devolved into finger-pointing and frustration between Adams, the president, their aides and advocates who complain that the leaders have both been blundering through a response to a crisis that more than one told CNN feels like "playing hot potato with people."

A year later, Adams has long moved past private bashing of Biden, even headlining a rally on Thursday in Manhattan that slammed the administration's response arrival of migrants. Beyond the sniping is a creeping fear among White House and New York officials that the failure to find solutions and tamp down concerns won't just leave thousands of migrants in limbo but could blow up into a major political problem for Democrats heading into 2024, the sources told CNN.

...

It's not just the images of the migrants on the streets that could prove disastrous politically, they say. It's the Republicans already making an issue of the local and federal government spending on assisting migrants.

Oh it's our fault. I was wondering when CNN would get around to blaming us.
Now, at a public town hall event on the Upper West Side, Adams proclaims that illegal aliens will "destroy New York City."
Jeff Coltin @JCColtin

"I don't see an ending to this. This issue will DESTROY New York City," Mayor Adams says in some dire comments about the migrants coming to New York City. "The city we knew, we're about to lose."

"We turned this city around in 20 mnths. And then what happened -- a mad man down in Texas decided he was going to bus people up to New York City," Adams says, never one to let facts get in the way of a good story.
(Migrants came like, 5 months in, and MOST aren't bussed from TX)
A "madman" wanted New York City to enjoy the Cultural Enrichment and Strengthening Diversity that Texas border towns have had to endure for decades.
Adams can barely contain his glee - "I'm sorry can you say that again?" - when a speaker suggests that Comptroller Brad Lander doesn't care about runaway homeless shelter contracting costs because his wife leads Nonprofit New York, an umbrella group for nonprofits.
Oof. He's saying the unsayable: Democrats profit off "charities" which make money off the disasters that Democrat policies cause.
Adams, of course, is ultimately responsible for city contract spending. But says "I'm angry about how much money we spend on shelters. I don't want people to get comfortable and believe that they are permanently supposed to be in the shelter. Because it's a downstream mindset."
Conservatives had fun with turning the tables on the woke leftists. Liberals have been citing the poem on the Statue of Liberty to us as if it is enforceable legal doctrine.
RedSteeze linked a tiny little emoji of the Statue of Liberty's face to respond to Adams: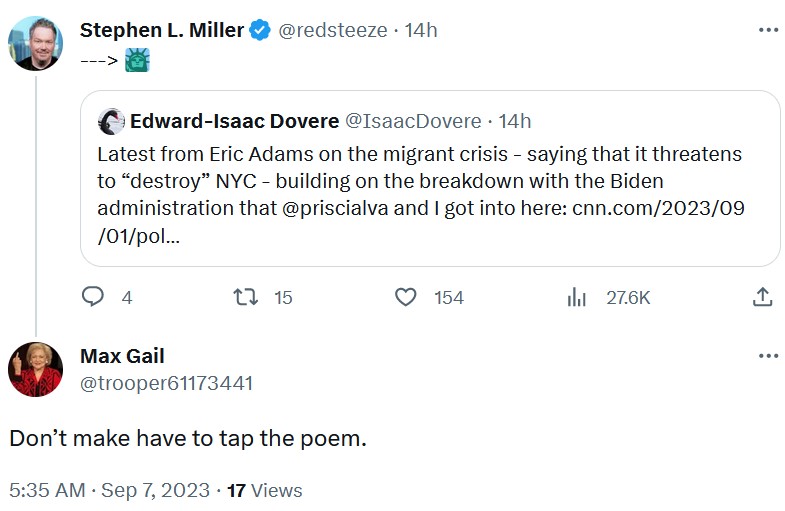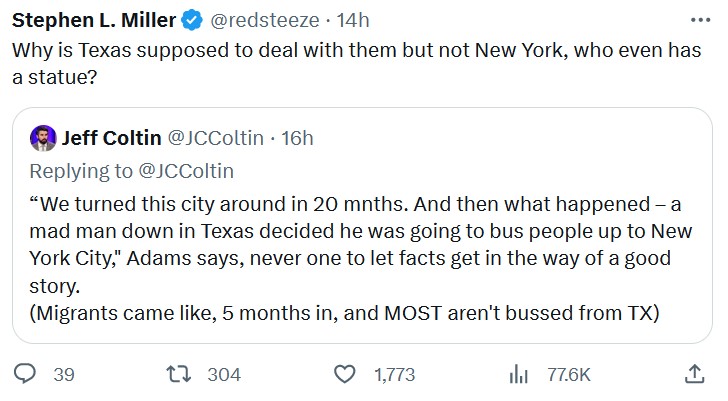 And, of course, New York City is a Sanctuary City. But El Paso is not.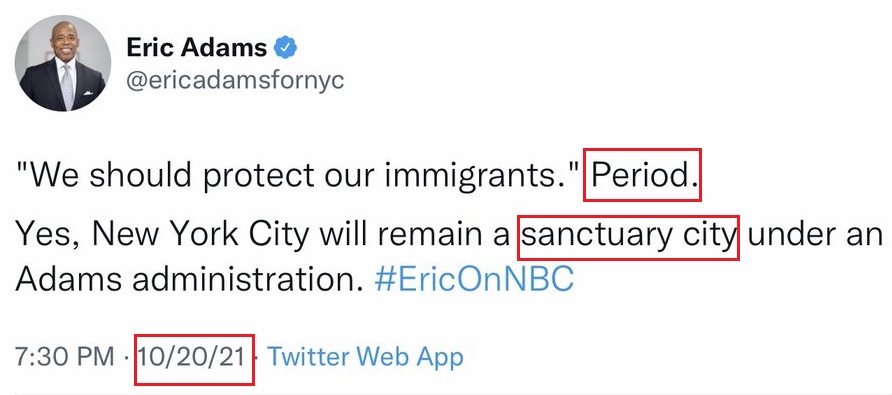 From redridinghood:

posted by Ace at
01:10 PM
|
Access Comments