« Mid-Morning Art Thread
|
Main
|
Spies Who Lie: One of the Former Intelligence Officers Who Signed the Psyops Disinformation Hunter Biden Letter Subsequently Hid The Fact That She Then Landed a Job at Twitter's "Truth and Safety Council" -- Twitter's Department of Censorship! »
September 01, 2023
THE MORNING RANT: Buck Shots – 9/01/2023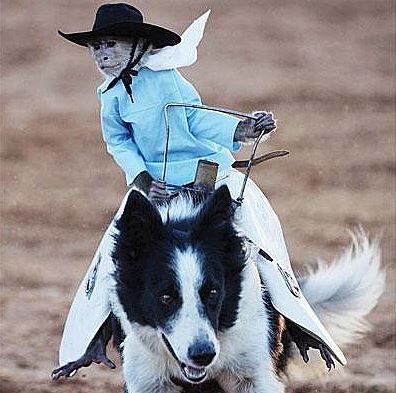 Government Economic Misinformation
Warning, this link is to CNN, and it is pure regime-promoting propaganda, discussing how a major downward revision in new job creations is actually good news, because it beat expectations on how badly the Bureau of Labor was going to have to adjust its previously published fabrications. Or something to that effect.
"America Added 306,000 Fewer Jobs Last Year Than We Thought" [CNN Business – 8/23/2023]
Despite the spin, there are a few hard numbers I'd like to extract:
US job growth during much of the past year was weaker than previously projected by a little more than 300,000 jobs, according to new federal data released Wednesday.

As part of the agency's annual benchmark review of payroll data, the Bureau of Labor Statistics revised down March 2023's employment gains by 306,000 positions.
This means that 306,000 fewer jobs were created over the 12 months ending March 2023. How significantly was the data overstated?
When spread through the prior year, that amounts to about 25,000 fewer net jobs added per month, meaning that the average monthly job gain for the 12 months ended in March 2023 was nearly 312,000 versus 337,000, BLS data shows.
Let me do the math. The BLS overstated new job creation by 8.0%. That is not a rounding error or a minor miss, it's a significant and deliberate government lie. And of course, since it is policy at BLS to publish false, inflated figures to help Democrat administrations, it is safe to assume that the revisions are also false. The Bureau of Labor Statistics is simply trying to adjust their falsified data reports enough so that they can somehow, sort of reconcile to surveys of actual employment. They have to do this to set the benchmark before the next round of completely bogus jobs reports is released.
How persistent is the jobs report fraud? Take a look at this graph from Zero Hedge, which shows that every month so far in 2023 the BLS publishes an overstated jobs report, which the regime media dutifully touts as a sign of great economic progress under President Biden, and then that same monthly report is later adjusted downward without media fanfare.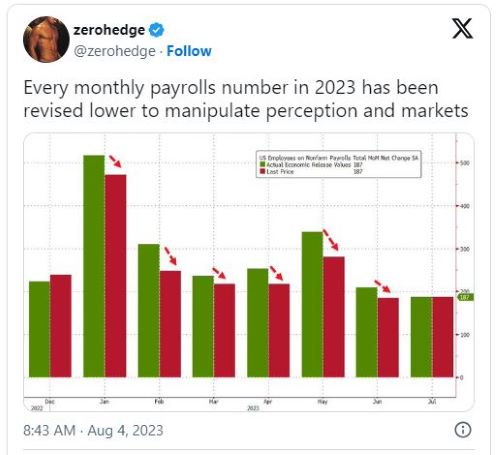 The July report was the first one this year to report under 200,000 new jobs, which means that the actual number is going to be even lower than the already disappointing 187,000 jobs reported.
*****
More Government Economic Misinformation
So, while I was typing the section immediately above, this came to my attention:
"U.S. Second-Quarter GDP Growth Revised Lower" [CNBC – 8/30/2023]
Of course it was. The Q2 GDP results that were published by the government and touted by the media were false, and now they need to be revised downward.
Gross domestic product increased at a 2.1% annualized rate last quarter, the government said on Wednesday in its second estimate of GDP for the April-June period. That was revised down from the 2.4% pace reported last month. Economists polled by Reuters had expected GDP for the second quarter would be unrevised.
It always amuses me when good economic news is released by the government, and the stock market then responds to the news, even though it is now well understood by traders that the government puts out falsified numbers for the purpose of influencing markets.
*****
Unreliable "Green" Energy is Barely on the Job in Texas
Texas is having an awful summer, heat wise. It happens there. Some years are worse than others. When it's hot the energy need soars, so let's take a look at just how much electricity is being generated by renewable unreliable "green" energy sources.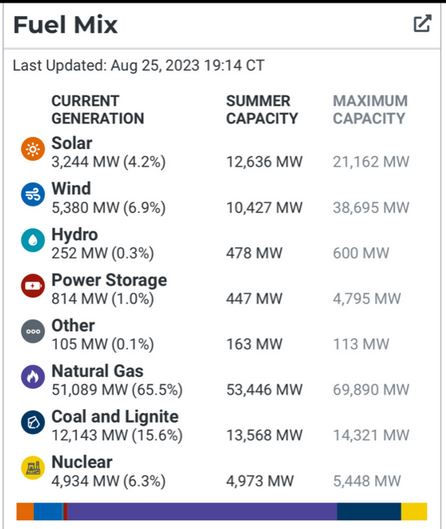 As shown in the chart above, at 7:14 PM on August 25, 2023 Texas was only getting a combined 11% of its electricity from wind and solar. Meanwhile, 81% of electricity was being produced by natural gas and coal.
Climate hustlers and green energy advocates would argue that this proves that Texas needs to add more solar and wind farms. But look at this next chart, which shows that only a small fraction of solar and wind capacity was actually generating electricity on that hot summer day.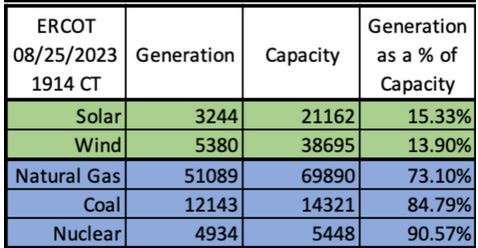 Solar was only producing 15% of its actual capacity and wind was producing even less as a percent of its capacity, and the sun hadn't even set yet! Solar would go to 0% in a couple of hours.
It is not feasible to build enough wind and solar capacity, since the wind doesn't always blow and the sun doesn't always shine. It is way past time to stop the "sustainable" energy charade.
*****
"Unprecedented" 95-degree Summer Heat in the South
The climate hysterics have scored a major victory this summer with their wall-to-wall coverage of "dangerous" and "record breaking" heat.
It has actually been an exceptionally cool summer here in Tennessee, but finally, at the end of August, the Tennessee city I work in hit the mid-90s. This very normal warm snap was treated as if it were a lethal typhoon of heat, and the scare tactic worked. People here were in a panic.
Take a look at the forecast below that I screen-shot on the afternoon of Thursday August 24. The temperature was going to reach 95. The next day was forecast to be 96. This was the "unprecedented" heat that had some people scared for their survival.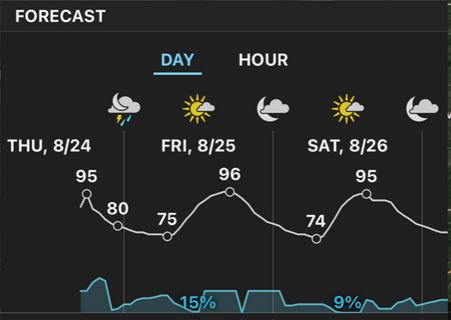 Of course, the panic pushers in all media outlets weren't talking about temperature, they were talking about "triple digit" heat index.
I heard one co-worker on the phone in a panic because her child was going to have an after-school athletic practice, and it hadn't been canceled yet. Meanwhile, the school district was delaying or postponing Friday night football games due to the "unseasonable" heat. It's August in the South, 96 degrees is not unseasonable.
One co-worker made small talk to me in the break room about how she had never experienced such excessive heat in her life. She's from Tennessee! She has experienced this same heat every summer of her life. These are normal summer temperatures in the South, and much higher temperatures are still extremely common.
By the way, neither of these two co-workers is a lefty. During Republican primaries in previous years, I have heard them discussing the pros and cons of various local Republican candidates they might vote for. It is disheartening to me that so many people on "our side" are still easily swayed by left-wing climate misinformation.
*****
Science: Climate Change Is Warming and Cooling Ireland at the Very Same Time
Those of us who reject the climate hysteria are not only smeared as "climate deniers" but we're also accused of being anti-science. Can anyone help explain to me how it is a scientific fact under the "climate consensus" that climate change will simultaneously cause Ireland to warm up to a "Mediterranean style climate" while also causing Ireland to see its weather become colder?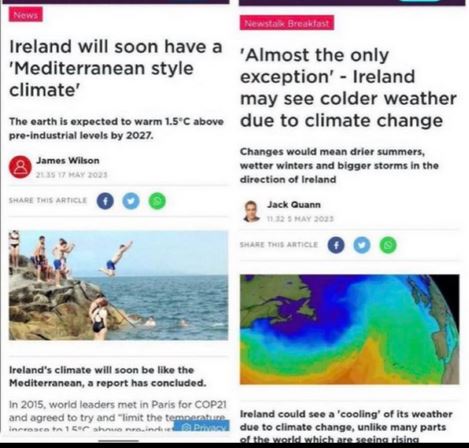 *****
Did Sport Utility Qamutiiks Cause the Arctic Tree Line to Reach the Arctic Ocean a Few Millennia Ago?
Why is there a 5,000 year-old spruce stump on the Canadian tundra about 100 kilometers north of the current tree line? It's too cold for trees to grow there now, but the climate was once warmer and more hospitable.
This tree stump is in the Tuktoyaktuk Peninsula in the Northwest Territories, along the Arctic Ocean coastline. Until the tree line returns to the Arctic Ocean, I really don't need to hear another word about how my gas-powered SUV is causing the world to boil. The world is a long, long way away from being as warm as it has been in recent millennia, and my car has nothing to do with the earth's temperature.
*****
Permanent Foreign War Involvement Was Not a feature of the Reagan Presidency
The political "horse race" is not normally my beat around here. Ace and the other cobloggers cover it well, and I feel I have little to add, but I do want to comment on something I saw in the Republican debate that annoys me greatly.
The mythic Ronald Reagan of modern Republican hagiography is a much different person from the person who received my first presidential vote in 1984.
Establishment Republicans despised Ronald Reagan in 1980. His nomination and subsequent election were driven by the 1980 version of MAGA (which some still referred to at the time as "Goldwater Republicans") Liberal Republican John Anderson was offered up as the NeverReagan candidate to allow establishment Republicans to vote Independent rather than for Reagan, with the intention of helping Jimmy Carter win re-election and teaching Goldwater/MAGA-type Republicans a lesson. Despite the efforts of country club Republicans, Reagan then won the general election by appealing to disaffected working class Democrats who were fed up with the establishment.
Above all else, Reagan was not a war-monger. He didn't invade Libya in response to Gaddafi's terror attacks, instead Reagan taught Gaddafi a quick "eff-around-and-find-out" lesson by bombing his palace. Reagan also used the military to kick the Cubans out of Grenada. What he did not do was enter into new, endless wars that dragged on for years without victory.
Most of the Republicans on the debate stage last week (with the notable exceptions of DeSantis and Vivek) favor permanent global war, either by proxy or with American blood being spilled. Yet, these same war-pushers kept invoking Reagan's name. They are invoking the wrong person's name. It was the Bushes who made it the purpose of Republican presidencies (until Trump) to engage in permanent, no-win, foreign wars.
With all that said, Sean Davis at the Federalist posted an interesting explanation on Twitter as to why so many Republican presidential candidates are campaigning as if it's a different era.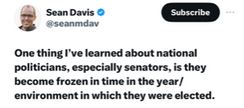 Mr. Davis went on to write:
The 2002-04 class of Republicans is hardcore neocon and corporatist (gotta fight them over there so we don't have to fight them here!)

The 2010-14 class is Tea Party (a Balanced Budget Amendment will save us!)

The 2016-22 class is populist and anti-globalist (no more rotten trade deals and dumb wars!)

That's why it's so rare for these types to jump from their current jobs to the White House. Most (not all) simply don't have the dexterity for it. The 2024 Republican voter demands an end to the corrupt Deep State, a secure border and safe cities, and prices that aren't insane. No politician who's trapped in 2004 can even understand that, let alone deliver it.
We also want someone who will use the power of the Presidency to fight the culture wars.
*****
The Smallest Buc-ees
With the Labor Day weekend starting today, many of you will be on the road. If you're in Texas or the South, there's a good chance you'll be stopping at a Buc-ee's. If you've never been to one, it's almost hard to explain. It's a Wal-mart-sized convenience store that is also part restaurant, bakery, smokehouse, farm and ranch store, confectionary, gift shop, etc, with over 100 gas pumps and sparkling clean restrooms. And despite the gargantuan size, they're still too crowded.
Well, except for the Buc-ees outside of Sanderson, TX.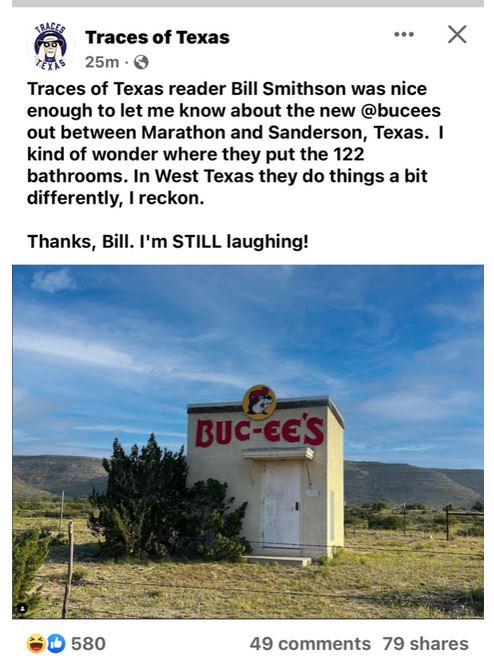 Have a great holiday weekend.
[buck.throckmorton at protonmail dot com]


posted by Buck Throckmorton at
11:00 AM
|
Access Comments