« EMAILS REVEAL HUNTER BIDEN SCHEMED TO "SHUT DOWN" SHOKIN'S INVESTIGATION OF BURISMA
|
Main
|
I've Got Mad Stacks Cafe »
August 31, 2023
Quick Hits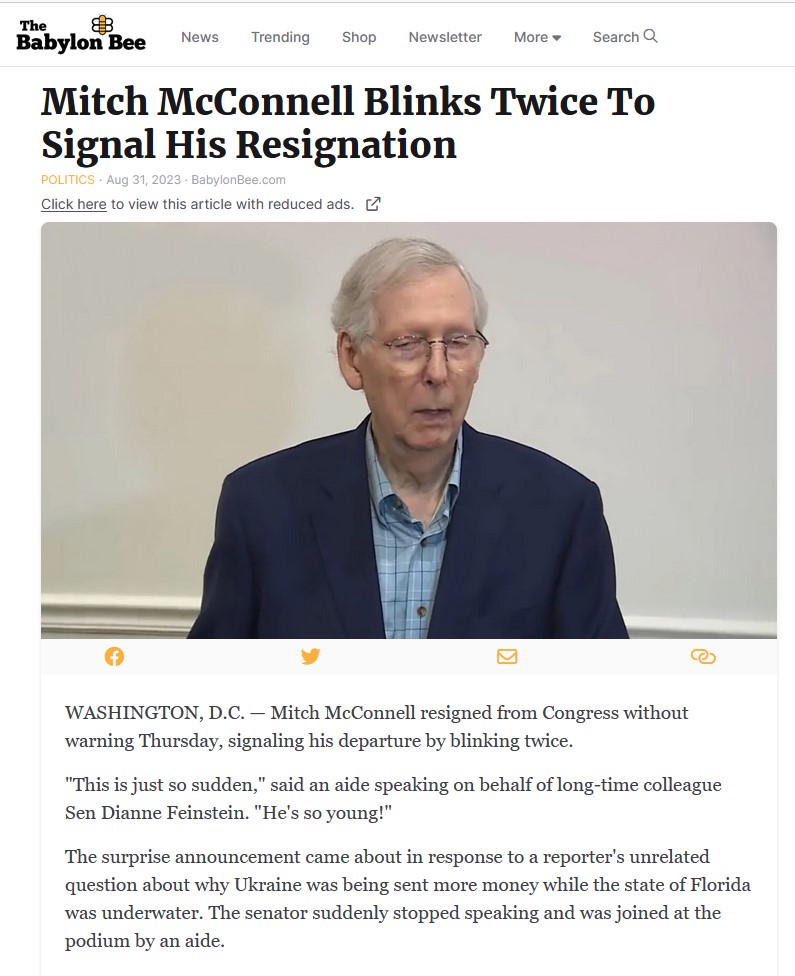 Ben Domenech notes that Mitch McConnell could resign from his position as Minority Leader while still continuing to serve as a mere Senator until 2026, denying liberal Democrat governor Andy Bashear the chance to replace him.
But that would require that Mitch McConnell act for the benefit of the party he's supposedly a leader for, rather than for the benefit of Mitch McConnell, so I feel pretty stupid even broaching the possibility.
Update, from andycanuck:
Breaking911 @Breaking911

BIDEN ON MCCONNELL: "It's not at all unusual to have a response that sometimes happens to Mitch when you've had a severe concussion. It's part of the recovery, and so I'm confident he's going to be back to his old self."
Um... no the concussion gave him epilepsy (if this is due to a concussion and not due to unreported strokes). Epilepsy is a not a cold you just get over with some chicken soup and Vitamin D. It's a chronic condition.
And I suspect he has more than that, or he'd just say "due to my concussion, I am suffering from petit mal epilepsy."
Fantastic investigatory reporting from the Free Beacon's Andrew Stiles.
ALERT: Taylor Lorenz Tries To Murder Trans Activist Who Tanked Bud Light Sales

This is not okay

Andrew Stiles
August 31, 2023

What happened: Taylor Lorenz, the 38-year-old journalist best known for helping Red China indoctrinate America's youth, attempted to literally murder Dylan Mulvaney, the controversial trans activist best known for tanking Bud Light sales after promoting the beer on social media.

* Despite (still) posting hysterically about the dangers of not wearing a mask in public due to COVID-19, Lorenz partied (maskless and indoors) at a luncheon honoring Mulvaney. It was hosted by Kathy Griffin, the actress best known for hoisting a bloody effigy of former president Donald Trump's severed head.

* Lorenz posted photos of herself posing with Mulvaney, whom she described as "one of the most beautiful and brave women on the planet." The former Bud Light spokesperson wore a shiny pink dress with a heart-shaped cleavage hole.
Clink the link for that.
What they're saying: Lorenz thanked Griffin for "taking so many COVID precautions so we could all hang safely."

* Fact check: THERE IS NOTHING SAFE ABOUT REFUSING TO WEAR A MASK INDOORS AND FAILING TO ABIDE BY SOCIAL DISTANCING GUIDELINES IN THE MIDDLE OF A PANDEMIC!

* Days earlier, Lorenz berated a social media user for spreading "death and disease" by not wearing a mask. She has also promoted deranged articles suggesting outdoor dining is still unsafe in 2023.

* In June, the journalist described holding her breath to survive a harrowing encounter at an airport security checkpoint. Lorenz complained that TSA agents were "forcing all passengers to remove their masks before they even step up to the security desk," which was "so dangerous" and "so insane."
More on this breaking story at the link.
Oh boy. MSNBC shill shrew Stephanie Ruehle is accused of using her position as a "reporter" -- an anchor, actually- to help Under Armour maintain its stock price.
Apparently she was an anchor at Bloomberg TV when she gave him a little media cover.
Under Armour founder Kevin Plank gave television anchor Stephanie Ruhle a private phone with a special email address to communicate with him, sent her confidential financial information about the sportswear maker and enlisted her help to refute concerns about slumping sales, according to newly released court documents.

Plank and Ruhle were questioned by lawyers earlier this year in connection with a shareholder lawsuit, and portions of their depositions and some of their emails were recently unsealed in court. The documents provide new insights into their close ties and her unusual role as his adviser, which The Wall Street Journal first reported in 2019.

Plank and Ruhle corresponded regularly and at all hours, according to the documents. In 2016, Plank sent Ruhle what he described as a secret recording he made of a conversation he just had with another top executive at Under Armour. Earlier that year, the then-Bloomberg anchor advised Under Armour to give internal data to Bloomberg's competitors to manage negative publicity, the court documents show.
Even persnickety propagandist Jake Tapper is befuddled at Karine Jean-Pierre's claim that Slow Joe Biden is such a whirling dervish of vim and pep that reporters can hardly keep pace with him.
He might just object because he is an indefatigable defender of the Media Class and its rights, privileges, and immunities. He is a profoundly malignant narcissist.
White House Press Secretary Karine Jean-Pierre left CNN Host Jake Tapper visibly perplexed while claiming that reporters and staff are unable to keep up with 80-year-old President Joe Biden.

"Is the White House worried that questions about President Biden's stamina could ultimately impact whether or not voters will be able to support him for a second term?" Tapper asked Jean-Pierre during a Tuesday segment of his CNN show "The Lead."

"I've had conversations with some of your colleagues in the White House press corps, when we travel abroad, [about] how it is hard for us to keep up with this president who is constantly, constantly working every day to get things done and making sure that we are delivering for the American people," Jean-Pierre responded. "And that's what, I think that's what matters. I get it. I get what you're asking me, but the record matters too, Jake. What he has been able to do, no other president has been able to do if you look at his legislative record."

Coming next: Joe Biden's 22-year-old personal trainer swears he can run a mile in 40 seconds, and can blast out the knots in a plank of wood with his steely wang-hammer.
Video here, if you can stand it.
This is outrageous: The Oakland DA had a DEI "trainer" in to teach the staff how to deal with "white victims" of crime.
You can't deal with "white victims" of crime the way you'd treat, say, black victims.
Because white "victims" of crime are not really victims, and if they get uppity when told that, put them in their White Devil place.
Hot Air quotes Heather McDonald, writing at the WSJ:
But when I started asking questions about the June 26 training, suddenly trainer and trainee didn't want to talk about it. Ms. Fleshman didn't respond to my queries. Neither did the head of the district attorney's Victim Services Division, Kristina Molina. Ms. Price's press officer, Patti Lee, told me that she deals with the press, whereas I, as a think-tank employee, have a "specific point of view."

...

One PowerPoint panel lists the session's "Key Takeaways." Among them: "White people are not entitled to harm you"; "When interacting with white victims, speak up for yourself or for your coworkers";
Just because you're a cop or DA taking information from a white crime victim, don't let that white crime victim give you any sass about the shitty attitude you're radiating!
and "If a white victim continues to harm you, ask that they be transferred."
The white crime victim is "harming" the cop taking the report or the DA pretending to listen to his story.
The slide also asserts that "white victims are entitled to the same compassion and practices as all victims," but the rest of the slide is at odds with that message. It's unclear how white crime victims "harm" government employees. Another panel from the training asserts that "White Supremacy Culture" is characterized by "Perfectionism," "Objectivity," "Sense of Urgency" and "Individualism." Perhaps it's harmful to expect government employees to respond to crimes objectively and urgently.

Since the covid shutdowns, students have just stopped going to school. In Minneapolis, the majority of students now only attend school "inconsistently." Here and there. When they feel like it.
Say, wasn't Minneapolis ground zero for the "Good Trouble" riots and arsons?
The left continues defending the lockdowns and in fact wants to gin up another panic to lock the country down again.
Some on the Left, such as Mehdi Hassan, are still on a crusade to convince Americans that the shutdowns and mandates during COVID were great for everybody.

Last week he did a show focused on how closing schools down during COVID was a good idea (although, in a fascinating twist, he sometimes seemed to imply that time in school itself is bad for kids). You can watch his idiocy here:

Strom notes that not only have millions of kids completely dropped out of the school systems completely, but even those who are still nominally enrolled in government schools aren't really attending in a real, consistent way.
Since 2019, the last time attendance data was released, the number of students with consistent attendance records has dropped from 85% to 69.8%, according to data for the 2021-22 school year.

In Minneapolis, the number of students consistently attending school that year was just 45.8%.

The data also found that, based on 2023 statewide assessments, 50.3% of students are not proficient in reading and 54.7% are not proficient in math.
Weren't the Crusades on behalf of St. George Floyd supposed to improve the lot of black folks?
Oh well, I'm sure Jake Tapper and CNN will soon do searing reports on the actual impact of the St. George Floyd Holy Riots on the black community.
At Instapundit, Ed Driscoll quotes James Pethkoukis confirming that, despite the sage witness of Mehdi Hasan, the school lockdowns demanded by his liberal teachers union allies were in fact a disaster for children.
Not that they matter -- government schools are run for the benefit of government union employees.
"Learning progress slowed substantially in the U.S. during the pandemic." According to the National Assessment of Educational Progress, a test of U.S. eight graders, the average score of students rose by 20 points in the 30 years before the pandemic. But between 2019 and 2022, the average score went down by 8 points, which means that they lost almost half of what they had gained before.
Driscoll also points out that teachers have learned nothing (of course; they didn't learn anything in college, why would they start learning now) and are forcing school opening delays due to covid.

Via Lost in Space: White girl brawl in Pittsburgh.

posted by Ace at
06:23 PM
|
Access Comments