« Snowflakes Are Still Having Public Trump Derangement Syndrome Meltdowns?
|
Main
|
Nosy Neighbors Cafe »
August 21, 2023
Trump's Bond in Joke Fulton County Prosecution Set at $200,000; Forbidden to Engage in "Witness Intimidation"
I think that last part is important -- they aim to take any comment by Trump impugning a witness's credibility and claim that Trump is "intimidating" that witness.
And then they'll put Trump in jail, pre-trial, claiming he violated the terms of his bail.
Donald Trump must surrender to Georgia authorities for arrest and arraignment in his state 2020 election interference RICO case by Friday, but the conditions he must agree to in order to secure bail have already been decided.

Prosecutors met with Trump's attorneys on Monday to discuss the specifics on the former president's surrender and the conditions of his release. The former president will be required to pay a $200,000 bond, and sign off on various requirements from the court in order to remain free. These include not committing any further crimes, appearing in court when required to, and refraining from making any "direct or indirect threat of any nature" against any co-defendant, unindicted co-conspirator, witness, or victim.

The court also prohibits the former president from making a "direct or indirect threat of any nature against the community or to any property in the community."

Crucially, prosecutors made a point to stipulate that these restrictions apply to "posts on social media or reposts of posts made by another individual on social media."

Having agreed to this, will Trump be able to refrain from saying anything that could "indirectly" "intimidate" a witness? Which could be construed by an anti-Trump kangaroo court as including any negative statement at all, because that could scare a witness into thinking Dark MAGA Extremists will come lynch him?
I don't know. Bob former AG Bill Barr said that he warned Trump that his post-election actions would wind up keeping him entangled with the Department of Justice for the rest of his life, but Trump went ahead anyway.
While former President Donald Trump spoke to Fox Business Network's Larry Kudlow Thursday, former Attorney General Bill Barr told Neil Cavuto on Fox News, "No one should be surprised" that Trump has become completely wrapped up in the legal system due to his actions leading up to the Jan. 6 Capitol insurrection.

"I resigned on December 14 because I thought that at that point the state votes were certified and that was the end of the legal process," Barr said, adding:

And I also didn't like the way he was spouting the Big Lie. I thought that was irresponsible. But he took it much further than even I expected, or anyone expected. And during this time, he was being told by lawyers in the White House that if he kept on doing this, he would spend the rest of his life tangling with the criminal justice process. And that's exactly what's happened. He shouldn't be surprised and no one else should be surprised.

"Well, the fact he didn't drop things could lead to some to believe, and his people who defend him say, that he genuinely did feel that he was robbed and this was the good fight and the proper fight," Cavuto said.

Barr responded, "Well, even if he did -- and I'm dubious about that -- but even if he did, that doesn't mean you can use illegal meaning to rectify it. If you think the bank is unfairly keeping your money, there are many things you can do to get it back; You can't go and rob the bank."

Earlier in the interview, Barr said he thought both federal cases against Trump were legitimate.

At the end of the day, at the core of this thing, he engaged -- in the case of the documents -- in outrageous behavior where anyone would be prosecuted. I don't know of any attorney general who could walk away from it. He's not being prosecuted for having the documents. He's being prosecuted for obstruction. Two egregious instances are alleged. So, I think that's a very simple case and that should be tried. If the judge is anywhere competent, that could be concluded before the summer. And the other case, after the election, he, in my opinion, did cross the line. It wasn't just rough and tumble politics. He crossed the line.
I don't know if I agree that Trump crossed a line, at least not one that had not been repeatedly crossed by Democrats in the past, and in their illegal rigging of the 2020 election itself, mailing millions of ballots to unconfirmed addresses and even turning off the signature verification system that provided at least a pretense of attempting to weed out fraudulent votes.
But certainly he stepped right on up to that line. And I'm only pointing that out to answer the question I posed above: Will Trump be able to restrain himself from stepping up to the line as far as "indirect" witness "intimidation"?
And what will happen to the country if a Fulton County pissant judge orders a presidential contender to jail?
If they want to find Trump to arrest him, one place they shouldn't bother looking is at any of the presidential debates.
He indicated, in his typical, detiorating-mental-health all-caps way, that he won't be "DOING THE DEBATES," plural, meaning he's going to skip them all.
At least, so it seems. Who knows what goes on in his head.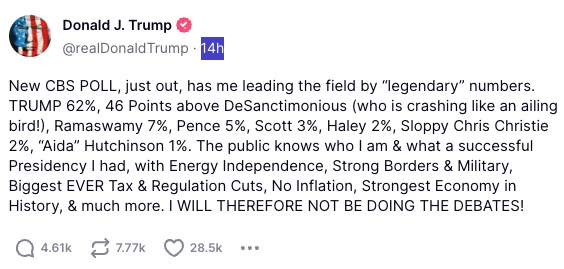 And with that statement, Trump guarantees that no Democrat opponent will agree to debate him, if that opponent is ahead in the polls. He will just cite the "Trump Precedent" -- if you're ahead in the polls and you have personal grudges against your opponents, you can spurn hundreds of years of American historical practice and refuse to debate.
I hated when Abortion Mouse did this in Arizona, and I hate that Trump is doing it now.
And if Trump is behind in the polls -- and I think he will be, even against Biden, and 8-10 points behind Gavin Newsom, the more likely candidate -- then Biden or Newsom will just say, "Go f*** yourself, your rules, no debate."
So much winning, you'll get sick of all the winning.
The forms, habits, and practices of democracy are worth keeping, but I guess that now, like the Constitution, that was all like a hundred years ago, man.
I can't say that a Democrat wouldn't have skipped out on the debates whether Trump skipped them first or not. I expected voters to punish Abortion Mouse for refusing to stand before the public and present an accounting of herself; they didn't.
So maybe this is just the new normal. America is ending, and not gracefully.
Trump will pull his usual bullshit move and try to get better ratings that the people he's up against by doing an interview with Tucker Carlson.
Former President Donald Trump will reportedly not attend the first Republican primary debate next week and will instead participate in an interview with Tucker Carlson.

Trump has long hinted that he would not attend the debate and has bristled at the requirement that candidates sign a pledge to support the eventual nominee in order to participate.

The New York Times, which first reported Trump's decision, interpreted the Carlson interview as a snub to Fox News, an outlet with which he has feuded since leaving office. Carlson, for his part, was fired from the network in the wake of a settlement with Dominion Voting Systems related to the network's coverage of the firm.

I sure hope Tucker Carlson is up to the task of quizzing Trump seriously about his record and his failures and what plan he has to correct those going forward (spoiler: there is no plan), because Trump is attempting to run without answering any questions about these things.
I know he sat for an interview with CNN but liberal outfits do not ask questions about conservative priorities, only about leftwing priorities. So unless Tucker Carlson bothers asking him about his support of Fauci and lockdowns and failure to drain the swamp -- indeed, far from draining the Swamp, he mostly nominated the Swamp -- we will never have any answers about these questions.

But you know: Muh Ratings. Most important thing in running a country: getting the good ratings. The best ratings.

posted by Ace at
06:18 PM
|
Access Comments