« Dan Goldman (The New Adam Schiff) Claims That Burisma Wanted to Keep the Prosecutor Shokin in Office.
In Fact, Hunter Biden Was Working for the Illegal Foreign Agents Who Wanted Him Fired.
|
Main
|
A Pawful Pounce Cafe »
August 08, 2023
Quick Hits
As SC_Reviews says in his Australian accent: "Not even once, mate."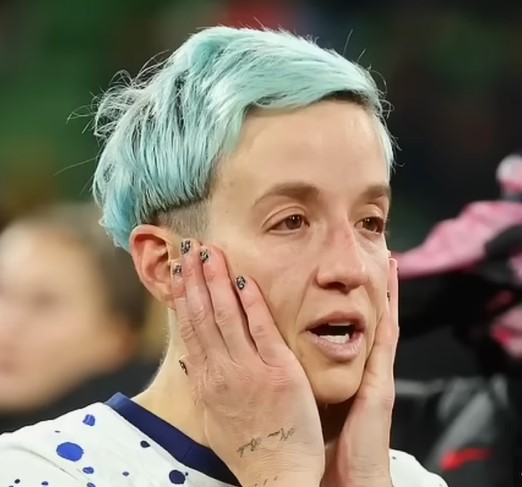 In other words, I wouldn't f*** that with a busted-up duct-taped dick I borrowed from the Tijuana Cock Library with a fake ID card.
Not even once, mate. Not even once.
That's the Biblioteca de Pija, by the way. A bit rank, a bit semen-y.
Oberlin College is another lawsuit that stems from their defamation of a bakery's owners as racists: Now they're suing their insurance company for refusing to pay the $37 million that Oberlin owes the shop owners for slander. Serves them right.
This article doesn't say why the insurers aren't paying. My speculation is that the insurance company would say that the defamation was intentional bad behavior, not accidental or negligent behavior, and the policy does not cover intentional acts.
Most (or all) policies do not cover intentional acts, as that would simply grant the insured the right to wrong whoever he likes without personal consequence, and decide when he's going to mulct his insurer out of a couple or twenty million here or there.
I think that's right, because Oberlin is claiming that the insurer promised they would pay "some if not all" of the damages. I think Oberlin is attempting to claim the insurers made a superseding oral contract which supplemented/replaced the actual written contract for insurance -- which would assuredly have a provision stating that they will not pay for damages due to intentional acts.
Oberlin College has sued four of its insurance providers to make them cover the multimillion-dollar judgment that Gibson's Bakery won against the school in 2019 over false claims of racism.

The wealthy liberal arts college in northern Ohio filed a suit in April against four insurance companies, saying they wrongfully refused 'to honor promises they made in their respective policies to protect' the school.

Oberlin seeks the money to cover the $36.6 million it paid out last year to Gibson's Bakery.

In that case, jurors ruled the school had defamed the small business by describing it as racist, after the store owner chased down three black students who stole from the business in November 2016.

The incident sparked large student protests and a boycott that nearly tanked the business.

Oberlin's new suit is against Lexington Insurance Company of New York; United Educators Insurance of Bethesda, Maryland; Mount Hawley Insurance Company of Peoria, Illinois; and StarStone Specialty Insurance Company of Cincinnati.

It was filed at Lorain County Common Pleas Court and was assigned to Judge Chris Cook.

In its lawsuit, Oberlin says it had 'at least $75 million in total insurance coverage' at the time of the bakery incident.

That was 'more than enough to pay the underlying judgment and substantial unpaid defense costs' from its six-year legal battle with Gibson's.

This included $25 million in commercial umbrella liability coverage from Lexington; $10 million from Mount Hawley; $5 million from StarStone; and $25 million in overlapping educators legal liability coverage from United Educators, court papers show.

The college received $1 million from one of the insurers, but 'also incurred millions of dollars in defense costs pursuing its appeals,' says the lawsuit.

'The defendant insurers have failed to pay a penny toward the $36,590,572.48 sum that Oberlin paid the Gibson's plaintiffs,' the lawsuit says.

'They also have failed to pay for the full cost of Oberlin's appeals, which were pursued at the behest of the insurers in order to reduce their collective exposure.'

The insurers had told the college that 'some, if not all, of the damages' would be covered, the lawsuit claims.

Instead, Lexington and United Educators 'engaged in a systematic, multi-year effort to avoid their coverage obligations' by passing the buck to the other insurers, the suit claims.

They could have settled for less than $10 million before going to trial, it adds.
That money also would have come without a decade of abuse and suspicion of the bakers, and before their patriarch died. That man died with Oberlin's vicious slander still uncompensated.
The left are really vile, despicable "people," aren't they?
AZ deplorable moron recommends Legal Insurrection for more on the Oberlin Race-Hate Defamation Case.
There's so much white supremacy and minorities are so oppressed and disadvantaged that white people just can't stop pretending to be minorities for professional, financial, and social advancement.
Three University of Kansas professors now accused of falsely claiming Native American ancestry Accusers say all three professors are white and have built careers on false claims

Three University of Kansas professors, historian Kent Blansett, biologist Raymond Pierotti and geographer Jay Johnson, now have been accused of fraudulently representing themselves as Native Americans.

Blansett (pictured, left) was accused of misrepresenting his lineage by journalist Jacqueline Keeler, who investigates those who falsely claim Native American ancestry, as well as by AncestorStealing, a website that publishes research on the subject, The College Fix reported earlier this month.

On the heels of that article, The Kansas City Star recently reported that "some Native grassroots groups and researchers allege [Professor] Raymond Pierotti in the department of ecology and evolutionary biology and [Professor] Jay Johnson in the department of geography and atmospheric science are also 'pretendians' -- slang to designate someone faking Native American heritage."

These accusers "say, based on independent research of the men's family trees, that the professors are white, and white only, and that they've built careers and profits off of a lie," according to the Star.
But there are so many, many advantages to being white -- why would they not admit their true race and reap the bountiful harvest of White Privilege??!!!

Is this real? I don't even know anymore.
claim against his ex-boyfriend demanding the return of his amputated testicles which he says are being kept in a jar in the refrigerator. Brianna Dee Kingsley, aka Zahrah Bri-Zee Muharib. Source: Facebook

Brianna Kingsley, 40, filed the claim against William Wojciechowski, 37, in Pontiac's 50th District Court on Thursday. In a handwritten affidavit, Kingsley wrote: "Defendant retains possession of my surgically extracted testicles, preserved in [a] Mason jar, kept in [the] fridge next to the eggs. Demand immediate return of my human remains specimen and damages of $6,500."

Kingsley is also known as Zahrah Bri-Zee Muharib on social media, an Arabic name, and appears to have recently converted to Islam.

In April, Kingsley uploaded a video to his TikTok account titled "The Unboxing of Dee's Nutz," which depicts him removing a clear bag with a biohazard label while wearing a lace veil and a pink dress.

The video is captioned, "Transgender woman unboxes her surgically extracted lady balls that was [sic] packaged by the Hospital that performed her gender-affirming bottom surgery." Smiling and laughing, Kingsley holds up the bag containing his testicles before returning them to the box and performing a curtsy. In the background behind him, a painting of a nude woman with testicles can be seen.
It is in fact real, says the Daily Caller.
"America, the Shining City on a Hill." Maybe 30 years ago.
A transgender-identifying person in Pontiac, Michigan, is suing his ex-boyfriend for allegedly keeping his testicles in a jar in the fridge and refusing to return them, the Detroit News reports.

"Defendant retains possession of my surgically extracted testicles, preserved in (a) Mason jar, kept in (the) fridge next to the eggs. Demand immediate return of my human remains specimen and damages of $6,500," Brianna Kingsley, a 40-year-old biological man who identifies as a woman, said in an affidavit, according to the outlet.

Kingsley made the claims against 37-year-old William Wojciechowski in Pontiac's 50th District Court in a two-page affidavit Thursday. Wojciechowski says he sees the affidavit as a continuation of his ex's prolonged pattern of harassment and threats against him.
Axios: Joe Biden's surprising weakness with working class voters.
Is it surprising though? You want to force their kids to be sexually indoctrinate in transgenderism and then take the kids away from them when they protest, and send the kids off to Groomer Sanctuary states to have their dicks and tits cut off.
Did you expect to be congratulated? You did, didn't you?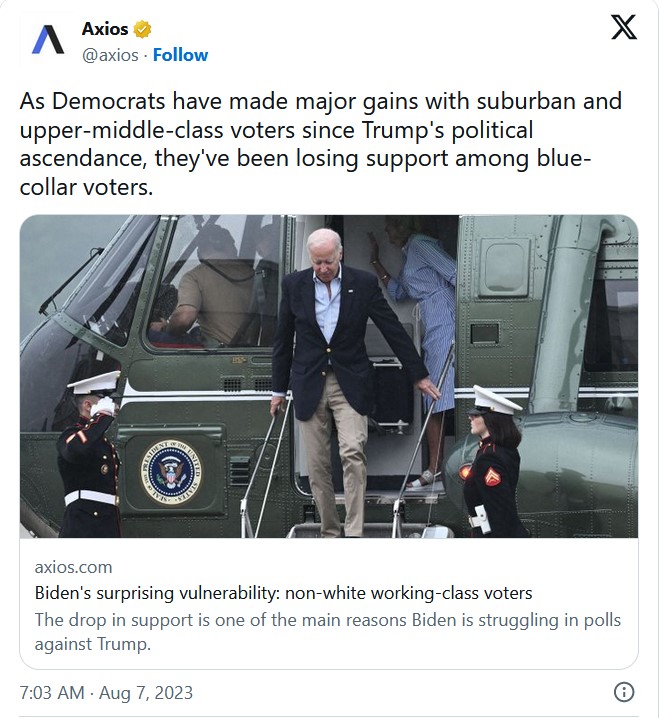 One of the main reasons President Biden is struggling in polls against former President Trump is his glaring underperformance with a constituency that has long been overwhelmingly Democratic: non-white voters without a college degree.

Why it matters: As Democrats have made major gains with suburban and upper-middle-class voters since Trump's political ascendance, they've been losing support among blue-collar voters.

Pundits have focused heavily in recent years on white, working-class voters who changed their allegiances from former President Obama to Trump -- and have made up a key part of the new GOP coalition.

But Democrats have lost significant ground among their non-white counterparts as well, turning a political weakness into a major headache heading into 2024.
NBC "News:" The Biden "brand" is damaged.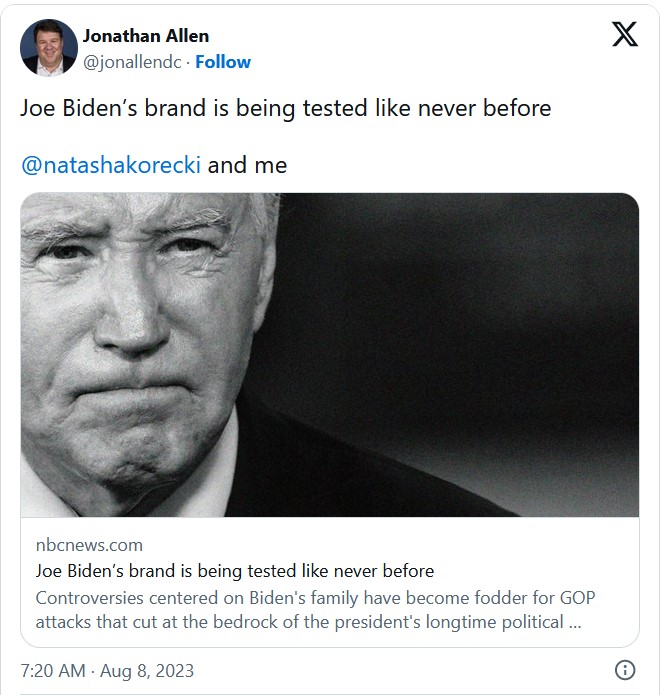 That's too bad because the Bidens were selling it for $5 million a pop before. What can they get for it now? Every day Joe Biden is closer to the grave and every day that Biden brand value declines.
The LOL Cringe Factory called "The Bulwark:" "The Biden family has made its choices out of love."
Oh, sure, love. I love when I collect $5 million checks from Chinese-intelligence fronts for doing nothing.
Jill Lawrence @JillDLawrence

It's tempting to ignore/dismiss the Hunter Biden problem, and I was trying, but I've changed my mind. It's time for Dems, allies and the president to get nervous, tough and practical. We can't afford a Benghazi/emails debacle in 2024.
I suppose the good news here is that the article acknowledge that there is at least an optics problem with Joe Biden getting on the speakerphone with Hunter's "business" associates, while the Biden family -- out of love, you understand -- accepted tens of millions of dollars from foreign governments and gangsters.
What I mean, is: This writer says she's been "trying to ignore" the Hunter Biden issue but no longer can, and wants the White House to "manage" Hunter Biden and keep him out of sight.
Combine that with NBC "News's" grudging admission -- and soft wake-up call for their fellow liberals -- that this Hunter Biden influence-peddling story is real and "challenges" Biden.
The media always falls back from hills they've lost in staged retreats. First they claim there's nothing at all to a story, and that it's nothing but Conspiracy Theories and RUSSIAN MISINFORMATION.
Then they concede: Well we might have an "optics" problem. Or even a "messaging" problem.
That's the most the propaganda Regime Media will ever concede. But these "stories" taken together mean that even in the paid shill leftwing propaganda media, there is fear.
God knows what normal people think.

posted by Ace at
06:20 PM
|
Access Comments