« Return of the Angry Democrat Prosecutors: A Prosecutor on the Get Trump Squad Has Donated Thousands to Extreme Partisan Democrats, Including Joe Biden and Kamala Harris
|
Main
|
Wet Dogs Cafe »
August 07, 2023
Quick Hits
Court records confirm that millions of dollars flowed from Communist China to Biden family bank accounts.
In the end, there really was a silk road of money that flowed from China to the Biden family's coffers, despite Joe Biden's insistence to the contrary.

The U.S. Attorney's office in Delaware -- which charged Hunter Biden with tax and gun crimes last month -- released to a federal court last week a now-scuttled plea deal that affirmed the presidential son got millions himself from Chinese sources in 2017-18 alone. That included money from a Chinese energy firm as well as legal payments from a Chinese executive convicted of bribery.

The records confirm reporting from investigative author Peter Schweizer's book "Red Handed," Just the News stories and investigations by Congress that date to 2020 when Sens. Ron Johnson, R-Wisc., and Chuck Grassley, R-Iowa, revealed bank transfers from Beijing to Biden accounts.

Lawmakers told Just the News last week that the size of the payments from communist China and Joe Biden's efforts to conceal them raise larger questions about whether such monies to his family caused the president to take actions like refusing to shoot down a Chinese spy balloon or shuttering the FBI's main Chinese counter-intelligence program rooting out spies in U.S. academia.

The revelations raise questions whether Biden "would be sympathetic to the concerns of other nations or individuals based on previous relationships," said Rep. Scott Perry, R-Penn., a member of the House Oversight Committee investigating the Biden family's finances, "And whether that is generally viewed as being compromised.

"When you look at China and their Thousand Talents program, and other programs similar to that, where they pick key individual keys or key government individuals to compromise them, then the policy that would support the United States of America never happens because the individuals are compromised. That is what is so concerning about this," Perry told the Just the News, No Noise television show last week.
The documents released at Hunter Biden's scuttled plea deal confirm he was getting millions from China.
Remember, a lawyer for Hunter Biden's legal team misrepresented herself as a member of the Republican House leadership, telling a clerk to take these filings out of the motion.
Those documents concerned the monies the Bidens were receiving from foreign governments and gangsters.
...

The description of Hunter Biden's income in Exhibit 1 of the deal confirms much of the compensation he was previously alleged to have received from Ukraine and China and covers the period from 2016 to 2019. Overall, in 2017 and 2018 Hunter Biden received approximately $4.9 million from confirmed foreign sources.

In 2017, Hunter Biden received $1 million from "a company he formed with the CEO of a Chinese business conglomerate," according to the agreement. The next year, he would receive even more: $2.6 million from the same source.

Those payments, according to records released by Congress, came from CEFC China Energy Co. Ltd (CEFC). CEFC was founded by Ye Jianming who had close ties to the ruling Chinese Communist Party. The group received funding from the state-owned China Development Bank and Ye was also the deputy secretary general of the China Association for International Friendly Contact (CAIFC), an alleged arm of the General Political Department of the People's Liberation Army (PLA).

...

Exhibit 1 also lists a $664,000 payment from a "Chinese infrastructure investment company." Based on a Grassley-Johnson report -- released jointly in September 2020 by the Senate Committee on Homeland Security and Governmental Affairs (chaired by Johnson) and the Senate Finance Committee (chaired by Grassley) -- his company is likely CEFC Infrastructure Investment (US) LLC. This company is a subsidiary of CEFC China Energy Company and listed Gongwen Dong -- Ye Jianming's deputy -- as its director.

The Grassley-Johnson report claimed that almost $5 million was sent to the Hunter Biden's accounts from CEFC via Hudson West III, an entity set up by the younger Biden and CEFC. It is unclear if some of the money remained in the company, given the discrepancy between the plea agreement and the Senate report.

In 2018, Hunter Biden also received a $1 million payment for the legal representation of Patrick Ho, who was charged in the United States for violating the Foreign Corrupt Practices Act and money laundering. He was implicated and convicted in a scheme at the United Nations to bribe African officials in Chad and Uganda to acquire favorable terms for CEFC China Energy to expand its operations in Africa.

CEFC was at the same time also seeking to buy up U.S. and Western energy assets when it approached Hunter Biden starting in late 2015, according to text messages obtained by Just the News.

Remember, Burisma was also looking to enter the US market and get US regulars to permit that entry.
And they also hired the skill-less, talentless crackhead whore-hound Hunter Biden.

Hunter Biden's "business" partner Eric Schwerin visited the Obama White House, and the Vice President's residence, 36 times when Biden was Vice President.
I'm sure they just talked about niceties! And the weather!
Hunter Biden's former friend and longtime business partner visited the Obama White House and then-Vice President Joe Biden's residence dozens of times between 2009 and 2016, likely to make him the next target of the House Oversight Committee's investigation into Hunter Biden's foreign business dealings.

Fox News Digital previously reported that Eric Schwerin had visited the White House and vice presidential residence at Observatory Circle at least 27 times during Joe Biden's vice presidency. However, a more extensive review found that Schwerin actually made at least 36 visits during that same time frame.

Schwerin was the founding partner and managing director of Hunter Biden's now-dissolved firm Rosemont Seneca Partners when he was appointed by then-President Obama to the Commission for the Preservation of America's Heritage Abroad, an independent U.S. government agency, in early 2015. Obama reappointed him to the commission in January 2017.

...

The number of Schwerin's White House visits could be much higher than 36 if any of his meetings fell under the White House voluntary disclosure policy exception of "purely personal guests," due to his handling of the Biden family's personal finances.
These are also called "Weather-centered conversation opportunities."
"The White House will not release access records related to purely personal guests of the first and second families (i.e., visits that do not involve any official or political business)" the Obama administration's archived website says.

One of Schwerin's visits - in November 2010 - was a sit-down with Joe Biden in the West Wing. Schwerin also visited Joe Biden's residence at least 15 times for various holiday receptions, including the Dec. 12 holiday reception in 2015 that came a couple of days after then-Vice President Biden's infamous trip to Ukraine, where he threatened to withhold $1 billion in U.S. aid if the country's leaders did not fire their top prosecutor.

According to White House visitor logs, Schwerin attended the reception along with Rosemont Seneca co-founder Devon Archer, Hunter Biden and Sebastian Momtazi, an associate who worked with Archer in Rosemont Seneca's New York City office. Archer, who was also on the Burisma board with Hunter Biden, and Momtazi both had Burisma.com email addresses, according to emails previously reviewed by Fox News Digital.
Fitch has downgraded the rating for US government debt, signalling that there is an increased (though still small-ish) chance of a US government default.
But Biden's focused on the important things:
Biden's determined to outlaw your stoves and lightbulbs and washing machines, which means it's time for the Washington Post and NPR to talk about what a Crazy Conspiracy Theory it is that Biden wants to outlaw your gas stoves and lightbulbs and washing machines.
President Joe Biden is facing increasing opposition for his ongoing crusade against popular household items. As of August 1, traditional incandescent light bulbs became the newest on the regulatory chopping block, effectively outlawing them nationwide.

Under new Energy Department efficiency standards, bulbs manufactured and sold now must meet the "minimum energy-efficiency standard" of 45 lumens per watt, giving rise to LED bulbs that some researchers have suggested can cause health complications.

Biden's light bulb ban joins the list of growing home items the President has fixated on. Perhaps most notably, gas stoves have been a target of his administration for several months.

Specifically, the DOE-proposed energy consumption standards that, if enacted, would reportedly make half of America's gas-powered stoves non-compliant with the rule, a move Republicans have warned would wreak havoc on financially burdened families.

Because of this, House Republicans passed two bills aimed at blocking federal attempts to regulate gas-powered stoves, arguing that, on top of the economic implications, it would also violate consumer choice.

Other items like gas furnaces, AC units, washing machines and refrigerators have also come under DOE scrutiny, all in the name of "energy efficiency" and combating climate change. However, many don't agree that the efforts to regulate home appliances are climate-motivated.

...

In general, and despite the ongoing "green" transition, any sort of energy regulation on appliances doesn't seem to sit well with the American people. As reported by the Washington Examiner, a majority of Democrats, Republicans, and Independents said in a CRC Research poll they would be "more likely" to support a candidate who would put an end to these types of crackdowns. Even 48% of liberals joined in agreement.


In DC, the violent crime rate has almost doubled since the AOC-championed push for "decarceration" of America's thieves, killers, and rapists.
It was a violent start to the weekend in D.C., with gun violence killing three people and injuring four other victims across four shootings early Saturday morning.

...

In total, three people were killed and four people were injured early Saturday morning.

The Adams Morgan shooting is yet another violent incident in a neighborhood known to be a safe area for tourists visiting bars and residents living there.

"We walk around the block. We walk the dog before we go to bed. Thinking about the possibility of getting caught in the crossfire if I'm getting home late, which I often park on this block, I'm not sure I'm going to park on this block anymore," said Kristen Adaire.

Last month, 7News reported on a string of armed robberies that happened in the community.

Less than two weeks ago, a man was shot and killed at the Marie H. Reed Recreation Center in Adams Morgan.

Neighbors also said they have not yet shaken the images from another deadly shooting there in December.

So far this year in Adams Morgan, total crime is up 43 % and violent crime has more than doubled compared to the same time last year.

7News On Your Side asked neighbors if they still feel safe in the community.

"We as neighbors, as a neighborhood, have been steadily complaining to the police and to elected officials that there is a burgeoning drug dealing going on in this neighborhood, in Unity Park," the anonymous neighbor said. "We feel not much has been done. It's been allowed to fester. It's been allowed to grow."
And who did you vote for? If you voted for it, then you should shut up and accept the fate you chose.

Last week, a "potential mass shooter" at a Hebrew school was himself shot and critically injured by police after being denied entry by alert guards.
The Democrats oppose any efforts to "harden" schools against gun violence, insisting that the only way to stop criminal Democrats from using illegal guns to kill people is to ban law-abiding Republicans from owning legal guns.
So of course the disgusting, child-hating media won't report on it.
Police in Memphis shot a man who opened fire outside of a Jewish school Monday, after the suspect failed to get inside a building, preventing what officers called "a potential mass shooting situation."

"At approximately 12:20 p.m., officers received a call that a male White, who was armed with a handgun, was at Margolin Hebrew Academy," the Memphis Police Department said in a statement. "Reportedly, the male fired his weapon while outside of the school."

"I personally truly believe we prevented a tragedy," Memphis Police Assistant Chief Don Crowe said.

"When he could not gain entry, he fired shots outside the school," Crowe told reporters Monday. "Thankfully that school had a great safety procedure process in place and avoided anyone being harmed or injured at that scene."


According to police, the suspect fled the scene in a maroon Ram pickup truck with California tags. He was shot by officers during a traffic stop 3 miles away after he exited the vehicle holding a handgun.

The suspect is currently in critical condition and under arrest at a local hospital.
By the way, this story is linked inside that one:
RELATED 5 injured, 2 critically wounded in shooting at Seattle outreach event
So other than that -- how well did the "outreach" go?
Nose-picking spread covid, reseachers say.
Uh, sorry about that. But shit gets dry, you know?
As if you needed another reason to avoid picking your nose, the unsanitary habit could increase the risk of contracting COVID, according to a new study from Amsterdam University Medical Centers.

A total of 219 health care workers in the Netherlands completed a survey on their habits and physical features, then were later tested for COVID antibodies between March and October 2020.

A total of 185 respondents (85%) admitted to "habitual" nose-picking on a monthly, weekly or daily basis. These health care workers were found to have a higher incidence of COVID infections compared to those who refrained from the habit, according to a discussion of the findings in the journal PLOS ONE.

Younger respondents were more likely to pick their noses -- and more males than females did so.

Among the types of workers, doctors were the most likely to be nose-pickers, followed by medical residents, specialists, support staff and nurses.


There was no association found between COVID and other behavioral or lifestyle features, such as nail-biting, wearing glasses or having a beard, per the study findings.
The underside of my desk has been rated a Level 3 Biohazard site.
Dianne Feinstein's daughter now holds power of attorney over her, meaning that Feinstein herself is no longer able to make financial decisions for herself and must entrust that power to a third party.
But she's still voting on our laws in the Senate.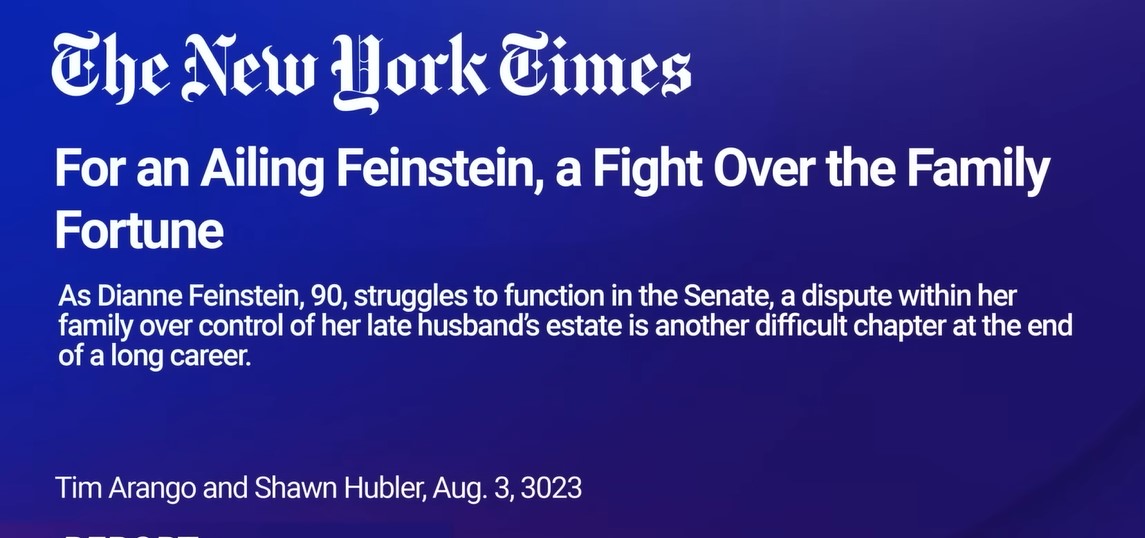 posted by Ace at
06:00 PM
|
Access Comments