« In New Rambling, Disaster-Pants Interview, Biden Pretends He's Always Acknowleged His Seventh, Illegitimate Grandchild
|
Main
|
Hot Fun in the Summertime Cafe »
July 31, 2023
Quick Hits
Surgeons boast that they've engineered "vagina-like" permanent wounds in boys as young as 15.
At 15, boys can't legally smoke a cigarette. But an increasing number are requesting--and undergoing--surgery to recraft their genitals, a study shows.

The study, titled "Age Is Just a Number," flies in the face of claims by radical gender ideology activists that child sex-change surgery isn't happening.

It also shows that the sex-change surgery guidelines of the World Professional Association for Transgender Health (WPATH) are being defied by surgeons.

The study, published in The Journal of Sexual Medicine in 2017, reveals details from interviews with 20 surgeons who perform sex-change surgeries.

Of the group of doctors, 11 said they had performed vaginoplasty on boys younger than 18, the study found.

The doctors, who remained anonymous in the survey, said they'd each performed between one and 20 operations on boys as young as 15.
Tim Scott was asked about the left's latest lie about Ron DeSantis, that Florida's education standards say that slavery was good for slaves. No. The black coordinator for the standards has refuted that. A single mention that some slaves were skilled laborers is not only historically true -- which should, you know, matter -- but inserted to make the point that slaves were not mere objects, is being blown up into "Ron DeSantis said that slaves never had it so good." Slves were humans, and had value independent that assigned by members of the (largely white) woke left who sees black people only in terms of the opportunity to do some White Savoiring.
When Tim Scott was asked about the left's latest divisive racist lie, he decided that Conservative Principles Require Him to slander Ron DeSantis and agree with Noted Conservative Kamala Harris.
Kurt Schlichter says: That's a wrap for Tim Scott.
The rap on Tim Scott is that he is too nice to be a modern Republican...
If by "Tim Scott is too nice" you mean "Tim Scott is over-eager to accept the intrusion of a strange man in his rectum," then sure, he's too nice.
...but that's wrong -- he's too weak to be a modern Republican. The man consistently defaults to submission to the woke left, but the times call for a warrior and his brand is soft surrender. Yeah, it would be nice to live in an era where we have the luxury of a president who dodged the draft in the culture wars, but we do not live in that time. Tim Scott needs to stay right where he is, an affable but unaccomplished senator firmly within the tradition of the political puffballs that South Carolina's GOP inexplicably turns out. Let him be nice somewhere where his alleged niceness won't shaft us again.

It could have been different, but that would require a different man than Tim Scott. There are moments that define a candidate, moments where they have a choice and the choice they make makes or breaks them. Kamala Harris decided to take what is essentially a footnote within the Florida history standards and contort it into some sort of lie about how Ron DeSantis loves slavery. It's one of those issues where the claim is so facially ludicrous that you have to wonder if Kamala is stupid or cynical -- and come to the conclusion that she is probably both. But she went with it and DeSantis pushed back and we were moving on when someone in the regime media asked Tim Scott about it.

This was his decision point. It was an opportunity to show who he is. And Tim Scott whiffed.

...

[T]im Scott chose to be a loser in what should be the defining moment of his campaign. He made the other choice. He chose to accept the premise of our enemy, the lying, borderline clinical moron Kamala, and use it to try to achieve a cheap momentary advantage over his rival for second place in the primary race.

...

But then, this is not the first time he's sided with the left. During the riots he could be relied on to embrace the left's views. Because he's intermittently useful, the regime media largely holds off on him. And his "I hope the alligators eat me last" strategy will work right up until the moment he becomes a real threat to the Dems in the 2024 election -- admittedly an unlikely scenario. But if it ever happened, he'd suddenly replace Larry Elder as the black face of white supremacy. All his craven submission and his immolation of his reputation will have been for nothing.

We deserve and demand a candidate who will stand up to the left and have our backs, but when DeSantis's back was exposed Tim Scott helped the left shove in the knife. Do you imagine that he will stand up to the left for you or me? Tim Scott's ugly betrayal showed exactly who he is -- like Mitt Romney, his nice guy act is a fraud and he will turn on us the second he sees it is to his advantage.

DeSantis responded to Kamala Harris' lie. He should respond to Tim Scott, too.
But of course we know that Trump's online rabble are pushing this crap.
Just to prove that I'm telling the truth when I say Trump does nothing but pay trolls online to attack DeSantis with fake stories, here comes the latest scoop from the Alex Bruesewitz/"National Pulse" braintrust.
This will finally sink "Ron DeSanctimonious."

Trump's paid online rabble have got another huge scoop-- one of Ron DeSanctimonious' supporters has great big tits and once posed for an ad for a gentleman's club.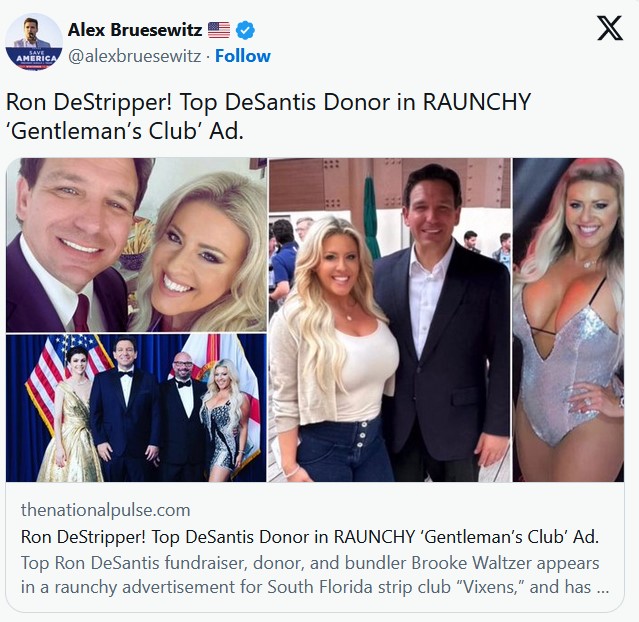 Top Ron DeSantis fundraiser, donor, and bundler Brooke Waltzer appears in a raunchy advertisement for South Florida strip club "Vixens," and has promoted a "sexy party" known as the "Groove Cruise". Waltzer recently attended DeSantis's emergency donor summit at Stein Erisken Lodge in Utah, and has been pictured a number of times with the Florida Governor and his wife Jill (aka Casey).

...

The lurid DeSantis donor details were revealed this week by investigative reporter Laura Loomer.
Not the Laura Loomer...? Wow that is a huge story, future Pulitzer-Prize-winner Laura Loomer. Well done.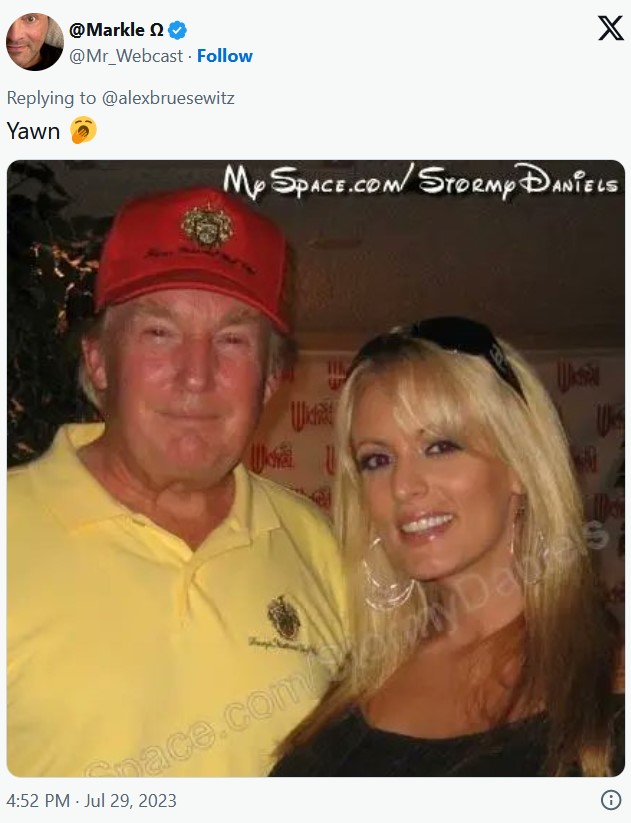 Wow, you would never guess that Donald Trump paid off a stripper to keep quite the adulterous affair he had with her, or that he's been found culpable of sexual assault against a woman.
Before you object -- stuff it. I'm always being told "Gee I don't know why DeSantis people are so angry about Trump's constant scumbag lies, this kind of thing always happens in a primary, just deal with it."
Well Trump was found liable in a rape lawsuit. Deal with that.
We have ONE RULE here, people. Not one rule for the Trump scumbag and another rule for his opponents.
I guess Trump will be running on morality now.
Trump, who has spent most of his campaign money and time attacking Ron DeSantis rather than Joe Biden, now calls upon his opponents to drop out of the race because, you see, just by contesting the nomination, they're attacking other Republicans instead of Joe Biden.
Are you kidding me? Are you kidding me?
At a moment of growing legal peril, Donald Trump ramped up his calls for his GOP rivals to drop out of the 2024 presidential race as he threatened to go after Republican members of Congress who fail to focus on investigating Democratic President Joe Biden.

Trump also urged a halt to Ukrainian military aid until the White House cooperates with congressional investigations into Biden and his family.

"Every dollar spent attacking me by Republicans is a dollar given straight to the Biden campaign," Trump said at a rally in Erie, Pennsylvania, on Saturday night.
Even by Trump's slimy standards, that is outrageous. He has done nothing but attack an actual conservative Republican who, unlike him, is able to achieve win after win on conservative policy, instead of ranting on Twitter all fucking day.
The former president and GOP front-runner said it was time for Florida Gov. Ron DeSantis and others he dismissed as "clowns" to clear the field, accusing them of "wasting hundreds of millions of dollars that Republicans should be using to build a massive vote-gathering operation" to take on Biden in November.
How much of the money you've grifted from supporters have you spent on that, Mr. So-Tired-of-Winning-That-You-Just-Stopped-Winning?
Trump's brand lately is losing. Losing his own races, and making horrible picks based just on whether someone is 1, a celebrity (or, really, a "celebrity;" Trump is desperate for anyone that he can pretend is in "show business") and 2, willing to kiss his ass.
And these picks also lose.
He has to prove he is capable of winning -- and of answering the many, many criticisms that the media/left has of him, but also the criticisms that actual conservative right has of him.
If he can't do that, then he can't win, and he should drop out of the race.
I was told many times that "if DeSantis can't stand the heat, he should get out of the kitchen."
Same for Mr. Classified-Documents-Shower-Offer. If Trump can't take an actual conservative calling him out on his weakness and liberal instincts, then he should get out of the kitchen.
And go sell his NFTs at $100 a pop to his supporters.
A "raw vegan" YouTube influencer dies of, get this, starvation.
Vegan influencer Zhanna Samsonova has reportedly "died of starvation" after subsisting exclusively off a diet of exotic fruit in Malaysia, according to her friends and family.

She was 39.

The Russian national -- who frequently promoted raw foods on social media where she was known to her millions of viewers on TikTok, Facebook and Instagram as Zhanna D'Art -- reportedly died July 21 after finally seeking medical treatment during a tour in Southeast Asia, according to local media outlet reports.

"A few months ago, in Sri Lanka, she already looked exhausted, with swollen legs oozing lymph," one unidentified friend told Newsflash. "They sent her home to seek treatment. However, she ran away again. When I saw her in Phuket, I was horrified."

Her friend added, "I lived one floor above her and every day I feared finding her lifeless body in the morning. I convinced her to seek treatment, but she didn't make it."

Samsonova's mother attributed her daughter's passing to "cholera-like infection." However, her official cause of death has not been declared.

A proponent of uncooked herbivorous fare, the Kasan native claimed she ate a "completely raw vegan diet" for the last four years, consuming just "fruits, sunflower seed sprouts, fruit smoothies and juices."
Via a commenter:
From GoFundMe:


Hello! My name is Pippin! An overwhelming majority of my family is transgender and Desantis is making it illegal for us to pee in public restrooms, and legal for the state to seize my children, and a variety of other scary stuff. So we're selling our house and fleeing the state. We're moving to a place that means we'll need to rent for a bit which means we need move in money and travel money. I set the goal a little higher in case it gets taxed Funky but literally any help is appreciated! If you need sources on the laws being implemented please let me know and I'll provide sources.

thank you all in advance!!!!
I'm with noted jurist Elihu Smails on this one.
Update: Here's an even better one. Thanks to a Provocative Parade of Perverts.
CNN uneducated incompetent asserts that there's no evidence that anything Hunter Biden did was a crime, and gets smashed in the face with facts.
CNN is very upset that the man with the penis they long to sip is called a "scumbag" by the Polite Company Republican on the panel.
Jennings wasn't having any of it, and went off -- which caused hurt feelings for some on the CNN panel which included LaRosa, far left political commentator Karen Finney, former Mike Pence chief of staff Marc Short, and anchor Kasie Hunt, the latter of who predictably tried (and failed) to run interference on behalf of the Bidens:

Hunt: But, Scott Jennings, the president has made being a family man a central part of his political identity.

Jennings Yes. It's not Republicans, with all due respect, who made Hunter Biden into a complete scumbag on this and other issues. The ignoring his own daughter for four years, and the president of the United States hanging up a stocking for the dog, and not for his seventh grandchild...

(CROSSTALK)

Hunt: OK, look, we can also have sympathy for people who are struggling with addiction. Let's keep this conversation respectful.

Finney: Right.

Jennings: Right. Listen, I totally agree. And where I'm from, a lot of families deal with addiction. And you know who ends up picking up the pieces? The grandparents. And, in this case, the grandparents would not acknowledge this little girl. It is offensive. But the bottom line is, the poll...

Hunt: But they have now.

Jennings: Oh, what a hero. The polling must have been brutal. The polling must have been brutal.

posted by Ace at
06:35 PM
|
Access Comments