« Mid-Morning Art Thread
|
Main
|
Ex-Border-Control-Chief: The White House Is Filled With Cameras, They Already Know Who Left the Coke. Which Is Why They're Not Telling You Whose Coke It Is »
July 07, 2023
THE MORNING RANT: Lots of Clean, Green, Sustainable Failures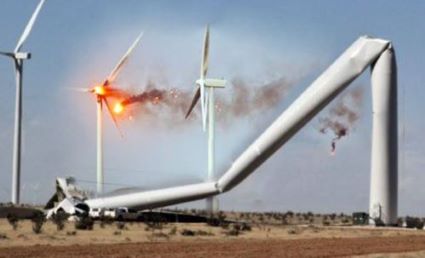 "New Forms of Failures" for Wind Energy
The viability of one of the world's largest wind turbine manufacturers is in doubt due to the crushing financial burden resulting from its persistent turbine failures.
Good. The sooner the purveyors of these destructive bird cuisinarts go out of business, the sooner we can acknowledge that wind has failed as an energy source. After which, we can then begin the process of dismantling the turbines and returning the areas despoiled by them to productive use, or to their natural state.
What is going wrong for Siemen's Energy? Here is the money quote from Chief Executive Jochen Eickholt, The quality problems go well beyond what had been known, in particular in the onshore area. The failure rates affect certain components just like [previously], but they are also different because they are new forms of failures."
Our ruling class has committed to replacing reliable carbon energy with wind and solar, yet the companies that manufacture the wind contraptions are encountering problems that were not previously known, resulting in "new forms of failure."
There has been a lot of news about Siemens Energy in the past few weeks as the situation worsens.
Siemens Energy Shares Plunge After Wind Turbine Problems Deepen [Financial Times – 6/23/2023]
As a result of the mounting challenges at its wind turbine business, Siemens Energy scrapped its profit outlook for the year, alarming investors who were reassured by the company last month that the outlook for the unit would improve in the second half.

Chief executive Christian Bruch said that "even though it should be clear to everyone, I would like to emphasise again how bitter this is for all of us". The scale of the problems at Siemens Gamesa, the group's wind turbine business, is a blow to an industry that has been beset by rising costs and supply chain disruption over the past 18 months.
It's not just Siemens…
Analysts at JPMorgan said the warning came at a time when "expectations were building that the worst for the wind industry is now behind us", but added that technical problems were an issue for others, too.
Let's hope these "technical problems" take down the rest of the industry too. Bankrupted green energy companies are a "new form of failure" that I can embrace.
*****
How is Scraping Undeveloped Land for Solar Farms Any Different than Strip Mining?
Beyond the fact that "green energy" cannot produce reliable baseline energy, it is heartbreaking how those calling themselves environmentalists have embraced the pointless despoilment of nature in support of their climate religion.
Georgia Couple Awarded $135.5M for Solar Project Runoff [AP – 5/08/2023]
A federal jury has awarded a Georgia couple $135.5 million for damages to their property by a Tennessee-based solar company and its contractor.

At "Lumpkin Solar," IEA cleared and mass-graded about 1,000 acres of timberland, farmland, and land near the Harris couple that was previously used for recreational hunting and fishing — without installing adequate measures for erosion and sediment control...
Look at this picture below. This land was scraped clean of all vegetation. It's no different than a strip mine.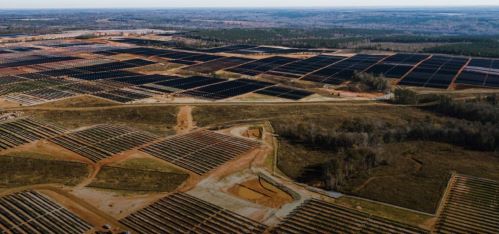 "The result was what one would expect — when it rained, pollution poured downhill and downstream onto the neighbors' property, inundating wetlands with silt and sediment, and turning a 21-acre trophy fishing lake into a mud hole," Butler said.
God gave us the bounty of this planet to use wisely. Its oil, timber, soil, livestock, and grain were provided for us to use responsibly, and western civilization has generally done so.
Solar and wind, on the other hand, destroy the environment while providing nothing to improve the human condition. In fact, solar and wind degrade the human condition, just like they degrade the environment.
*****
Hail vs Solar Panels
The Great Plains has a lot of hail storms. Covering farmland in glass panels facing up to the sky, for the purpose of producing unreliable energy, seems especially stupid, given the fact that the glass is someday going to be pelted by fast moving chunks of solid ice.
Nebraska Solar Farm Crippled by Hail, Underscoring Power Source's Fragility [Fox News – 6/29/2023]
"The solar complex was destroyed by hail," Scottsbluff City Manager Kevin Spencer said in an interview. "They're assessing the damage, but it certainly looks destroyed to me."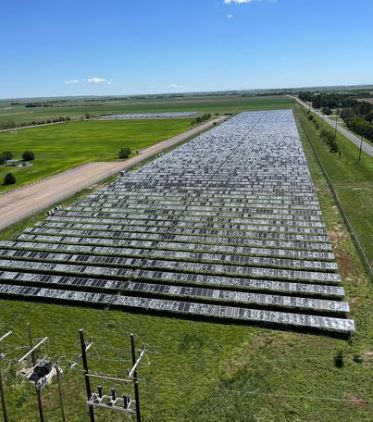 Were any lessons learned? Of course not.
"I don't think we're ready to give up on solar power," Spencer added. "It was our understanding that these solar panels were at least hail resistant. This hail was extreme, you know, the size and probably the speed of it. So, I don't know that we would give up on it just yet."
Building a solar array in an area prone to hail is like building a house in the flood pool of a lake. It's going to be damaged by weather eventually.
Ace has a favorite line about there being no knowledge gained in the second kick from a mule. As Scottsbluff prepares to rebuild its demolished solar array, it would be helpful if anyone there understood that they've already received the first kick from the mule.
*****
Electric Vehicle Manufacturer "Dead Pool"
The situation for every electric vehicle manufacturer in the United States not named Tesla keeps getting worse. Another one bit the dust last week, as Lordstown Motors filed for bankruptcy. As recently as 2021 its stock was trading at over $350 per share.
Who will be next to fold after Lordstown? My bet is on Nikola.
My favorite EV story in the past few weeks involves Nikola, the start-up company attempting to manufacture electric semi trucks. A fire engulfed several of its electric semis, much to the surprise of, well, no one who pays attention to the fire danger inherent in electric vehicles and their lithium ion batteries. Fortunately, no one was injured.
Nikola tried to play the event off as if the company was the victim of a crime. It tweeted out that foul play was suspected, insinuating that the trucks were set aflame by a saboteur.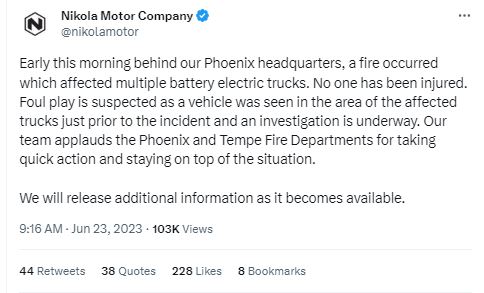 Unsurprisingly, the investigation has now discovered that the fires were likely the result of problems involving the batteries.
Nikola Electric Semi Truck Fire Incident: Defective Batteries A Possibility [Inside EVs – 6/29/2023]
The team investigating the matter found that several modules faced the same cell corrosion issue. They traced the issue to laser welding, which punctured battery cells in the modules. The cells were corroding within just two test cycles, potentially generating excess heat and increasing the resistance at the joint.
While it is prudent not to believe much of anything said by people promoting EV companies, Nikola has an especially disturbing history.
Nikola Founder Trevor Milton Found Guilty of Fraud Over Statements He Made While CEO of the EV company [CNBC – 10/14/2022]
In the meanwhile, Nikola is slashing headcount and running low on money.
Nikola Cuts 270 Jobs as Cash to Survive Runs Low
Nikola said it expected its annual cash burn to fall below $400 million by 2024. The company had $208 million in cash as of March 31, $85 million of which was restricted.
The math doesn't look good for Nikola when its cash on hand is dwarfed by its cash burn rate, and the stock price has collapsed from $65 per share to $1 per share.
*****
Good News! Hyundai's EV Batteries Are Failing Without Catching Fire
One of the charming features of EVs is that their batteries may have a catastrophic failure while you're driving on the highway. This often leads to a scary conflagration, so praise is due to Hyundai, which has found a less fiery way for its EV customers to enjoy the terror of battery failure while driving on a busy highway.
US Opens Safety Probe into Hyundai Ioniq-5 EVs Over Power Loss Reports [Reuters – 6/19/2023]
U.S. auto safety regulators are investigating nearly 40,000 Hyundai Ioniq-5 electric vehicles over reports of power loss while driving, tied to a battery charging issue.

The agency said many consumers reported a loud popping noise followed by a warning displayed on their dashboard, and immediately experienced a loss of power that ranged from a reduction in acceleration to a complete loss.

One complaint reported a driver traveling 75 miles (120 km) per hour on a highway using advanced highway assist and "the car became completely unresponsive." The driver added that there was a semi-trailer truck behind him "and one to my right in the slow lane. The car stopped accelerating, and I was unable to resume driving. I was forced to coast to a stop on the side of the highway.
*****
Global Cooling
Have you heard all the apocalyptic propaganda in recent days about the "hottest day EVER"?
Well, a lot of us have been enjoying the coolest year on record. In my part of Appalachia, it has been an exceptionally cool Spring and early Summer. Out west, it's also been extraordinarily cool. Las Vegas just set a record for going 291 days in a row without hitting 100 degrees. Never before has that happened since records have been kept there.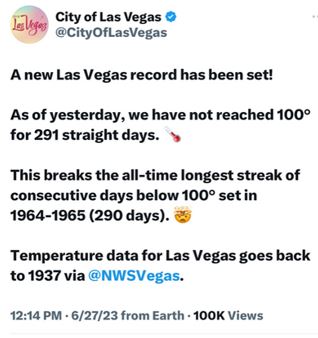 *****
Some of You Will Have to Die, and That is a Sacrifice We're Willing to Make
There are actually still a few people in the EU who have not fully embraced the "depopulation by starvation" agenda of the WEF. But not enough. A proposal to help poor nations produce their own fertilizer was shot down by the EU Commission.
EU Split Over Fertiliser Plants in Poorer Nations as Food Crisis Bites [Reuters – 6/20/2023]
But at a meeting with EU envoys last week, the EU Commission explicitly opposed the text, warning that supporting fertiliser production in developing nations would be inconsistent with the EU energy and environment policies, officials said.
White people in Western Europe affirmatively choosing to starve brown and black people in other parts of the world seems a little racist. But it's OK because they're leftists.
*****
Multiplying By Zero With Renewable Energy
Let's finish with a math question that would stump any green energy evangelist:
If the wind is not blowing, and one wind turbine produces zero kilowatts, how many kilowatts are being produced if that wind farm has 100 turbines?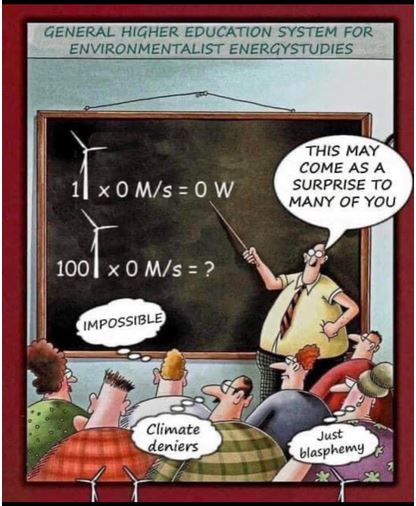 Have a great weekend.
[buck.throckmorton at protonmail dot com]


posted by Buck Throckmorton at
11:00 AM
|
Access Comments