« Daily Tech News 6 July 2023
|
Main
|
Mid-Morning Art Thread »
July 06, 2023
The Morning Report — 7/6/23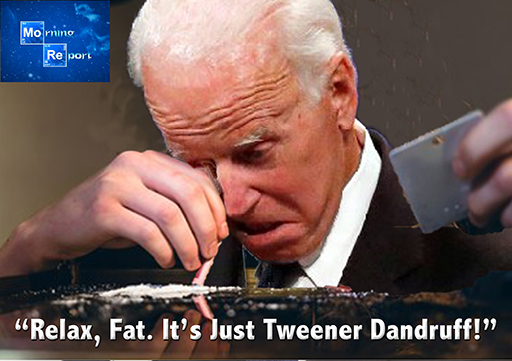 Good morning, kids. As white line fever grips the White House, bad as the complete debasement of our standing and our image in front of the world may be with this, the criminality and corruption that placed literal scum in the leadership role (actual or figurehead) is at the root of all of this. Hunter Biden, a complete failure of a man in every sense of the word is rubbing our noses (pun?) in the fact that he knows that we know that he is untouchable.
A staffer for then-Vice President Joe Biden cc'd Hunter Biden on an email to Joe about a scheduled call with former Ukrainian President Petro Poroshenko, a document released by National Archives due to a Freedom of Information Request (FOIA) shows.

While Hunter Biden earned $83,000 a month as a board member of Burisma Holdings, a Ukrainian energy company, Joe Biden's assistant, John Flynn, looped in Hunter on a scheduling email, dated May 26, 2016, about a call between Joe Biden and Poroshenko, the Washington Times reported the FOIA.

Flynn wrote to Joe and Hunter Biden:

Boss — 8:45 a.m. prep for 9 a.m. phone call with Pres Poroshenko. Then we're off to Rhode Island for infrastructure event and then Wilmington for UDel commencement. Nate will have your draft remarks delivered later tonight or with your press clips in the morning.

On May 27, 2016, the call took place. Joe Biden urged Poroshenko to reform Ukraine's prosecutor general office, the establishment media reported.

At the time, Burisma was under suspicion of money laundering and public corruption. Prosecutor Victor Shokin investigated the case before his termination by Poroshenko due to pressure applied by Joe Biden, who threatened to withhold $1 billion in U.S. aid from Ukraine if the Ukrainian government did not fire Shokin.

Joe Biden bragged about the firing during a 2018 appearance at the Council of Foreign Relations. "I looked at them and said, 'I'm leaving in six hours. If the prosecutor is not fired, you're not getting the money.' Well, son of a bitch. He got fired," Joe Biden said.

An FBI informant claims to possess two pieces of evidence that show Joe and Hunter Biden received $5 million each in bribes from Burisma, according to House Republican investigators.

A source familiar with the FBI's informant document confirmed to Breitbart News in June that Hunter and Joe Biden "coerced" Burisma executive Mykola Zlochevsky into paying them $10 million in bribes. Moreover, Rep. Marjorie Taylor Greene (R-GA) told Breitbart News the FBI informant file shows Hunter Biden's lucrative position on Burisma's board represented monthly installments of a $5 million total cut owed him in the deal with his father.
Of course, we knew much of this information even before the laptop bombshell broke just before the 2020 election. All of this is mere confirmation, which further underscores Hunter Biden's and perhaps Joey Sponge-Brain Shits-Pants' untouchable status. As if the wrist slap the former got a few weeks ago wasn't enough of an underscoring of who are the inmates and who are the warders. In any case, is the fact that these revelations are coming out indicative of a plot to take out Biden before 2024?
Does any of this really mean anything in terms of crime and punishment? Well, when Merrick Garland, Christopher Wray and the entire national law enforcement and intelligence communities do all they can to preserve, protect and defend the criminals and the criminal enterprise of which they too play key roles, the question answers itself. Even more when people from Daniel Penny all the way up to Donald Trump himself are being set up and railroaded.
The fact that the DOJ/FBI et al are implicated in the coverup of the crimes, the spin from the propaganda mills to the contrary notwithstanding, surely would (in theory) take them down as well. Or is it that folks like Comer and Grassley are indeed succeeding in getting this out, as relatively unfiltered and unexpurgated as they can?
While a grave injustice, and that is way too mild a word, is being done to Trump and all of us while the Bidens snort coke and tweener hair with impunity, the bigger question is how long will we stand for this? Forget elections; that's not even the issue despite the fact that they were rigged and then stolen in the wake of the false pretext of a global health crisis, which certainly is tangential to it.
The nation and much of what used to be known as the free world is being turned upside down and hijacked in front of our eyes. I don't think it's hyperbole to state that the tyranny and horror we were delivered from in 1945 is set to engulf us for good all these many years later into, as Churchill intoned "a new Dark Age made more sinister, and perhaps more protracted, by the lights of perverted science."
In September 2024, less than two months before the next U.S. presidential election, the United Nations will host a landmark "Summit of the Future," where member nations will adopt a Pact for the Future. The agreement will solidify numerous policy reforms offered by the U.N. over the past two years as part of its sweeping Our Common Agenda platform.

Although there are numerous radical proposals included in the agenda, perhaps none are more important than the U.N. plan for a new "emergency platform," a stunning proposal to give the U.N. significant powers in the event of future "global shocks," such as another worldwide pandemic. . .

. . . The emergency platform would also give the United Nations the power to "Ensure that all participating actors make commitments that can contribute meaningfully to the response and that they are held to account for delivery on those commitments."

In other words, the United Nations would be given unprecedented authority over the public and private sectors of huge swaths of the world, all in the name of battling a yet unknown crisis. . .

. . . That means the secretary-general would have the authority to keep the emergency platform in place indefinitely, all without reauthorization from member nations.

What kind of "global shock" would trigger the emergency platform? The U.N. provides several possible examples in its formal proposal, including a "major climatic event," "future pandemic risks," a "global digital connectivity disruption," "major event in outer space," and, my personal favorite, "unforeseen risks, ('black swan' events)."

. . . Further, "The Secretary-General would decide when to convene an Emergency Platform in response to a complex global shock."

Or, put in simpler terms, a "global shock" is whatever the U.N.'s leadership says it is, triggered whenever the U.N. desires. . .

. . . Rather than assert America's independence and sovereignty, the White House has expressed its support for the emergency platform. U.S. Ambassador Chris Lu noted in at least two March 2022 speeches that the Biden [junta] backs the emergency platform, along with numerous other proposals included in "Our Common Agenda."

The emergency platform would centralize an immense amount of power and influence, giving the United Nations greater control over the lives of Americans than it has ever had before. And rather than stand up for Americans' rights, [so-called quote-unquote "president"] Biden has already agreed to sell us out.
September of 2024. Two months before election season really gets cranked up (remember when it was only one day?). I'm sure it's just a coincidence, right? Forget the hair- and cocaine-sniffing and the graft for a moment, and think back to that speech he barked at us on Labor Day last in front of Independence Hall, bathed in red Albert Speer/Leni Riefenstahl klieg lights and braced by two Marines in the background.
Forget juiced up viruses, biologically and psychologically. The real threat to "our precious democracy" (*vomits*) comes from extremist ultra-MAGA Republicans. With much of our police and military directly under the Junta's thumb and worse, far too many people still wearing face masks as well as hopped up on racialism and transsexualism out the wazoo, what do you think will happen if Trump or DeSantis or any non-RINO stooge GOP candidate (aside from Ramaswamy, who else?) actually overcomes the pre-baked cheat in the swing states/districts and wins? Meh, why even take the chance of an election in the first place?
Horribly weakened as this nation is, it is still the lynchpin and last line of defense from the entire shithouse of a world going up in flames or down the tubes. The DC/Davos/Beijing Axis is this close (place red pube between thumb and forefinger) from capturing the world (the Religion of Peace Peaceniks notwithstanding).
If you think 2020 was "fortified," you ain't seen nothin' yet.
BIDEN CRIME FAMILY REVELATIONS
NOTE: The opinions expressed in the links may or may not reflect my own. I include them because of their relevance to the discussion of a particular issue.
ALSO: The Morning Report is cross-posted at CutJibNewsletter.com if you want to continue the conversation all day.
Follow us on Twitter: @CutJibNews
Follow us on Instagram: @Cutjibnewsletter
TIP JAR : Your support helps keep the lights on and is truly appreciated. Note: We are on Stripe, not PayPal.

posted by J.J. Sefton at
07:40 AM
|
Access Comments