« Daily-ish Tech News 26 June 2023
|
Main
|
Mid-Morning Art Thread »
June 26, 2023
The Morning Report — 6/26/23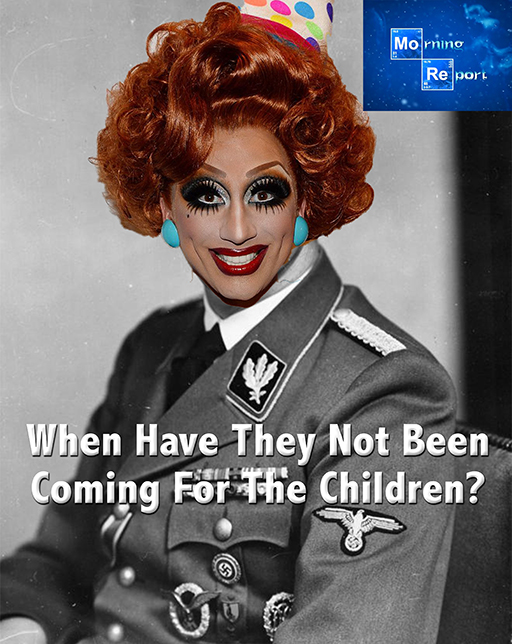 Good morning kids. They just couldn't help themselves, could they? The frog in the pot was drifting into unconsciousness and about to slip under the simmering bubbles for good, but then, they got impatient and turned the heat up to high and Michigan J. Frog leaped out. And he wasn't singing "Hello My Ragtime Gal" either.
As Pride Month comes to a close, the participants marched through Tompkins Square Park in the East Village while chanting, the New York Post reported Saturday.

Video footage shows the flamboyantly dressed crowd moving through the area, and a woman among the group appeared to be topless . . .

"We're here, we're queer, we're coming for your children," some of those in the crowd shouted. . .

. . . The march came to an end at the Stonewall Inn located in Greenwich Village, whose website says it is "Where Pride Began."

Meanwhile social media users responded to the initial video, one person writing, "And they say 'we're not coming for the children.'"

In July 2021, Breitbart News reported the San Francisco Gay Men's Chorus unpublished a music video where singers promised to "convert" children to their LGBT ideology once the clip went viral online.

Lyrics to the song include:

You think we're sinful. You fight against our rights. You say we all lead lives you can't respect. But you're just frightened. You think that we'll corrupt your kids if our agenda goes unchecked. It's funny. Just this once, you're correct.

…We'll convert your children. Happens bit by bit. Quietly and subtly, and you will barely notice it. You can keep him from disco, warn about San Francisco. Make him wear pleated pants. We don't care. We'll convert your children. We'll make them tolerant and fair.
Funny. Homosexuals always claim that they're "born this way." The other little ditty they trot out is the notion that the homosexual population of this nation is something like 20%. On the face of it, it's ridiculous since if that really were the case, America and perhaps much of the world would have depopulated and the species gone extinct ages ago. The salient point though is, if you're born that way, why the need to "come for our children?"
I consider myself to be an extremely tolerant individual. I have quite a few friends and acquaintances of the homosexual bent and never have I had any problems with them or their lifestyle choice, regardless of my personal distaste for it. But this madness is beyond the pale. Having a so-called "pride parade" to win friends and influence people is one thing. But instead of marching in police uniforms, or lab coats, or neat business attire, they parade around in crotchless tutus and chaps with their buttocks' flying in the breeze while sucking each other off on the reviewing stands – in full view of children.
This is not about tolerance, nor is it about acceptance. This is about just the opposite: the forcible acceptance of what they are all about and the surrendering of the moral, cultural and ethical high ground that has shaped societal development since time immemorial to them.
To me, there is zero difference between the KKK marching around in their robes and burning crosses and these people parading around as they do, both demanding respect and more crucially, instilling fear. And of course both of these groups, like every other militant group out there, are either directly Democrat in their lineage or totalitarian in their bent, meaning they are antithetical to what real Americans, conservatives and followers of Judeo-Christian law and morality are all about. Anyone who disputes that is intellectually dishonest and a liar.
It is certainly true that homosexuals have been persecuted and denied basic rights essentially the world over and the for the purposes of this post, right here at home until quite recently. In fact, they still toss them off of roofs, hang them from construction cranes or otherwise torture them to death in the Islamic world. The militant homo crowd will have you believe that that is the case here in America while conveniently ignoring that fact about Islam. And go back to my editorial last week about Hamtramck, MI which is now as American as falafel and halvah. But I digress.
It is we who tolerate them. We do not necessarily accept them since there is ample evidence to prove that homosexuality as a lifestyle is inferior to, wait for it, the nuclear family. But we are now in topsy turvy world because all of this has the goal of one thing: the destruction of the nuclear family and the supplanting of it with the all-powerful State as parent and, in reality, God. That is why they not only now do not tolerate us, but want us and everything we believe in eradicated.
I'm sick of these people. And what sickens me most is not necessarily the freaks parading around as they do but the complete radio silence from homosexuals who do not dress up like this and bugger children in the privacy of their own homes. At least I assume they don't. Yeah, Mayor Buttocks is not going to go against this crap. But where is Richard Grenell? Where is every mainstream and normal, for lack of a better word, homo and why are they not shouting these bastards down? Answer: for the same reason that far too many blacks do not speak out against an Al Sharpton or Louis Farrakkhan.
Well, this is war, isn't it. They are indeed coming for your children. And by all accounts the goal is also to come on and in them as well.
Stacie Marie Laughton, who became America's first transgender lawmaker when he was elected to New Hampshire's House of Representatives in 2012, has been arrested on four felony counts of distributing child sex abuse imagery.

The Democrat is no stranger to law enforcement, having twice resigned from politics after arrests for offenses including fraud, stalking, and bomb threats.

Laughton was hailed as an LGBT role model when he was elected, with the media describing how his election in New Hampshire "not only made history in the state, but for the broader trans movement as [he] became the first out trans person ever elected to a seat in a state legislature."

Laughton said he hoped the "LGBT community" would be "inspired" by him. But he was not in the state house for long, resigning over previous credit card felonies, and later imprisoned for leveling a bomb threat at a hospital, which he blamed on mental illness.

Despite this backdrop, he was approved to run as a local official in 2019, with the Democrats getting him reelected to the state house a year after that. Shortly after, his political career began to unravel once again, this time for arrests related to giving police false information and stalking.
A tranny with fraud, stalking, bomb threats and now child rape on his/her/its résumé? Attention Democrats: we have now found the ideal candidate to replace Joey Sponge-Brain Shits-Pants to lead you to victory in 2024! Or more accurately inspire the vote counters to work overtime in quadruple-counting fake ballots to ensure landslide level victory!
Enough of this. The mindset and mantra must be, "If you come for our children, we will come for your heads."
ABOVE THE FOLD, BREAKING, NOTEWORTHY
BIDEN CRIME FAMILY REVELATIONS
NOTE: The opinions expressed in the links may or may not reflect my own. I include them because of their relevance to the discussion of a particular issue.
ALSO: The Morning Report is cross-posted at CutJibNewsletter.com if you want to continue the conversation all day.
Follow us on Twitter: @CutJibNews
Follow us on Instagram: @Cutjibnewsletter
TIP JAR : Your support helps keep the lights on and is truly appreciated. Note: We are on Stripe, not PayPal.

posted by J.J. Sefton at
07:35 AM
|
Access Comments