« Whistleblower: Hunter Biden Deducted Costs of Hookers and His Sex Club From His Taxes
|
Main
|
Wisconsin State GOP Votes to Cut UWisconsin's Budget by $32 Million -- the Exact Amount the University Spends on DIE Programs »
June 23, 2023
The Week in Woke, Part 1
How's your Pride Month going? The Pride Mafia's Pride Month isn't going so well.
What a shame. What. A. Shame.
This is just terrible: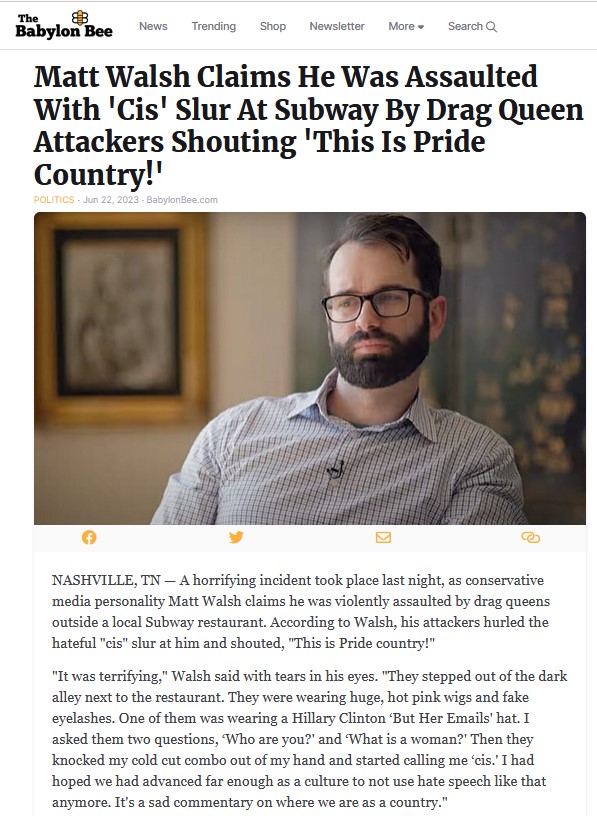 That's a joke, of course, but this is not: Top Tennessee Republicans have received "suspicious packages" in the mail; the packages are suspected to come from... trans terrorists.
An FBI investigation is ongoing after several "suspicious" packages were delivered to Tennessee lawmakers in Nashville.

Offices at the capitol have been shut down as the packages, which were dropped off at the Cordell Hull State Office Building, are investigated, according to House Speaker Cameron Sexton. The Tennessee Department of Safety and Homeland Security deflected all questions to the FBI, which it said was the lead on the investigation.

"I am aware of a possible issue involving the legislative offices of some members of House Republican leadership receiving in the mail a white powder substance," Sexton said. "The sixth floor has been placed on lockdown out of an abundance of caution, and hazmat teams are on scene assessing the situation."

A source familiar with the investigation told The Daily Wire that the letter mirrored very closely the threatening letters received by Kansas Republican lawmakers. Both were signed by "your secret despiser" and the return address was listed for a transgender activist who died several years ago.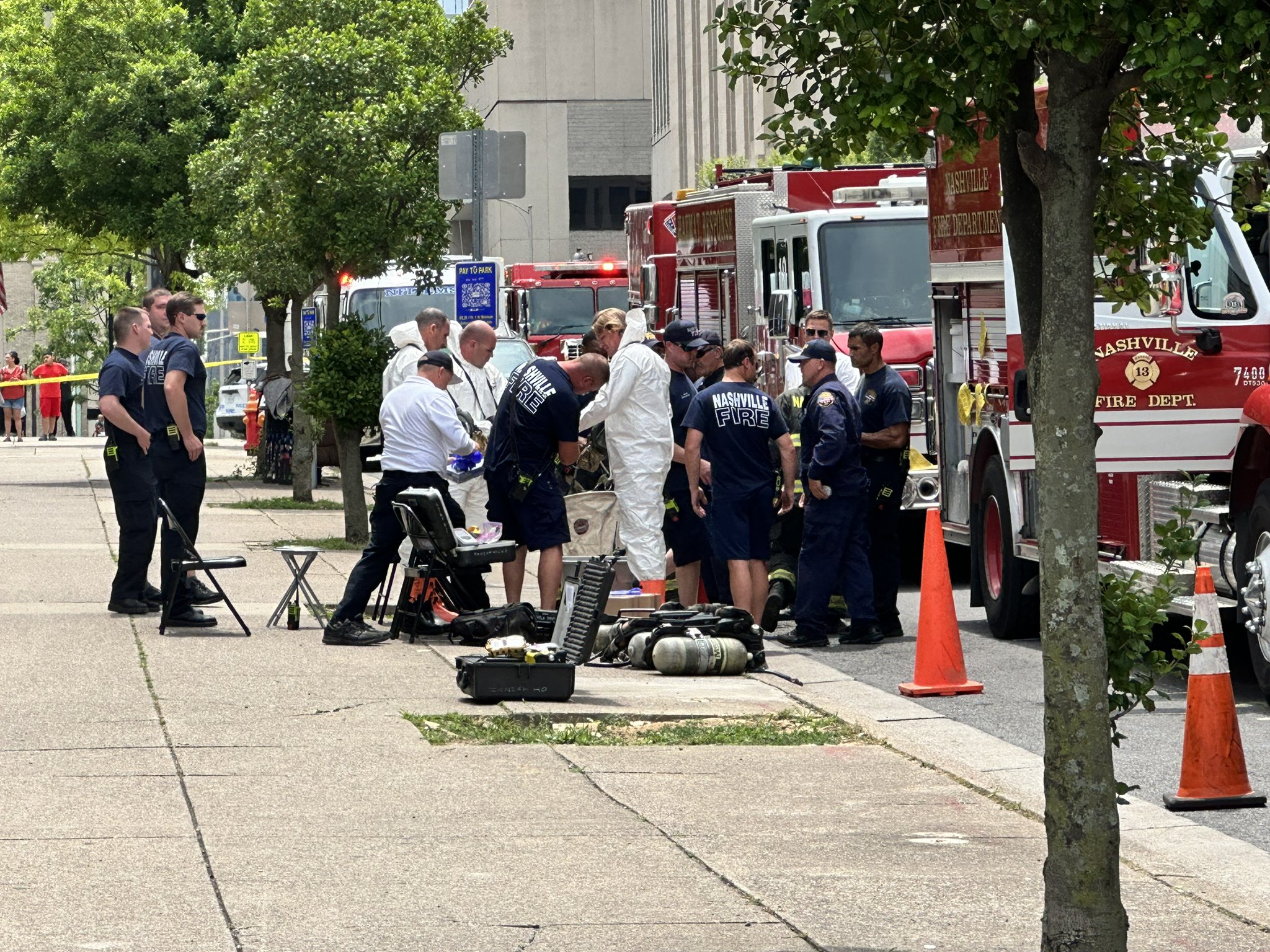 Emergency services workers examine possibly
dangerous packages sent to Republicans
Has Merrick Garland created a special task force to begin investigating trans extremism? Of course not. Because the Democrats work hand-in-glove with terrorists.
Embrace gay sex orgies "with joy," advises the Biden Administration's monkeypox advisor.
The official President Joe Biden tapped to fight mpox--the virus formerly known as monkeypox--said public health officials should not oppose "Pride" events that end in anonymous same-sex orgies, but instead craft a policy that "supports" the "joy" victims find in random sexual encounters.

After all, "one person's idea of risk is another person's idea of a great festival or Friday night," said the official, who frequently wears a pentagram in social media posts.

White House National Monkeypox Response Deputy Coordinator Dr. Demetre Daskalakis asserted that any message creating "stigma" for those who like to have sex with multiple strangers would actually increase mpox infections. Cases of the virus, which causes open sores and lesions on the skin, have risen nationwide as "Pride Month" rolls on.

"I always say that I've never made an HIV diagnosis in someone that hasn't somehow related to stigma. I think mpox is the same," Daskalakis told MSNBC host Jonathan Capehart on Sunday. Public health officials should "get the word out in a way that supports people's joy as opposed to, you know, calling them risky."

"One person's idea of risk is another person's idea of a great festival or Friday night, for that matter," the Biden administration official said. "So, we have to sort of embrace that with joy and make sure that folks know how to keep themselves safe."


"When you think 'Pride,' think joy and happiness," Daskalakis told MSNBC, but also get "sexual health care lined up" to minimize transmission at mpox super-spreader events.
As previously noted, the Biden Administration did not believe that adults had the ability to take medical risks for the "joy" of engaging in their lawful occupation, going to church, or having their children be educated in-person in school.

By the way: Head of the FBI crime family Christopher Wray gave a diversity training speech for the Straight Shooters with this Satanic pervert.
Two years after the FBI allegedly pulled a mandatory "sexual orientation and gender identity" course amid negative reviews from employees, the bureau incentivized employees to attend its Pride Month event -- featuring a White House official known for his pentagram tattoo and pentagram-shaped leather harness -- by offering credit toward mandatory training.

FBI whistleblower Steve Friend, who resigned from the bureau this year amid months of unpaid leave for a security clearance review he deemed retaliatory, posted a screenshot of a bureau-wide email dated June 1 that invited all FBI employees to attend the June 6 event, in person or virtually.

It's sponsored by the FBI's Office of Diversity and Inclusion and led by Director Chris Wray, according to the screenshot. The speaker is the deputy coordinator for national monkeypox response Demetre Daskalakis, who will discuss "the importance of LGBT+ [sic] visibility in the government and health care industry." The White House confirmed to Just the News that Daskalakis was the speaker.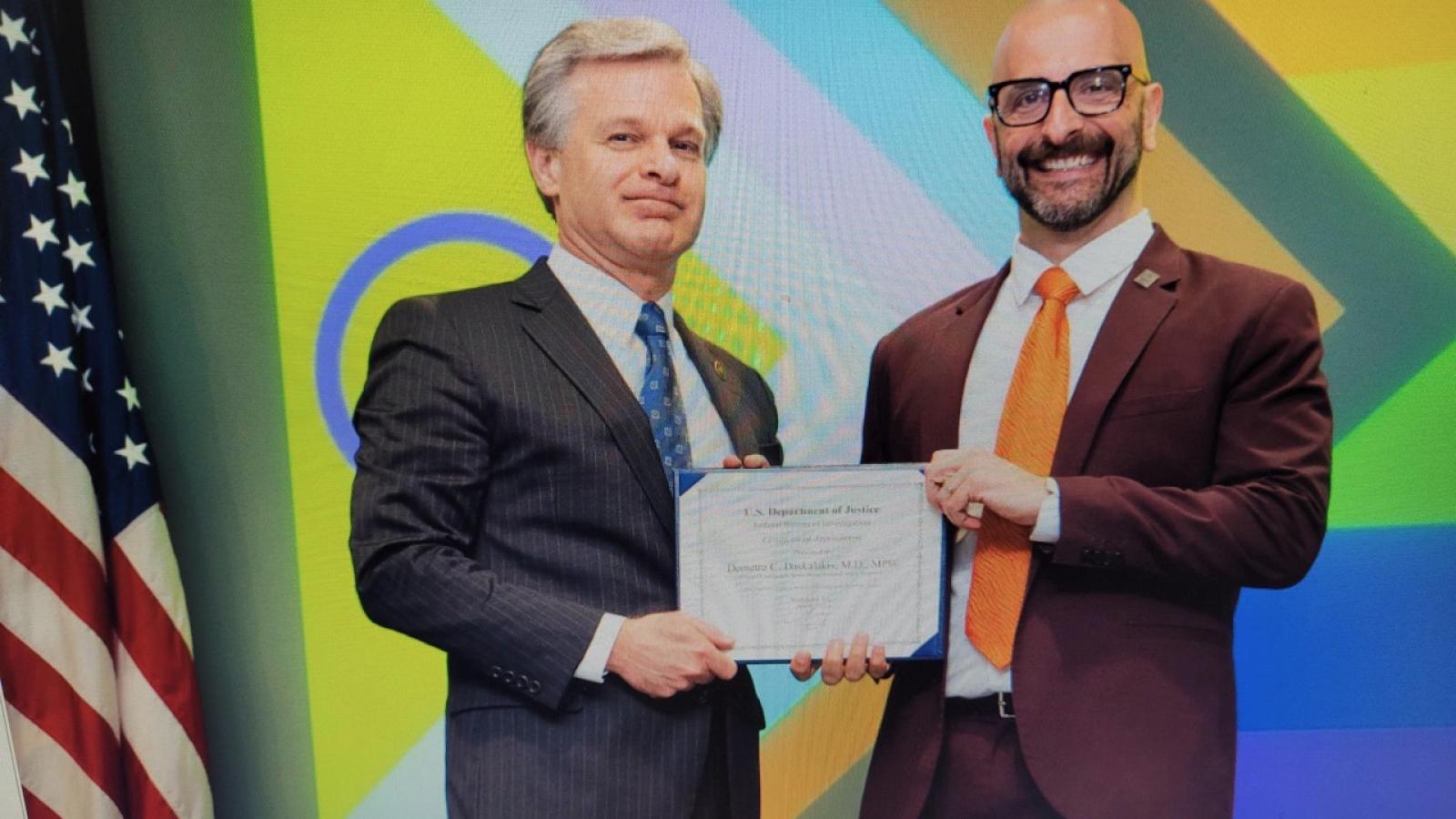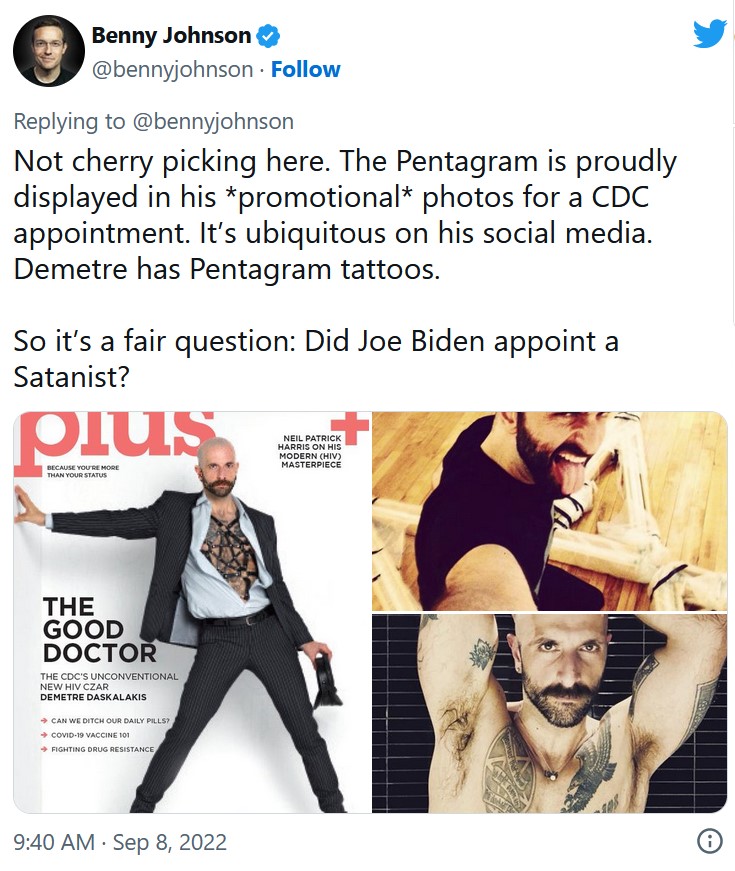 A Satanist meeting with the head of the FBI. Checks out.
Below: The pervert Satanist appears at gay health convention.
A summer camp for "Trans Kids." As I saw someone note, there is no such thing as a "trans kid;" there are only victims of Transhausen Syndrome by Proxy.
Or maybe: TLDS, Twitter Likes Deficiency Syndrome.
Anyway, the minimum age for kids to go to Trans Camp? Four years old.
At least they're not allowing in toddlers who can't speak yet! That's a victory!
From New Hampshire to California, overnight summer camps for transgender children as young as 4 are cropping up all over the United States, with many operating from secret locations where counselors reinforce campers' gender dysphoria with voice training, makeup sessions, and other "trans-centered activities."
Of course they're overnight.
At Camp Lilac, an overnight camp in an undisclosed location in Central Ohio, more than 100 kids as young as 12 are free to "socialize, grow, and express themselves in an environment without caregiver supervision," according to its website. By "caregivers," the site refers to parents, who may volunteer at the camp but cannot attend sessions with their own children. A typical day at Camp Lilac includes "trans-centered activities" such as makeup and hair tutorials and voice training.

"My son has to have his defenses up and maxed all day, everyday until he gets home," said one parent quoted on Camp Lilac's site. "At camp, he's just who he is! Unapologetically! Running around in his [chest] binder and not having to explain himself."

Camp Mulberry, located in Southern California, is a free camp for transgender children as young as 6, according to its website.

...

The Trans Youth Equality Foundation (TYEF) hosts a youth camp for "transgender and non-binary" children in a "confidential location in New England" where children as young as 7 years old may attend. The organization also provides free chest binders for girls under 18 who identify as boys. TYEF is promoted on the Maine Department of Education's website.
It just gets worse and worse.


posted by Ace at
01:10 PM
|
Access Comments