« The Regime Has Decided It Will Choose Who Can and Can't Run Against The Regime
|
Main
|
Leftwing Feminists Complain That Liberal Men Just Won't or Can't Play A "More Masculine" Role In Relationships »
June 09, 2023
Fox News Is Now Neck-and-Neck with MSNBC in the Ratings;
The New York Times Notices That Ukraine Has a Lot of N@zi Supporters in the Military
As you know, Fox lost 32% of its primetime audience since they indulged their Corporate Id and fired the one guy willing to roast the corporate elite.

Megyn Kelly talked about Fox's ratings. (I have to link her because I didn't find a link to whichever source she's reading from.)
In may, MSNBC had 120,000 average primetime viewers aged 25-54 ("in the demo," according to industry parlance). Fox beat them, but only with 135,000. Tucker used to get 270-350,000 viewers "in the demo," IIRC.
So Fox narrowly escaped being dethroned in May -- but it's coming. On Monday, Jesse Waters nearly lost to Joy Reid -- Joy Reid! -- and did lose to the Sassy Racist on Tuesday. No disrespect to Jesse Waters, but obviously he wasn't losing to Joy Reid before the Tucker firing.
Harris Faulker is the fill-in host for the 8pm (Tucker) hour this week; on Monday, she lost to both MSNBC and, preposterously, even the lowly clownshow CNN. No disrespect to her either, but we're just not having it.
Hannity lost to both Rachel Maddow and, again, CNN's Anderson Cooper on Monday.
They've lost 62% in primetime, in the demo, year-over-year, she says.
Fox is now just edging out MSNBC, which it used to trounce. And of course they got BTFO by Tucker Carlson, doing his "low-budget basement show" on Twitter.
End Wokeness @EndWokeness

Jun 7
Primetime (8-11) ratings last night:

CNN: 569,000
Fox News: 1.73 million
MSNBC: 1.86 million


The first episode of Tucker Carlson on Twitter: 63 million (so far)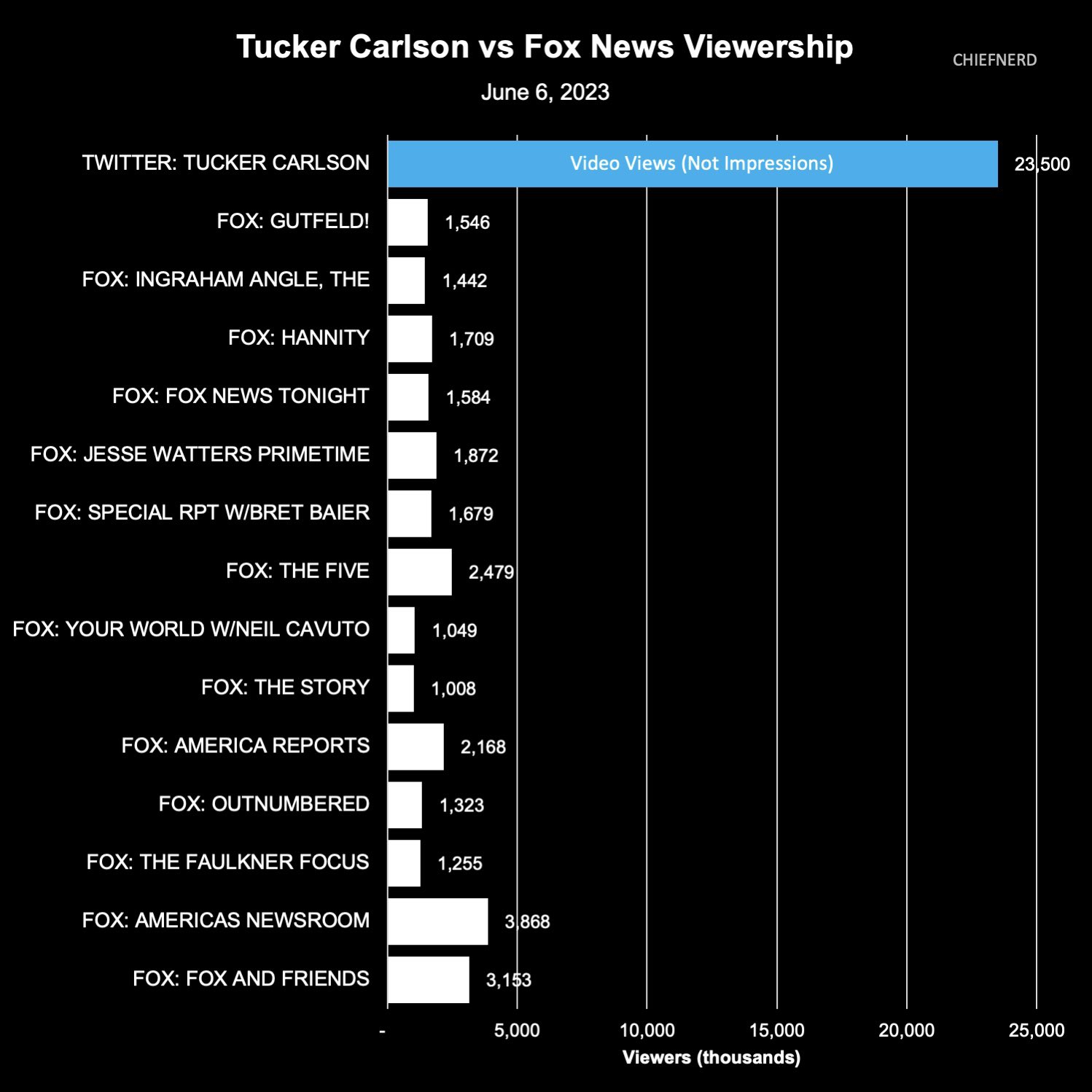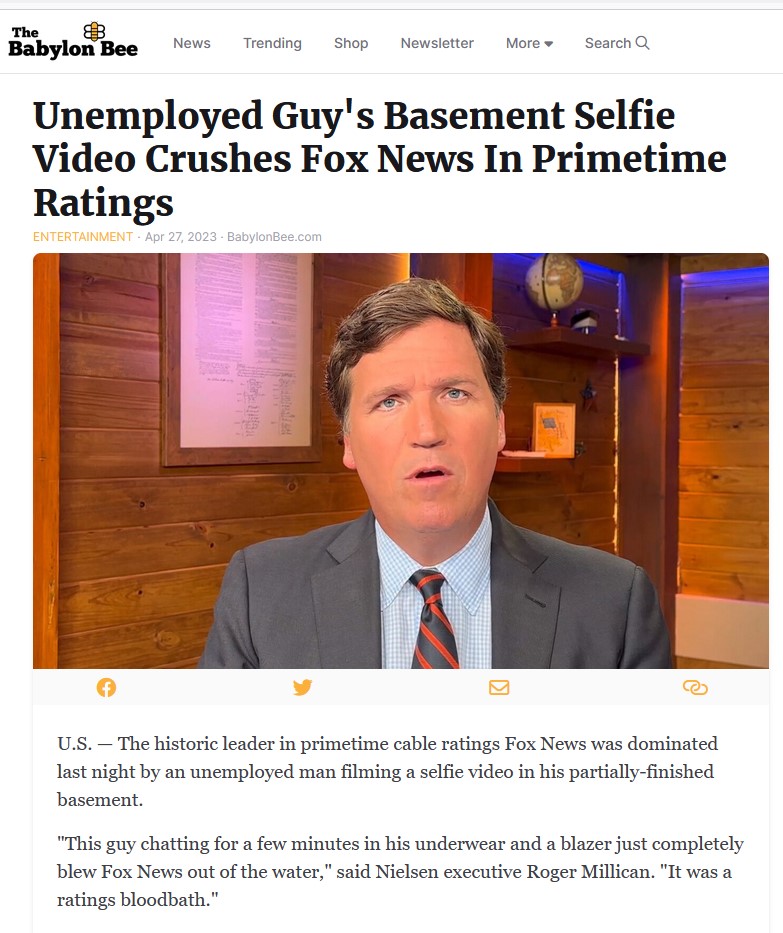 The New York Times has previously smeared anyone who very factually pointed out that Ukraine has a problem with Neo-N@zis in its military was an agent of Russia spreading Russia propaganda.
Now they notice: Say, we keep seeing N@zi pins and regalia on Ukraine troops. That's kinda weird and stuff, right?
Even in now admitting that maybe there might be some support of N@ziism in the Ukraine military, the New York Times urges we all have perspective about this and allow that other countries may have histories and traditions we might not understand.
The Times says the N@zi imagery on uniforms just raises some "thorny issues about history."
Nazi Symbols on Ukraine's Front Lines Highlight Thorny Issues of History
Ohhhhh.... Thorny Issues of History. You mean, we have to view this in the context of Ukraine allying with Nazi Germany against the hated Russia?
And this sub-hed;
Troops' use of patches bearing Nazi emblems risks fueling Russian propaganda and spreading imagery that the West has spent a half-century trying to eliminate.

As I think Jimmy Dore pointed out: They mean that it's a problem that some Ukrainian units are marching with N@zi symbols because that might prove that the "Russian propaganda" stating that some Ukrainian units are marching with N@zi symbols.
And we can't let the people marching with N@zi symbols validate the "misinformation" that people are marching with N@zi symbols.
Do you see now, Winston Smith? At long last, do you see?
Since Russia began its invasion of Ukraine last year, the Ukrainian government and NATO allies have posted, then quietly deleted, three seemingly innocuous photographs from their social media feeds: a soldier standing in a group, another resting in a trench and an emergency worker posing in front of a truck. In each photograph, Ukrainians in uniform wore patches featuring symbols that were made notorious by Nazi Germany and have since become part of the iconography of far-right hate groups.

The photographs, and their deletions, highlight the Ukrainian military's complicated relationship with Nazi imagery, a relationship forged under both Soviet and German occupation during World War II.

That relationship has become especially delicate because President Vladimir V. Putin of Russia has falsely declared Ukraine to be a Nazi state, a claim he has used to justify his illegal invasion.

Ukraine has worked for years through legislation and military restructuring to contain a fringe far-right movement whose members proudly wear symbols steeped in Nazi history and espouse views hostile to leftists, L.G.B.T.Q. movements and ethnic minorities. But some members of these groups have been fighting Russia since the Kremlin illegally annexed part of the Crimea region of Ukraine in 2014 and are now part of the broader military structure. Some are regarded as national heroes, even as the far-right remains marginalized politically.

The iconography of these groups, including a skull-and-crossbones patch worn by concentration camp guards and a symbol known as the Black Sun, now appears with some regularity on the uniforms of soldiers fighting on the front line, including soldiers who say the imagery symbolizes Ukrainian sovereignty and pride, not Nazism.
Um, the skull and crossbones is also a pirate symbol. I just want that to be clear.
Here's where we get the "Ukrainians are just wearing N@zi symbols to celebrate their heritage" apologetics.
...

The Soviet Union signed a nonaggression pact with Germany in 1939, so it was caught by surprise two years later when the Nazis invaded Ukraine, which was then part of the Soviet Union. Ukraine had suffered greatly under a Soviet government that engineered a famine that killed millions. Many Ukrainians initially viewed the Nazis as liberators.

Factions from the Organization of Ukrainian Nationalists and its insurgent army fought alongside the Nazis in what they viewed as a struggle for Ukrainian sovereignty. Members of those groups also took part in atrocities against Jewish and Polish civilians. Later in the war, though, some of the groups fought against the Nazis.

Some Ukrainians joined Nazi military units like the Waffen-SS Galizien. The emblem of the group, which was led by German officers, was a sky-blue patch showing a lion and three crowns. The unit took part in a massacre of hundreds of Polish civilians in 1944. In December, after a yearslong legal battle, Ukraine's highest court ruled that a government-funded research institute could continue to list the unit's insignia as excluded from the Nazi symbols banned under a 2015 law.

Today, as a new generation fights against Russian occupation, many Ukrainians see the war as a continuation of the struggle for independence during and immediately after World War II. Symbols like the flag associated with the Ukrainian Insurgent Army and the Galizien patch have become emblems of anti-Russian resistance and national pride.

Leftists and the New York Times -- same difference -- have never once offered this rationale as a mitigation for someone flying the Confederate flag. As even the liberals of The Hill point out.
Don't Southerners have a sense of history and pride? Don't they too have memories of being defeated by an invasionary force?
But now that the Blessed Ukrainians are prancing around in HitlerWear, we need to view symbols of white supremacy in their proper historiocultural context!
Once again, I was rooting for Ukraine. I bought into the propaganda and believed for a while they could... win, even though that now appears to be an unbelievable thing to have ever thought.
BUT I WILL NOT STAND TO HAVE THE REGIME LIE TO US AND SMEAR THE PEOPLE TELLING THE TRUTH AS "TRAITORS."
You know, The Regime calls this "mal-information" -- true statements which they deem to be harmful and false because they lead to conclusions and opinions The Regime wishes to outlaw.
I saw someone on Twitter note, after years of attacking everyone on the right as a "white supremacist," the New York Times suddenly discovers nuance in support for actual N@ziism.

posted by Ace at
01:10 PM
|
Access Comments