« Daily Tech News 7 June 2023
|
Main
|
Mid-Morning Art Thread »
June 07, 2023
The Morning Report — 6/7/23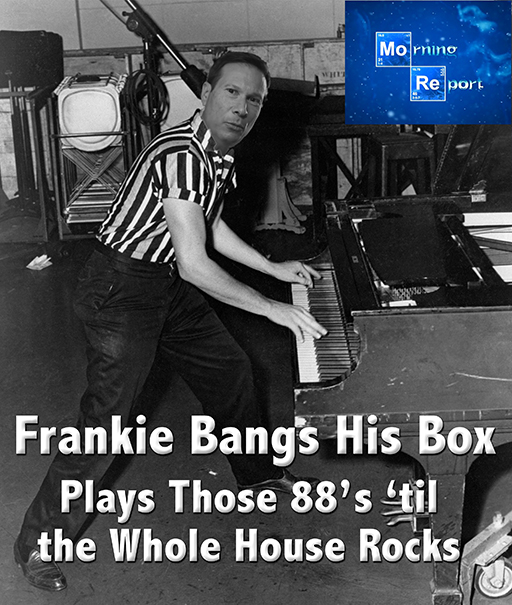 Good morning kids. A couple of interesting items this morning and in the lead was Tucker Carlson's debut Twitter "show." While it was only 10 minutes in length, it packed more punch than any other "news" or commentary show on standard television. As of 6:00PM Eastern last night, it garnered 55 million views. Fifty-Five-MILLION.
TuCa started off by pointing out what seems to be obvious about the destruction of a dam in a part of Ukraine now occupied by Russia, i.e., that it was the Ukrainians that did it. In light of the admission by the DC junta that it was indeed Ukraine and not Russia that blew up the Nordstream Pipeline, despite the months-long propaganda claim to the contrary, this of course makes perfect sense. But as he got going, he recalled a story about how Soviet citizens were shocked to learn that the image they had of America was only what they were told in Pravda, completely out of phase with reality, then made the point about how now decades after the fall of the Soviet Union, that type of lying is going on right here.


. . . he broadened his media criticism beyond the scope of the Ukraine war to other issues where narratives must never be questioned.

"But mostly they just ignore the stories that matter. What's happened to the hundreds of billions of US dollars we've sent to Ukraine? No clue. Who organized those BLM riots three years ago? No one's gotten to the bottom of that. What exactly happened on 9/11? Well, it's still classified. How did Jeffrey Epstein make all that money? How did he die? How about JFK? And so endlessly on. Not only are the media not interested in any of this, they're actively hostile to anybody who is. In journalism, curiosity is the gravest crime," Carlson said. . .

. . . "So if you're wondering why our country seems so dysfunctional, this is a big part of the reason. Nobody knows what's happening. A small group of people control accesses to all relevant information. And the rest of us don't know. We're allowed to yap all we want about racism, but go ahead and talk about something that really matters and see what happens. If you keep it up, they'll make you be quiet. Trust us. That's how they maintain control," he continued.
As to 9/11, that is a third rail that you have to approach with caution. While the "controlled demolition" and "Jooz" madness are just that, he is correct insofar as there is much about the attacks that is still classified, not so much about the who and why but who helped the who and why. Mostly because without a doubt it would be embarrassing if not damning to the foreign policy, intel and federal law enforcement communities. Wow, what a shock, but I digress.
Psaki-psircling back, the real takeaway for me about this is the debt of gratitude we owe Rupert Murdoch. In firing Tucker Carlson, Murdoch signed his own metaphorical death warrant. If TuCa's show has staying power, and in this environment it likely does, it gives Elon Musk that much more incentive to literally turn mass communication vis a vis news gathering and opinion on its head, the way TV did to radio. That behooves Musk to go out and hire more Tucker Carlsons. No doubt, he'll throw in a few Rachel Maddows in the mix but, as I am a first amendment purist, I view that as a good thing.
Co-blogger Joe Mannix makes the cromulent point:
"The beautiful thing about operating a platform - an actual platform - is that he doesn't need to hire anyone. He just needs to not censor anyone who wants to put a show on the platform. Sure, it might behoove Twitter from a revenue standpoint to try to recruit some specific high-audience people to the platform, but he probably doesn't need to do so. YouTube doesn't hire creators and Twitter won't need to, either."
A platform such as Twitter is not necessarily ad-driven in the same way as broadcast television or radio. There are no limits, per se, to its bandwidth and so the platform will prosper without regard to ratings in the traditional sense as they apply to the aforementioned media.
The bad news is that this makes him, Twitter and potentially all of us even bigger and juicier targets for government censorship. And with the constant redefinition of what and what is not acceptable in terms of speech, the First Amendment has never been more alive and more in peril than ever before.


"Does law enforcement have the tools to know exactly where the fault line is between the projected sort of laundered free political speech targeting the trans community coming from behind podiums, televised debates and town halls and the rhetoric and conduct and organizing that threatens people especially families of trans kids and LGBTQ+ kids?" MSNBC host Nicolle Wallace asked former FBI agent Frank Figliuzzi.

Figliuzzi argued for the need for comprehensive laws regarding domestic terrorism to address such matters, saying that "far-right extremists" have characterized domestic terror laws as attempts by the government to "police our thoughts" when the government is in fact trying to prevent violence.

"I know you've heard me say this to a point where you may be tired of hearing me say it, we still don't have a law in the federal books against domestic terrorism, and that deprives law enforcement of the ability to get out ahead of violence," Figliuzzi said. . .

. . . The Southern Poverty Law Center added parental rights groups to its online "hate map," the Daily Signal reported, declaring them part of the "antigovernment movement." The SPLC hate map was used by a would-be mass shooter who targeted the Family Research Council in 2012.

"Let me give kudos to the SPLC for an extremely comprehensive, well written, well-packaged report," Figliuzzi said. "I recommend everyone reading this that wants to become more familiar with what's happening all around us now, because the overall take away is that hate is becoming more entrenched. Hate has gone local, and the more local it goes, the more mainstream it becomes."
The name Frank Figliuzzi should ring a bell. Not only was he the (or a) deputy director of the FBI, he was a leading conspirator in pimping the completely discredited Russia Collusion hoax. My Italian is a bit rusty, and I could be wrong, but Figliuzzi appears to translate into something like "killer's children" or "children-killer." How appropriate, nein?
For those keen on self-abuse or in need of an emetic, here's his bio from his own website:


Frank is most noted for his clear and compelling television commentary regarding the Special Counsel investigation of Russian interference in the 2016 U.S. Presidential campaign, and coverage of tragic mass shootings. His FBI career highlights include: Leading the FBI's efforts to counter economic espionage in Silicon Valley, California; Overseeing major financial crimes and public corruption investigations in Miami, Florida, and Cleveland, Ohio; Serving as on-scene commander of the largest HAZMAT evidence recovery effort in FBI history at the Boca Raton, Florida, site of the nation's first anthrax murder; and, Publicly explaining the FBI's successful operation against ten Russian sleeper agents inside the United States.

Mr. Figliuzzi earned a Juris Doctorate cum laude from the University of Connecticut School of Law, and a Bachelor of Arts Degree in English Literature from Fairfield University. Frank completed certificate programs at the Harvard University National Security Program for Senior Executives in Government at the John F. Kennedy School of Government, and at Northwestern University's executive course on Leading Strategic Change at the Kellogg School of Management. He is a sought-after speaker, panelist and instructor on leadership, violence prevention, risk management, and the external and internal threats facing the United States.
Translation: He's a lying shit-weasel, and that last paragraph illustrates what it takes to be among the thousands of other lying shit-weasels who are out to turn you us all into serfs. Great job on that 2016 "Russian interference." The irony is that it was he and his ilk at the behest of Hillary Clinton and Barack Obama that interfered with that election in the attempt to steal it from Trump, and then ultimately used it to sabotage his presidency and then ultimately steal a sure 2020 re-election victory from him. Filthy bastard.
This is why control of the language is so crucial. And what they cannot control they outright ban and censor altogether. They're not even trying to camouflage it anymore. It does not invoke Godwin's Law nor diminish the crimes and sufferings of the past to refer to or equate this cancerous tick to someone like Adolf Eichmann. Because his words and deeds are perfectly in keeping with someone who is so utterly ideologically driven and cocksure of his own moral superiority.
"I know you've heard me say this to a point where you may be tired of hearing me say it, we still don't have a law in the federal books against domestic terrorism, and that deprives law enforcement of the ability to get out ahead of violence," Figliuzzi said.
We do in fact have laws against murder, regardless of how they are committed and how many victims there are no? What he wants are laws against domestic enemies of the state, which deprives "The Armed Militant Wing of the Democrat Party: The FBI" to get out ahead of political opposition that would remove them from power.
UPDATE: Commenter Krebs v Carnot reminds us about this little incident:
"The numbers 88 are very significant in neo-Nazi and white supremacy movement. Why? Because the letter 'H' is the eighth letter of the alphabet, and to them the numbers 88 together stand for 'Heil Hitler.' So we're going to be raising the flag back up at dusk on 8/8," Figluizzi added. "No one's thinking about this, no one's giving him the advice," he concluded. "Or he's rejecting the advice."

The analysis was quickly mocked on social media, including by conservative commentator Ann Coulter.

"WINNER! Craziest thing ever said on TV: MSNBC regular Frank Figliuzzi claims that Trump ordering flags at half mast until Thursday was secret 'HEIL HITLER!' signal," Coulter wrote to her more than 2.2 million followers.
Fuck you to hell, Figliuzzi.

CIVIL WAR 2.0: J-6 FBI FALSE FLAG "RIOT" & AFTERMATH, LEFTIST PERSECUTIONS, DEMOCRAT PUTSCH, AMERICAN DISSOLUTION
NOTE: The opinions expressed in the links may or may not reflect my own. I include them because of their relevance to the discussion of a particular issue.
ALSO: The Morning Report is cross-posted at CutJibNewsletter.com if you want to continue the conversation all day.
Follow us on Twitter: @CutJibNews
Follow us on Instagram: @Cutjibnewsletter
TIP JAR : Your support helps keep the lights on and is truly appreciated. Note: We are on Stripe, not PayPal.

posted by J.J. Sefton at
07:49 AM
|
Access Comments