« Daily Tech News 6 June 2023
|
Main
|
Mid-Morning Art Thread »
June 06, 2023
The Morning Report — 6/6/23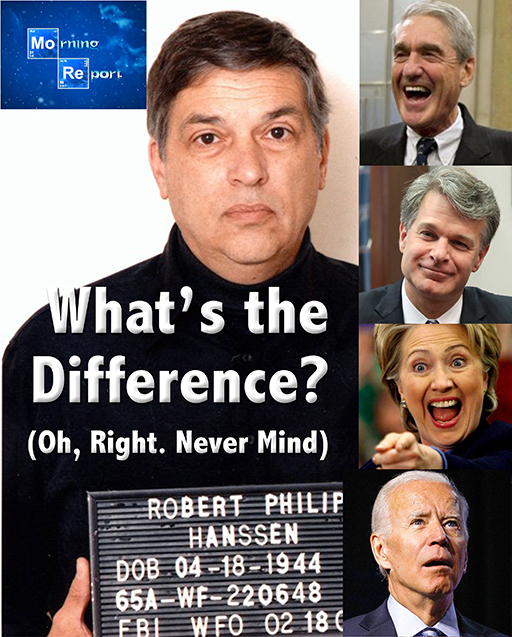 Good morning kids. Robert Hanssen died yesterday at the age of 79. For those who are to young to remember, here's a brief snapshot. It links to the NY Post for those wishing to avoid a Murdoch organ (can't seem to find it at any conservative site so far).
Hanssen was found dead inside his Colorado supermax jail cell on Monday. He was 79. . .

. . . Under the alias "Ramon Garcia," Hanssen exchanged highly classified national security information to his Russian handlers from 1985 until his arrest in February 2001.

"He wanted to be James Bond, and he thought they'd made him a librarian," O'Neill told The Washington Post when asked why he believes Hanssen spilled secrets.

O'Neill revealed that Hanssen was patriotic but was unpleased as an employee of the Bureau after hopes of being a field agent were replaced with being assigned to work as an analyst.

Hanssen was confirmed to be working with the Russians after O'Neill copied data off the spy's personal PalmPilot, which provided the FBI with the location of his next dead drop with his handlers. Some of the information that Hanssen was providing the Russians two KGB officers who were secretly working for Washington, and were killed as a result.

His payment over time for his betrayal of oath and service to America was $1.4 million in cash and diamonds.
The rest of the article is worthless tripe about how this agent Eric O'Neill had "mixed emotions" about hearing of Hanssen's death, blah, blah, blah.
So Robert Hanssen sold out his country for a measly $1.4 million and evidently was some sort of pervert sex pest as well. Yes, his crimes resulted in the deaths of at least two of our intelligence assets. Horrid as this guy was, is what he did any worse than this?
With all this talk of Russians allegedly interfering in U.S. elections, it is worth recalling that it wasn't too long ago that the previous Democrat in the White House betrayed America by working hand in hand with our Communist enemies in mainland China.

As president, Bill Clinton essentially wiped out any strategic advantage the U.S. had by selling advanced U.S. missile technology to our enemy, the People's Republic of China.

That "administration's voluntary release of all the secrets of America's nuclear tests, combined with the systematic theft of the secrets that were left as a result of its lax security controls, effectively wiped out America's technological edge," David Horowitz writes in the recently published, The Black Book of the American Left Volume 7: The Left in Power: Clinton to Obama.

Unlike the administrations that preceded it, the Clinton administration accepted millions of dollars from the military and intelligence services of at least one hostile foreign power. All of this was done in exchange for illegal campaign contributions from a massive totalitarian country determined to eclipse the U.S. as a world superpower.

President Clinton also lifted security controls, allowing thieves to access other vital military technologies, while disarming his own side and opposing needed defenses.

"One of the key technological breaks China received, without having to spy to get it, was the deliverance of supercomputers once banned from export for security reasons," writes Horowitz. . .

. . . [Hilary Clinton's] campaign chairman John Podesta became a member of the board of directors of solar energy startup Joule Unlimited in 2011. Eight months later Rusnano, a Kremlin-backed investment fund announced it would invest around $35 million in Joule. A few months after, about the time Podesta joined then-Secretary of State Hillary Clinton's Foreign Affairs Policy Board, Rusnano Chairman Anatoly Chubais joined Joule's board.

Podesta has been less than forthcoming about his relationship with the Russian government. "What he doesn't like to talk about is the business he's done with a Kremlin-backed investment firm and the lengths he's gone to avoid scrutiny of this relationship," the Wall Street Journal reported Oct. 23.

And in August the FBI and Justice Department announced they were investigating the Podesta Group, a lobbying and public relations firm co-founded by John Podesta, for any connections to corruption that occurred in the government of former Ukraine President Viktor Yanukovych. Russia-controlled Uranium One retained the firm in 2012, 2014, and 2015, to lobby Clinton's State Department and was paid $180,000 in fees.

Uranium One shareholders gave the corrupt Bill, Hillary and Chelsea Clinton Foundation more than $145 million in donations in the period before Hillary's State Department approved a transaction giving Russia control over 20 percent of U.S. uranium. And as Russia, which initially didn't have a controlling interest in Uranium One, was gearing up to take over the company, Bill Clinton received a whopping $500,000 for a single speech on Russian soil. . .

While the Clinton administration was working to improve relations with China, "the Chinese themselves were systematically plotting to penetrate the Democratic Party, subvert America's electoral process, and—with the help of the president himself—infiltrate the administration and steal America's advanced weapons arsenal."
Emphasis mine. This article dates to just after the 2016 election shockeroo the put Donald Trump in the White House. Keeping that pull quote in mind, the rest as they say is history. And we're still living it.
Poor Robert Hanssen. What a short sighted fucking chump. Especially in light of the above as well as what the FBI has devolved into. Meh. Check that. The FBI likely always has been a hack corrupt political hit squad. It's just that now, all of it's out in the open. Interesting timing in that Hanssen got nailed just after the end of the Clinton era, and was active from Reagan into Bush and all during that time the Clintons were in bed with the Russians and Chinese.
So the salient question remains. And on top of the Clintons, lest we forget the very agency that Hanssen worked for and those who were right at the top.


For nearly 20 years, the FBI allowed informant Whitey Bulger to continue his crime spree. His criminal activity included countless murders. Bulger was the head of the Winter Hill Gang, a criminal syndicate that operated in the Boston area for decades. The federal law enforcement agency let the Irish mobster and his crime family do as they please in return for tips on the Italian mafia. Dismantling the mafia was the FBI's highest priority. Bulger only passed on worthless information.

FBI Special Agents John Connolly and John Morris were accomplices to Bulger's criminal activity, including murder. The Bureau's complicity with Bulger became public in 1997. The lone FBI agent who tried to end the Bureau's ties with Bulger was ignored and drummed out of the agency.

The FBI involvement with Bulger was so corrupt that the agency permitted the murder conviction of four innocent men, Peter Limone, Joe Salvati, Henry Tameleo, and Louis Greco, by allowing a witness to lie, and by withholding exculpatory evidence in order to protect another informant, the actual killer, and Bulger criminal accomplice. Three of the four men were given death sentences. Their sentences were later changed to life imprisonment. . .

. . . In the 1980s, the acting US Attorney for the Massachusetts District launched an aggressive campaign to pressure the Massachusetts Parole Board to keep the framed men imprisoned. That federal prosecutor was Robert Mueller, who would become the FBI Director two decades later. Mueller was the Justice Department's chief prosecutor in Massachusetts when Bulger was at the height of his criminal spree, including murder, and was being shielded by federal authorities.

The four innocent men were exonerated in 2001 after serving more than three decades in prison, and after secret FBI files revealed the bureau's corruption.

The wrongly-convicted men were paid a settlement of nearly $102 million, although only two received the money directly, since Tameleo and Greco died in prison.

The level of Mueller's knowledge of and involvement in the FBI and Whitey Bulger corruption scheme has never been fully explained. In 2007, while serving as FBI Director, Mueller dismissed the matter commenting, "I think the public should recognize that what happened, happened years ago."
That would be the same Robert Mueller who led the probe into Trump's "Russian Collusion." The probe that not only found nothing but that Mueller was found to be only a figurehead, who when grilled during a Congressional hearing sounded as if he was starting to sundown like Joey Sponge-Brain Shits-Pants and John Fetterman. It was Andrew Weissmann that actually led the two-year sham paper chase. He's now a legal analyst on a junta propaganda house organ and claiming Trump will be indicted for the so-called "documents scandal." This turd as a legal analyst on TV is the moral equivalent of Adolf Eichmann hosting a klezmer festival.

Meanwhile, in another part of the forest, there's Christopher Wray:
The confidential human source (CHS) behind the detailed allegations that then-Vice President Joe Biden agreed to accept money from a foreign national to affect policy decisions was reportedly "highly credible" and used by the FBI in multiple criminal investigations dating back to the Obama administration. Friday's exclusive by Fox News provides further insight into Sen. Chuck Grassley's focus on the FBI — as opposed to the Biden family — as the primary scandal in play.

"We aren't interested in whether or not the accusations against [then]-Vice President Biden are accurate," Grassley said during an interview last week discussing FBI Director Christopher Wray's refusal to comply with the congressional subpoena issued for the FD-1023 form. That form, dated June 30, 2020, included detailed information from a CHS to the FBI regarding an agreement by now-President Biden to deliver preferred foreign policy positions for a $5 million payment. . .

. . . Yes, the CHS's allegations offer more evidence of a Biden family pay-to-play scandal, and unraveling any criminal conduct by the Biden family remains important. But more significant to the future of our country is uncovering government actors responsible for violating the rule of law: America can survive select injustices, but it cannot withstand a corrupt bureaucracy that obstructs justice and interferes in elections. 

Yet that is precisely what occurred, according to the whistleblower. He claimed that "in August 2020, FBI Supervisory Intelligence Analyst Brian Auten opened an assessment which was used by a FBI Headquarters' team to improperly discredit negative Hunter Biden information as disinformation and caused investigative activity to cease." The whistleblower further alleged that the FBI HQ team that handled the Auten assessment, after concluding the reporting was disinformation, placed the information in a restricted access sub-file that only the particular agents who uncovered the CHS's information could access. . .

. . . Not only does this evidence suggest FBI headquarters obstructed justice, but the date of the CHS's report indicates those responsible for misbranding the intel as disinformation sought to interfere in the 2020 election. 
Ah yes. Joe Biden and his entire sick, criminal family. A laptop that contains a battery of howitzer-sized smoking guns of evidence proving over 50 years of him selling every office he ever held to the highest bidder, up to and including some of our biggest foreign adversaries and enemies. Hello, Burisma, to name just one.
Between the Bidens and the Clintons alone, we're talking hundreds of millions of dollars that kept them wealthy and most of all, in power.
I'm no special pleader for Robert Hanssen. But what he did and what he got paid for it isn't even a rounding error, monetarily speaking or perhaps national security wise. The blood on his hands is another matter and is not to be dismissed at all.
What the Bidens, Clintons and probably many other names in government (Pelosi, Kerry and maybe even Romney) have done is far worse by orders of magnitude. Worse than selling our secrets to our enemies, they utilized the instrumentalities of government to help overthrow a duly elected president. And now, they are hell bent on making that permanent.
It's beyond insulting that they not only walk around freely, but they wear the moldering skin-suit of patriotism and demand respect. If only Robert Hanssen ran for office as a Democrat, he'd probably be where Christopher Wray is today.
* * * * *
Today marks 79 years since the events of arguably one of, if not the most pivotal moments of the 20th century. It is painful to recall the horror and suffering on those beaches and landing grounds, but it is supremely cruel to consider that what they sacrificed to prevent is perhaps well on the way to being established. The fact is, if I want to stand on ground that is the closest thing to the country that I recognize as America, I have to go to a national cemetery.
CIVIL WAR 2.0: J-6 FBI FALSE FLAG "RIOT" & AFTERMATH, LEFTIST PERSECUTIONS, DEMOCRAT PUTSCH, AMERICAN DISSOLUTION
NOTE: The opinions expressed in the links may or may not reflect my own. I include them because of their relevance to the discussion of a particular issue.
ALSO: The Morning Report is cross-posted at CutJibNewsletter.com if you want to continue the conversation all day.
Follow us on Twitter: @CutJibNews
Follow us on Instagram: @Cutjibnewsletter
TIP JAR : Your support helps keep the lights on and is truly appreciated. Note: We are on Stripe, not PayPal.
The World at War, Episode 17 "Morning"


posted by J.J. Sefton at
07:49 AM
|
Access Comments