« Grassley: Source Behind Bribery Accusation of Biden Is "Highly Credible" and Has Been Used by FBI In the Past
|
Main
|
The Great Chicken War Cafe »
June 05, 2023
Quick Hits
Here's the FBI's new spin: If we present the document alleging Biden conspired with foreign actors in a $5 million+ bribery scheme, the person who brought this information forward may be killed.
Rep. Anna Paulina Luna @RepLuna

Just left meeting for House Oversight. The @FBI is afraid their informant will be killed if unmasked, based on the info he has brought forward about the Biden family.
Is that also the reason they buried the information and never pursued it? How convenient.
Apparently Major League Baseball posted the obligatory "pride" message with rainbow logo on June 1, but then reverted to their normal trade dress.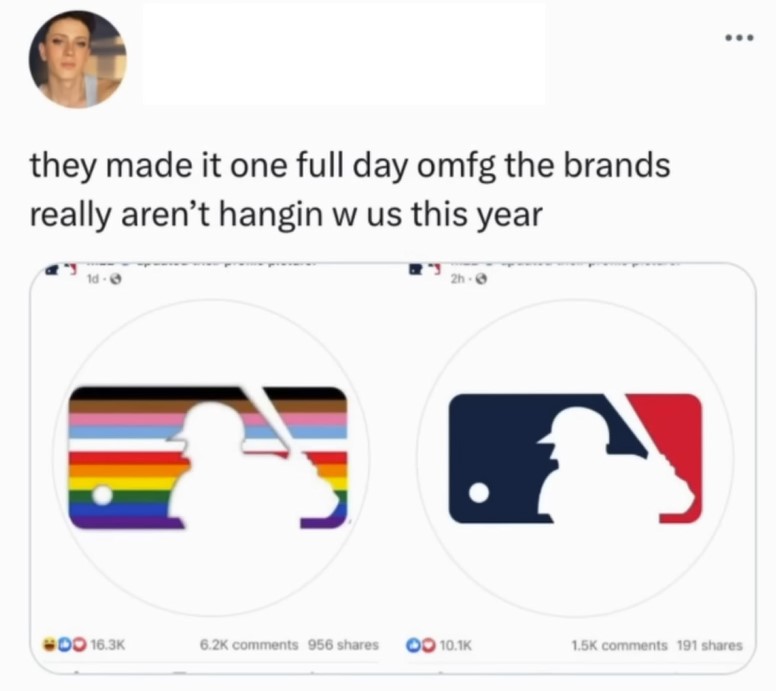 Great:
Alliance Defending Freedom @ADFLegal

CASE FILED: We've sued the Biden admin and CA officials for unlawfully pulling federal food funds from a church preschool, due to the school's beliefs on sexuality.

The school feeds many low-income & immigrant children. Hungry kids should matter more than a political agenda.

"The government is withholding food from families in need simply because their children attend a Christian preschool. This violates the U.S. Constitution and multiple federal laws that protect Church of Compassion and its preschool to operate according to the dictates of their faith." - ADF Senior Counsel Jeremiah Galus

Chuck Todd will leave Meet the Partisans, I mean Meet the Press, in September, to be replaced by another lockstep leftist. But this one has a vagina.
Update: Jimmy Dore has headlined this story "Chuck Todd FIRED from Meet the Press." I don't know if he means that literally.

A media "journalist," AJ Benza, claims that the actor Jamie Foxx received a blood clot from his covid jab, and has been rendered partially paralyzed and blind.
My skepticism here is due to wondering why this secret is only being let out by someone in Foxx's circle, and how it's been kept a secret at all.
Jamie Foxx suffered a blood clot in his brain leaving him partially paralyzed and blind, it has been sensationally claimed.

In a dramatic turn of events surrounding the megastar's mysterious illness, veteran Hollywood journalist A.J. Benza revealed that a supposed well-placed source told him Foxx, 55, suffered the serious medical episode after being pressured into getting a COVID vaccine.

"Jamie had a blood clot in his brain after he got the shot. He did not want the shot, but the movie he was on, he was pressured to get it," said the podcaster, a former New York Daily News columnist and host of the E! series "Mysteries and Scandals," 11 minutes and 40 seconds into his interview on the Ask Dr. Drew podcast.

"The blood clot in the brain caused him at that point to be partially paralyzed and blind."

Benza insisted his source is "someone in the room" connected to Foxx's treatment.
We'll see.
In news that no one cares about, New Hampshire liberal Republican Chris Sununu says that he won't be running for president in 2024.
He probably made this decision to boost the chances of the other liberal/"moderate" Republicans running, like big fat slob Chris Christie, who may announce on Thursday. The liberals don't want to divide the liberal/NeverTrump vote too much, or that makes it easier for Trump (or DeSantis) to win.
Mike Pence also filed paperwork to faff around and appear on CNN and lose a lot of RINO donor money while pretending he has a chance to win the nomination. #FaffAroundandFindOut

Nikki Haley went on CNN, because of course she did.
And of course she used enemy comms to attack DeSantis, continuing to run for the position of Trump's VP and attack dog:
A lot of Corporate "Cons" in the party really don't like DeSantis taking on one of their corporate frenz.
I'm sorry, what? Does she think that Florida pushing back on Disney is about criticism of DeSantis? Because that's absolutely not what the controversy is about. Disney pledged to fight and overturn a then-proposed law that protected children from sexualization in schools.

We already know that Haley supports Disney in that fight, as she made a laughable call for them to move to South Carolina recently. But for her to continue this ridiculous, false line of attack that DeSantis is just being thin-skinned is a bridge too far. Republicans who don't know what time it is have zero justification to be the Republican nominee.

Further, have none of Haley's consultants told her that this line about Disney donating to DeSantis is self-defeating? She's essentially announcing that if donors give her money, she'll do whatever they want. How is that a good thing? The fact that DeSantis told Disney to pound sand despite past contributions is the kind of fortitude the GOP needs. Spinning that as a negative is ridiculous and shows Haley remains unready for primetime.
She's continuing to take the position that Trump does, that the fight with Disney is "SO UNNECESSARY."
Sure, let's duck all the fights that must be fought.
Indian Tracey Flick also embarrassed herself with her evasiveness and general dopery.
Tim Scott went on The View, because of course he did, and got clowned, because of course he did.
I just don't get it. I've long been a proponent of starving the mainstream media of ratings, but instead, most Republicans simply refuse to learn the lesson and keep going on these biased shows that only exist to tear them down.

What is being gained by giving Joy Behar and Whoopi Goldberg credibility? Who is the person who watched The View and is even persuadable at this point? And whose mind was changed because the ladies on set got to make fun of Scott, talk over him, and produce viral clips that will now be used to further tear him and other Republicans down?

That's the point for those that might disagree with my critique. It's not that Scott didn't have some good answers on the show. It's that almost no one is going to see them. What they'll see is the audience booing Scott and him looking befuddled while they try to cut him off with a commercial break.
"Family Friendly" is the new "Fiery but Mostly Peaceful:"

posted by Ace at
06:40 PM
|
Access Comments