« Mid-Morning Art Thread
|
Main
|
JustTheNews.com: Previously Hidden January 6th Video Shows Nancy Pelosi Continuing to Work With Her Daughter On Her "Documentary" at the Time She Claims She Was Terrified By Dangerous "Insurrectionists" »
June 02, 2023
THE MORNING RANT: Happy Pride Month Fidelity Month; and other Buck Shots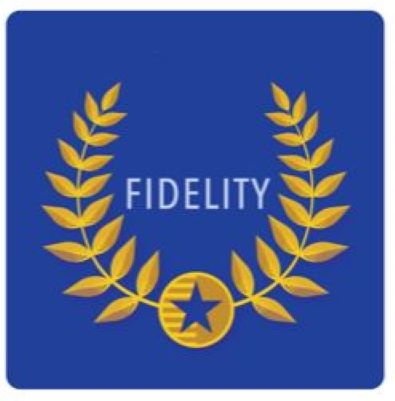 *****
Happy "Fidelity Month"
It's "Pride Month." Just about every corporate logo will be given the multi-color treatment* and corporate employees will find themselves compelled to celebrate all the lifestyles in that flag of many colors and chevrons.
(*For some reason, major corporations remain defiantly homophobic and transphobic in Muslim-majority countries, choosing not to use Pride Month logos in those countries, nor compelling the employees there to celebrate "Pride.")
Auron MacIntyre calls Pride Month, "American Ramadan." That's perfect.
Please "celebrate" responsibly.
I have gay family members whom I love, and I have no malice toward anyone who is not heterosexual, so long as they live their lives as they see fit and leave others alone, especially children.
But I don't "celebrate" anyone's religion, ethnicity, sexual identity, or passions. Nor have I demanded they celebrate mine.
But I will celebrate Fidelity. I am following Robert P. George's suggestion and choosing to celebrate FIDELITY MONTH in June.
Please feel free to join me in celebrating fidelity to:
• God
• Spouses
• Families
• Our country
• Our communities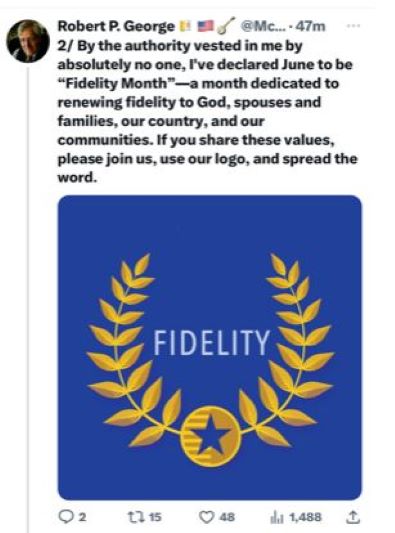 I will celebrate each and every one of you that lives a life of fidelity in this manner.
*****
Speaking of Auron MacIntyre
If someone asks what Democrats are doing about the border or crime, the premise of the question is wrong. The question should be, "Why are Democrats inflicting these pathologies on the country?"
Mr. MacIntyre succinctly explains a lot in this brief tweet.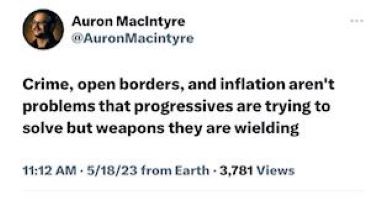 *****
Communists Incentivize That Which They Try to Prohibit
Leftists have a strange habit of passing laws that incentivize the opposite of what they are trying to accomplish. For instance, here in America, Corporate Average Fuel Economy regulations killed off compact wagons and trucks, pushing people instead into larger, less fuel-efficient trucks and SUVs.
A new law went into effect this month in France, banning air travel on routes for which a train can get a traveler to the same destination in 2.5 hours or less.
France Has Banned Short-Haul Domestic Flights [CBS – 5/24/2023]
The practical effect is that some domestic flights from close-in Orly airport (on the south side of Paris) are now banned, while still allowed from Charles de Gaulle airport ("CDG") on the northern outskirts of town. One such route is to Bordeaux, so if you are in central Paris, you must burn the extra carbon to get out to CDG so you can catch a non-stop flight.
Even more nonsensical, you can still fly to a prohibited city so long as you take a convoluted route and change planes along the way, again burning more carbon.
For example, the direct route from Paris to Lyon in eastern France, capital of gastronomy and a business hub, used to take under an hour from Orly. That route has been canceled as it was considered wasteful. You can still fly from Orly to Lyon — but you have to fly via Nice, in the south, changing planes to hop back up to Lyon, for a flight time of three hours, 15 minutes.
By the way, I do not care that more carbon will be emitted in France's efforts to reduce carbon emissions, but I do marvel at how consistently the eco-communists worsen the "problems" they are trying to solve.
*****
Elon Musk Paraphrases "Mannix's Razor"
We've had some fun discussions about various "razors" in Morning Rants, discussing the famous ones and proposing some of our own.
As an alternative to Hanlon's Razor, ("Never attribute to malice that which is adequately explained by stupidity.") our own Joe Mannix came up with a razor, that is both spot on, and also typical of his acerbic wit.
Mannix's Razor: "Never assume that malice and incompetence are mutually exclusive."
Elon Musk has now come up with a variation of this. Perhaps we should call this:
Musk's Corollary to Mannix's Razor: "Incompetence, in the limit, is indistinguishable from sabotage."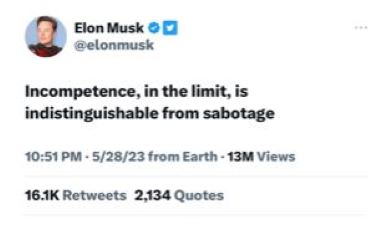 *****
You Are the Carbon They Are Trying to Eliminate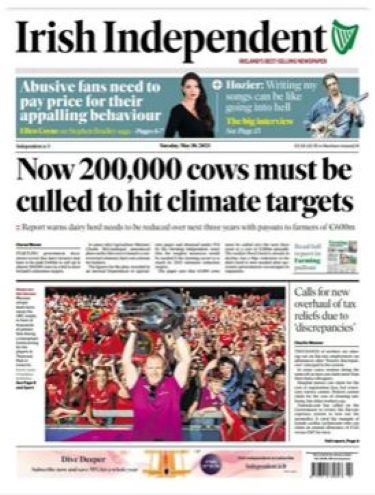 Revealed: €600m Budget Needed to Meet Climate Goals
Up to 65,000 dairy cows may have to be removed from the national herd every year for three years at a cost of €200m if the farming sector is to meet its climate targets.
Having an agricultural sector that can keep its citizens fed is clearly no longer a "target" or a "goal" of the climate communists who have seized western governments and are ratcheting up their anti-civilizational agenda.
I'll keep saying this, because it's true…the Mission Statement of the leaders of the climate cult is, "Some of you will have to die, and that is a sacrifice we're willing to make."
*****
Songs of the Season
Rainbows are such a beautiful natural phenomenon. They have enchanted, inspired, and puzzled humans for as long as we've trod this Earth.
The word "rainbow" will be spoken a lot this month, but I refuse to participate in its hijacked meaning. Rainbows have nothing to do with bedroom behaviors, and everything to do with the natural splendor of God's creation.
I still gaze in awe when I see a rainbow, and I understand why it has served as a muse for so many writers and poets.
Here is a simple and beautiful duet of Somewhere Over the Rainbow performed by The Light Parade.
Wishing you all a safe and blessed Fidelity Month.
buck.throckmorton at protonmail dot com

posted by Buck Throckmorton at
11:00 AM
|
Access Comments