« Tara Reade: The Biden DOJ Openend An Investigation Into Me In 2020, and May Indict Me At Any Time
|
Main
|
Mental and Emotional GAINZZZ »
June 02, 2023
The Daily Wire Takes Up Elon Musk's Offer to Use Twitter As if It is a Free Speech Platform and Exhibit the Film What Is a Woman? -- But Twitter Employees Demand the Film be Censored, or Face Being Labeled "Hate Speech" and Shadowbanned
Shadowbanned, again. Seems like old times.
Jeremy Boreing @JeremyDBoreing

Twitter canceled a deal with @realdailywire to premiere What is a Woman? for free on the platform because of two instances of "misgendering."

I'm not kidding.

Here's what happened:

2/16 One year ago today, we released What is a Woman?. To celebrate the occasion and expand the movie's already enormous impact, we decided to give it away for free for 24 hours on Twitter.

3/16 With Twitter's recent commitments to free speech, we thought it would be the perfect place to distribute the film and drive the conversation forward on one of the most important topics of our day.

4/16 Twitter responded with enthusiasm and offered us the opportunity to buy a package to host the movie on a dedicated event page and to promote the event to every Twitter user over the first 10 hours.

5/16 We accepted and signed an agreement. After we signed, Twitter asked to see the film to better understand what parts may "trigger" users, so they could better prepare their response. They said they were still all hands on deck for launch, so we sent them a screener.

6/16 After reviewing the film, though, Twitter let us know that not only could we no longer purchase the package they offered, they would no longer provide us any support and would actually limit the reach of the film and label it as "hateful conduct" because of "misgendering."

7/16 Specifically: In the film, a father refers to his 14-year-old daughter as "her," and a store owner uses the "wrong" pronoun in a confrontation with a trans person.

8/16 We reminded Twitter they removed "misgendering" from their policy, that the term "misgendering" itself is misleading, and that enforcing such a policy places them on the side of the most radical elements in society - the side most opposed to their commitment to free speech.

9/16 Twitter clarified they only removed "misgendering" from their policy because they didn't need to be that specific, but that they still consider "misgendering" abuse and harassment.

They gave us the opportunity to edit the film to comply.

We declined.

10/16 When we asked how much they would limit the visibility if we posted the film anyway, Twitter replied that our own followers would not be able to see it in their feeds. This, they said, is part of their "speech not reach" policy.

11/16 Of course, saying "you have the right to speak, but we'll make sure no one hears you" is a bit like saying "you have the right to cast a vote, but we'll make sure it isn't counted." That's not a right at all!

12/16 We brought all our shows to Twitter Tuesday because we believed Twitter was committed to free speech, especially on this issue.

After all, the @TheBabylonBee was silenced on Twitter over this very issue, and that in part prompted @elonmusk to purchase the platform.

13/16 The other tech platforms have already decided where they stand in the trans debate and demonetize and deprioritize all those who disagree.

Now, Twitter has joined the ranks of the other tech superpowers in ensuring one side of the debate is suppressed.

14/16 @elonmusk is not beholden to conservatives. He has the right to run his business as he sees fit. But if Twitter is going to throttle one side of one of the most important debates facing society, it cannot claim to champion free speech.
In the video below the fold, Matt Walsh says that Twitter representatives conceded that the ban on "misgendering" had been struck from Twitter's rules -- but they had only removed the clear banning of "misgendering." They still enforced the rule of misgendering, only secretly, without alerting anyone to the practice!
So that's what "free speech" looks like -- we'll just lie to you about the reasons you're being censored and throttled.
Many people who have signed up for the "Twitter Blue" service at $8 per month, or even the corporate service for a higher cost, threatened to cancel their subscriptions if Elon Musk did not fix this.
Elon Musk said this was a mistake:
Elon Musk @elonmusk

This was a mistake by many people at Twitter. It is definitely allowed.

Whether or not you agree with using someone's preferred pronouns, not doing so is at most rude and certainly breaks no laws.

I should note that I do personally use someone's preferred pronouns, just as I use someone's preferred name, simply from the standpoint of good manners.

However, for the same reason, I object to rude behavior, ostracism or threats of violence if the wrong pronoun or name is used.

However, the minute the exhibition of the movie started, Twitter slapped a hateful content warning and announced that visibility would be "limited" -- throttled, shadowbanned, with people prevented from finding it (I couldn't find it when I searched for it, intending to watch it.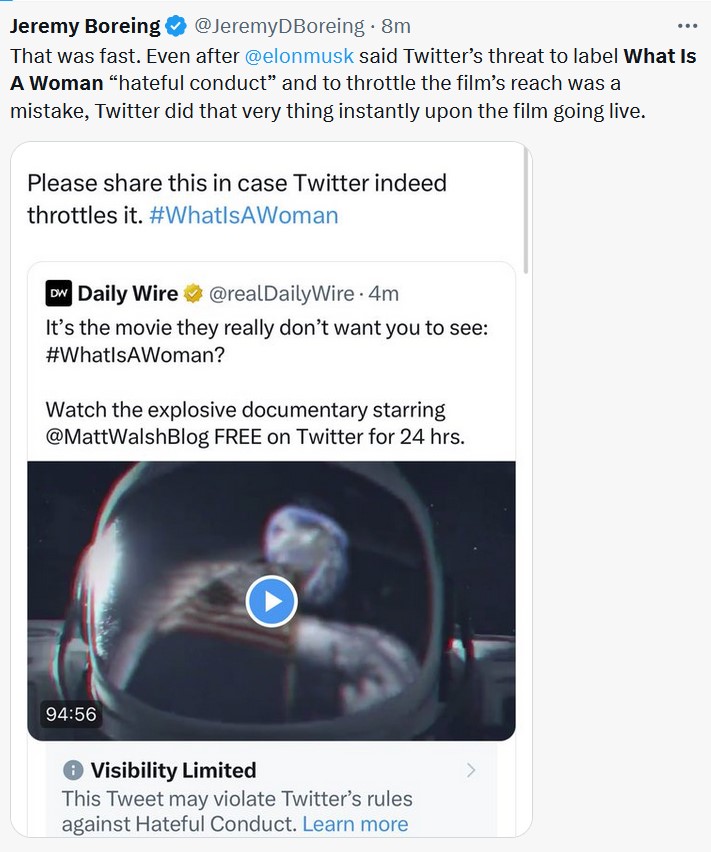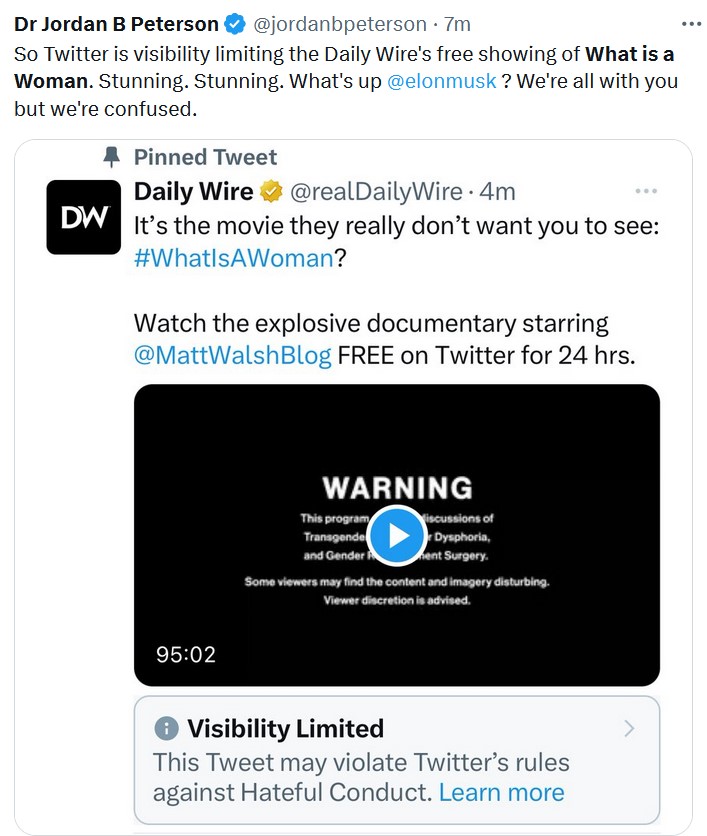 Matt Walsh @MattWalshBlog

Our film got 3500 retweets in two minutes and then Twitter flagged it as hate speech and shut down retweets. They are terrified of this film.
A report from FilmLadd: Musk was part of the decision to censor the movie. He was in a Twitter spaces (a Zoom call, basically) with Jeremy Boering, and Musk gave the order to throttle the movie and label it hate speech.
FilmLadd @FilmLadd


Woah! @JeremyDBoreing says in a twitter space that the @Twitter people who cancelled Daily Wire's #WhatIsAWoman said @ElonMusk was in the room and approved of the cancellation
She resigned, huh? I assume she resigned because even allowing the movie to run was a violation of her leftist principles.
Either Musk's a liar, or his employees are insubordinate, or he just isn't actually in control of Twitter any longer. Maybe he had to sign away any rights to manage the company to get loans or something.
Whatever the story, it appears that Twitter is enemy comms and always will be -- and Elon Musk paid $44 billion for nothing. (It's now said to be worth one third that, thanks to advertiser boycotts.)
Sean Davis predicted this back in March, when Elon Musk continued peddling the censors' line that "freedom of speech doesn't mean freedom of reach" -- in other words, shadowbanning and throttling doesn't count as censorship, and Twitter will continue using these methods to stifle conservative speech.
And that, as they say, is that.
Update: Maybe that's not that. Taq says Elon Musk himself tweeted out the link, which exposed it to, who knows, 100 million people?
Ace, regarding the sidebar story claiming Musk -- himself -- is shadowbanning and otherwise stifling Matt Walsh's movie:

https://is.gd/UGSdlh

"Elon Musk

@elonmusk
Every parent should watch this"

Retweets Daily Wire and embeds the whole movie. And since it's a Musk tweet it's gone even more viral than before. It looks to me like Musk is doing this as an end-run to get around the restrictions his handlers -- not him -- have imposed.

I don't know what else could explain what he just did here, other than he's not really in charge at the back end. Same folks as before are pulling those levers.

Posted by: Taq, Rickrolled by Jesus

posted by Ace at
02:00 PM
|
Access Comments