« Christopher Wray: Since You Are Now Threatening Criminal Charges Against Me, I'll Allow Two Congressmen, Including Leftwing Firebrand Jamie Raskin, to View a Heavily-Redacted Version of the Bribery Document. How's That?
|
Main
|
Foxweiser Has Lost 32% of Primetime Viewers (44% of the Younger Viewers Advertisers Are Interested In) »
June 01, 2023
NBC "News:" You Lower-Order Ruffians Are Not Permitted to Make Fun of a Noblewoman Like AOC. Why, It Simply Isn't Done!
A couple of days ago, Donkey-Chompers complained that someone was making fun of her on Twitter. With Elon Musk's support, if you can believe that!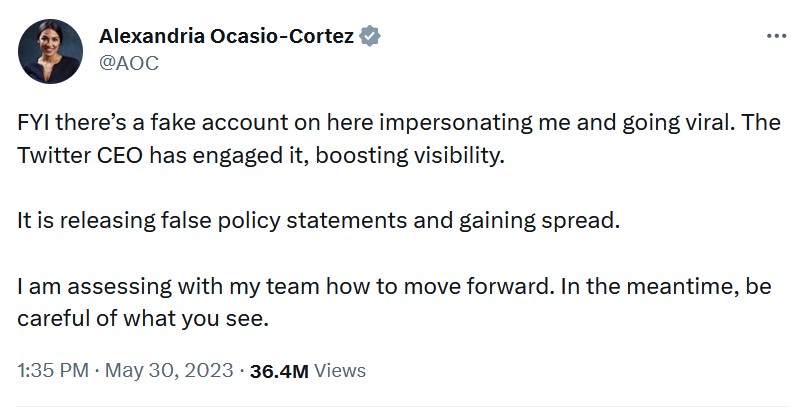 Oooh, she's exploring her legal options. Legal options to stop an American citizen from making fun of a member of the 1788 French Aristocracy.
You might think, "Well, if it's impersonating her, that's against the rules."
It's not impersonating her. It repeatedly discloses it's a parody account: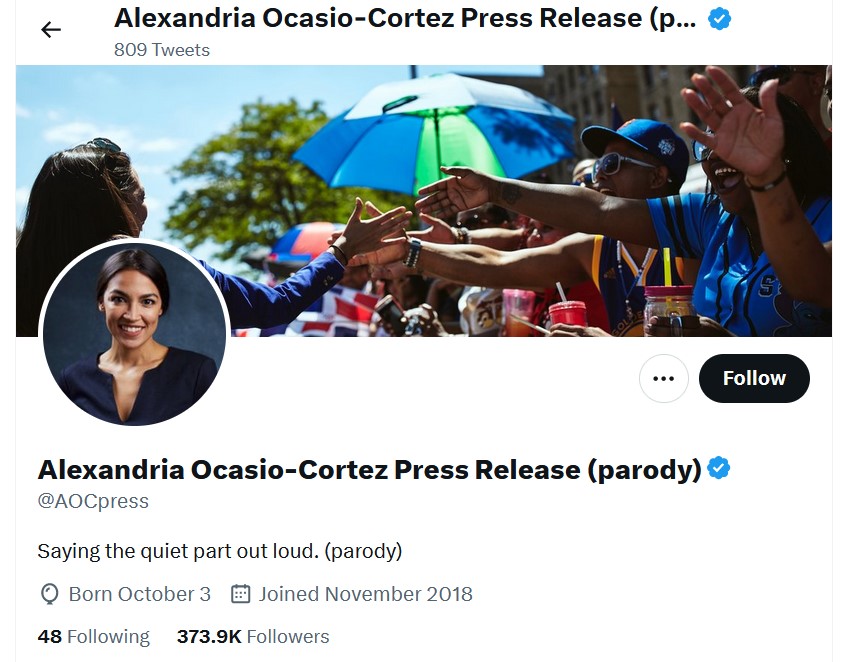 The Ditzy Damsel in Distress shouted for her White Knights to come and protect her from these rabblous ruffians, and NBC "News" assigned not one but two "journalists" to defend the Red Queef's honor.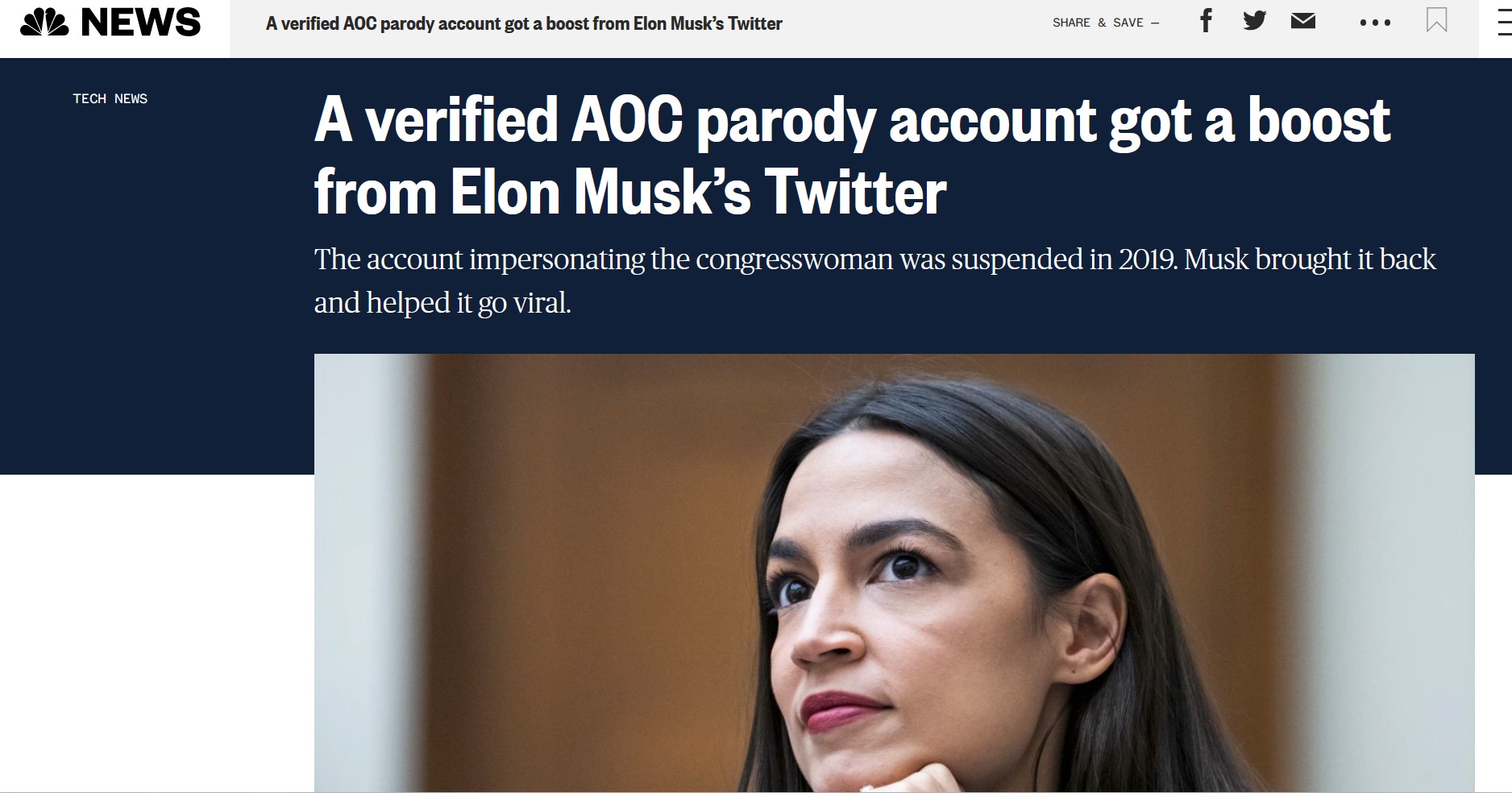 NBC News is getting flamed online after it posted an in-depth analysis of a joke account mocking Rep. Alexandria Ocasio-Cortez.

"A Twitter account mocking Rep. Alexandria Ocasio-Cortez has skyrocketed in followers and engagement over the last two days, with some help from Elon Musk," NBC News tweeted on Wednesday.

The parody account has gone viral in recent days, only growing in popularity after Ocasio-Cortez lashed out at the poster in a tweet Tuesday.

"FYI there's a fake account on here impersonating me and going viral. The Twitter CEO has engaged it, boosting visibility. It is releasing false policy statements and gaining spread. I am assessing with my team how to move forward. In the meantime, be careful of what you see," she wrote.

Some users pointed out that while the parody account uses the same photo as the congresswoman, it makes it clear to Twitter users that the account is fake, posting under the name "Alexandria Ocasio-Cortez Press Release (parody)."

"I can't believe people would think these parody tweets are from our office when they are clearly fake. Come on y'all you know I would never say something as stupid as that," the parody account joked in response to Ocasio-Cortez's criticism.

Journalists and political commentators also poked fun at NBC News' detailed analysis of Ocasio-Cortez's parody account, with defense attorney Marina Medvin asking the outlet if there was not anything more important to cover.

"Slow news day?" Medvin asked NBC News.
Not at all -- this is NBC's regular "reporting." A never-ending campaign to squelch speech critical of the Maoist left.
Lèse-majesté: an offence against the dignity of a ruling head of state (traditionally a monarch but now more often a president) or the state itself.

Posted by: Hadrian the Seventh

posted by Ace at
01:21 PM
|
Access Comments