« Jim Biden Emailed a Crack-Addled Hunter, "I Can Work With Your Father Alone" on the Business Deals With Chinese Agents
|
Main
|
The Cost of Foxweiser's Firing of Tucker Carlson: One Million Viewers Every Night »
May 30, 2023
Pictures and Videos Show Shelves Overflowing With Unwanted Cases of Bud Light Through the Memorial Day Weekend
Oh well, Memorial Day weekend isn't a big beer-drinking holiday.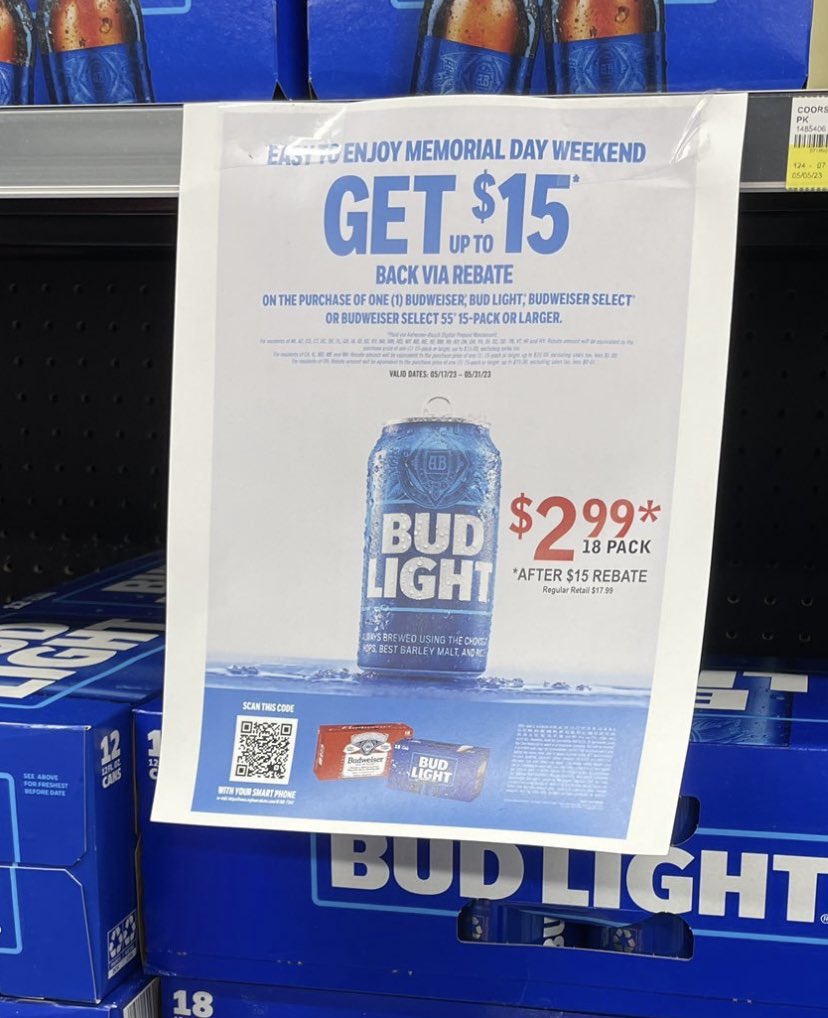 Shoppers share videos of unwanted cases of Bud Light sitting untouched on grocery store aisles over Memorial Day weekend

Bud Light Beer is experiencing a significant decline in sales across the nation, as supermarket shelves remain fully stocked on Memorial Day weekend

The drop is sales is a result of the backlash faced by parent company Anheuser-Busch over their use of transgender influencer Dylan Mulvaney in recent ads

Social media users have been sharing images of shelves packed full of Bud Light in supermarkets, highlighting the negative impact on sales

Aisle after aisle in supermarkets across the nation appears to confirm that Bud Light is far from being the flavor of the week.

On what is considered by many Americans to be the unofficial start to summer, instead of shelves looking depleted from a Memorial Day weekend of partying and drinking, rows of store shelves sat packed with Bud Light and Budweiser in posts shared on social media.

Following the backlash over the use of transgender influence Dylan Mulvaney by parent company Anheuser-Busch to promote Bud Lights, the company has seen its market value tank.

The hit has been anecdotal and in actual sales, which have fallen 26 percent since the backlash started in early April.

The controversy left social media users documenting the company's carnage in real-time and the dramatic effect it is having on their sales.

Users across the country posted supermarket shelves stocked with Bud Light in their local stores, which appear to have been left completely untouched, as once loyal drinkers turn away from the brand.

Bud Light sales fell for the sixth consecutive week with retailers slashing prices -- with one store charging $3.49 for a 24-pack and another offering a rebate that would see the beer being sold for free.

'This could be a promotional summer the likes we haven't seen since after Hurricane Katrina in 2005, where there was so much beer inventory backed up in the trade that it initiated the price war of all price wars,' Beer Business Daily stated in a recent report.

Bud Light volumes for the week ending May 13 fell 28.4 percent, following a 27.7 percent drop the prior week.
DC_Draino posted this picture. I'm not sure it's from Memorial Day, as I've seen pictures like this before -- but it could very well be a fresh one. All pictures of the shelves fully stocked with Bud Light of course all look alike.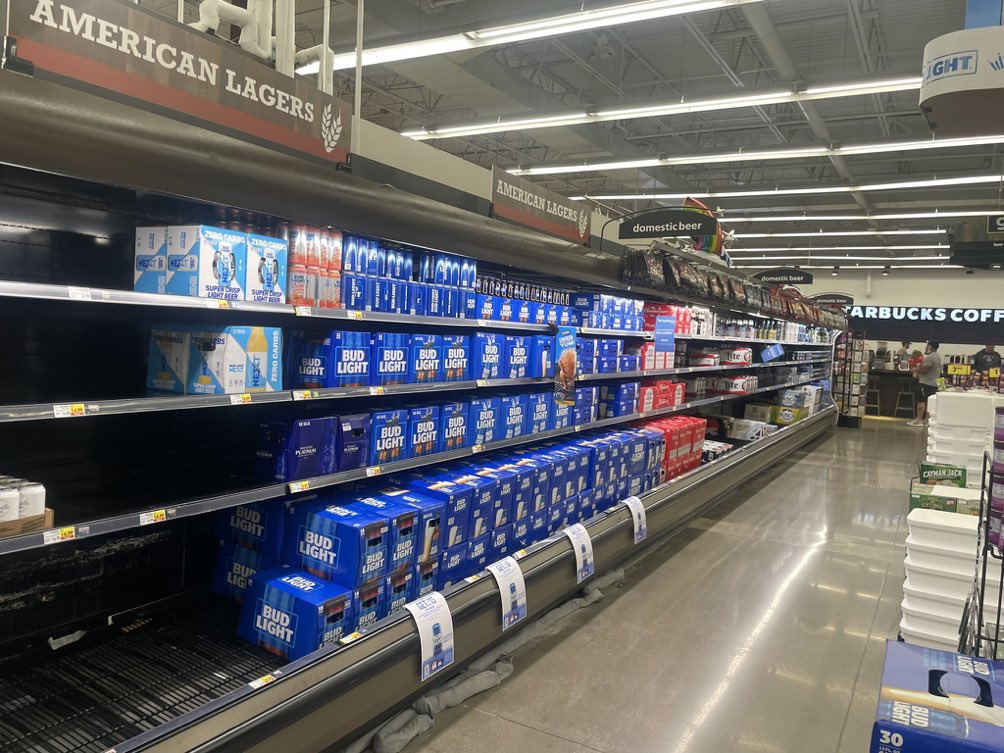 From Wall Street Silver: The shelves are almost empty of beer... except for the Anheuser-Busch section.
More pics at the Daily Mail article.
A leftwing ESG promoter says that corporations shouldn't be "beholden" to their customers, but only to the ESG agenda: "Investors are not going to look at a 6 week stock drop from one company (Bud Light) as something that is really that important." We'll see about that on Labor Day.
Rita Pahani reports on the boycott, and notes that Australian companies have to start worrying that trans propaganda is no longer a "cost-free exercise."
MSNBC calls this "economic terrorism -- literally terrorism."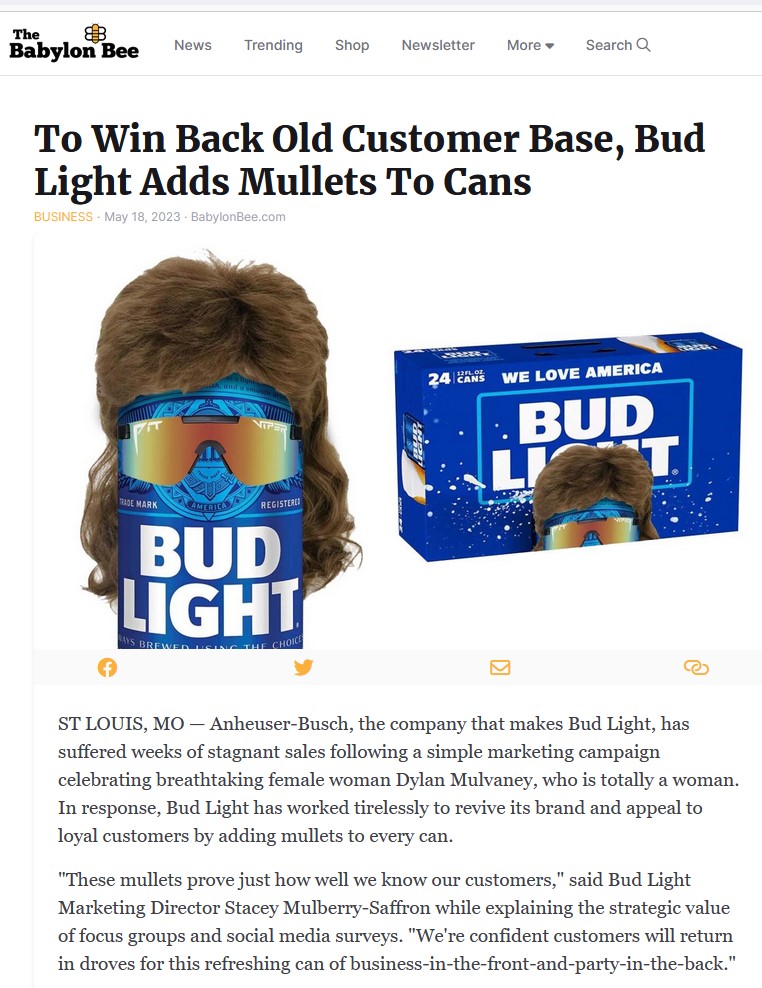 posted by Ace at
01:13 PM
|
Access Comments