« Daily Tech News 30 May 2023
|
Main
|
Mid-Morning Art Thread »
May 30, 2023
The Morning Report — 5/30/23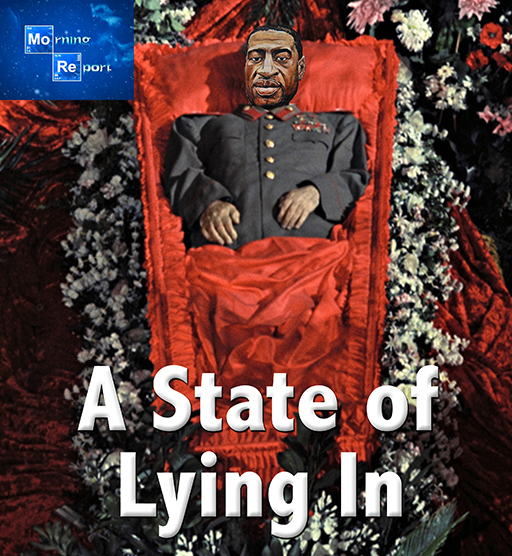 Good morning, kids. Hope you all had a good Memorial Day weekend. Lighter than usual on the links and yesterday was somewhat beefier mostly because of the "deal" to raise the debt limit. Today, let's focus in on a couple of "local crime stories" as the propagandists always say to deflect from something that redounds badly on them.
Speaking of the propagandists, three years ago this past weekend, cities and towns across America erupted in an orgy of unexpurgated violence, which the government-approved stenographers infamously described as "mostly peaceful demonstrations" over the death of George Floyd. Along with describing government sanctioned and/or nod-and-a-wink approval of the violence, George Floyd was portrayed as an innocent, hardworking man who was murdered at the hands of an evil racist white cop named Derek Chauvin who dispatched him by grinding a knee into the helpless man's neck. Yet another example of structural racism by a system designed to commit genocide against blacks.
By now, the truth has come out that George Floyd died while resisting arrest. Despite the video footage (Chauvin's knee was actually on Floyd's shoulder), the coroner's report showed no evidence of trauma to his neck. He died because his horrible middle-aged health was made that much worse by struggling while resisting arrest, on top of ingesting his stash of crystal meth rather than face a third strike for possession. This after fleeing from the scene of a store where he tried to push a queer Jackson. But, let's not let facts get in the way of a good story. Especially one that enables the Leftists to further divide and conquer.
The twin torpedoes of the wave of "mostly peaceful" urban terrorism on top of the lockdowns and their attendant depredations against our civil liberties that stripped away whatever veneer of election integrity laws that might have existed gave the Left the edge in unseating, and in fact, overthrowing what would and should have been the clear, if not landslide, re-election of Donald Trump.


The rioting that began on May 29, 2020 at Lafayette Square prompted the lockdown of the White House; Donald Trump, his wife, and teenage son were ushered to an underground bunker for their safety as looters and arsonists repeatedly tried to scale the fence and break through police barricades erected outside the White House.

And what started that night in 2020 didn't just last a few hours, as was the case with the Capitol protest. On June 1, rioters burned part of St. John's Church, an historical landmark across from the White House, and set ablaze other areas of the public park.

Chaos continued throughout the summer with the president, his family, and White House staff under constant threat. Police arrested 11 people at Lafayette Square in July 2020 for various offenses including assault of a police officer. "The Tuesday night incidents that stretched over hours are the latest confrontations to transpire near the White House, where protesters have been gathering daily for more than a month to protest for racial justice after the killing of George Floyd in the custody of Minneapolis police," the Washington Post reported on July 8, 2020.

After Trump accepted the GOP nomination for president on White House grounds in August 2020, rioters chased Republican lawmakers, including Senator Rand Paul (R-Ky.) and his wife, leaving the event. Some assaulted police in an attempt to get near members of Congress; Rep. Brian Mast (R-Fla.), who lost both legs and a finger in Afghanistan, was surrounded and shouted down by Black Lives Matter protesters as he tried to get home.

Elected officials weren't the only targets of rage-filled activists occupying the heart of the nation's capital that year. Trump supporters, including young families with children, were attacked by BLM and Antifa rioters during pro-Trump rallies in November and December 2020.

But the violent demonstrations at Lafayette Square represent the closest comparison to January 6: clashes between federal police and protesters on federal property. An Interior Department inspector general report detailed the turbulent situation at Lafayette Square that endangered police and the president for days . . .

. . . Not only has Graves not charged any suspects involved in the 2020 riots under his watch, but his office also helped negotiate a settlement between the Justice Department and Lafayette Square rioters, who sued the government for violating their civil rights during what Graves called "racial justice demonstrations in Lafayette Square." The settlement with Black Lives Matter D.C. required Park Police and Secret Service to update their policies to protect those who "peacefully exercise their First Amendment rights."

First Amendment rights these days are in the eye of the beholder—or in this case, the lead government prosecutor who decided to turn a blind eye to a six-month campaign of terror in the nation's capital in 2020 so he could keep his sights on people who participated in a mostly nonviolent, comparatively brief protest on January 6.

Clearly, all "sieges" are not created equal.
By the way, and it's a rather salient point to consider, the wave of Burning Looting and Murdering in the wake of Floyd's death was more than likely not spontaneous. If the first outbreaks were, then the command structure such as it is of BLM and Antifa cadres instantly sprang into action and organized the wave of violence. What started in Minneapolis then sprang up one by one across the nation, not all at once. And it would not surprise me in the least to learn that the FBI and DOJ more than likely have agents within the ranks of these political terrorists to help instigate the riots. Think Ray Epps with extra melanin.
So now, three years later, in the wake of that incident, an entire political movement and major party platform of the Democrats sprang up: Defund the Police. Unfortunately it unleashed a wave of government approved anarcho-terrorism that effectively handcuffed, pun intended, police from doing their jobs and kept the citizenry in fear. Ironically, mostly the same "communities of color" and "marginalized" people the Left claim to defend, but also the citizenry in general.
And woe betide anyone who dares commit the capital offense of self defense, as in the case of Daniel Penny. Which brings me to the local crime story of the day that I guarantee you will not be covered in the junta's house organs.
A man was slashed in the arm inside a Manhattan subway station on Monday before stumbling onto the tracks, cops said.

The suspect pulled a "cutting instrument" after he and the victim got into an argument while standing on a northbound F train platform inside the Second Avenue station around 5:30 p.m., cops said.

The victim stumbled onto the roadbed after he was slashed on the right arm, but was able to pull himself back up to safety, law enforcement sources told The Post. He was rushed to Bellevue Hospital in critical condition, the NYPD said.

The assailant fled from the station. No arrest has been made. The suspect was last seen wearing a gray shirt and black Adidas pants with white stripes, sources said.
What does this have to do with the price of tea in China, you ask? Aside from the fact that incidents like this that were rare within living memory are now commonplace, the attack took place in broad daylight, on the same subway line and just one station from Broadway-Lafayette. Where a beloved, decent, sweet, innocent-as-the-day-is-long Michael Jackson impersonator who wouldn't hurt a fly and gave joy to otherwise harried straphangers was snuffed out for no reason at all, except that he was black, by an evil, white supremacist, violent Marine named Daniel Penny.
Want to bet that the slasher in this story is more than likely heavily pigmented?
As an aside, though not really given the state of our society and proclivities of the junta in power, Jane Fonda has a solution for people like Daniel Penny. A "final" one, IYKWIMAITYD.
ABOVE THE FOLD, BREAKING, NOTEWORTHY
Robert Spencer: "So first, she wants to kill the pro-lifers. Then she wants to imprison all the white men. In Jane Fonda's world, there would then be a new dawning of justice, equity, and peace. In the real world, of course, the outcome — despite Hanoi Jane's obvious love for the political system that gave us the gulags and Democratic Kampuchea — would turn out to be less to her liking than she likely expects."
Hanoi Jane Fonda Has a Novel Way to Solve the 'Climate Crisis'

Julie Kelly: "D.C.'s lead prosecutor has turned a blind eye to a six-month campaign of terror in the nation's capital in 2020 so he could keep his sights on the mostly nonviolent protesters
of January 6, 2021."
Three Years Later, No Justice for BLM Insurrection in D.C.

"The backbone of Britain. . . In the year 2023, indeed, he's the closest thing that his country has to Winston Churchill. When will the moral pygmies who run his country, and who consider themselves his betters, recognize it?"
Three Cheers for Tommy Robinson
CIVIL WAR 2.0: J-6 FBI FALSE FLAG "RIOT" & AFTERMATH, LEFTIST PERSECUTIONS, DEMOCRAT PUTSCH, AMERICAN DISSOLUTION
NOTE: The opinions expressed in the links may or may not reflect my own. I include them because of their relevance to the discussion of a particular issue.
ALSO: The Morning Report is cross-posted at CutJibNewsletter.com if you want to continue the conversation all day.
Follow us on Twitter: @CutJibNews
Follow us on Instagram: @Cutjibnewsletter
TIP JAR : Your support helps keep the lights on and is truly appreciated. Note: We are on Stripe, not PayPal.

posted by J.J. Sefton at
07:36 AM
|
Access Comments