« Mid-Morning Art Thread
|
Main
|
"When You Go Home, Tell Them of Us and Say, For Your Tomorrow We Gave Our Today" »
May 29, 2023
THE MORNING RANT: AB Distributor Abandons Bud Light to Promote Alternative Light Beer; Other Musings on Being a Franchisee/Distributor for a Woke Corporation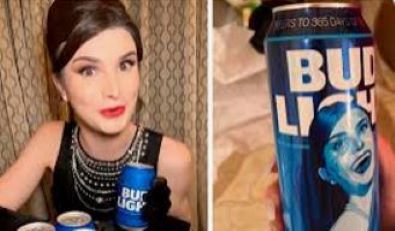 You've read all the reports about the catastrophic drop in Bud Light sales since Anheuser Busch (AB InBev) slandered its loyal customers as being the wrong type of people, and then decided to make a celebrity cross-dresser the face of the product.
A major re-branding, or an all-new replacement light beer, is likely the resolution that AB will have to pursue.
A story from Tennessee shows just how damaged the Bud Light brand is. For decades, one of the stages at Chattanooga's downtown summer music festival has been "The Bud Light Stage," sponsored by the local AB distributor.
No longer.
Chattanooga Riverbend Festival's Bud Light Stage now called Ultra Stage [5/16/2023]
Change has been the name of the game for the Riverbend Festival in recent years, and the changes keep coming as the Bud Light Stage has been renamed the Ultra Stage.
Michelob Ultra is another light beer produced by AB. The change in the name of the stage's sponsor was made at the request of the local AB distributor.
The rebranding of the "Bud Light Stage" to the "Ultra Stage" reflects more than just how toxic the Bud Light brand is. AB distributors need to sell beer, and any money spent promoting Bud Light is going to be wasted. While AB as a whole is being hit hard, its other brands are not as radioactive as Bud Light.
Selling Bud Light nowadays is like selling Ford Pintos in the late '70s, when that car's reputation was permanently marred as being prone to gas tank explosions. Fair or not, Pintos became a joke, which was very difficult for the dealers trying to sell them. The arrival of the Ford Escort in 1980 was a re-birth for Ford and for its dealers.
Until AB comes out with a Bud Light replacement, it makes perfect sense for AB distributors to abandon any marketing efforts for Bud Light and instead use those dollars to steer disaffected customers to other AB products (or to competing products that they also distribute.)
*****
Fortunately for most Anheuser Busch distributors, they carry a wide array of products, so the death of just one label need not be a bankrupting event.
But it's sad that those most invested in AB's products aren't the executives and marketers who are actively destroying the company in support of cultural communism. Distributors' actual survival depends on AB remaining a major player in the beer industry. Destructive managers at AB will just get golden parachutes and move along.
Anheuser Busch's CEO, Brendan Whitworth, is an Ivy Leaguer who worked at the CIA, and in just a few short years after hiring on at AB, he somehow leapfrogged all the AB lifers who were truly committed to the company. Under Whitworth's leadership, AB hired more Ivy Leaguers - who openly discuss their contempt for Budweiser's actual customers - to remake the company into something that would impress the communists in Davos. Thus, Alissa Heinerscheid was hired to insult Bud Light drinkers and to make its image more gender fluid.
Budweiser distributors need AB to be successful. Whitworth and Heinerscheid don't. If their mismanagement completely destroys AB in the United States, they will still be feted in Davos and have any number of opportunities to further enrich themselves in the government / globalist nexus.
As I've pointed out several times, this same situation is playing out at Ford and General Motors. The CEOs of Ford (Jim Farley) and GM (Mary Barra) have committed that those companies will be electric vehicle manufacturers, period. Failure at the EV business will mean the failure of Ford and GM.
But again, Farley and Barra will be globalist celebrities even when their EV efforts go bust. Perversely, they would face shame from their globalist peers if they steered their companies to prosperity by making internal combustion vehicles and shunning EVs.
When Ford and GM are bankrupt, and when its abandoned dealerships litter the landscape, Farley and Barra will still be held up as the ideal for corporate executives.
So what should you do if you are a Ford or GM dealer, or an AB InBev distributor?
If it were me, I would sell my franchise. You don't have to place your financial fate in the hands of cultural communists who hate your customers and who will personally prosper from destroying the product that you sell. Anyone who buys your franchise can do the risk analysis and if he chooses to buy your operation, he will have made a risk / reward decision.
It's not that much different than the housing decision many of us have made in our lives. We see our neighborhood, or our schools, or our city deteriorating. We had hoped things would improve, but finally decided it was best to sell. Meanwhile, the buyer determined that at the price he was paying, the risk of crime or deteriorating property values was one he'd take.
Good luck to franchisees of woke corporations. That's a dependency I would not want right now.
Personally, I'm cheering for woke capital to suffer a mighty backlash, be it Target, AB InBev, GM, etc. If they go out of business, I won't grieve their passing. I'm sorry for the franchisees and distributors of their products. I presume they were pushing back against the woke insanity, but clearly they didn't push back hard enough to make a difference.
[buck.throckmorton at protonmail dot com]


posted by Buck Throckmorton at
11:00 AM
|
Access Comments