« The Morning Rant: Minimalist Edition
|
Main
|
DeSantis Signs Law That Strips Illegal Aliens of Their Drivers Licenses; Leftwing #Resistance Media Shrieks That Minorities Are Terrified of DeSantis »
May 25, 2023
Gay Groups Pressure the LA Dodgers to Re-Invite the Anti-Christian, Catholic-Bashing, Pubic-Sex Celebrating "Sisters of Perpetual Indulgence," and the Woke Dodgers Bend the Knee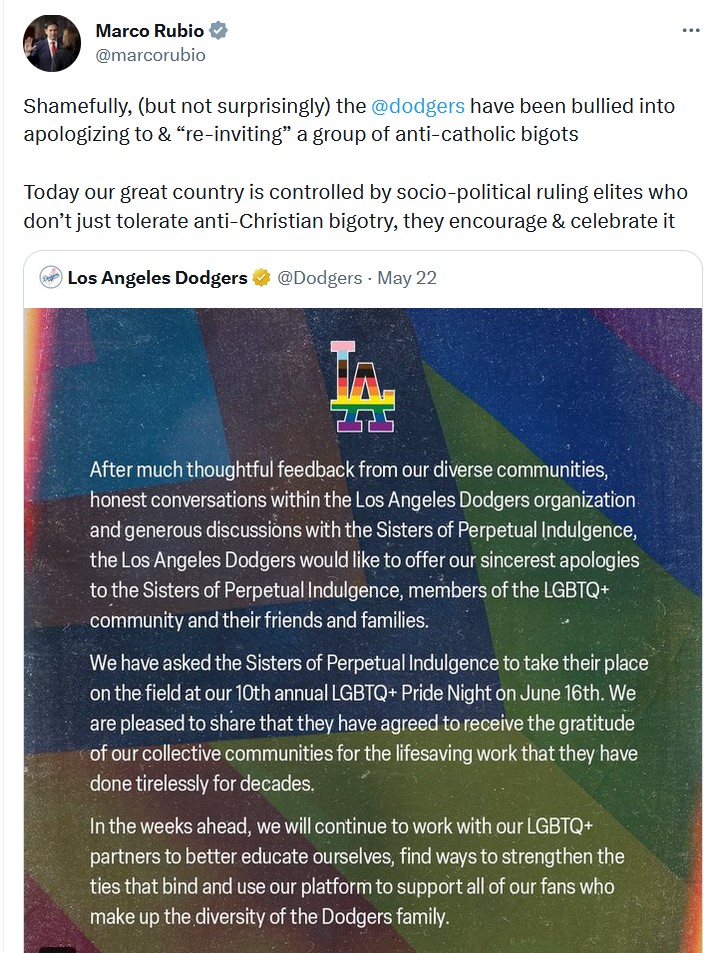 "But baseball is different. They support the troops!"
The Los Angeles Dodgers have indeed proven themselves to be the "Bud Light of Baseball" after backing down to the woke and reinviting the radical, anti-Christian gay and transgender group, the Sisters of Perpetual Indulgence, to their Pride Night on June 16.

Now that the Dodgers have reversed its decision to disinvite the hate group from its gay pride night after acquiescing to Christians who were outraged that the group was set to get a community award at the game, Christians are again mounting efforts to denounce the team for reinviting the LGBTQ group to the game.

...

CatholicVote's decision comes after the team proudly announced that it was awarding the Sisters with its community Hero Award during its forthcoming June 16 gay pride night event.

The Sisters of Perpetual Indulgence is known for dressing in drag queen-inspired nun outfits to mock Catholics, including at pro-abortion rallies, according to Fox News. Dressed as nuns, the group attends parades to push the radical gay agenda.

Catholic League president Bill Donohue blasted the team for "promoting bigotry, not fighting it" with its obscene award for the anti-Catholic group.

"These homosexual bigots are known for simulating sodomy while dressed as nuns," Donohue said. "They like to feature a 'Condom Savior Mass,' one that describes how the 'Latex Host is the flesh for the life of the world.'"

Donohue also noted that the group also calls itself "Sister Homo Fellatio" and "Sister Joyous Reserectum" and pointed out that "only last month, the group held an event mocking the Virgin Mary and Jesus on Easter Sunday."

Archbishop Salvatore J. Cordileone @ArchCordileone

Our Catholic sisters devote themselves to serving others selflessly. Decent people would not mock & blaspheme them. So we now know what gods the Dodger admin worships. Open desecration & anti-Catholicism is not disqualifying. Disappointing but not surprising. Gird your loins.
The North Face company (Paul Ryan's favorite!) doesn't want your business anymore, Bigots:

posted by Ace at
12:05 PM
|
Access Comments