« Media Research Center Exposes DHS' Funding of Radical Leftwing Groups Which Label Right-Leaning Organizations As Linked to Naziism and Domestic Terrorism
|
Main
|
Study Disproves #ResistanceMedia and Democrat Propaganda That Military People Are Particularly Likely to Become "Domestic Extremists" »
May 26, 2023
The Walt Disney Company is Partnering with a Gay Group Called "EqualPride" to Provide "Diverse Content" for Its Failing Streaming Service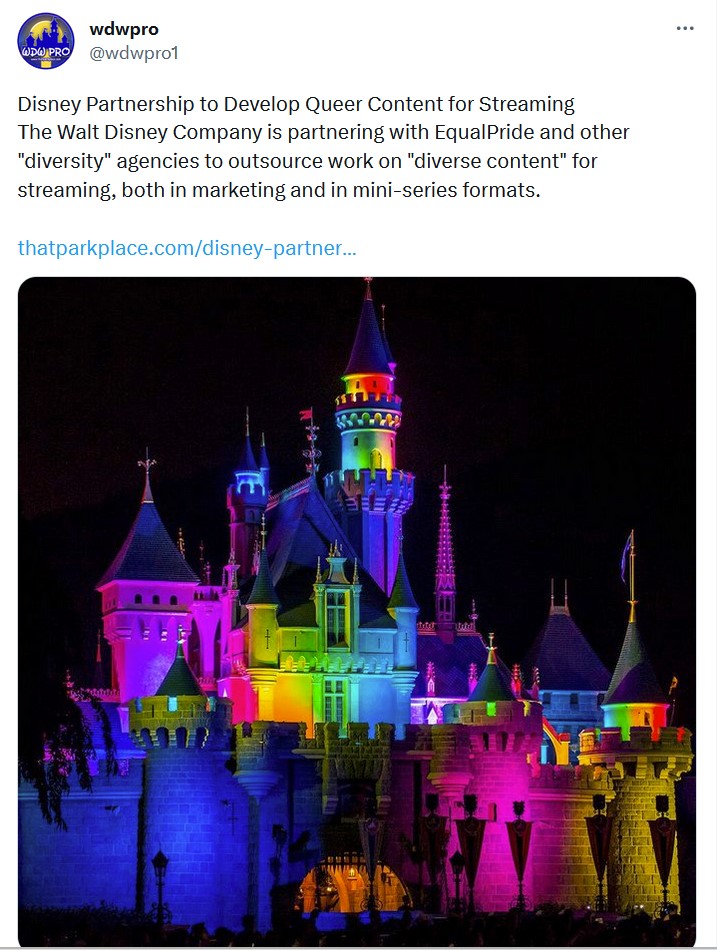 Before getting to that: Disney might be on the way to back-to-back box office bo bs.
A claimed synopsis of Indiana Jones and the Dial of Destiny proves that Kathleen Kennedy hasn't lost that "magic touch" yet!
I won't quote it, in case some of you are worried that you'll have this awful, terrible movie "spoiled" for you.
Here's a spoiler: It's an embarrassment and Kathleen Kennedy will be given another huge bonus for it because she's a Privileged White Woman and gets graded on the Minority Curve.
No but really, it's being badly reviewed and critics are pointing out that, get this!, the Stronk Empowered Brunette is the real star of the movie, not the old white man (spit).
The BBC review called the film "gloomy and depressing," but that's not the critical takeaway from the pan.

["Dial of Destiny"] has the air of a film passing the torch (or whip) to the next generation. But it does all this in an even gloomier fashion than The Force Awakens did. I'm not sure how many fans want to see Indiana Jones as a broken, helpless old man who cowers in the corner while his patronising goddaughter takes the lead, but that's what we're given, and it's as bleak as it sounds.
And critics are giving the rebooted "Little Mermaid" bad reviews, from "mixed" to "unfavorable." And many are mocking its wokeness.
Disney mocked for 'woke-a-thon' $250M Little Mermaid live-action reboot: with 'drag queen' Ursula, King Triton the environmentalist, mixed-race mermen, and 'affirmative consent' slipped into prince's love song

The Little Mermaid live action remake premiered on Friday to mixed reviews

Many critics accuse Disney of an uninspired repackaging of old content

Others complain of the movie's rewrite to match its progressive politics

By James Reinl, Social Affairs Correspondent, For Dailymail.Com

Disney is under fire for 'wokery' slipped into its live-action remake of The Little Mermaid, which is projected to bring in $100 million for the company despite mixed reviews this Memorial Day weekend.

Critics and audiences have given the reboot of the 1989 animated classic 'average' and 'unfavorable' reviews on ratings site Metacritic. Some bash the makers' efforts to update the film to contemporary social mores.

Naysayers have focussed on tweaks to the plot and lyrics that play around with sex, ethnicity and cultural values to make the 125-minute remake fit with Disney's progressive politics.

In the new version, King Triton, played by Javier Bardem, has developed environmentalist leanings, complaining that humans are polluting the oceans and ravaging his undersea kingdom of Atlantica.

Melissa McCarthy, who plays the villainous sea witch Ursula in the remake, has said her performance was influenced by drag queens -- cross-dressing male comics who have become a lightning rod for America's culture wars.

McCarthy's inspiration may be in keeping with the original, as the original Ursula was based on the famous drag artist, Divine, who appeared in movies from the 1960s to the 1980s.

'I just hope to do every incredible drag queen proud,' McCarthy told Deadline.

Tweaks to the original lyrics are also raising eyebrows.

The song 'Kiss the Girl,' sung by Sebastian the crab, in which Prince Eric smooches Ariel, has been rewritten so the royal secures affirmative consent before puckering up his lips.

In the 1989 version, the crab sang: 'Possible she want you too/There is one way to ask her/It don't take a word, not a single word/Go on and kiss the girl.'

The 2023 version, however, has been updated for the #MeToo era.

'Possible she want you, too/Use your words, boy, and ask her,' runs the new version.

Disney likes to show off its wokeness in America, but they continue releasing racially-scrubbed marketing materials in China. They removed Finn from Star Wars posters; they put Black Panther in a mask so you couldn't see he was black in posters for that movie.
And now, for the Little Mermaid, the poster features the hero in silhouette so you can't tell she's black. Compare the posters for the Chinese market to the one for America: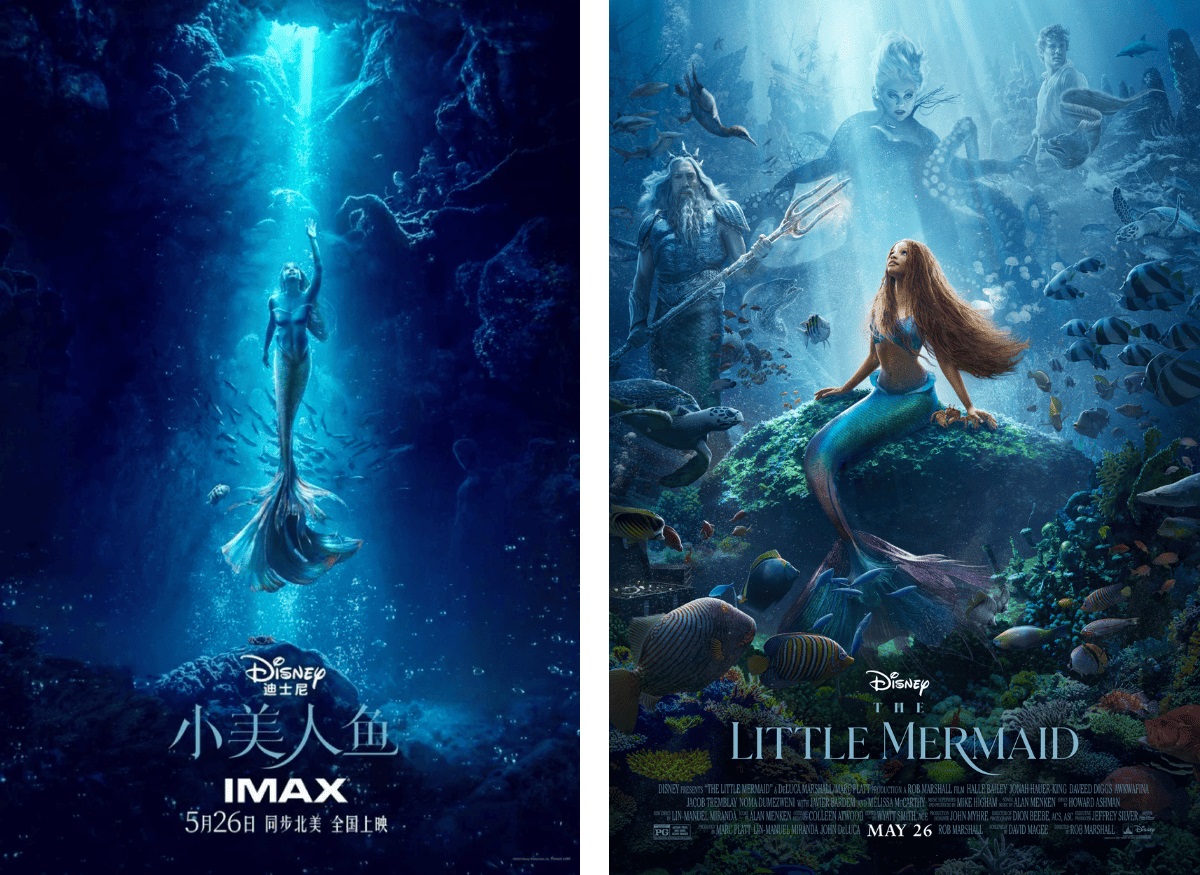 Disney loves challenging/subverting American culture -- but damn, if they don't twist themselves to support Chinese bigotries!
You may or may not have heard about Kathleen Kennedy's Willow reboot. I'm sure you won't be surprised to hear that she gender-swapped the main character, and made her a Stronk Empowered Brunette (like all of Kathleen Kennedy's self-insert characters), and then gave her a Teenage Lesbian Romance to complete the Woke Set.
It was dismally reviewed and had among the lowest ratings Disney Minus has ever seen. (And that's saying something!)
Disney is deleting the show. No, not canceling. Deleting. They are declaring the entire project a loss for tax purposes, which requires that they remove it from their streaming services. You can't say something is a legal loss if you are continuing to (hypothetically) profit off it.
So it's being deleted. Retired forever, put into the vaults to never be seen again.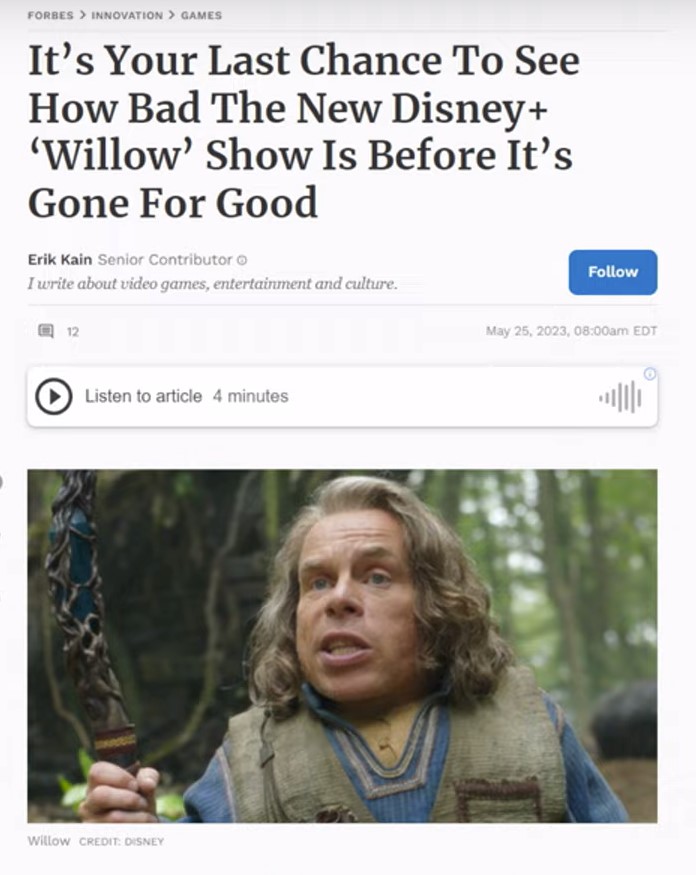 If both Indiana Jones and the Little Mermaid disappoint at the box office, the Deathwatch clock for Bob Iger's firing will start running.
You can't release one woke bomb after another forever, Bobby-Boy.
Bobby-Boy continues tanking Disney and stealing billions of shareholder value as embezzled in-kind donations to his future presidential run as the Wokest Candidate in US history.
But he's got a Not-So-Secret Weapon to restore Disney Minus to its former non-glory: More Queer Content for its streaming "service" !
From ThatParkPlace.com:
The Walt Disney Company is partnering with EqualPride and other "diversity" agencies to outsource work on "diverse content" for streaming, both in marketing and in mini-series formats.

In addition to EqualPride, a company known for having Lexus create ads focusing on progressive propaganda about evolving the American family, Disney is partnering with COCINA, a unit of the parent company MECENAS Media, Group Black and UnitedMasters, Inc., parent company of creative agency Translation. The four agencies will be involved in content creation for Disney's streaming platforms, as well as marketing and advertising efforts.

"In 2021, we took a stand and asked that all of our Upfront deals have specific inclusion commitments. Now in year three, we are still delivering on our intention in the way we collaborate with brands -- 365 days a year," John Campbell, Senior Vice President of Client Partnerships at Disney Advertising said in a statement. "These collaborations are a natural extension of our ongoing commitment to reflect the diversity of our audience, the workforce, and the world in which we do business and are part of our multifaceted, long-term approach to intentionally and authentically reach our viewers."

The decision comes as Disney prepares to also host the largest political gathering of LGBTQIA+ organizations in the world, right in the heart of Disney World.

Disney's public favorability is plunging.
By the numbers: The company was ranked the fifth most polarizing brand of 100 in this year's survey -- measured by the gap between the assessments of Republican and Democratic respondents.

Overall, Disney's Reputational Quotient, or RQ(R), score was 70.9 out of a possible 100. That's down from 73.4 in 2022. The score represents measurements across multiple dimensions that touch on character, trust and trajectory.

Among Democrats, it jumped to 80.3 from 72.5. But it plunged 14 points with Republicans, to 61 from 75.

The average RQ gap between Republicans and Democrats in this year's survey was 4.4. In Disney's case, it was 19.3. While Disney's reputation score has been declining since the 2017 survey, that trend had been bipartisan -- until this year.

...


Between the lines: Disney lost momentum across each of nine attributes measured in the Axios Harris 100 poll -- with the biggest declines among citizenship and growth.

Disney lost 6.2 points in perceptions of future growth, 4.3 points on citizenship ("shares my values" and "supports good causes") and 2.9 points on ethics.

What they're saying: "The lesson here is that when you divide you subtract," said Harris Poll CEO John Gerzema. "When you divide audiences, you're ultimately going to be subtracting customers for your business."

Unlike brands like Patagonia or Chick-fil-A that already are identified with ideological or policy views, Disney "didn't have a track record for speaking out on this issue," came to the issue late and flip-flopped, Gerzema said.

Disney was recently forced to cancel its "Galactic Starcruiser" Hotel, a colossal, embarrassing, humiliating failure. This was a Star Wars themed hotel which was of high-school-glee-club-level quality. The cost was $2,400 per person for a two night "experience," or $6,000 for a family of four (sharing two rooms, I would expect).
Disney chose an odd time to announce they were closing latest Kathleen Kennedy catastrophe.
The announcement about the Starcruiser came as Kathleen Kennedy was entering the theater at Cannes. It seems to have been timed for maximum damage. It's strange that it came from the company that employs Mrs. Kennedy. Make of it what you will.

There were many who said the Galactic Starcruiser was fine. They said that those disenfranchised from Star Wars were just a disgruntled minority -- a bunch of rubes. That can now safely be put to bed. Star Wars is in trouble. The sequel trilogy has damaged the brand immensely. And boutique experiences are no longer manageable for a franchise that has largely sent its most ardent fans packing.

Meanwhile, Nintendo is bringing Mario and Zelda to Orlando (more on the latter soon). We're about to see what true fan enthusiasm looks like.
Go to 1:00 to see the level of quality you're getting for $2,400 per person for two nights (in the middle of Florida).

That video was deleted by Disney.
I saw another video, this one of a "news report" that would play in the "Galactic Starcruiser" hotel. It was literally just a woman in bad makeup reading a script in front of a cheap greenscreen. Semi-pro YouTubers produce higher quality videos.
The "Galactic Starcruiser" cost $2 fucking bil-fucking-lion dollars, and has had trouble attracting even a smattering of guests since it opened.
Weird -- when you deliberately drive off your older, wealthier customer base to pursue a young and poor base who are chronically unemployed and who sit on Twitter all day long posting about #MuhPronouns, you're going to find that you're not able to fill as many $1,200 per night, per person, rooms as you might have expected.
So Disney closed that. Another huge Bob Iger and Kathleen Kennedy failure. They're taking a $300 million tax write-off on the catastrophe.
They also removed the disastrous "Diverse Reboot" Willow from the streaming service -- also taking a tax write-off for that. No one was watching it anyway, so they can claim the project was a loss.
WDW Pro reports that Disney closed the failing hotel because they're low on cash and can't meet their expenses -- even with all those ESG-boosted lines of credit from Woke Financial Institutions.
They say that Disney wants to buy Hulu outright -- they currently jointly own it with another mega-corporation, Comcast I think -- and just doesn't have the cash-on-hand any longer. They say Disney has lost half of its cash in the past few years.
Disney also announced that they were ending a project to build some kind of "town," I guess for Disney Obsessives, outside of the park.
Bob Iger and his allies on the left are spinning this as a Big Win for Disney in its war on DeSantis. They're claiming Bob Iger showed DeSantis that if you F*** Around, you'll find out.
In other words, they're claiming that this was a choice Iger made as part of his losing fight with Florida.
What the left forgets to mention is that Disney is required to cut billions from its exorbitant spending, both by its deteriorating market position and by activist investor Nelson Peltz, who ended a proxy fight with Disney, fighting to get himself on the board, only on the condition that Disney make deep cuts to its expenses.
So no, this was not a "win" for Iger. This was a win for Nelson Peltz, who demanded huge cuts.
Disney also cut three billion from its budget for what it ironically calls "content." 98% of this "content" is produced outside of Florida.
Did Iger chop $3 billion from his "content" budget just to Own DeSantis, too?
Flashback: Disney's not-so-secret gay agenda.

posted by Ace at
04:00 PM
|
Access Comments