« Daily Tech News 25 April 2023
|
Main
|
Mid-Morning Art Thread »
April 25, 2023
The Morning Report — 4/25/23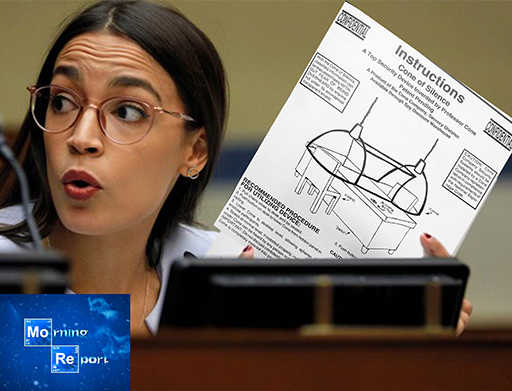 Good morning, kids. While everyone was rightly shellshocked and preoccupied by the removal of Tucker Carlson from the airwaves, this happened yesterday in, of all places, Montana:
In a scene reminiscent of what happened at the Tennessee state capitol building last month, demonstrators filled the gallery and chanted "Let her speak!" when the GOP-led chamber voted to uphold a gag order on state Rep. Zooey Zephyr (D-Missoula), who was in the room and held up a microphone.

After the protesters ignored demands that they come to order, Republican House Speaker Matt Regier asked the sergeant of arms to clear the gallery and directed members to move to the side of the chamber. Police in riot gear forcibly removed the protesters and at least seven individuals were arrested, per Montana Public Radio. . .

. . . NBC Montana reported the standoff began last week when Zephyr, who identifies as a transgender person, scolded lawmakers who support legislation that would ban transgender surgeries for minors. "I hope the next time there's an invocation when you bow your heads in prayer, you see the blood on your hands," Zephyr said, referring to the opening prayer. . .

. . . Montana House Minority Leader Kim Abbott (D-Helena) released a statement voiced support for Zephyr.

"Today we saw Montanans show up and engage in the democratic process, and some of those Montanans were arrested," Abbott said.  "To me, it's an incredible statement in support of the trans, nonbinary, and Two Spirit community — and against the Republican agenda that would strip our neighbors of their basic rights, dignity, and humanity."
If what these representatives of the "wokes-gemeinschaft" think that what they did is "the democratic process" then this is me in full regalia. Back here on what used to be known as Planet Earth, which day by day is being "terror-formed" into Planet Claire, this would be known as thuggery bordering on an attempted insurrection. Which is funny because that's exactly what they called what happened in DC on 1/6/21 despite the overwhelming evidence as born out by 44,000 hours of videotape, only a few snippets of which we have seen, that what occurred that day was anything but.
And look how conveniently that ties into the ouster of the loudest and clearest voice of dissent to counter what in effect has been the coup de grace, if you will, of the Republic such as it was. What happened to Carlson, and indeed the general tone and tenor of both Fox's punditry and even its news coverage, was bound to happen. Jeez, Paul Ryan getting a seat on the network's board of directors was clue number 1.
The coming of Trump has forced everyone to take sides. Rupert Murdoch and his progeny, who tolerated Roger Ailes because of what he meant to the balance sheet and stock prices of FNC and NewsCorp, just pulled a Bud Lite. Whether willingly for political reasons or because they feared the wrath of the junta is debatable. Perhaps a bit of both. After all, what good is all your money when you face the prospect of dining with Vince Foster and Jeffrey Epstein on any given day?
We have no media. We have propagandists pushing the junta and leftist lines. Everywhere you turn you have CIA agents, FBI agents and top military brass as "news analysts." I left out the descriptor prefix "former" for a reason: they are on active duty, still doing what spooks do best: Lying. Case in point is Mike Morrell and the coverup of the Biden laptop story.
It goes beyond the media and reaches into all aspects of our society. Oh there is a first amendment, but woe to anyone who actually thinks they can use it to speak the truth.


Fox News's payment of $787.5 million to settle a defamation suit brought against it by Dominion Voting Systems has been cheered by many. In the days after the election in November 2020, the network gave airtime to Donald Trump's legal aides, Rudy Giuliani and especially Sidney Powell, as they spun a tale of doctored voting machines, Venezuelan skulduggery, and spoiled election tallies. It proved true in none of its particulars. Dominion, which has election contracts in 28 states, will receive the largest defamation payout on record.

Whatever one makes of Fox's 2020 election coverage, this settlement is a disappointment and a danger.

The present regime of press freedom took shape in the 1960s and '70s with the Supreme Court's ruling in New York Times v. Sullivan (1964), The Washington Post's mythic role in breaking open Watergate after 1972, various "sunshine" laws, and a vague set of Boomer ideals. The media were to be protected from any kind of government intimidation. Politicians had to understand they were in a rough business. They would be called names. Journalists had a right to go overboard. They even had a right to be wrong, as long as they didn't do so with a "reckless disregard for the truth." The penalty for bad reporting would be paid in the currency of reputation. . .

. . . The 2020 elections were explosive because of the way three things interacted: the voluble incumbent, an irregular electoral system devised in the wake of [Chinese] Covid, and the shocking closeness of the result. A shift of 80,000 votes in Arizona, Georgia, Nevada, and Wisconsin would have given former President Donald Trump a commanding victory. Vote-counting dragged on for days in all of those states. To a Trump supporter who had seen his candidate surveilled by intelligence agencies before the 2016 election, treated as illegitimate in the news media while in office, and impeached (at that point only once), the election results certainly looked fishy. In this age of ideological polarization, it is easy to pass off as a "fringe conspiracy theory" an idea that a 100 million people might be discussing every night over the dinner table. It may be that the suspicions they expressed were misplaced and that the election was on the up-and-up. But in a free society, trust is produced through the robust and unbullied scrutiny of an opposition press. . .

. . . On any matter of serious political controversy, the difference between a fact and an opinion is precisely what is hardest to determine. Is it a fact or an opinion that CO2 contributes to global warming? If you assert it as a scientist, it is a fact. If you assert it as a non-scientist, it is an opinion about the credibility of scientists. From the outside, that looks like the main reason Fox settled. Burrowing underneath the law, the judge laid down a set of courtroom rules that made Fox culpable by definition.

Those disgusted with Fox may thrill to this approach. Celebration is premature. No newspaper is so anti-Trumpian, no network so woke, that its in-house counsel would not shudder to contemplate the implications of the roadmap Dominion has charted for plaintiffs and Davis for judges. 

Participants in Dominion v. Fox suspected it would find its way to the Supreme Court. Some such case eventually will. We have lost the definitions on which freedom of the press has rested for half a century. Until we get new ones, it is to be feared that "reckless disregard for the truth" will mean nothing more than reckless disagreement with prevailing opinion.
It's an outstanding essay although the author is hostile towards and dismissive of Sydney Powell's original accusations. Sydney Powell, prior to 2020, was from what I understand no crackpot shyster in the way of a Gloria Allred or Michael Avenatti. Surely, she would know that to make accusations such as she did on national television would invite a lawsuit. So of course it was quite a shock when she backed down and shut up. My gut is that the CIA equivalent of a Luca Brasi held a gun to her head. And I don't mean metaphorically either.
The salient point here is the compete corruption of not just journalism, but the legal system and government in general that has turned the Constitution on its ear, if not shredded it completely. Oh, you can speak your mind but be prepared to be served with papers. Oh, you welcome the opportunity to have your day in court? Watch your life savings (and life) drained away in legal fees. And if you do go to trial, your judge will be someone in the mold of Emmett Sullivan, Beryl Howell or Amy Berman Jackson with Alvin Bragg as the prosecutor and a jury of your peers. Pardon me, I meant their peers.
I'll end with this chuckle-worthy headline and story:
Chinese Dissidents In The US Detail Transnational Repression, Censorship At The Hands Of Communist China
In the immortal cap-locked words of commenter Ben Roethelisberger:
" It's funny because our own government is repressing and censoring us right here in our own country!"
ABOVE THE FOLD, BREAKING, NOTEWORTHY
"The election results certainly looked fishy. . . The judge laid down a set of courtroom rules that made Fox culpable by definition."
Dominion's Blow to Free Speech

Michael Walsh: "It was never in our nature to go quietly. We arrived in those freshly built schools kicking and screaming, went muling and puking and toking through high school and college, dodged the draft as best we could, got laid as often as possible, stayed in graduate school until they kicked us out, infiltrated every organization on earth, found a comfortable, undemanding safe spot in the bosom of governments, where we found we could indulge our taste for the torture of other at no expense to ourselves, and then went about whole-heartedly tearing down every institution, just because we could."
Bust Go the Boomers
FIRST AMENDMENT ISSUES, CENSORSHIP, FAKE NEWS, MEDIA, BIG BROTHER TECH
NOTE: The opinions expressed in the links may or may not reflect my own. I include them because of their relevance to the discussion of a particular issue.
ALSO: The Morning Report is cross-posted at CutJibNewsletter.com if you want to continue the conversation all day.
Follow us on Twitter: @CutJibNews
Follow us on Instagram: @Cutjibnewsletter
TIP JAR : Your support helps keep the lights on and is truly appreciated. Note: We are on Stripe, not PayPal.

posted by J.J. Sefton at
07:53 AM
|
Access Comments