« Bush, Obama, and Clinton Set Up Non-Governmental Organization to... Fly Illegal Aliens -- "Migrants," the Euphemism Goes -- All Over the US For Free
|
Main
|
Otter Spotter Cafe »
April 24, 2023
Quick Hits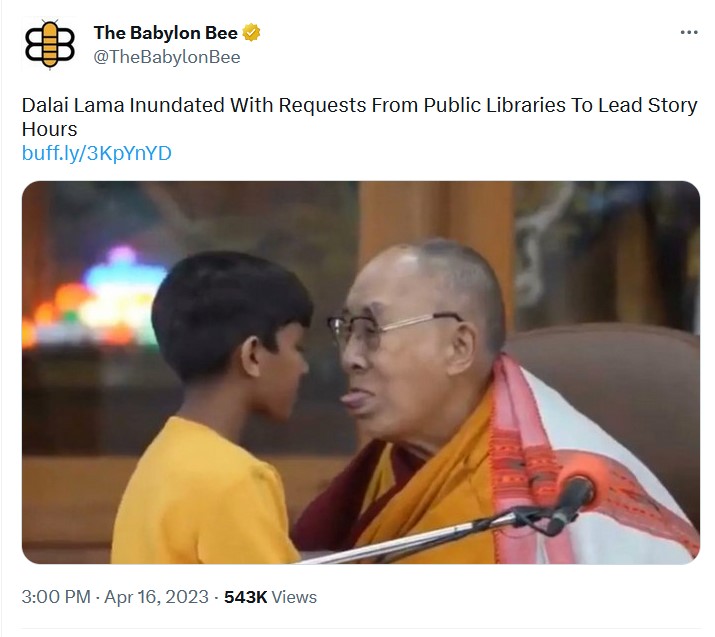 The National Review's Jim Geraghty: Tucker Carlson was a "loose-cannon host:"
In the coming days and weeks we will learn more about the circumstances that led to Carlson leaving Fox News, but it is hard to believe that the split has nothing to do with Fox News paying $787 million to settle the lawsuit from Dominion. (And don't forget that the Smartmatic lawsuit still needs to be resolved.)

Ahem. From the Morning Jolt of Wednesday, April 19:

Three: It is unlikely that networks like Fox News can afford to keep loose-cannon hosts anymore.
The Establishment has set the acceptable limits of what you are allowed to say and believe. Controlled opposition organs like National Review aren't cowards for abiding by these limits. It's worse than that: They're active enforcers of the speech codes and thought police regime.
The believe in it, too. You are only allowed to believe what your Superiors in the Hierarchy have cleared you to believe.
Note that Carlson did not promote any of the Dominion claims. So Geraghty's complaints about Carlson being a "loose-cannon" are about his general refusal to toe the Establishment line that National Review patrols and enforces.
Ray Epps acted a lot like a covert federal agent, but the federal government's office of covert federal agents says he's not a covert federal agent. Case closed!, says the government's Amen Corner at National Review. "We can't just go around disbelieving what the office of covert federal agents says about who is and isn't a covert federal agent! Why, if we did that, there would be Anarchy and Discord! If people start talking about non-Regime-Approved narratives, why, our stock market performance could wind up being suboptimal!"
Jesse Kelly
@JesseKellyDC

Rolling out the Ray Epps piece on 60 minutes has me worried the more I think about it.

We've all seen the video. Yet they roll it out anyway out of nowhere.

Why?

To prove they can get away with anything now. I think it was a calculated power move showing who's in charge.
I enjoyed how 60 Minutes admits this looks like he's a government agent, and fails to elicit any answer from him about why he said he "orchestrated" J6, but then concludes, anyway, that it's a "conspiracy theory."
Because the federal office of covert federal agents said so.
Terrible: Autistic Jewish student assaulted by other students, who carved a sw@stika into his back.
An autistic Jewish teen had a swastika carved on his back in a heartless anti-Semitic assault at his Las Vegas high school -- with the FBI now prepared to jump into the unsolved case.

The teen's distraught mother alerted authorities after her 17-year-old nonverbal son returned home from Clark High School on March 9 with the hate symbol etched on his back, NBC News reported Saturday.

The mom, who said her son's service dog equipment bag was also tampered with, has pulled her son from the school.

But because the school doesn't have surveillance cameras in classrooms, locker rooms and bathrooms, the cruel culprits remain unnamed -- and unpunished.
The fact that I haven't seen Jake Tapper talking about this story gives me a big hint as to the likely culprits.
Prince Harry will attend the coronation of his " " " " father " " " " King Charles without Meghan, who is too busy taking care of the kids she barely pays any attention to attend.
He will also sit ten rows back from the front.
Prince Harry will be distanced from the rest of the royal family at his father's coronation and will not stick around to shoot the breeze with his relatives, according to a royal associate.

The "Spare" heir will be seated 10 rows behind his family and will make a quick exit at the May 6 coronation of King Charles amid his ongoing estrangement, former royal butler Paul Burrell told the US Sun.

Burrell said it was unlikely the exiled son would reconcile with his father and brother, William, and may not even have time to chat with either, according to the outlet.

"There is no chance of a reconciliation anytime soon, I'm afraid -- I think he will get a very icy reception from the Windsors," he said.
Bud Light's sales collapsed after Dylan Mulvaney Woke Marketing campaign.
Data from NielsenIQ and Bump Williams Consulting shows the light beer has taken a hit of 17% in dollars sold and volume dropped 21% for the week that ended April 15, according to the New York Post.

That's a significant drop from the previous week. The week that ended April 8 saw sales drop 6% and volume drop 11%.

Meanwhile, Coors Light and Miller Lite are up big. The two are up 18%, according to the same data.
And Anheuser-Busch thinks a single firing is going to fix this?
And she wasn't even fired. She took merely a leave of absence, which is corporate code for "keep a low profile while we run ads with Clydesdales, wheat fields, and 'Merican flags to calm these disgusting uncultured barbarians down."
Former Anheuser-Busch executive Anson Frericks reacted to the decision during an appearance on "Fox & Friends Weekend," arguing that counting on conservative consumers to forget the controversy is the "wrong bet to make."

"That's the bet they're making. I think that's the wrong bet to make. And I think now is the time to go back and, for companies like Anheuser-Busch, to say that, 'Hey, moving forward for brands like Bud Light, we're not going to be political. We're not going to get involved in the environmental social governance movement because that's not what the customer wants,'" Frericks told co-host Will Cain on Sunday.

F*** Anheuser-Bush.
Meanwhile, Maybeline wants some of that sweet transgender marketing action:
And, f*** Fox. On Saturday or Sunday, AOC demanded that the FCC ban Tucker Carlson.
Within 48 hours, Rupert Murdoch executed his Woke Kween's wish:
Gotta get rid of those "loose-cannons." Everyone has to be like National Review and only repeat State Approved Propaganda.

Megyn Kelly trashes the gals of The View.

posted by Ace at
06:45 PM
|
Access Comments