« How can we slow the crumbling of western civilization?
|
Main
|
Ace of Spades Pet Thread, April 29 »
April 29, 2023
Saturday Gardening, Puttering and Adventure Thread, April 29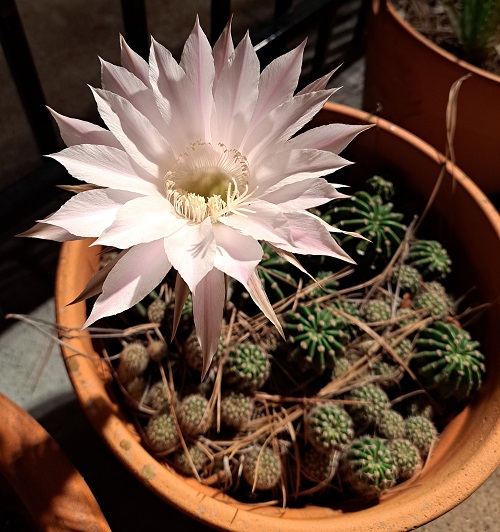 Hi, everybody! Watching nearby flooding from dam releases, plus rising water levels elsewhere in our area. Temperatures are up!
How are things going in your yard, garden and natural world?
We got an exciting update from Bonecrusher:
Howdy Katy,

This is a follow-up on Cactus flowers. I had a trifecta of red on the Cactus formerly known as the Barbed Cocktail of Satan and a bonus flower from a pot of Cactus that has never bloomed before.

Be well
That flower above is spectacular! Love the ones below, too.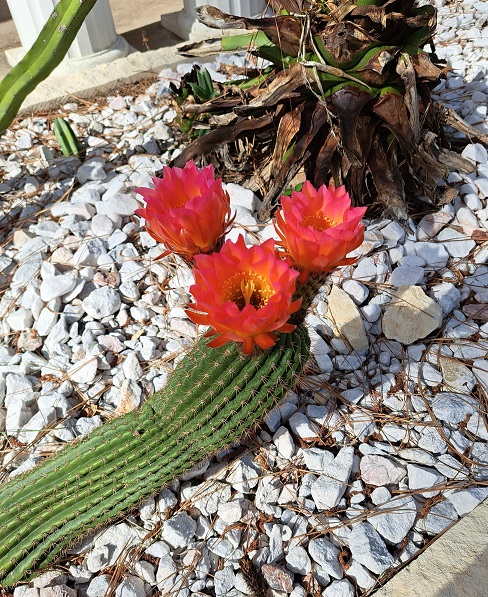 *

Edible Gardening/Putting Things By
Hi KT,

We are deep into Mulberry season here. Everyday I go out and pick at least one 24oz yogurt cup full of Mulberries. Since they don't last I put them in the freezer right away. So I have been having Muberry smoothies for breakfast, and Mulberry Margaritas at cocktail time. Both delicious. I already have 4 bags of Mulberries frozen and it doesn't look like it is going to stop anytime soon. I love spring!

WeeKreekFarmGirl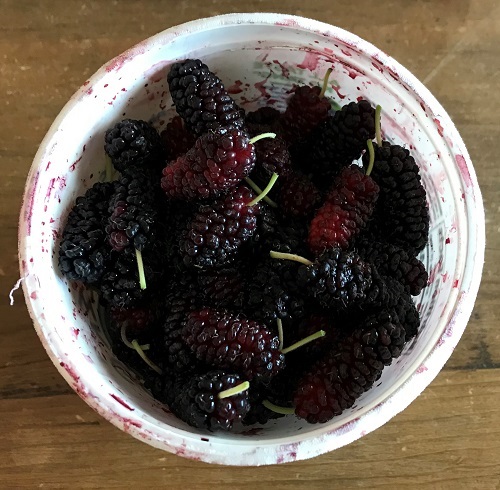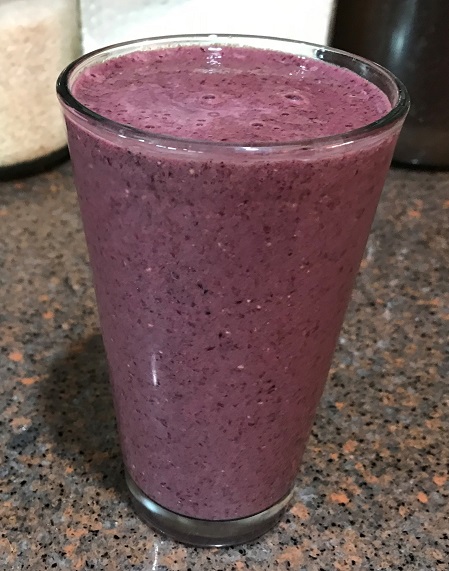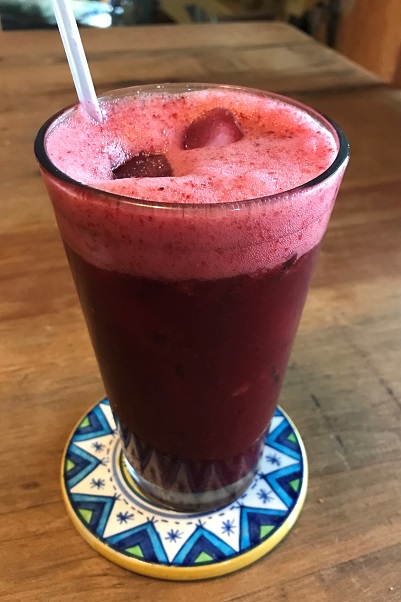 They look remarkable! The drinks look great, too.
I have a Pakistani Mulberry but that isn't fruiting yet. The one that is fruiting I got from a guy who sells trees in downtown Phoenix called Shamus O'Leary and I said what tree should I buy that I may not have and he said this mulberry. I said I already had a Mulberry, but he said, not like this one. So I bought it and he was right, the fruit is MUCH better than the Pakistani but it did not have a tag so I am not sure of the variety, but it does amazing here and the fruit is so delicious. Sometimes you have got to trust a good tree man.

Doing some research on different Mulberries I think that my other one is a Shangri-La Mulberry. It fruits earlier than the other one. But it's just a guess. . .
A Mulberry Mystery . . .
*
From Nan in AZ:
The grape is going over the top of the arbor now, and the Anne's apples are getting bigger. In the 80's and 90's now in Surprise AZ.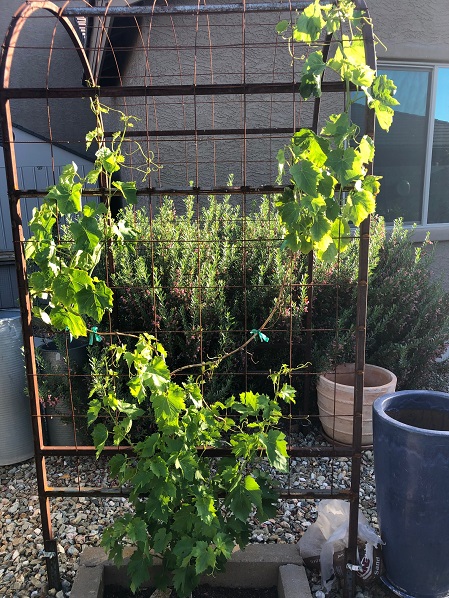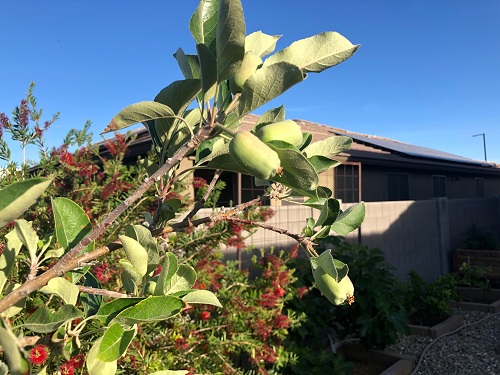 Crabapples have set, the fig is going great, and little guavas on the plant. I have no idea what they are going to do.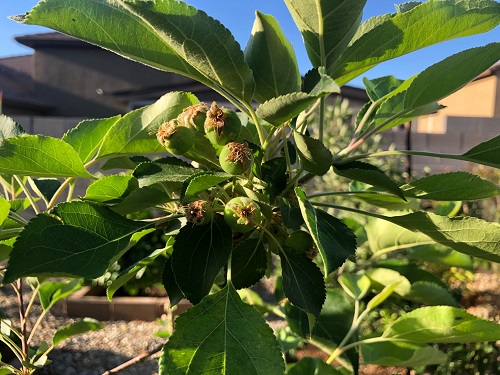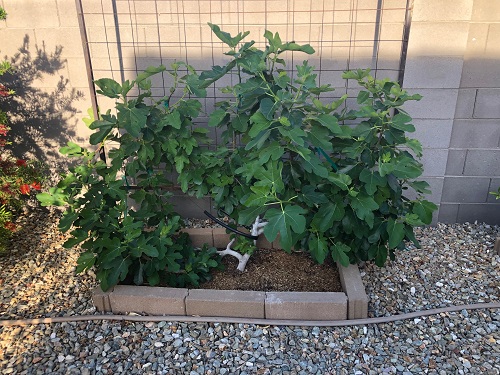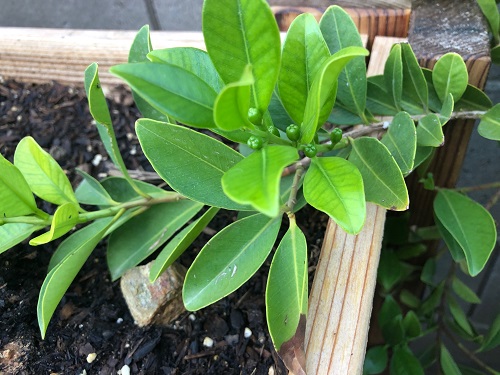 Little baby guavas! ! !
The rhubarb is growing, peas, cabbage, and the artichokes are cute! Nan in AZ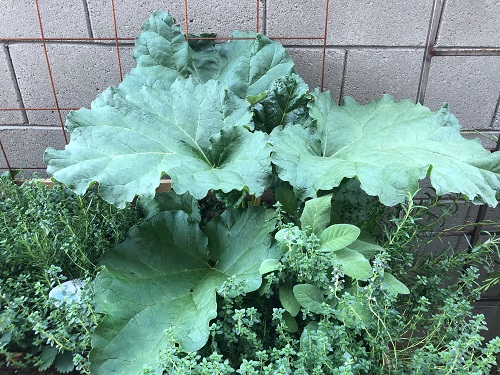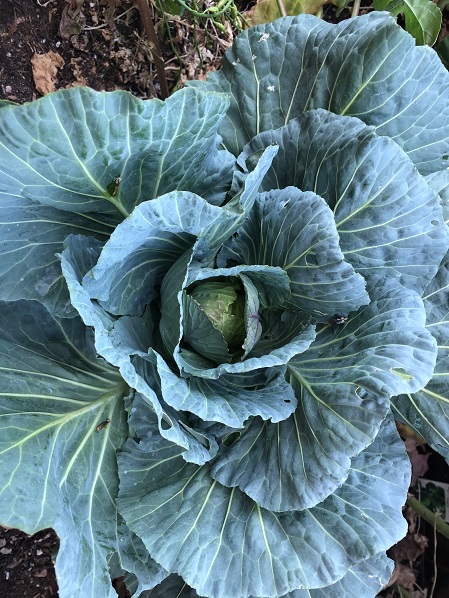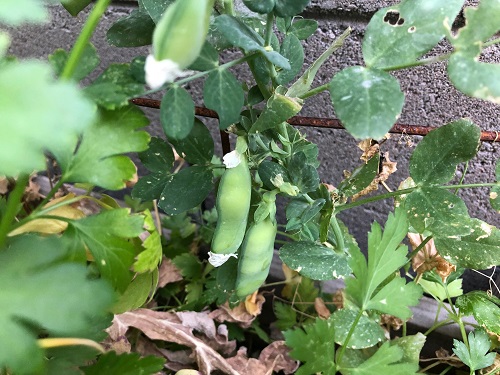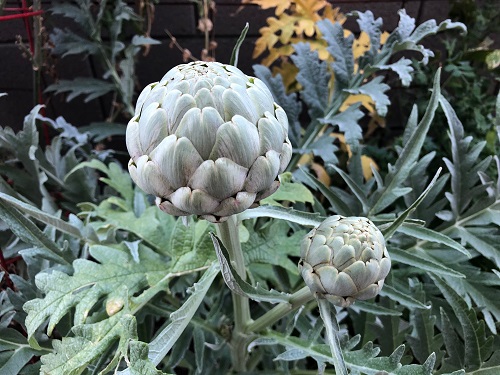 They all look great. The artichokes are especially adorable. Don't let them go too long in your climate.
Let us know how the peas taste!
Puttering
Courtesy Mr. Weekreek:
Gardens of The Horde
Anybody have anything going on indoors? Outdoors?
Hope everyone has a nice weekend.

If you would like to send photos, stories, links, etc. for the Saturday Gardening, Puttering and Adventure Thread, the address is:
ktinthegarden at g mail dot com
Remember to include the nic or name by which you wish to be known at AoSHQ, or let us know if you want to remain a lurker.

Week in Review
What has changed since last week's thread? Saturday Gardening, Puttering and Adventure Thread, April 22

Any thoughts or questions?
I closed the comments on this post so you wouldn't get banned for commenting on a week-old post, but don't try it anyway.

posted by K.T. at
01:19 PM
|
Access Comments