« Daily Tech News 20 April 2023
|
Main
|
Mid-Morning Art Thread »
April 20, 2023
The Morning Report — 4/20/23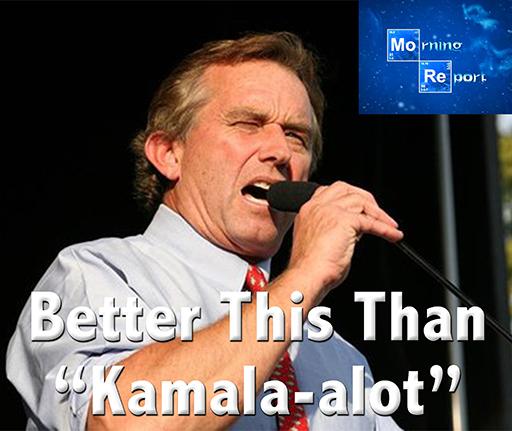 Good morning, kids. Well, it's official; RFK Jr. has thrown his hat into the ring for the Democrat Party nomination. Let's get this out of the way now before I go any further. I am in no way, shape or form endorsing him. Aside from his party affiliation which by itself is an instantaneous disqualifier, he has a lot of baggage, including a past bro-mance with, of all people, the Castros of Cuba which I touched upon in a previous column. That said, I was rightly chastised for omitting the fact that he is a radical environmentalist hell bent on eliminating fossil fuels. Here's his complete rap sheet at the invaluable Discover the Networks, which if you have not bookmarked as the bluebook to know your enemy, you should.
Now with that out of the way – and please do not construe that to mean I want you to forget or ignore it, because I do not – let me say that ironically enough, it is his candidacy that excites me even more than Trump or DeSantis. Again, not because I am endorsing him but because of the ire and the fire he will draw from the junta, their propaganda house organs and potentially the Deep State. That would be the same Deep State whose predecessors I have now come to believe had a hand in the assassination of his uncle and quite possibly his father. To paraphrase Robert Frost, "The rot is ugly, dark and deep . . . " But I digess.
Whether his historic blind animosity towards Big Pharma accidentally made hime a righteous crusader against it in its drive to inject everyone with the Chinese COVID concoction, or he, like we, smelled a rotten pangolin from the get go is irrelevant. He, along with Naomi Wolf, have been virtually the only voices from the Left, and sadly the Right, sounding the alarm over the past three years. Along with that, he has also correctly, or Wilton Parmenter-like done the same with the bank bailouts:
"I think that the general theme of my speech was this corrupt merger of state and corporate power which has gotten – which is turning our country into corporate kleptocracy, into a system of socialism for the rich and a cushy socialism for the rich and this kind of brutal, merciless capitalism for the poor," Kennedy told Fox News host Tucker Carlson, a co-founder of the Daily Caller and Daily Caller News Foundation. "It keeps us in a state of war and bails out banks at the same time."

. . . "Last month, United States government told 30 million people it was cutting their welfare checks, their food stamp checks by 90%," Kennedy said. "It took 15 million people off of Medicare. The same month, it gave $300 million to the Silicon Valley Bank and tapped up the cost of the Ukraine war to $113 billion."

. . . "We've printed ten centuries of money in the last 14 years, and that caused the inflation which raises food [prices], which is a tax on the poor. You know, we've raised food prices for basic foods like chicken, dairy and milk by 76% in the last two years and now we're cutting people's food stamps and bailing out banks the same month?" Kennedy asked. "It's odd. It doesn't make any sense."

. . . "My mission over the next 18 months of this campaign and throughout my presidency will be to end the corrupt merger of state and corporate power that is threatening now to impose a new kind of corporate feudalism in our country," Kennedy said during his announcement.
Yes, there are a few things in there that make me cringe like his defense of welfare, food stamps and Medicare, but he gets it right on the SVB bailout, the debauchery of the currency as well as Ukraine. Look, if we are to be honest with each other, much of that crosses party lines and sadly, previous administrations. Plus, whether he realizes it or not, as the emphasis on that last sentence shows, he just defined fascism, or crony socialism. In fact, his verbiage is almost Trumpian.
The other thing that is almost if not more important than what he said is where he said it. Tucker Carlson is about as big an object of hatred on the Left as Donald Trump and yet RFK Jr. eagerly sat down with him. You could for sure call it a political calculus to try and get a second look from an audience that would in years past never vote for him in a billion years. Perhaps after hearing him they'd never vote for him in a thousand years. More crucially, it shows someone who is for sure liberal if not leftist willing to not only sit down with someone on the other side but someone who does not regard the other side as a cancer to be eradicated.
Psaki-psircling back to Naomi Wolf, here is a woman who was as close to radical feminist and leftist as you can get and the past three years has seen here give a public mea culpa about her erstwhile allies. Will she change say on abortion? Will RFK Jr change on fossil fuels? Probably not. But that they are willing to debate the other side and confront their beliefs is what has been missing now going back decades, perhaps as far back as the nomination of Clarence Thomas. Ironically enough, it was Uncle Ted along with Sponge-Brain Shits-Pants who led the attempted high-tech lynching back then, and the rope has been brought out from the Left's reliquary in the hopes of getting it around his neck one more time.
All of this being equal, I think we have gone well past the point of elections having any consequences at all, even if we are able to beat the cheat and seat Republicans. For starters, look at what Mitch McChi-Com has done: push to continue the funding of the DOJ, a de facto Democrat Gestapo that is persecuting everyone from parents all the way up to a former President
Or Lisa Murkowski and Susan Collins who just helped the junta by torpedoing the attempt to halt the VA from funding abortions

All things being equal, look at their words and deeds TODAY, as we stare into the abyss of a new dark age and those of RFK Jr.
QED.
The question is not whether RFK Jr. or reasonable folks like him will change their spots on issues with which we disagree. Likely not. The question is, are they willing to sit down with you to discuss them and given the scales that have already fallen from their eyes to one extent or another can they perhaps be persuaded to change? I'd cite Milton Friedman's quote of making it politically profitable for the wrong people to do the right thing, but as I stated, we're beyond politics, at least in the traditional, business-as-usual sense of elections.
What we need is a great awakening before it is too late, if it isn't too late. And if it is, we still need that awakening to fend off the existential threat and even begin to dare hope of an American revival. To that, I cheer on RFK Jr. At least for now. Hopefully he doesn't devolve into a Bernie Bro which is a possibility that can't be ignored. But going on TuCa's show is a good sign.
If he does gain any traction, he'll have a target on his back from the DOJ, if he doesn't have one on it already.
ABOVE THE FOLD, BREAKING, NOTEWORTHY
CIVIL WAR 2.0: J-6 FBI FALSE FLAG "RIOT" & AFTERMATH, LEFTIST PERSECUTIONS, DEMOCRAT PUTSCH, AMERICAN DISSOLUTION
NOTE: The opinions expressed in the links may or may not reflect my own. I include them because of their relevance to the discussion of a particular issue.
ALSO: The Morning Report is cross-posted at CutJibNewsletter.com if you want to continue the conversation all day.
Follow us on Twitter: @CutJibNews
Follow us on Instagram: @Cutjibnewsletter
TIP JAR : Your support helps keep the lights on and is truly appreciated. Note: We are on Stripe, not PayPal.

posted by J.J. Sefton at
07:50 AM
|
Access Comments